In order to run a website, you need web hosting services. With them, you get access to a server to upload the website and make it accessible from anywhere in the world 24/7/365.
Table of contents: Getting Started with Shared Hosting
What is shared hosting

Activation of your account

Accessing your hosting Control Panel

Set up your domain name

Create a new website or transfer an existing one

Set up your free SSL certificate

Set up your email

Getting support

Refer friends and get $50 per signup
What is Shared Hosting?
Shared hosting means that you will be using the same server as other website owners. Your websites are situated on the same physical machine, and you share its resources (CPU, RAM, disk space, network). That's why, shared hosting is the least expensive type of hosting in the world.
At the same time, it is an ideal solution for personal websites such as: blogs, portfolios or forums. Shared hosting is also easy to manage, since no technical skills are required.
Activation of Your Account
Your shared hosting account will be automatically activated upon receiving payment, and you can immediately start using the service. A negligible number of orders get flagged for manual verification where action on your behalf is required before we can activate the service.
Accessing Your Control Panel
The login details to access your shared hosting control panel are provided in the Welcome email, which we send to you right after your service gets activated. That control panel is the place where you manage your hosting account and where you can:
add/remove emails, databases or domain names

create/remove email forwarders and autoresponders

generate/restore backups or just get information about the account such as disk usage

manage files
create and manage databases
set up SSL certificates
and many more.
With our shared hosting plans you will be using cPanel – a popular control panel used by around 90% of all web hosting servers.
Log in to cPanel
Go to the

Login URL from your Welcome email

Type the

username

from you Welcome email in the Username field

Type the the

password

from your Welcome email in the Password field

Click

Log in

.

You will be redirected to the cPanel homepage.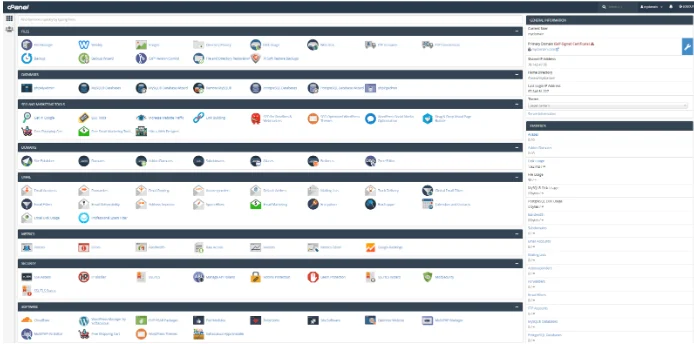 Set up Your Domain Name
The domain name is the address of your website which people type in their web browser in order to visit it. Each website needs its own domain name.
To configure the domain to work with your website, you need to register it and point it to your hosting account. That is done by setting the proper nameservers for the domain name at your domain registrar and allowing up to 24 hours of propagation time for the change to take effect globally.
The nameservers are included in the Welcome email of your hosting service and you need to set them to your domain. After you do that, each time someone types in your domain name in the browser's address bar, they'll actually load the website from the right server (your server).
If you ordered your domain name from ScalaHosting, you don't need to do anything, as we have already set the correct nameservers for it. If you ordered your domain elsewhere, you need to log into your domain registrar's control panel to set the nameservers found in your Welcome email. If you are migrating an existing website from another server, you can wait for the transfer to complete before switching the nameservers. That way, you can avoid downtime.
Create a New Website or Transfer an Existing
If you are creating a new website, you need to bear in mind that some applications require a correctly pointed domain to work. You can point the domain following the steps outlined in your Welcome Email, or you can use other techniques (e.g., editing your hosts file or setting up an Under Construction page) to develop the website before launching it publicly.
If you are uploading your website manually via FTP, you need to upload the files to the public_html directory (the document root of your account's primary domain). Alternatively, you can use the Softaculous 1-click Script Installer in the control panel to install your desired application such as:
WordPress

PrestaShop

OpenCart

Magento
If you want to transfer an existing website, you should be aware that we can do that for you at no extra cost, without downtime. The only thing you have to do is to provide us with the login details to your old server via a ticket to our technical support team.
We'll use this information to copy all the data including files, databases and emails. After the data is successfully migrated, we'll verify that your website loads correctly from the new server. Then, you can change the nameservers to the ones provided in your Welcome email and complete the transfer without even a second of downtime.
To request the migration of an existing website you simply open a ticket from your Client Area, include the login details to your server, and specify the date and time when you want the migration to take place.
Set up Your Email
Before you can start sending and receiving emails, you need to create an email box and configure it on your favorite email client. Alternatively, you can use the webmail that is accessible from any browser.
To create an email account, simply log into cPanel, click on Email accounts – Create button and follow the on-screen instructions.
To configure your email in your mail client, use the information below:
POP3/IMAP/SMTP server

: mail.yourdomain.com

(the option "My SMTP server requires authentication" must be enabled)

Username:

enter the whole email address e.g. john@yourdomain.com

Password:

the password you specified when you created the email

Ports information

SMTP:

465

(with SSL)

, 25 (without SSL)

POP3:

995

(with SSL),

110 (without SSL)

IMAP:

993

(with SSL)

, 143 (without SSL)
The exact details are also available in your Welcome Email, which you can find in your Client Area under the My Details > Email History.
We recommend configuring your email client with the SSL encrypted ports for maximum security.
You can access your email box via webmail at yourdomain.com/webmail.
Getting Support
ScalaHosting provides round-the-clock technical support via two channels:
Live chat with instant response

Ticket system with 15-minute average response time
We'll try to resolve all issues via our live chat system. However, if a more detailed instructions is needed, opening a support ticket may be a better option. Sometimes, to verify your identity, we may ask you for your Support PIN code, which is available under the My Details > Account Details menu in your Client Area.
On both live chat and tickets, your issue will be looked into immediately. We strive to respond to any queries within 30 seconds to customers contacting us via live chat and 15 minutes to those posting a ticket.
Refer Friends and Earn $50 per Signup
Tell your friends about ScalaHosting so they can enjoy great hosting too. You'll get $50 per signup. More information is available in the Referral Program section of your Client Area.