Looking professional online is becoming more critical than ever before.
In one survey, about 75 percent of the respondents agreed domain-based email addresses are a stronger indicator of trustworthiness than having an active social media presence. 
Generic emails like Yahoo and Gmail look unprofessional and do little in inspiring confidence in customers, with close to 25 percent saying they'd be reluctant to provide their credit card or personal information.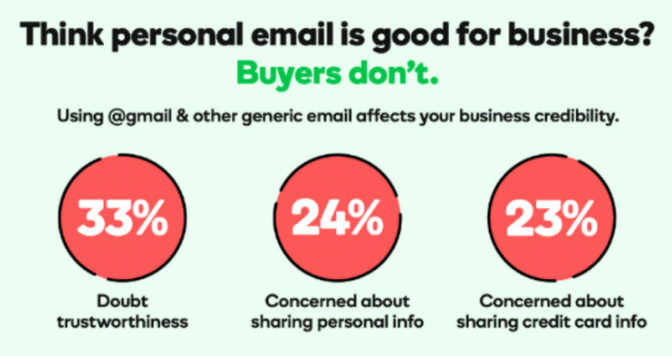 Using company domain personalized email addresses shows you're in business and helps you look professional.
This article guides you on how to create and use one for your business. But first, let's quickly understand what a Workspace email is and why using one is never a bad investment.
Let's get started.
What's a Workspace Email Account?
A Workspace email is a Google customized email address matching your domain name, often used for sending business emails.
The email account makes businesses look professional, and lets recipients know the company sending the email and, perhaps, the department it's coming from.
For instance, emails from sales@abc.com tell recipients that ABC's sales department sent the mail, probably making them treat the mail as both official and authentic.
Workspace email accounts are domain-based, and individual domain owners can also use them to send professional emails, for example, info@peterdruker.com.
5 Reasons To Use a Workspace Email Account
Routing your emails through your Google Workspace comes with many benefits; let's look at the top five.
It helps businesses maintain

a professional image

. Using

sales@abc.com

to send sales messages to customers looks more professional than using generic email addresses like

sales.abc@gmail.com

or

abc@yahoo.com

.

Customers or recipients can quickly see a business' website address from the email address, making it easier for them to learn more about your business online.

Spam filters

are less likely to flag messages from domain-based emails as spam.

Professional email easily inspires trust in the recipients, making them often treat the mails as intended.

Businesses can choose any username for a Workspace email without worrying whether others have taken the name.

Workspace email accounts

come with video conferencing capabilities.

Google servers' are reliable, guaranteeing about 99.9 percent uptime.

A Workspace account allows users to collaborate in real-time, store files securely on the cloud, and get more done with voice communication.
Creating Workspace Email Account
Visit the Google Workspace website to get started.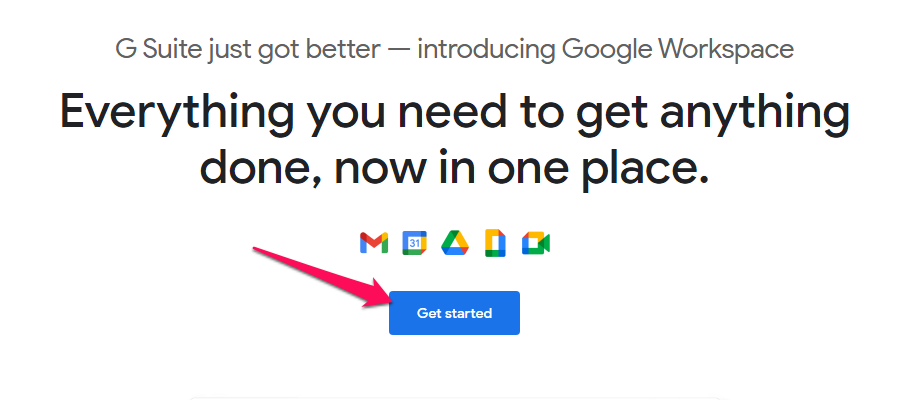 Type your business name, select the number of employees and your country and click NEXT.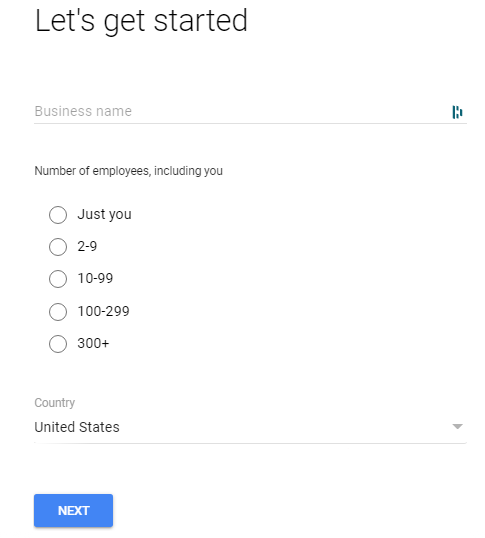 Fill in your contact information and click NEXT.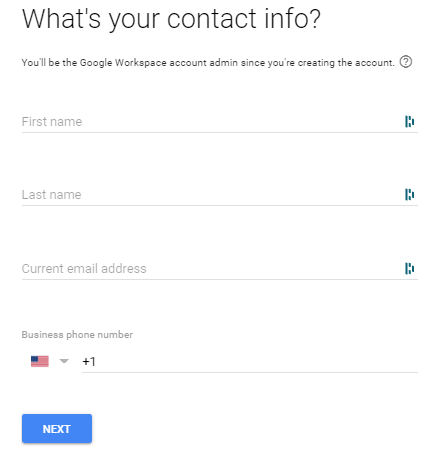 Confirm you have a domain for your business by clicking the "YES, I HAVE ONE I CAN USE" button; otherwise, head to Scalahosting to quickly set up one in a few clicks.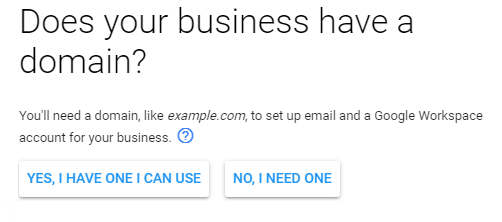 Enter your domain name (for example, scalahosting.com), click NEXT, and confirm you want to use the domain to set up an email account.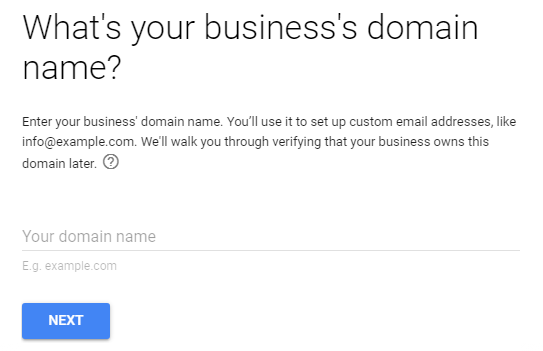 Confirm whether you want Google to send you updates, and after that, choose a username for the email account and a password.
Verify that you're not a robot and click AGREE AND CONTINUE to accept Google's term and proceed to the next step.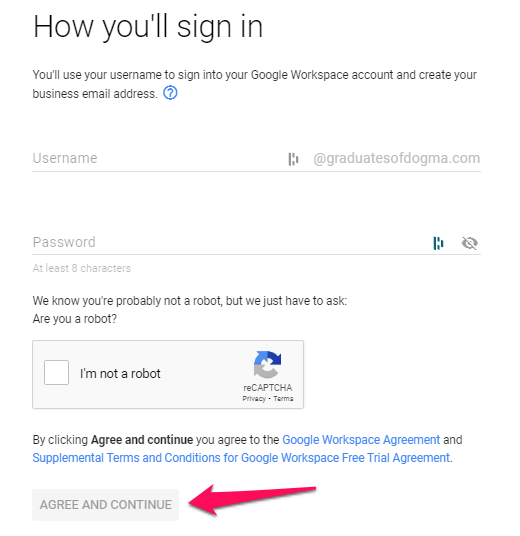 Review your payment plan and click NEXT to check out to start your 14 days free trial. You can always cancel at any time.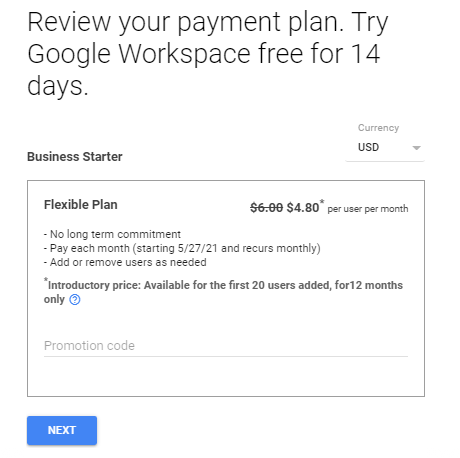 Google debits your card $1 and returns the money to test your card's validity. If successful, Google creates your Workspace account.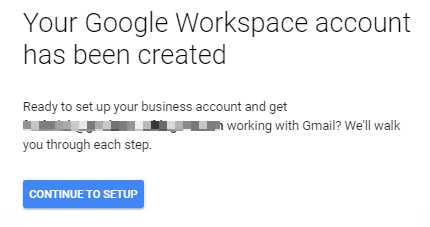 Click CONTINUE TO SETUP to enter your Admin Console to begin the domain verification.
How to Verify Google Workspace Account
Clicking CONTINUE TO SETUP displays a pop-up message welcoming you to your Admin Console; click NEXT to continue.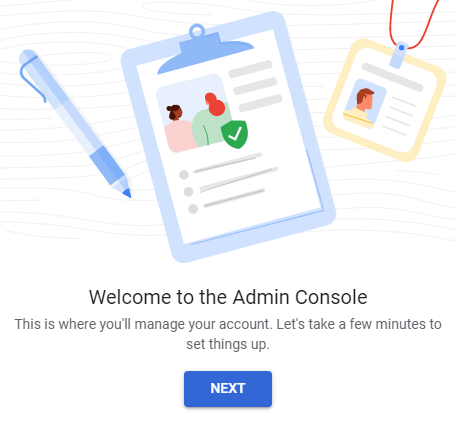 Google walks you through setting up your account; click NEXT to learn the steps.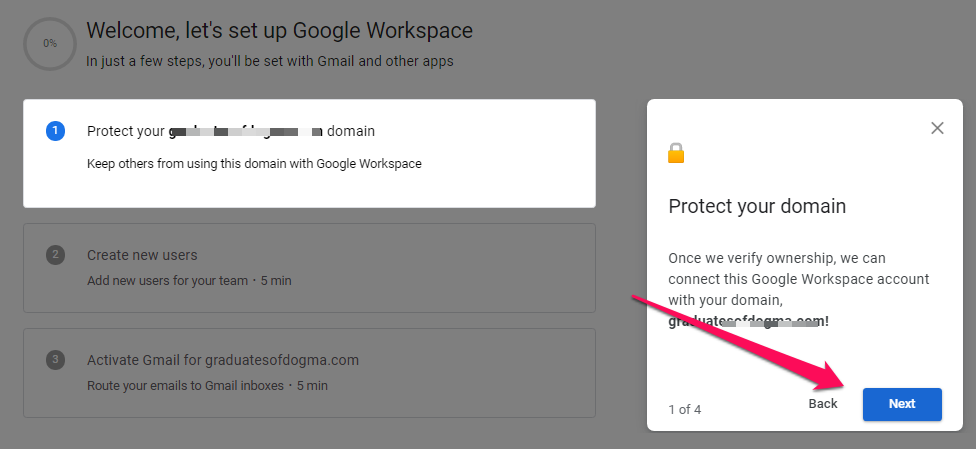 After the walk-through, click PROTECT to verify you owe the Workspace domain and protect its identity.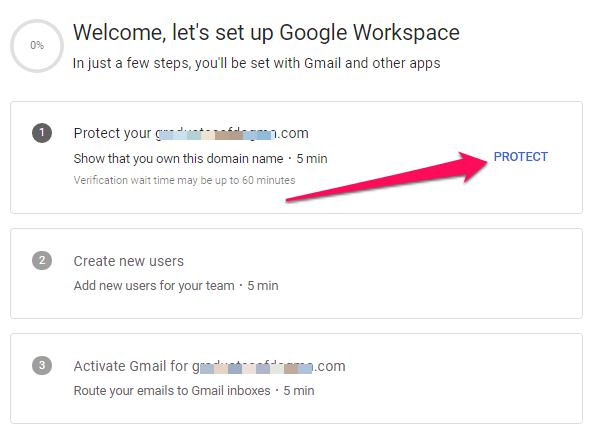 On the Protect your domain prompt, verify you are ready to protect the domain by adding a verification code to your DNS records.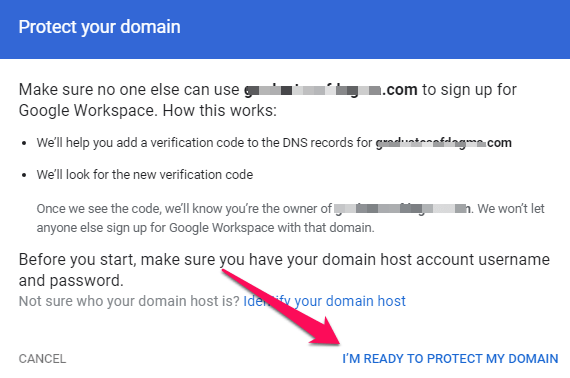 Google walks you through connecting your business domain to Workspace; click NEXT: GO TO STEP 2 to access the verification code to add to the DNS records.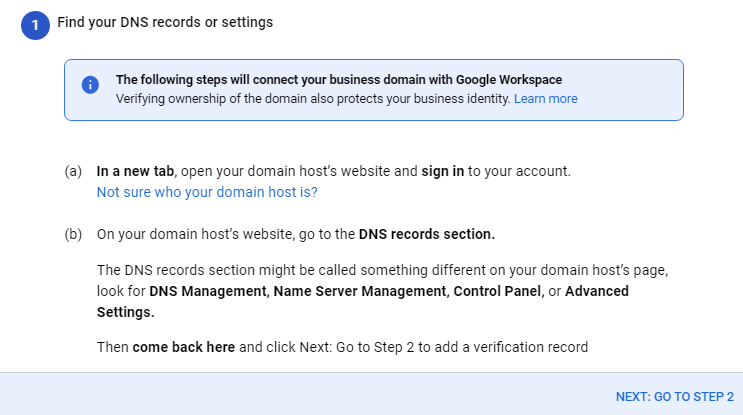 Open a new tab on your browser and log into SPanel's User Interface. The default login URL is yourdomain.com/spanel (don't forget to substitute yourdomain.com for your actual domain).
On the dashboard, locate the DOMAINS section and click the DNS editor to add the code to your domain DNS records.

Choose the domain you want to add the records to and scroll down to the ADD A NEW RECORD section to add the records.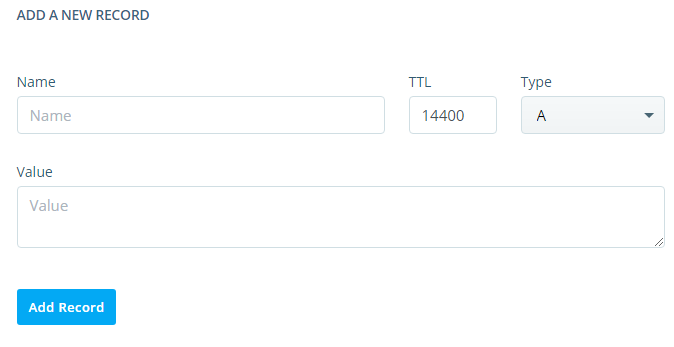 Switch back to the Workspace Admin Console tab and use the information on the page to add the record.
Select

TXT

as the record type.

Copy the TXT value on the admin console and paste it on the Spanel's

Value

text box.

Enter

@

on Spanel's

Name

field.

Use Spanel's default

TTL

value.
Click Add Record on Spanel and switch to the Admin Console to click VERIFY DOMAIN.
Wait for five minutes as Google verifies the record.
If you run into issues verifying your domain with TXT record, click the switch verification method to try the other options, or you could contact support for assistance.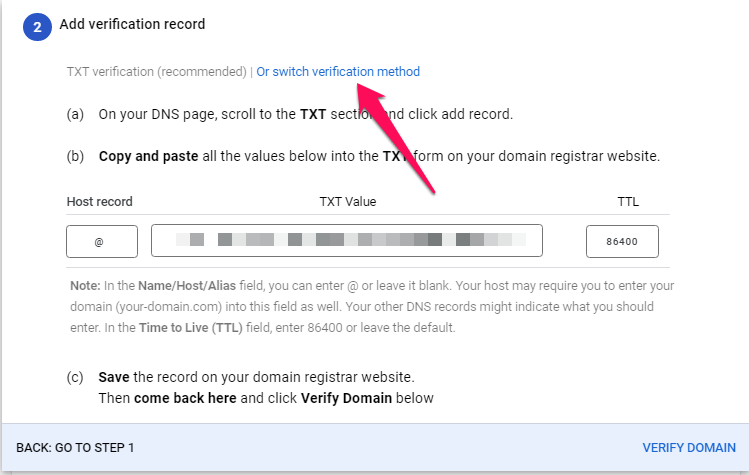 That's it.
After verifying your domain, follow the onscreen instruction to add new users to your team and activate the Workspace email, routing your emails to your Gmail.
How to Access a Workspace Email Account
Besides Gmail, you could also use email clients like Microsoft Outlook and Apple Mail to access your Workspace email account, but first, you'd need to enable IMAP or POP3, depending on your preference.
IMAP allows you to access your email messages from many devices, while POP3 makes email messages inaccessible from other devices, and we recommend using IMAP.
This article guides you on enabling POP3 on Gmail, and you could also follow the steps to activate IMAP if it's not already active.
After enabling IMAP or POP3, here are other ways to access your Workspace email.
Via Outlook
Microsoft Outlook allows users to send and receive email messages, manage calendars, contacts, and tasks. Businesses often use the email client to manage their Workspace email accounts in one place and stay organized.
This guide makes configuring emails on Outlook intuitive, and here's a quick rundown of the steps.
Open Outlook on your computer and click

Files > Accounting settings > New

Select

Manual setup or additional server type > Next

Select

POP or IMAP > Next

Enter the email server settings for your account (we'll get back to this later)

Click

More Settings

to configure your incoming and outgoing server settings.

Go to the

Advanced

tab to configure the server ports and encryption type.
Use the information Google provides in the links below to configure the incoming and outgoing server settings (steps 4 and 5).
Via Apple Mail
Setting up your Workspace email on Apple Mail also allows you to read and send emails on the fly. Use this article to get started right away.
Wrapping It Up
This article provides an intuitive way to set up a Workspace email account to enable you to send emails professionally and collaborate in real-time.
Follow the steps here to get started, and contact support if you need assistance.
You could use ScalaHosting's business email hosting for maximum security, deliverability, and performance.