Apple Mail is a popular email client with an 11.5 percent market share and leads the Desktop market with a 58.9 percent share.
It helps iOS and Mac users connect to popular email providers like Gmail, Yahoo Mail, iCloud Mail, Outlook, and more.
Apple Mail users can:
Can configure the application to receive all their email accounts in one list

File emails into folders

Automatically append a signature to outgoing emails
The Mail can also integrate with your contact list, calendar, map and other applications, helping you stay organized.
While sending a message via the client, you might receive any  of these messages (or probably a related message) :
Can

not send a message using the server

[server address]

The sender address

[your email address]

was rejected by the server

[server address]
This article guides you on the causes and how to fix them.
Causes of Apple Mail Error and How To Fix It
Apple Mail may not be able able to send emails if any of these three issues occur:
If you change your outgoing mail

Your mail preference file failing to update changes

You have a corrupted mail preference file
Let's quickly take a look at them and how to resolve the errors.
Changed Outgoing Mail Setting 
Email service providers often upgrade their mail servers to protect them against malicious attacks.
The upgrade might cause the Mail settings to misalign with the upgraded server settings, preventing you from sending messages with your Apple Mail.
But you could fix this by configuring your outgoing mail settings, and here's how :
Open Apple Mail to get started. 

Select

Preferences

from the menu.

Click the

Accounts

button in the Mail preferences window.

Select the email account you couldn't send messages from.

Click the

Server Settings

or

Account Information

tabs to find the incoming and outgoing mail settings pane. You could get to the pane by clicking the

Server Settings

tab in some versions or through the

Account Information

tab in other versions.

Select

Edit SMTP Server List

in the Outgoing Mail Server (SMTP) section, from the dropdown menu labeled

Outgoing Mail Server (SMTP)

or

Accounts

, of course, depending on your Apple Mail's version.

Step

5

displays a list of all the SMTP servers set up for the various email accounts added to your Apple Mail. 

Select the server the email account uses.

Click the

Server Settings

or

Account Information

tab. 

Make sure the server or hostname is correct. 

Remove duplicate servers, if there are multiple servers with the same  name.

Click the

Advanced

tab, and ensure all the fields match the setting provided by your mail service provider.

If available, place a checkmark to

Use Secure Sockets Layer (SSL)

.

Select

Password

as your authentication type.

Ensure your username and password matches your email address and password, respectively – otherwise, make the changes.

Click OK.
That's it.
Mail Preference File Failing to Update Changes
Apple Mail could still fail to send and receive your messages even when you configured the settings correctly. In this case, the Mail Preference File becomes the main culprit.
Apple Mail error could occur when the app fails to update changes, thereby preventing you from saving updates to your Mail settings.
The update failure could be due to a permission issue that prevents Apple Mail from writing data to its preference file, and resetting the file could resolve this.
Follow these quick steps to get back on track.
Launch the 'Finder Search Window' on your Mac device and open the 'Go' menu to select 'Go to Folder…'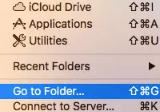 Type ~/Library/Preferences in the text box and click Go to open the folder.
Look for the file 'com.apple.mail.plist' in the folder and delete it. You could click and drag the file into the trash icon on your desktop to delete it.

Restart Apple Mail. 
The application will run a setup wizard as if you're launching it for the first time. Re-enter all your email settings again following the step earlier described above.
Note: you could consider backing up your messages before resetting your preference file. You might lose them after resetting the file.
Corrupted Mail Preference File
A corrupted mail preference file makes the file or section unusable, which often causes an Apple Mail error. Reset the file to resolve the issue and re-enter your email settings to restore functionality.
Wrapping It Up
Changed outgoing email settings, mail preference file not updating, and corrupted mail preference file are some of the major causes of the Apple Mail error. The error could be a major inconvenience, especially if you rely on emails to do your jobs. 
Thankfully, the steps outlined in this article help resolve the issue quickly and effortlessly, and you can always contact our support team if you need further assistance.