Setting up an email client might seem complex at first. But with the right information, you'll have it running in no time.
Modern email clients access incoming emails from the servers that receive and store your messages through POP or IMAP. So, be prepared to tell support which option you chose during setup if you ever need to fix an email problem.
Both methods come with pros and cons which can also help users decide which is the best fit for them. In this article, we'll explore both terms and how they affect your email account.
What are POP and IMAP Email Protocols?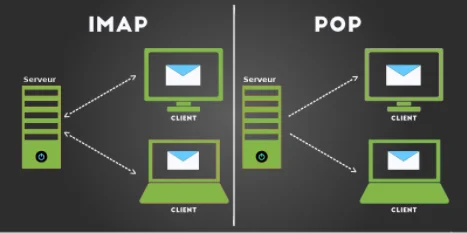 Image credit: Pinterest
POP and IMAP are internet mail protocols used to retrieve your emails from a mail server. These email protocols allow you to access your email via third-party applications like: 
Thunderbird

Outlook

Gmail

Mail

Eudora, and so on
Their major difference lies in the way they let you access and store messages from the internet.
Hang on. We'll explore these protocols a little further.
POP
POP stands for Post Office Protocol. 
You might see a variation of it as POP3. The "3" suffix signifies the current version in use.
With POP, you can access and download your messages from your mail client hosted on a remote server. Once you check an email via POP, you can only have access to it again if you're using the same computer or mobile device.
Regardless of whether you've got an internet connection or not, you won't be able to access the same messages on a different device. In other words, on a POP, you can only access your messages locally on your PC, Mac, or mobile device, not from the cloud.
Internet Service Providers (ISPs) use POP email protocol often to provide email delivery services. POP servers function by setting up directories for each email account, then sorts incoming mail according to these folders. 
When you try to access these messages via an email client such as Thunderbird, it connects to the POP server and downloads all the mail in the corresponding directory. After that, it deletes the downloaded messages from the server.
IMAP
IMAP is short for Internet Message Access Protocol.  This email protocol allows you to access emails directly from the cloud without downloading them locally.
It also lets you read or check your messages directly from the email service. The only thing an IMAP protocol downloads (when you click on it) are attachments. That way, you're able to check messages more quickly than you would on POP. 
How Do They Compare?
To compare and contrast these two email protocols, we'll discuss their work processes at a basic level.
POP Work Process
POP goes through four basic processes when you access your email.
It connects to the POP server

Fetches all emails from the email client.

Downloads and stores email locally on your device

Deletes previously downloaded email from the server.
Deduction: POP's workflow is simple and basic. You can access your emails offline after it downloads them. Though it deletes mail from the server, most POP clients offer you the option of leaving a copy of downloaded mail on the server.
IMAP Work Process
IMAP goes through the following work process when you access your emails.
It connects to the IMAP server

Retrieves messages and other content that the user requests and cache them locally, albeit temporarily. 
This content can include showing the header and body of a message, showing a list of incoming mail, or letting the user access bookmarked messages.
Allows and processes user edits such as deleting emails, marking emails as spam, marking emails as favorite, etc.

Disconnects.
Deduction: Apparently, the IMAP workflow is complex. Compared to POP, which is a one-way protocol, IMAP allows so much more on its server.
IMAP creates directories that enable it to organize email copies in the cloud and temporarily cache them offline.
However, IMAP does not store these copies by default. You may opt to access a few emails offline, but that's it. 
You won't be able to access any attachments or images associated with that mail.
Setting Up POP vs. IMAP: Which Should You Use, and When?
Of course, this depends on your needs and ideal situation. 
As you can see, POP and IMAP both have different workflows that make them stand out. 
So, what do you do when you're torn between setting up POP or IMAP for your email clients?
These points below should help you reach a decision.
Set up POP when you:
Only access your email via one device.

Want to have access to your emails offline.

Have a large number of emails but limited server storage.

Have poor internet connection
Set up IMAP when you:
Access your emails via various devices

Want to have access to your emails online.

Want a breakdown or overview of your email account.

Have a large number of emails but limited local storage.

Have a reliable internet
In a nutshell, these email protocols both have unique attributes that you can take advantage of when setting up your business email account.
While IMAP allows you more flexibility, POP gives you access to important emails even without an internet connection. 
This lets you save server storage, especially when you're on a limited email hosting plan.
What Next?
Scala Hosting has the ideal email hosting plan for whatever option you choose.
With more than 100GB of email storage, and multiple email protocols such as IMAP, POP3, and SMTP, you can now launch your business email without worries.