Your domain's A record is a DNS record that's useful for connecting your domain to an IP address that leads your domain visitors to a website.
The "A" in A record stands for address. Let's explore how it works.
How an A Record Works
Here's a quick guide on how your A record works. You could point your domain name, yourdomain.com, to an IP address like 95.118.321.13 using an A record.
When a visitor lands on your domain name, their browser communicates with a nearby DNS server to try to obtain the IP address on record for your domain name. If the DNS server has that IP address, it'll send it to the visitor's browser, otherwise, it'll tell the browser where it can find another DNS server that might have it.
Your A record provides the DNS servers with the IP address that matches your domain name.
Step by Step Guide to Adding an A Record to Your DNS on the SPanel
Follow this guide to add an A record to a domain name.
Step 1: Log Into SPanel's User Interface
The default login URL for SPanel's User Interface is yourdomain.com/spanel. Through it, you'll be able to manage your domain's DNS zone.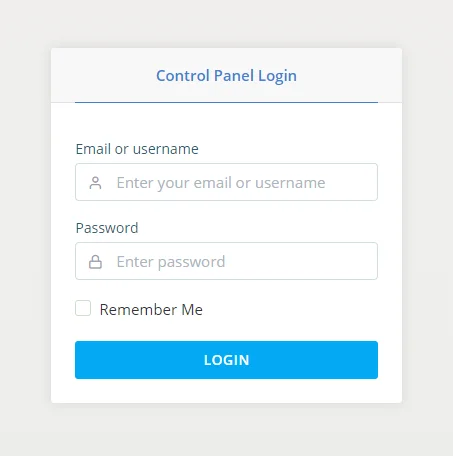 Step 3: Open the DNS Editor

The DNS Editor is available under the Domains section on SPanel's Homepage.


Step 4: Add, Edit, and Remove an A Record in SPanel
Let's explore how to manage—add, edit, and delete—your domain's A records from your SPanel.
How to Add an A Record in SPanel

In the Name, enter @ to redirect to your current domain or the domain name or subdomain you want to redirect to. If adding a domain name, make sure to add a period at the end of the domain name. For example, your yourdomain.com. with the period in the end.
You can also use other names like FTP if it's an FTP record.
The TTL (time to live) is given in seconds automatically. Its default setting 14400 seconds and you can change it to as short as 30 seconds if you wish.
Choose A from the dropdown of the types of records in your SPanel account.
In the Value box, enter the IP address you're setting as the host destination.
How to Edit or Remove an A Record in SPanel
You can remove an A record by scrolling down the DNS editor page in your SPanel.

Once you've found the A record you want to change or delete, take these steps.
Click the blue Edit button on the record you want to alter.

There you can change the records as you want. And click Save when you're done editing.

If you want to delete the record, click Delete.

And if you've made changes but don't want them to apply, click Cancel.

Need Help?
Now you know how to add, edit, or remove an A record from your SPanel account. If you need any help you can contact our support at any time. We are available, around the clock.