Webmail software, such as Roundcube and Squirrelmail, helps users send and receive emails anywhere using their web browsers.
However, especially if you're on a mobile device, you'll find it much easier to manage your emails from your operating system's default client application.
Let's see how Android users can do it.
Understanding Basic Email Protocols
Understanding the basic email protocols helps you set up email correctly. The protocols define how you access and read your emails, including how you send outgoing emails.
Let's quickly take a look at them.
IMAP and POP
These protocols help you access your incoming emails using third-party email clients by defining how you authenticate yourself and retrieve the incoming messages
POP
POP stands for Post Office Protocol, and version 3 (POP3) is the standard version in common use. POP is a one-way incoming email protocol. It deletes the message from the server's inbox after downloading it.
This protocol is perfect for people who use only one device to access their emails and those who want to free up server space. Port 995 is the default POP3 port to establish a connection with an email server.
IMAP
Internet Message Access Protocol, IMAP for short, is a two-way incoming email protocol.
The protocol also syncs changes made on the email client to the server, so it's useful for people who need to access their inbox from multiple devices. Port 993 is the default IMAP port.
SMTP
Simple Message Transfer Protocol is an outgoing email protocol that helps users send emails from email clients to different email addresses.
The protocol re-routes email messages between senders and recipients, delivering the messages if both are valid and authenticated users. SMTP server returns undelivered messages to the sender, along with the reason for the failed delivery.
The protocol also filters the messages that pass through it and regulates the number of messages an email account can send within a time frame. Port 456 is the default SMTP port.
Creating Domain Email Accounts with SPanel
For example, to set up an email, help@domain.com, on your Android, you'd need first to create the email account at your web hosting control panel. Below, you'll see the steps you need to take to create an email account with SPanel – ScalaHosting's proprietary management platform.
Log into your SPanel's User Interface.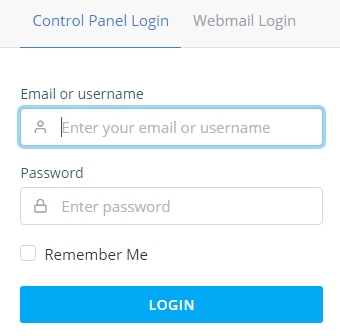 Click Email Account under the Email section to begin the setup.

Select the domain you intend to create the email on and enter your email username. Type your password and repeat or use the 'Generate' button to generate a strong password automatically.
You can also set limits on the amount of storage space each account can use.
Click the Create Email button to complete the process.
Connecting the Emails to Android
Now, how do you connect the new email to your Android devices?
The steps may vary from phone to phone, but in general, they should look something like this:
Open the device's Email application, go to its

Settings

and look for the section that deals with the email

Accounts.

Tap

Add account

and enter the account's email address.

Tap

MANUAL SETUP.

Select the protocol

(POP3 or IMAP)

.

Type the password of your email account.

Enter the incoming and outgoing mail servers. Make sure SMTP is configured to request a password before sending emails. Otherwise, the email account won't be added successfully.

Tap

NEXT

to configure the account.
If you've added the correct information, the email client will successfully connect to the server and will display your inbox. But how can you make sure you enter the correct information.
Where Can I Find My POP3/IMAP/SMTP Settings?
We've already determined how you set up a new email account and how you choose the password for it. If you forget the account's password, you can easily reset it via the Email accounts section in SPanel's User Interface.
However, the email address and the password won't be enough if you want to access your emails via an Android client. You'll also need the correct POP3/IMAP/SMTP settings.
There are several places where you can find them. They are available in SPanel's User Interface. Go to Email Accounts and scroll down to the bottom of the page. You'll see a list of all the email account's you've already created. Next to each one of them, there's an Actions drop-down menu. Open it and select Connect devices. SPanel will display all the details in a popup.

You can also find them in your Welcome Email. If you don't keep a copy of it in your inbox, you can find it in your ScalaHosting Client Area. Simply go to My Details > Email History.