Moodle is an open-source learning management system (LMS). Anyone can download and install Moodle on a hosting server, which explains its vast user base. Indeed, the LMS reached its peak during the COVID-19 crisis. Yet, we don't see any signs of its popularity slowing down.
The latest statistics show over 165,500 active Moodle websites from 238 countries. So, what makes one LMS better than the rest?
Functionality, content, features, design, and user experience, are part of the deal. A high-quality hosting provider also contributes to faster page load times, better uptime, and enhanced security, translating to more happy users.
Today, we'll help you understand the main hosting issues you might encounter with your Moodle website. Moreover, you'll learn quick and effective fixes, discover tips on choosing a suitable host to help you along the way, and boost your Moodle performance to gain a competitive advantage over your rivals.
So, without further ado, let's dive in!
5 Common Hosting Issues That Can Affect Moodle
If you want to maintain a stable and reliable Moodle website, it would be best to steer clear of hosting issues. Such concerns can make your site inaccessible to users, cause frustration, lower site visits, and overall profits. The issues can even lead to potential legal or reputational problems.
You may experience several types of hosting issues, regardless of the type of website you are hosting. Still, some are more common for Moodle projects, due to the nature of the LMS.
Here are some essential things to consider to ensure the optimal operation of your educational website:.
Server Resource Limitations
Moodle is a resource-intensive application that requires a significant amount of server resources, such as CPU, RAM, and disk space, to function optimally.
The resources you need depend on several factors. Still, as a general guideline, here are some minimum requirements for running Moodle:
Processor: At least 1.5 GHz (2.0 GHz or higher is recommended)
RAM: A minimum of 2GB (at least 4GB recommended for larger websites with more users or activities).
Storage: At least 10GB of free disk space (more if you have extensive multimedia files).
Bandwidth: 2 Mbps (more for heavier projects or websites with many concurrent users).
When the number of concurrent users accessing the system increases – more server resources will be involved in the day-to-day operations. As a result, if your hosting plan has limited resources, you may experience slow performance or even server crashes. Because of all this, a shared server is inherently insuficient for hosting Moodle; other users might affect you, and you won't be able to scale.
Therefore, it's essential to choose a hosting plan that meets the specific needs of your Moodle site. First, you should consider the number of concurrent users, the size of your course content, the types of activities, and the level of customization.
Next, you should monitor server performance regularly and scale up your hosting plan. Optimally, choosing a VPS or a dedicated server on the cloud would be best. This way, you can start small on a budget and upgrade as your Moodle site progresses.
For instance, ScalaHosting offers scalable Moodle LMS hosting, enabling you to add resources on demand.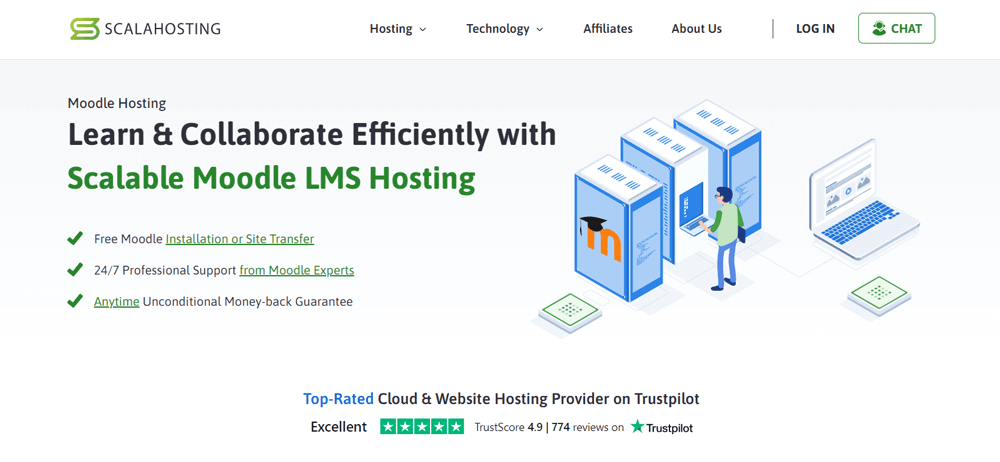 Compatibility Issues
Moodle requires specific versions of PHP, MySQL, and other software components to function correctly. You may encounter compatibility issues if your hosting environment does not meet these requirements or has conflicting versions. These can include error messages, data corruption, and system crashes.
Due to this, it's vital to choose a web host that offers a Moodle-specific hosting environment, such as ScalaHosting. For instance, we provide a free one-click Moodle installation with Softaculous or website transfer, PHP-FPM support, MySQL databases, phpMyAdmin, remote MySQL access, and more.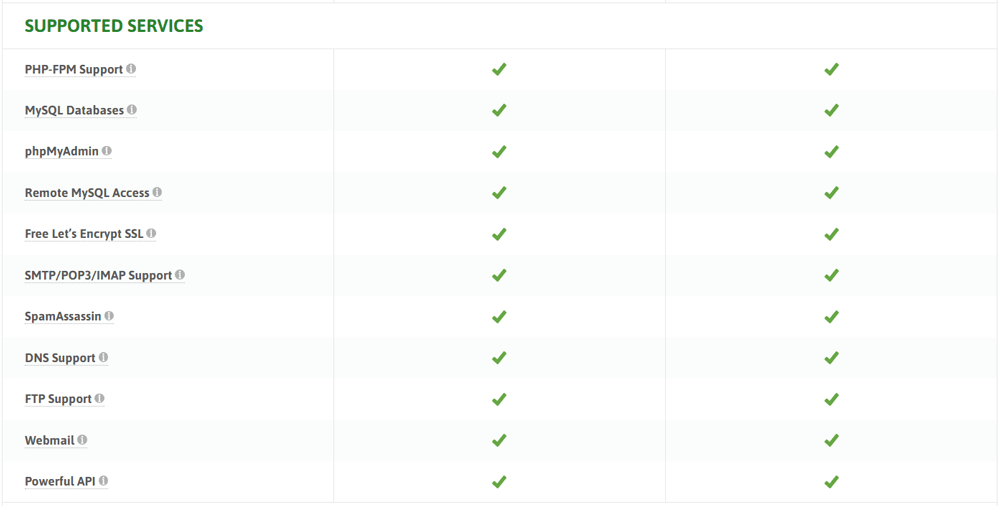 You should also ensure that your plan meets the specific software requirements of your Moodle installation.
IMPORTANT: Regularly checking for updates and performing compatibility tests can also help prevent compatibility issues.
Security Vulnerabilities
Moodle contains sensitive data such as user information, course content, and assessment results. As a result, it is a high-value target for hackers. If your hosting environment is not adequately secured, your Moodle website may easily fall victim to attacks, such as data breaches, malware infections, and other security incidents.
A secure web hosting provider can help you avoid these types of risks.Their solutions include regular security updates, firewalls, intrusion detection systems, and data encryption. You should also implement strong password policies, regularly back up your data, and monitor your site for unusual activity.
Having much experience with LMS projects, ScalaHosting offers SShield, real-time malware and outbound SPAM protection, blacklist monitoring and removal, brute-force security, and 2FA authentication as part of every Moodle plan.

Backup and Restore Problems
There's a lot of data involved with Moodleprojects , which can make backing up and restoring your site quite complex. Moreover, if your hosting provider lacks adequate procedures, you may lose valuable data or experience extended downtime.
So, make sure to opt for a web host with automated backup and restore functionality. You should also perform regular manual backups and store them in a secure location. This way, you will be 100% certain that your data is safe in case of a hardware failure, software corruption, or other disasters.
Our Moodle LMS hosting plans include automatic backups for all accounts on the server. If this automation is not your cup of tea, you can take matters into your own hands and back up your website files manually.
Configuration and Maintenance Issues
Moodle requires ongoing configuration and maintenance to function optimally. Without it, you can quickly encounter slow page loading times, downtime, broken links, and server errors.
Yet again, choosing a web host knowledgeable about Moodle is vital. But adding to that, you should also perform regular maintenance tasks such as updating software components, monitoring server logs, and performing security audits. Our Moodle experts can ensure your hosting environment is configured correctly and well-maintained. If you encounter any issue – you can reach us via live chat or the ScalaHosting ticketing system at no extra fee.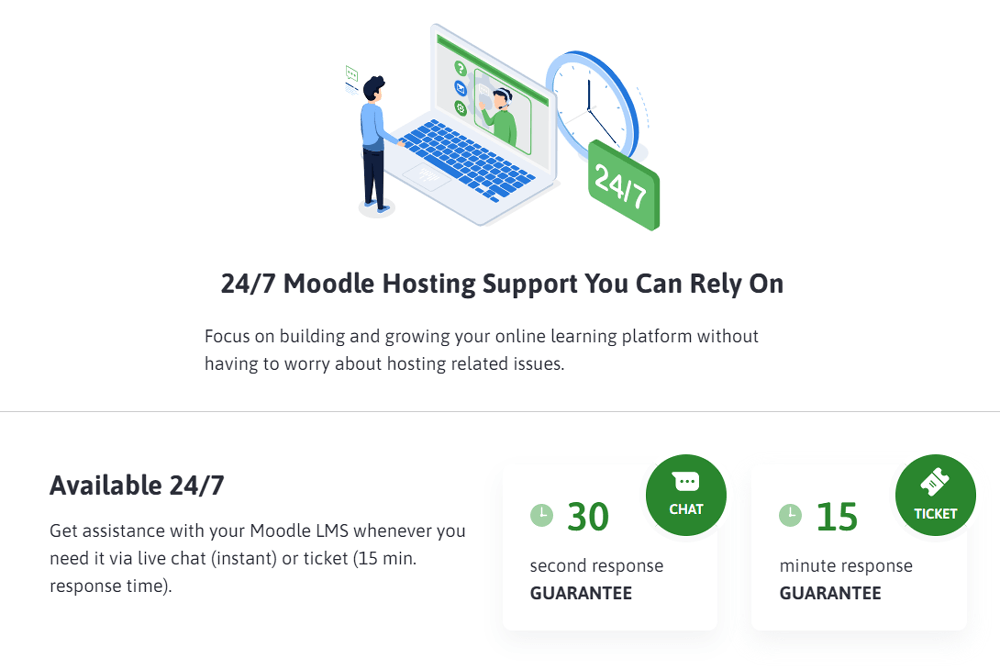 Quick Summary Table: Common Moodle Hosting Issues & Fixes
Are you still confused about what's harming your Moodle performance? Here's a rundown of the major issues, along with quick fixes!
| | | |
| --- | --- | --- |
| Moodle Issue | Explanation | Fix |
| Slow Performance | The server is not optimized correctly, or the website experiences high traffic volumes with insufficient resources. | Try scaling to a higher-tier hosting plan, optimizing the server settings, or upgrading the server hardware. |
| Server Downtime | Moodle may go offline if the server crashes, undergoes maintenance, or if there is an error in the code. | Check the server logs for any errors, update the server software, or contact your web host to investigate the cause of the issue. |
| Security Issues | Your Moodle website may be vulnerable to hacking attempts or malware attacks if the server is not secured correctly. | Ensure the server runs the latest security updates, configure the firewall to block unauthorized access, and use a secure SSL certificate. |
| Backup and Restore | You may lose data or experience issues during the backup and restore process. | Perform regular site backups and test the restore process to ensure it works properly. |
| Compatibility Issues | Moodle may not work correctly if it is incompatible with the server software or the user's web browser. | Ensure the server meets the minimum requirements for running the LMS, update the browser to the latest version, and ensure all plugins and themes are compatible with the Moodle version. |
| Error Messages | Moodle may display error messages due to incorrect configuration settings or server issues. | Check the Moodle error logs for any error messages and try resetting the configuration settings. |
| Plugin Conflicts | Moodle may experience plugin conflicts if multiple plugins work in conflict with each other. | Disable conflicting pluginsand test the website to see if you have resolved the issue. |
| Database Issues | Moodle may not function properly if there are issues with the database, such as missing tables or corrupt data. | Check the Moodle database logs for any errors and try repairing the database. |
How To Choose The Right Hosting Provider For Your Moodle Site?
Choosing the right hosting provider for your Moodle website can solve your performance-related issues for good. On the other hand, partnering with the wrong company can make things worse, further harming your site's speed, stability, and security.
Here are seven tips to help you choose the perfect Moodle web host:
1. Server Resources: Opt for a hosting plan with adequate server resources such as CPU, RAM, and disk space. Consider the size of your course content and the number of concurrent users that will be accessing your site.
2. Server Location: Choose a web host with servers in a geographic region close to your target audience to ensure fast page loading times and a good user experience.
3. Uptime and Reliability: Select a company with a high uptime guarantee and a track record of reliability. The industry standard is 99.9% and above.
4. Moodle Expertise: Look for Moodle experts and nothing less. They should be familiar with the specific requirements of the LMS and have a proven record of configuring and maintaining installations.
5. Security: The hosting provider must take protection seriously and offers firewalls, intrusion detection systems, and data encryption measures. They should also perform regular security updates and have an automated data backup and restore procedure.
6. Technical Support: Partner with a Moodle hosting provider that offers 24/7 technical support across multiple channels. They should be responsive and knowledgeable about Moodle and able to help you with any issues you encounter with the learning management system.
7. Scalability: Finally, choose a host that can support your growth. This way, you will ensure your site remains fast and responsive even as the number of users and the size of your course content increases.
Red Flags In Moodle Hosting Providers
Now that you know what to look for, let's cover what you should avoid at all costs.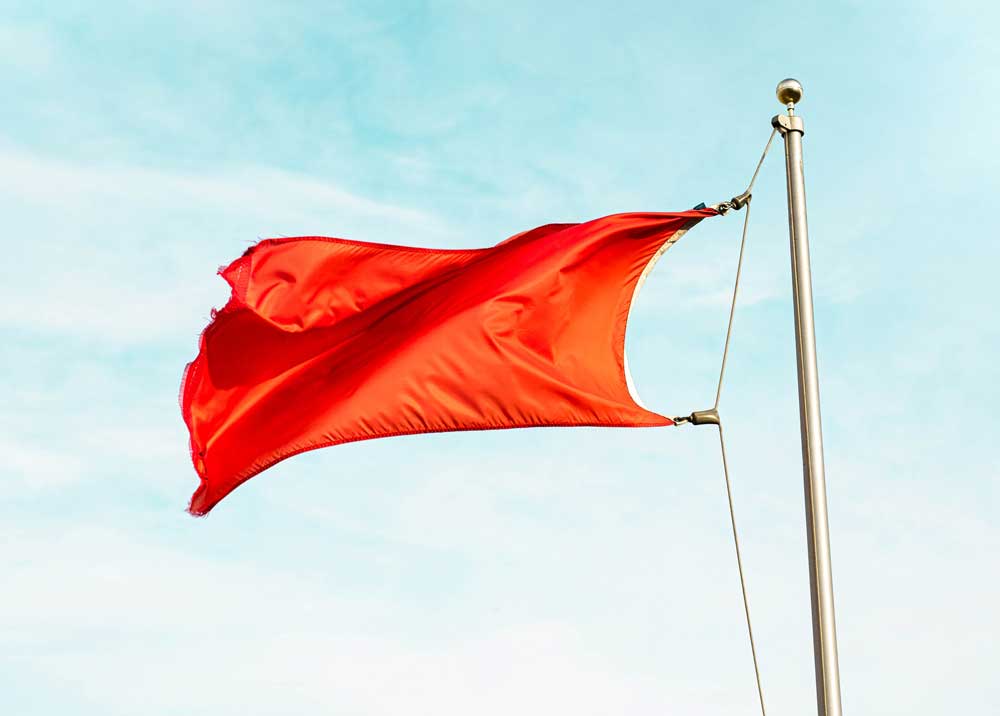 Here are the ten red flags in Moodle hosting providers:
Lack of Moodle expertise
Poor performance and uptime
Inadequate server resources
Insufficient security measures
Limited customer support
Higher prices than competitors
No customized solutions
Lack of scalability options
No automated backups
Non-transparent Terms of Service
Additional Tips On Optimizing Your Moodle Performance
You have chosen a hosting provider with high-performance servers, ample resources, and a robust infrastructure. So, what's next?
As we slowly come to an end, we've decided to give you a few extra tips on boosting your Moodle environment:
Optimize images to reduce their size and compress them for the web, as large files can slow down your website.
Use a CDN to cache your content in multiple locations worldwide, making it faster for users to access your site from anywhere.
Activate caching to store frequently accessed data in memory, reducing the time it takes to load pages and improving overall site performance.
Optimize your database by deleting old data and regularly performing maintenance tasks such as repairing tables and defragmenting indexes.
Enable gzip compression to reduce the size of your website files, improving load times.
Minimize HTTP requests by combining scripts and stylesheets, using CSS sprites, and avoiding redirects.
Utilize a performance optimization plugin, such as WP-Optimize, WP Super Cache, or W3 Total Cache.
Conclusion
Our advice will help you navigate the common hosting issues and optimize the performance of your Moodle site to gain a competitive advantage, improving user engagement and satisfaction.
Yet, we understand that sometimes you may require more comprehensive support to achieve a truly worry-free experience. ScalaHosting offers premium Moodle services with top-notch customer support and advanced features that can take your Moodle site to the next level. We are available 24/7 to assist you with any issues, from setup and configuration to security and performance optimizations.
Contact us today to learn more about our solutions and how we can help you achieve a seamless and hassle-free Moodle experience!
FAQ
Q: Why is my Moodle site slow?
A: Various factors can cause a slow Moodle site, including insufficient server resources, improper configuration, slow internet connection, excessive plugin usage, unoptimized database, large media files, or a combination of these factors. It's important to identify the root cause and address it accordingly. You can use Moodle's built-in statistics and logs or performance monitoring tools like New Relic, GTmetrix, or Google PageSpeed Insights to identify performance bottlenecks and areas for improvement.
Q: How can I speed up my Moodle website?
A: You can upgrade your server resources, optimize your database and code, implement caching and compression techniques, use a content delivery network (CDN), and minimize third-party plugins or modules. It's also essential to update your Moodle site with the latest releases and security patches.
Q: What kind of hosting plan do I need for Moodle?
A: The hosting plan should meet the minimum system requirements to handle your anticipated traffic volume. It's best to use a VPS or dedicated server and a high-speed internet connection to ensure optimal Moodle performance. In addition, your web host should also support the required versions of PHP and MySQL/MariaDB.
Q: How do I back up my Moodle site?
A: You can back up Moodle by manually exporting the site's database and files, through automated tools such as SPanel, cPanel, phpMyAdmin, or command-line scripts. You can also store the backups in a separate location or offsite server to avoid single points of failure. Additionally, you will want to test the backup and restore process regularly to ensure it works smoothly and maintains data integrity.
Q: Can I migrate my Moodle site to a new host?
A: Yes, you can. At ScalaHosting, we offer effortless website migration without downtime and absolutely free of charge. Our technicians will handle the work without input on your behalf.
Was this article helpful?