Amazon Web Services (AWS) took the cloud computing world by storm when it entered the scene more than 15 years ago. Moodle is a learning management system (LMS) that has been elevating the online experience for educators since 2002.
Imagine the power you can unlock if you combine them. Curious? We have something for you. Here's how to host Moodle on AWS with ScalaHosting:
Best Hosting Environment for Moodle
ScalaHosting's years of experience have shown one thing for sure – the best environment to host Moodle is cloud VPS hosting.
But why is that?
Virtual private servers give you full control over your projects, meaning you can tailor your environment to match your needs. At the same time, VPS solutions don't limit you the way shared plans do. In fact, you can often make use of flexible resources – that means that you only pay for what you use.
In a typical VPS setup, a physical server is divided into several virtual instances, each dedicated to a single user. The accounts, however, are completely isolated. That guarantees better performance and fewer security risks.
ScalaHosting already has an option for Moodle users, but how does AWS fit into the picture?
ScalaHosting and AWS
ScalaHosting and Amazon AWS have been partners for some years now. Thanks to that, our customers get four more server choices, from 2GB to 16GB RAM. AWS also added 13 new datacenter locations, so that all your visitors can enjoy optimal speeds.
But of course, that's not all.
Customers can now pair AWS servers with Scalahosting's SPanel. Our in-built cloud management platform is fast and lightweight. SPanel supports both LiteSpeed and OpenLiteSpeed. In addition, it comes with the AI-powered SShield, which can detect over99.99% of attacks before they even reach your server.
SPanel is integrated with the Softaculous auto-installer. That means that you can get Moodle with just a click.
Let's see how to host Moodle on AWS with ScalaHosting:
Choosing and Configuring an AWS Hosting Plan
The first thing you need to do is choose an AWS hosting plan. All of our options include no-downtime migration, 24/7 tech support, and an unconditional money-back guarantee.
What you need to consider is the:
Number of CPU cores
RAM
SSD Storage
Bandwidth
After you choose a fitting plan, you will be asked to configure it.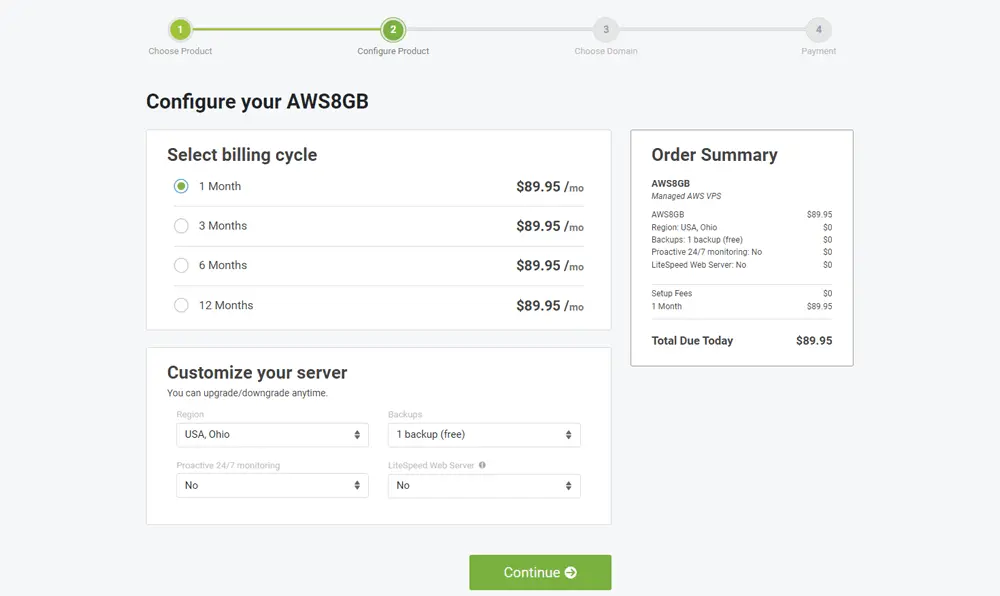 First, you need to choose your billing cycle. The price rate is fixed, so pick an option that works best time-wise. Then, you can start customizing your server. Don't worry if you're unsure about some things – you can always up or downgrade.
You can set:
Your region
How many backups you need (you get one for free)
Proactive 24/7 monitoring
LiteSpeed Web Server (the fastest option available)
Some of the options include additional taxes.
When you're done with that, you can proceed to registering your domain name.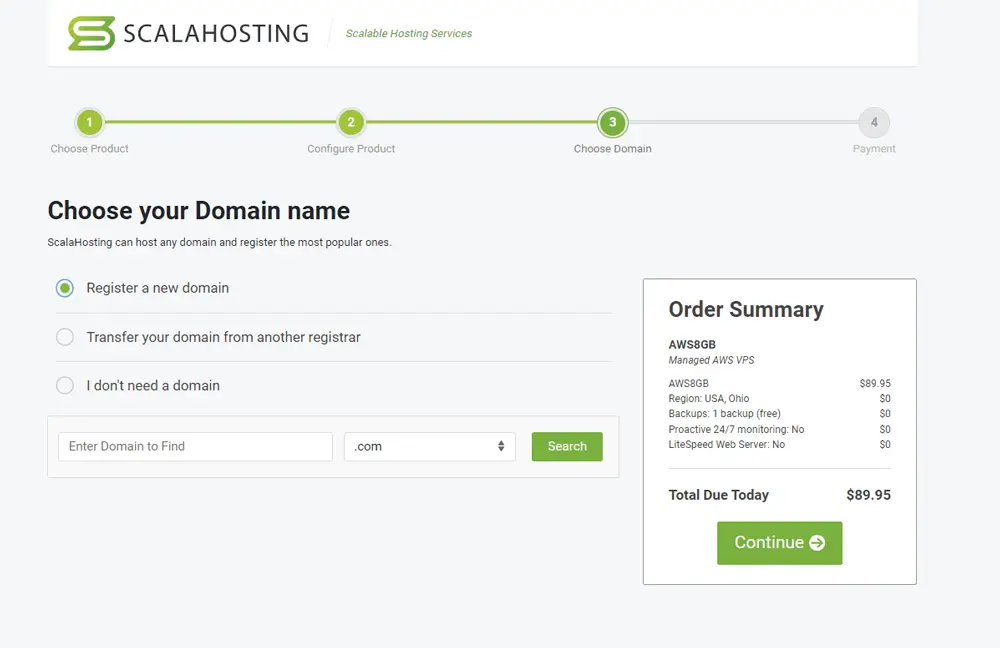 You have three options:
To register a new domain
To transfer from another registrar
Not to set up a domain at all
When you click the one that suits your needs, hit Continue. You'll be asked to create an account by entering a valid email address and a strong password.
Now let's see how to install Moodle on AWS with SPanel.
Moodle Installation on AWS with SPanel
Spanel is integrated with Softaculous, meaning you can install Moodle easily and completely free of charge. To start things up, log in SPanel's user dashboard and navigate to Software > Softaculous.
Once you click on the icon, it will take you to a page featuring the top scripts.
The menu on the left features different app categories. You will need to scroll down a bit, but you will eventually see Educational, under which you'll find Moodle.

Click on it and choose Install now. You will see a software setup page that has a Quick Install button at the right corner. It's the best option if you're not particularly tech-savvy or don't have a lot of time to spend on this process.
The page should now look like this: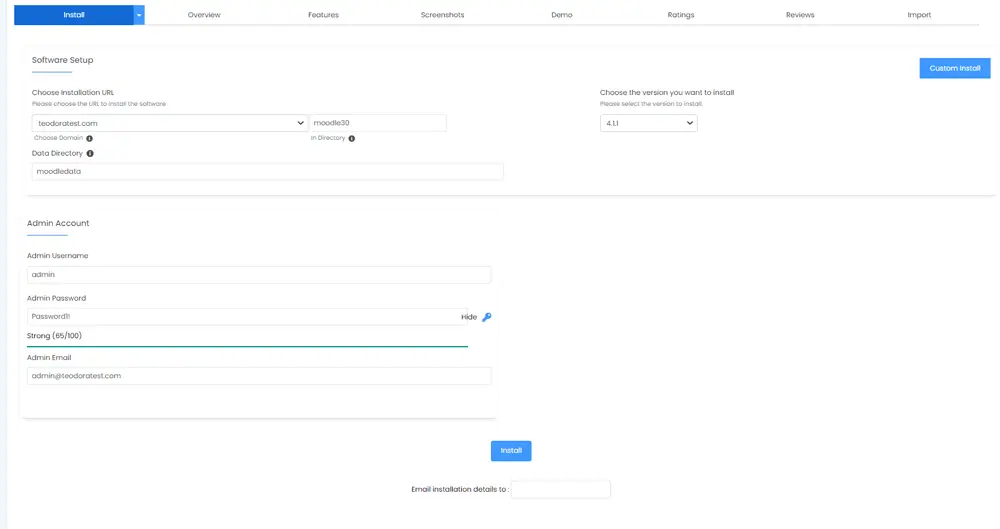 Choose the URL to install the software and the version you want. It's always best to go for the latest stable version of any software, as it's the most feature-rich and has the fewest bugs.
Next, set your admin username and add a password – make sure it's a strong one, with numbers, symbols, and upper and lowercase letters. Also, provide an actual working email. Then, hit Install.
Configuring Moodle
Once you installed Moodle, log in to the admin dashboard and click on Site Administration.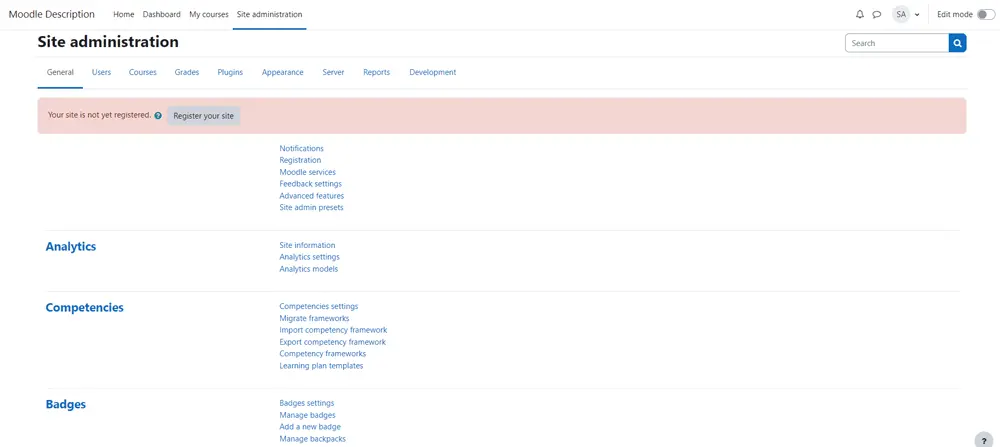 You can start by setting the site name, description, language, and time zone. If you go to Appearance > Themes, you can change the design of your website to better match your educational organization.
To add users, go to Users > Add a new user. After that, click on Users > Permissions to manage your user access. On this page, you can customize the roles (teacher, student, guest, etc.) and assign privileges (add text, grade works, create courses, etc.) to all of them.
We now move to the actual site content.
Go to Courses > Add a new course to begin structuring your classes. You can:
upload files
create quizzes
start virtual classrooms
set filters
track completion
And more.
In case there's a function you need but it's not in-built, go to Plugins > Install plugins. Moodle's extension directory has plenty of options, so you'll most likely find a suitable one. This will help you deliver the best possible learning experience.

Wrap Up
You can now take your Moodle experience to the next level, thanks to AWS and ScalaHosting. Contact our team now and we'll help you start your journey.
FAQ
Q: Do you need a server for Moodle?
A: Having some kind of web server is an essential component of hosting Moodle (or any app for that matter). As for the LMS itself, the only requirements are PHP or MySQL so any Linux-based solution would do fine.
Q: How much does it cost to host Moodle?
A: The costs of hosting Moodle can greatly vary depending on the hosting provider you choose. Picking a shared plan, you can expect prices as low as $4-5/mo. Still, a VPS environment is highly recommended for LMS projects, and you can get a solid server for around $20-40/mo easily.
Q: Which database is best for Moodle?
A: Moodle is a PHP-based LMS that can utilize all popular database models in order to function properly. If you don't have any specific requirements, you can safely go for MySQL to store your site data.
Was this article helpful?