Creating a virtual classroom with Moodle is relatively simple. The newest LMS version – 4.0 – made it even easier, as it comes integrated with this option.
We'll go through the whole process of setting it up. We'll also discuss how you can integrate a virtual classroom with Moodle.
First things first…
What Is a Virtual Classroom in Moodle?
Virtual classrooms are eLearning environments that enable teachers to host lectures and lessons via video or audio calls. This solution eliminates the need for a physical classroom and allows students to learn from different locations.
Virtual classrooms come with a lot of benefits:
Students get access to all learning materials 24/7
Teachers can give immediate feedback and personalized sessions
Courses are more flexible
Schools can offer more variety
Everyone involved saves money and time
Since version 4.0, Moodle contains an in-built integration with BigBlueButton that allows users to create virtual classrooms easily.
Here's how…
How to Create a Virtual Classroom with Moodle
To use the BigBlueButton integration, you'll have to enable it first.
Go to Site administration > Plugins > Manage Activities. It will show a list of activity modules. Find BigBlueButton and click on the eye symbol under Hide/Show.

A window will open, asking you accept the data processing agreement in order to enable the plugin.

Then, go to a course of your choice. Enable Edit mode and click on Add an activity or resource.

Once you choose BigBlueButton, you will be able to start customizing your Moodle virtual classroom.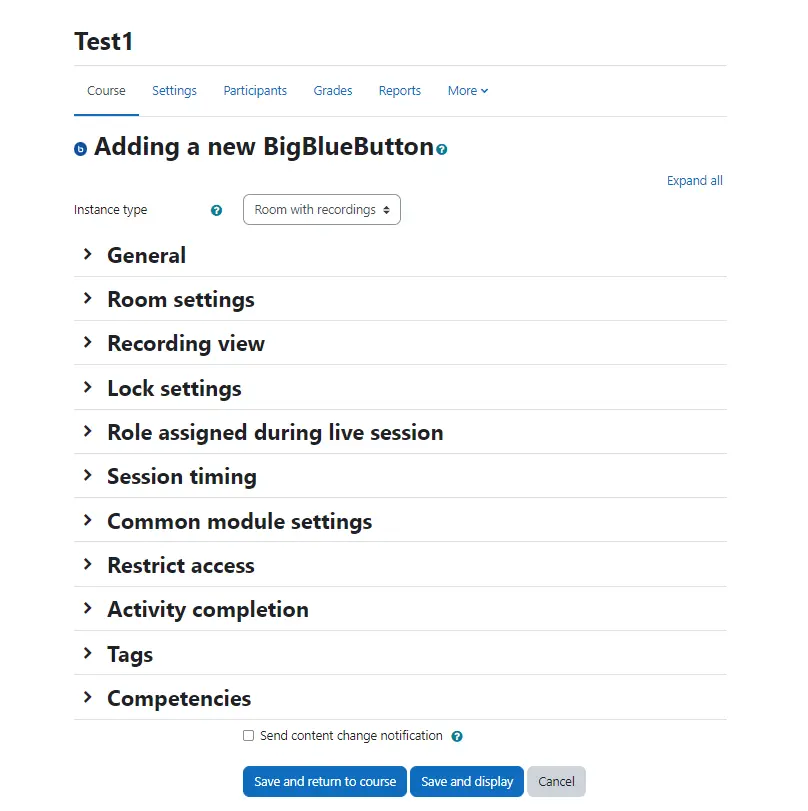 Fill in the name in the General drop-down and a welcome message (optional) in the Room settings. The Lock Settings category allows you to disable:
Webcams
Microphones
Private and Public chats
Notes sharing
You can also hide the user list.
Teachers can assign different roles to enrolled users in BigBlueButton – they can be viewers or moderators. They can also set opening and closing times in Session Timing. In addition, instructors can set deadlines for activity completion and track them.
Virtual classrooms can include tags and course competencies. For the latter, users can:
attach evidence
ask for a review
complete the competency
Virtual Classroom Plugins
If you're still using an older version of Moodle and, for whatever reason, you cannot update, you can always use a virtual classroom plugin. The public libraries and marketplaces offer numerous options in that aspect, both free and paid.
Class Collaborate, for example, is created especially for this purpose. It's a great free option, with a lot of tools for teachers.
If you only need an extension for a video conference call, there's no need to go for a virtual classroom addon. You can integrate Moodle with the likes of Google Meet and Zoom.
Here's how to integrate a virtual classroom with Moodle:
Go to Site Administration > Plugins > Install Plugins.
Click on Install plugins from the Moodle plugin directory.
Log in with your Moodle admin data.
Choose the plugin.
Select Install Now.
Check if the information about your website is correct and click Continue.
Once it's done, you can start customizing the settings.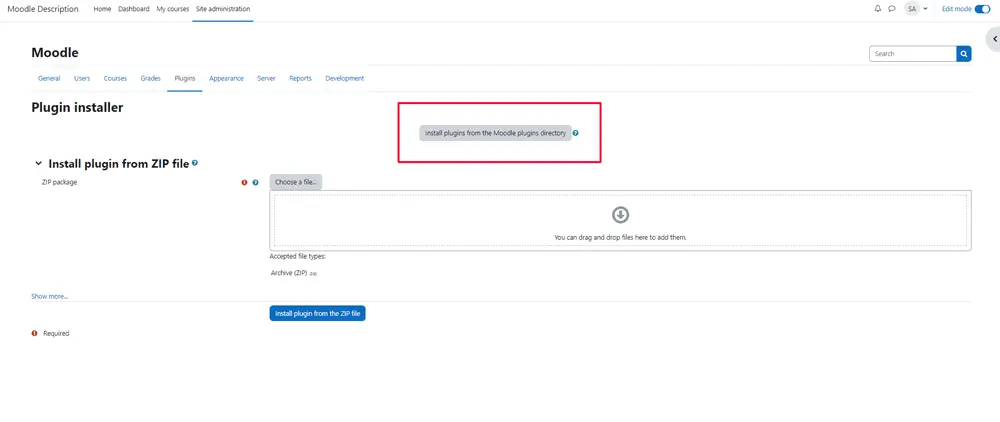 Alternatively, you can install an add-on manually by uploading its ZIP file to the Moodle folder of your hosting server.
Hosting Moodle
In order to unlock Moodle's full potential you need the right hosting environment.
When it comes to LMS solutions, your best bet is to go for a VPS plan. ScalaHosting offers a tier with flexible resources, which are perfect for Moodle projects. It includes our own SPanel, which comes integrated with the Softaculous autoinstaller. That means that you can set up the LMS with just a few clicks, no technical experience needed. And in case you need help – our tech support team is available 24/7.
Contact us today for more info!
Wrap Up
To sum up, you have two main choices when it comes to integrating a virtual classroom in Moodle – use the BigBlueButton integration or facilitate an add-on.
The first option is faster, as all you have to do is enable the option and you can start setting up your online classes. Moodle's library, however, has numerous extensions and you can choose the one that best fits the needs of your educational facility. Each of them can be installed easily and with a few mouse clicks.
FAQ
Q: Does Moodle have a virtual classroom?
A: Moodle 4.0 has a built-in virtual classroom, thanks to the integration with BigBlueButton. In case you're using an earlier version of the LMS, you'll need to use a plugin.
Q: What is a Moodle integration?
A: A Moodle integration is an extension you can add to the platform to enrich its features. For example, there are options that allow you to change the LMS' appearance, generate certificates, add virtual classrooms, check attendance, gamify modules, and more. Currently, you can find over 1,900 open-source plugins, which are developed and maintained by the community.
Q: How do I create a virtual classroom?
A: To create a virtual classroom in Moodle, you need to enable the BigBlueButton integration. To do so, go to Site administration > Plugins > Manage activities, find BigBlueButton in the list and click on the eye symbol under Hide/Show.
Was this article helpful?