You want to create an eLearning website and are faced with a dilemma – what would be the best site building software for the job? Moodle and Drupal are two of the names that often pop-up as suitable tools both very popular and quite multifunctional.
To make it easier for you, we compared both options side to side to see where their strengths and weaknesses lie. We'll discuss purpose, price, ease of use, and more.
Let's dive in.
What Is an Educational Platform
In order to better understand the difference between Moodle and Drupal, you first need to learn about the purpose of LMS (learning management system) websites.
An LMS is a software or a web app specifically designed for educational purposes. It's widely used by schools, universities, private tutors, and many more.
Educational platforms allow users to:
upload lessons, presentations, reading materials, etc.
create quizzes and tests
appoint assignments
post notes and messages
The most popular example of an LMS platform is Moodle.
Moodle Overview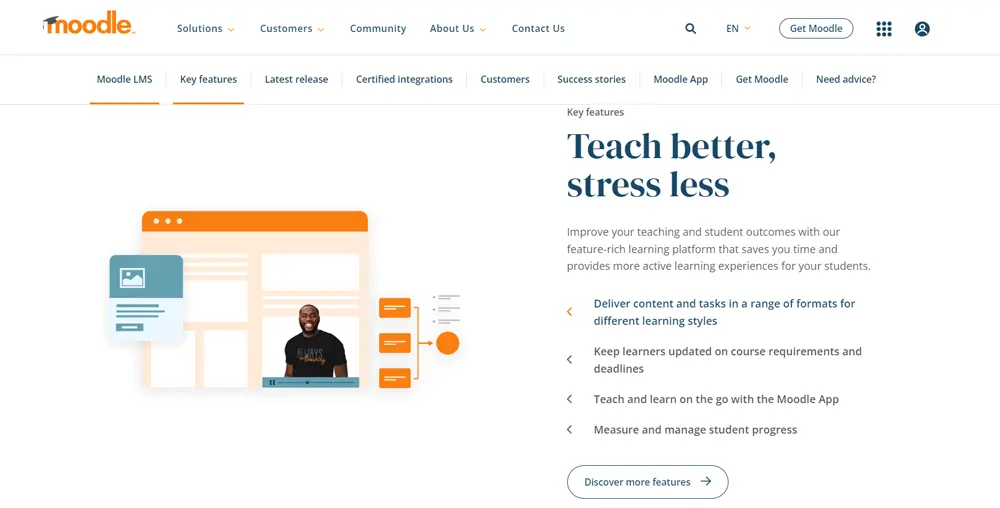 Price: Free if self-hosted, $160 AUD/annually for Off-the-shelf hosting tier
Trial: 45 days
Pros: Еasy to use, regular updates, supports numerous languages
Cons: Not suitable for huge projects, paid hosting
Moodle is currently the most popular LMS (Learning Management System) worldwide. According to the official Moodle statistics, it:
is incorporated in 165,369 sites
has 351,728,275 users
is utilized in 238 countries
Being specifically developed with a focus on learning, Moodle is perfect for small to medium educational organizations. You can pick from a wide variety of themes so your online project can reflect the colors of your school or college.
One of the biggest Moodle benefits is how incredibly easy it is to use, even for complete beginners. The drag-and-drop editor allows you to add images, videos, and audio files to courses, notes, assignments, etc. Admins can create multiple sections for different topics on a single page and later assign different roles to the users that have access.
Teachers and students alike can provide feedback about quizzes and courses on specific forums or via surveys. All types of users can communicate via live chat sessions and share information using their emails or social media accounts.
If you want to self-host Moodle, you'll need to choose a reliable vendor. To help you with that, ScalaHosting offers Moodle hosting packages with enough resources to handle all educational needs. In addition, our support team will be there to help you navigate the whole process.
But remember – Moodle can be used for educational purposes only.
Drupal Overview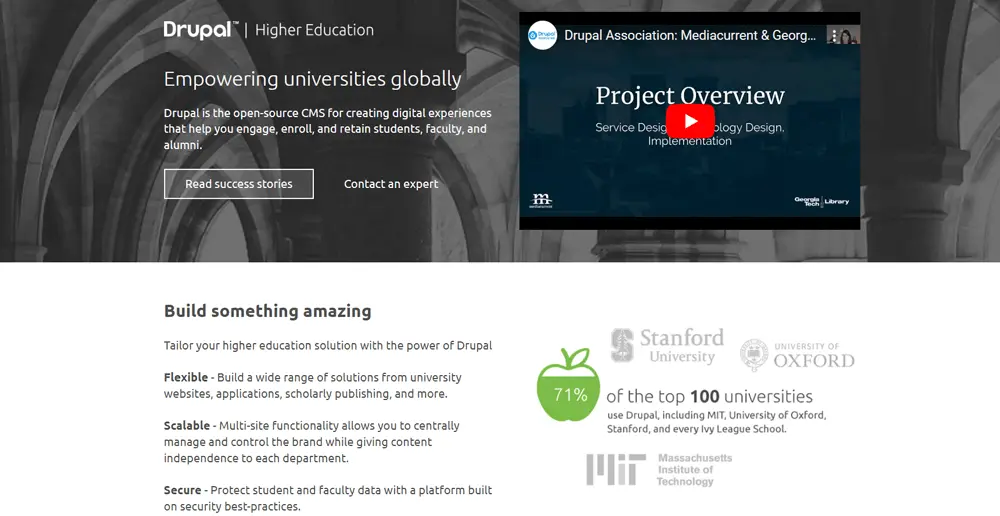 Price: Free, addons might cost money
Trial: 10 demo applications
Pros: Mobile-responsive themes, frequent updates, customizable
Cons: Learning curve, requires coding skills
Drupal is an open-source CMS (Content Management System) recommended for bigger organizations and enterprises due to its customization options.
According to Drupal statistics:
The platform is in the top 5 of the most popular content management systems
Drupal powers 1.2% of all websites
The app features Drupal Commerce, which is used by 1.2% of all Drupal-powered websites
As for ease of use, Drupal is not the most beginner-friendly option on the market. In fact, it has a pretty steep learning curve. Also, it's not an out-of-the-box solution, so you will need some coding skills to make it work for you. Once you do, however, you'll have a powerhouse of a tailored solution.
Drupal is highly reliable and takes the security of users seriously. It features database encryption, issues are patched immediately and there are frequent updates.
Web hosting is also a factor here and, as per usual, you'll need a reliable vendor. Naturally, the ScalaHosting VPS servers are powerful enough to host your Drupal projects and tech support specialist will be there 24/7 to answer all your questions with the CMS.
Drupal is often compared to WordPress and Joomla. It can be used for all types of sites, as long as you know what you're doing (or know someone who does).
Moodle vs Drupal Comparison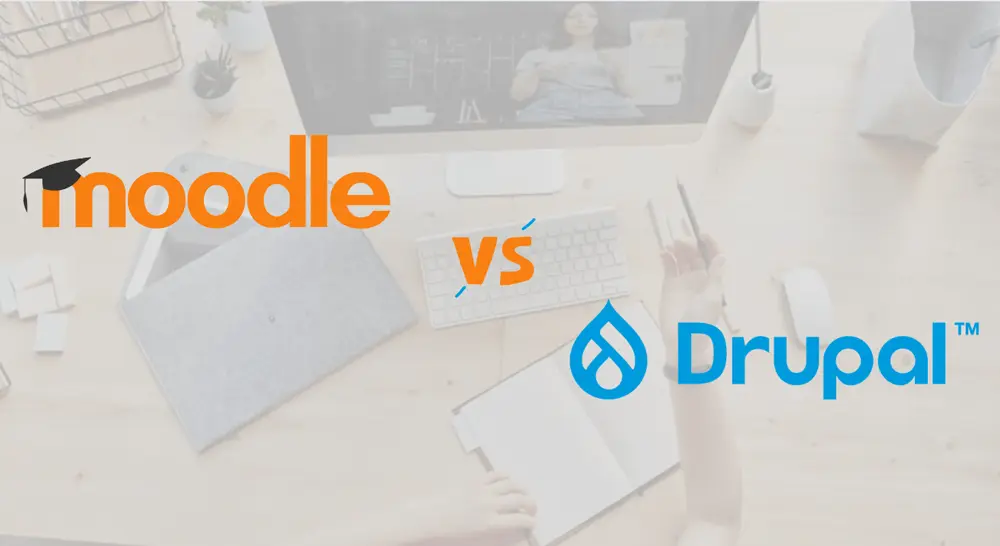 So, should you use Moodle or Drupal for an educational platform? Let's see how the two compare:
Ease of Use
In terms of ease of use, Moodle is the definite winner. It's intuitive and only takes minutes to get the hang of it. Drupal, on the other hand, requires coding skills and it will take some time for you to find your way around it.
If you're a beginner – definitely go for Moodle.
High-traffic Websites
When it comes to handling traffic, Drupal takes the lead. It has multiple modules ready to be used, it's flexible and doesn't limit you in the type of website you can create. In fact, some of the most popular sites rely on it – take Entertainment Weekly, for example.
Moodle, however, is at its most effective when used for small to medium websites. If you're managing a popular educational project with many visitors – Drupal is what you need.
The bigger the project – the heavier it relies on its web hosting service. That's why more and more people turn to evolving technologies like Multi Cluster Hosting, guaranteeing their uptime and performance will not suffer even in the most extreme cases.
Price
It's hard to determine a winner when comparing Moodle vs. Drupal in the Price field. Both can be freely downloaded, with taxes included for some addons. The most important factor in your decision will be the purpose of your website.
Moodle is an LMS, so it has all the necessary features to support all stages of the learning process out of the box. On the other hand, Drupal is a CMS, which can be customized for educational institutions, but you can also use it for other types of websites.
So, if you need just an educational platform, choose Moodle. Customizing it to fit your needs will be easier and more cost-effective. If you need an eLearning platform and then some, Drupal allows for scalability and flexibility.
Wrap Up
Both Moodle and Drupal can help you build a successful eLearning platform. If you're still unsure which one is for you, create a simple list with your long-term goals. Consider costs, scalability, and purpose – those will give you the right answer.
FAQ
Q: What is the difference between Moodle and Drupal?
A: The main difference between Moodle and Drupal is that the former is an LMS (Learning Management System) while the latter is a CMS (Content Management System). Although they can be used for similar goals, the idea behind them is different.
Q: Is Moodle a CMS or LMS?
A: Moodle is a learning management system (LMS). It was created specifically for all kinds of eLearning purposes and is ready to use right after installation.
Q: Is Drupal a good choice?
A: Drupal is a good choice for high-traffic websites, that are also content-heavy. It's open-source, flexible, and secure, with frequent updates and mobile-responsive themes.
Q: What is the disadvantage of Moodle?
A: One disadvantage of Moodle is that it cannot easily handle big projects. It's a good fit for small to medium-sized educational facilities, but might not be as efficient for larger ones.
Q: Is Moodle the most widely used LMS?
A: Moodle is indeed the most widely used LMS. According to the statistics published on the official website, it currently powers 165,369 sites, spread across 238 countries.
Was this article helpful?