Moodle surely transformed the eLearning world, but up until recently, it lacked a virtual classroom option. That made users heavily reliant on plugins to fill the gap. Thankfully, nowadays there are quite a few options on the market.
But which ones are worth your time? And what even is a virtual classroom?
We're here to answer all your questions and show you the best free virtual classroom plugins for Moodle.
What Is a Virtual Classroom
A virtual classroom is an eLearning environment that allows teachers and students to communicate, most often via video. That means lessons can be carried out without the need to attend an actual physical classroom.
Such eLearning platforms are adapted for remote learning. Most feature whiteboards, libraries, hand-raising functionalities, and many more tools to make the process as smooth as possible.
Virtual classrooms gained popularity during the COVID-19 lockdowns, but they've been used by numerous universities and courses long before that.
Virtual Classroom Benefits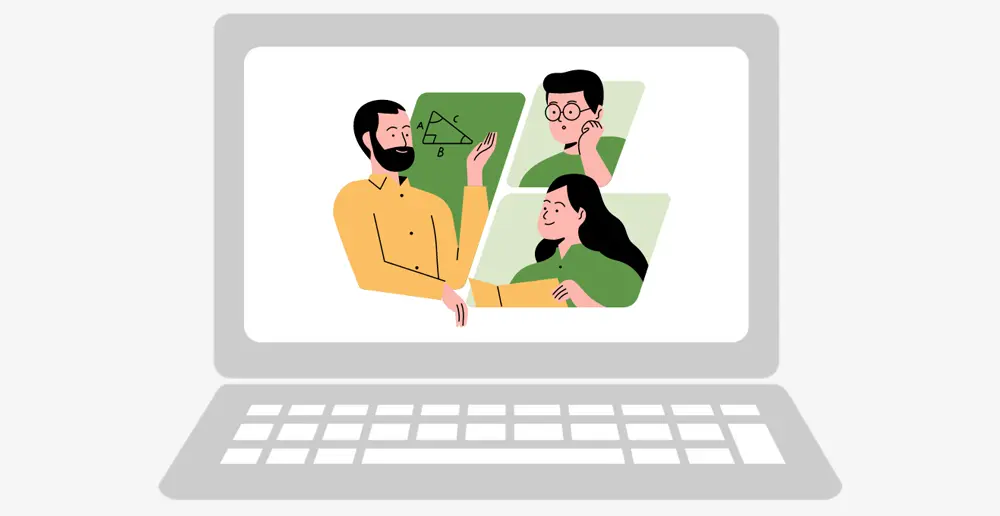 Elearning statistics show that students retain between 25% to 60% more information when studying online. Virtual classrooms actually enable them to:
study from any location
have access to recordings and additional materials at all times
receive immediate feedback
College students and learners that sign up for various courses can enjoy even more benefits, including:
flexibility of sessions
personalized education sessions
increased course variety
Teachers will find virtual classes easier to manage, as they will have the option to moderate chats, microphone permissions, video conference settings, and more.
So, which is the best virtual classroom extension? And are there good video conferencing alternatives?
Best Free Virtual Classroom Plugins for Moodle
A good virtual classroom plugin for Moodle is designed to make the educational process easier. There are some features, that are a must – recording tools, collaborative tools, and participant management, to name a few.

So, we scoured the Web for suitable Moodle extensions and found the best free options, according to online reviews.
IMPORTANT: All Moodle virtual classroom plugins are free, but some of the video conferencing tools they link you to might require fees.
Here's what's worth your attention:
BigBlueButton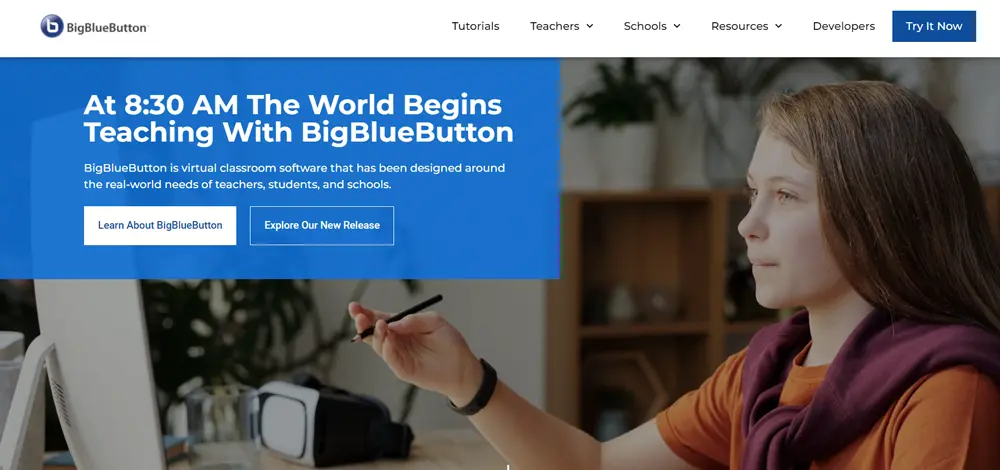 If you're using Moodle 4.0, things just got easier for you. This version comes with BigBlueButton – a built-in online learning solution. In case you're using another version of the LMS, there's a free extension available in the Moodle plugins directory.
So, what makes BigBlueButton so special?
For starters, BBB is not just a video conferencing app, it's an entire virtual classroom system. The plugin aims to meet the needs of online learning and educational facilities. Some of its best features include:
Multi-user Whiteboard
Shared Notes
Breakout Rooms
Learning Analytics Dashboard
Smart Slides
Described as "pedagogic-centric", the platform allows teachers to build a close relationship with their students, see who's struggling, and adapt the material to their needs. All of those were pain points that were consistently pointed out ever since eLearning became a thing.
The BigBlueButton virtual classroom grants teachers moderator capabilities. That means they can:
restrict private chats
lockdown student functionalities
activate the multi-user whiteboard
place students in breakout rooms
record the session
And more.
Overall, BigBlueButton is the easiest option to access, because it's already integrated in Moodle 4.0.
Via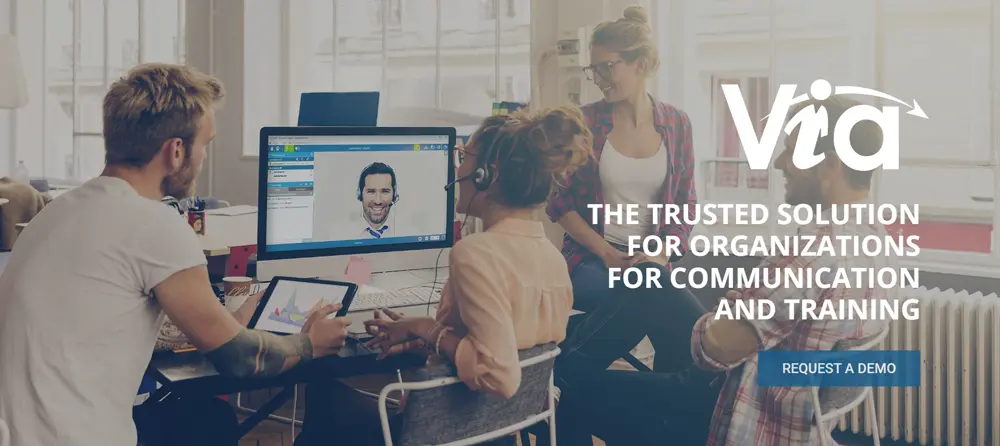 Via is an interactive online training platform. It can be integrated with Moodle, allowing users to create virtual classrooms with just a few clicks. Via prides its fully customizable interface, so the eLearning space can reflect the colors of your educational facility.
The solution offers several features to make studying from home much easier:
workshop mode
annotation tools
whiteboards
application sharing
advanced chat
Further more, you can automatically add enrolled students as participants in the virtual classroom and synchronize their data via the Moodle cron.
Teachers in Via have administrative rights, which enables them to manage the parameters of the platform. They can organize learning sessions, record, and edit them via a designated tool. In addition, tutors can create activities with a Start and End time/date or permanent ones, which are always open and suitable for homework groups.
Overall, Via is a great option, if you want to customize lessons and recordings.
Google Meet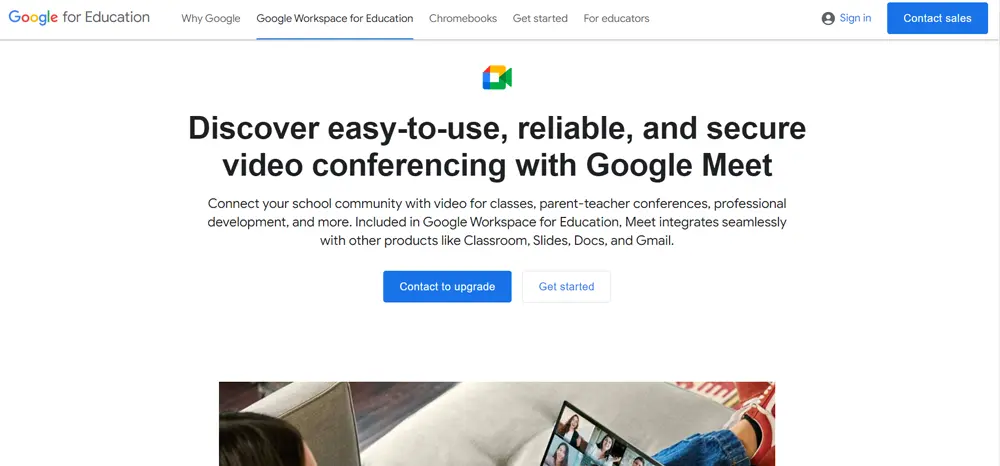 Google Meet is one of the most popular video conferencing apps out there. So, it's no surprise that it also comes as a Moodle plugin.
The free version allows teachers to:
add live captions in a range of languages
include up to 100 participants
control the chat or present features
apply safety settings
To make the learning process easier for students, Google Meet has a digital whiteboard, virtual hand-raising feature, and in-meeting reactions.

Another thing that this tool can be used for – parent-teacher conferences. You can use Google Calendar and Contacts to notify the parents about the meeting. You don't exactly need to integrate with Moodle for that, but using the same app for both students and caregivers means less work for you.
Google Meet is a good option because it's got a familiar feel and most people know how to navigate it.
Class Collaborate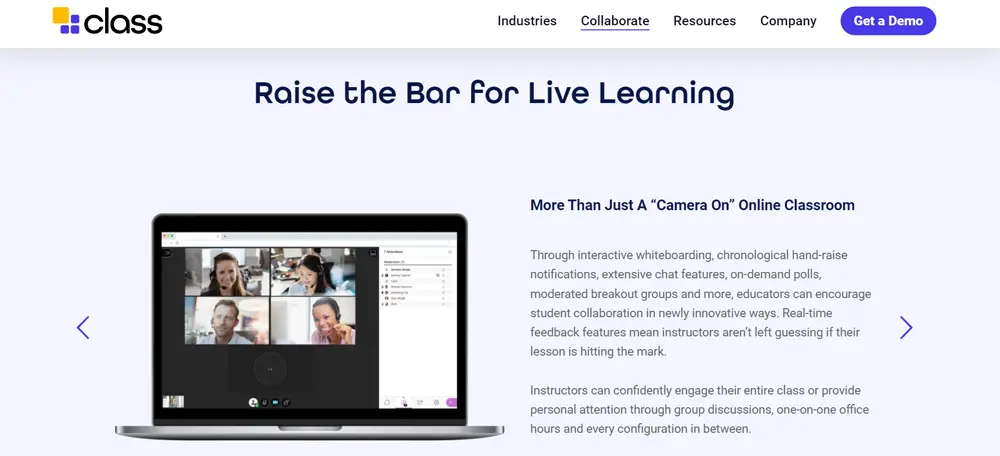 Class Collaborate united with Blackboard Learn to create the ultimate experience for eLearners. The result is a virtual classroom with some pretty neat features:
always-available course rooms
course recordings, accessible immediately
breakout rooms
whiteboarding
one-on-one office hours
This collaborative learning platform allows teachers to easily organize sessions, thanks to the automated course attendance and access permissions. If the lesson is recorded, it will be available immediately after the class ends. The course rooms are available all the time. That way, teachers won't need to create new virtual classrooms on a daily basis.
Class Collaborate also allows for real-time feedback. This enables students to signalize if they need help with the subject. They can also use the hand-raise feature, should any questions arise. Group discussions and one-on-one office hours
open the door for additional explanations.
If you're looking to build engaging courses with this tool, Class Collaborate is available on the Moodle extension database under its old name: Blackboard Collaborate.
Zoom Meetings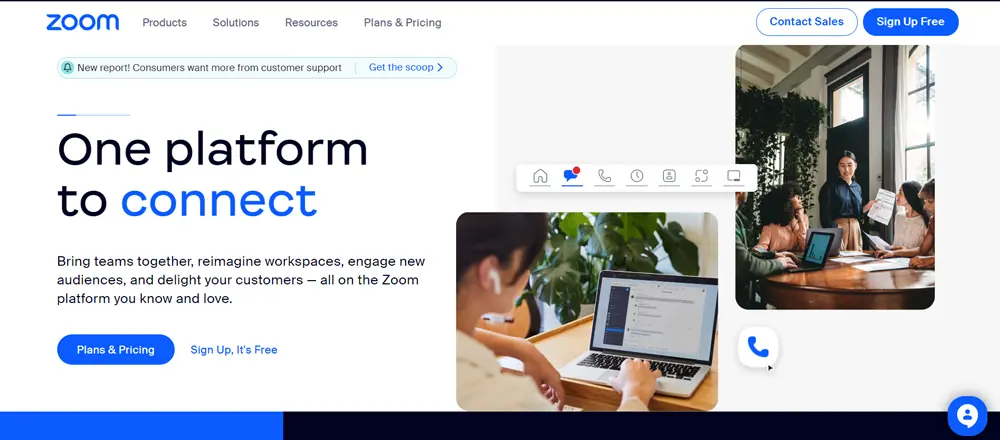 Most people are familiar with Zoom from a business perspective. But did you know that it can also be used as a virtual classroom app?
The Moodle integration offers:
Grading
Whiteboard
Office hours
Study groups
To get started, all you need is a Zoom account. You don't even have to invest in the Education tier – the basic one will do just fine.
Setting up an online lesson with Zoom is practically effortless. Teachers can schedule in advance, with the option of a one-time or recurring session. All classes can be recorded and later shared with the students. The extension will then show you attendance reports directly in Moodle.
As with Google Meet, Zoom is another safe option, because of the familiar interface and straightforward options.
Hosting Moodle
All of that would be impossible, however, if there's an issue with your Moodle hosting.
To avoid that, you need to not only choose a reliable host but the right solution as well. The best option for Moodle is VPS hosting and we at ScalaHosting offer a flexible setup that will cover all your needs. You can easily install Moodle and deploy it via our in-built system to begin your educational journey in no time.
Our Moodle VPS solutions include professional 1-on-1 support for users, so we're always there in case any questions arise.
You can contact our team today to find out more about tiers and Moodle extras.
Wrap Up
Education should be accessible to everyone, no matter the time and place. One way to make it such is via an excellent virtual classroom plugin for Moodle. Pair it with the right hosting vendor and you'll be ready to uncover a whole new world for all of your students.
FAQ
Q: Are Moodle plugins free?
A: Moodle plugins are generally free, but they might link you to solutions that require premium licensing. The price will depend on the functionalities and purpose of the chosen add-on, as well as who the developer is.
Q: How do I create a free virtual classroom?
A: If you're wondering how to create a free virtual classroom – Moodle 4.0 has you covered. It has a built-in video conference solution that you can configure through the Plugins Activity modules. Users can set a welcome message, pre-uploadw learning materials, and configure camera rules.
Q: Are virtual classrooms in Moodle free?
A: If you're using Moodle 4.0, you can create a virtual classroom for free via the BigBlueButtion integration. There are also several free plugins available, which you can use on almost any LMS version.
Was this article helpful?