Whether you're new to Moodle courses or simply looking to improve your skills, we might have a little something for you.
This article will take you step-by-step through creating a course in Moodle, from planning and organizing your content to setting up activities and resources. We'll also provide tips and best practices to help you create engaging and effective online lessons.
So, shall we?
What is a Moodle Course?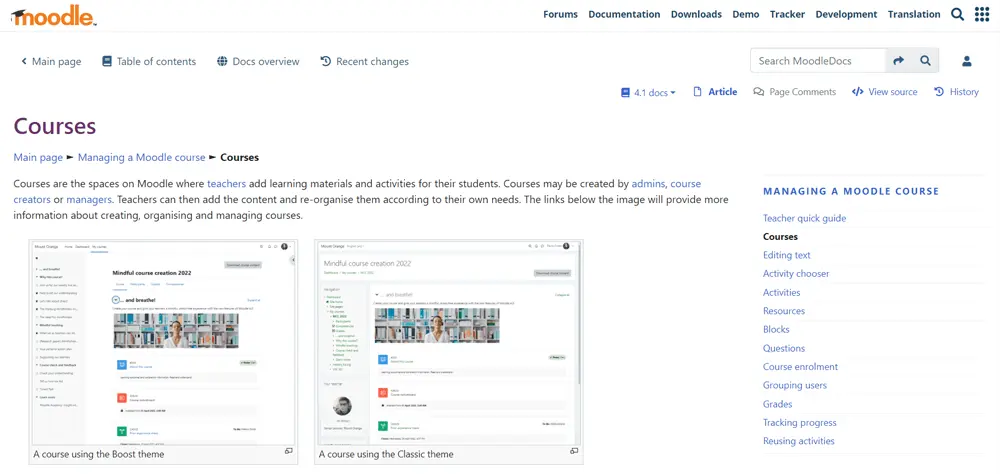 Moodle is one of the most popular learning management systems (LMS) used by educators and trainers worldwide.
In Moodle, a course refers to the learning space created to deliver text-based content, multimedia files, interactive activities, and assessments. These are organized into sections or modules, which learners can navigate at their own pace.
Moodle courses can be used for various educational and training purposes, such as academic courses, online tests, corporate training, professional development, or personal interest topics.
How to Plan a Moodle Course Effectively
Planning a Moodle course is crucial to creating a successful online learning experience. It's essential to organize your content and activities carefully so you can design a course that meets the needs of your learners and achieves your desired outcomes.
To help you, we will guide you through the key steps in preparing a practical Moodle lesson:
Plan your course content
Before setting up your Moodle course, you should carefully plan your content to ensure it aligns with your objectives and engages your learners. This involves creating an outline, identifying the key topics and concepts, and selecting appropriate resources and activities.
Developing a clear structure and content plan will ensure that your course is well-organized and coherent.
Set up your course
Once you have a plan for your content, the next step is to set up your Moodle course. This involves creating a new one and configuring its settings, such as the format, start/end dates, and user roles and permissions.
Add and organize resources and activities
Moodle offers a wide range of tools and activities that you can use to your advantage. This includes organizing resources such as files, links, and multimedia content and developing activities such as quizzes, forums, and assignments. You can create a really vibrant and interactive environment thanks to these features.
Customize the look and feel of your course
Moodle allows you to customize the look and feel of your course by selecting a theme, adding a logo, and changing the course layout. Customizing the visual design can help create a pleasant setting that reflects your content and brand.
Enroll students and manage user access
Finally, you need to enroll learners in your Moodle course and manage their access to the content and activities. This means creating user accounts and configuring permissions and restrictions.
By controlling access effectively, you can ensure that your course is secure and that learners can access the necessary resources and activities.
How to Create a Course in Moodle Step by Step
If you're looking to create an online course, Moodle is a powerful and flexible platform that can help you with your educational needs. To get started, you'll need to follow a few easy steps to set it up and add your content.
As a Moodle administrator, you have multiple options for creating a course with the LMS. The most commonly used methods are starting a new course from scratch or importing one from a different Moodle site.
Create a new course
Log into your SPanel account.
Go to the Software section and click on Softaculous.

Tap "Moodle" in the search bar.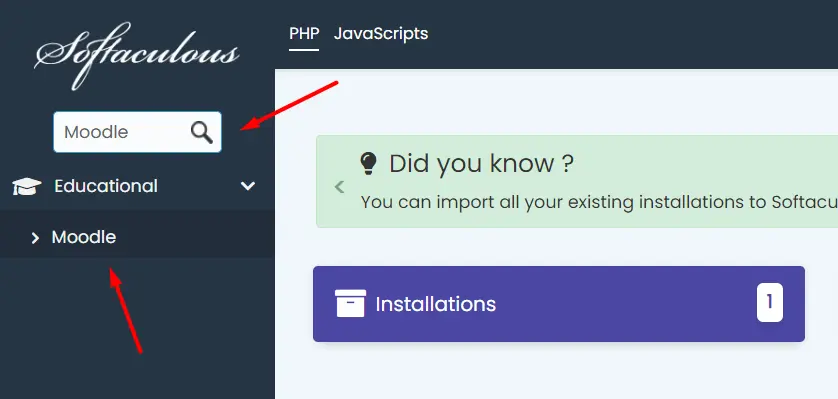 Log in with your Moodle administrator account.
Go to the My Courses section and click on Create new course.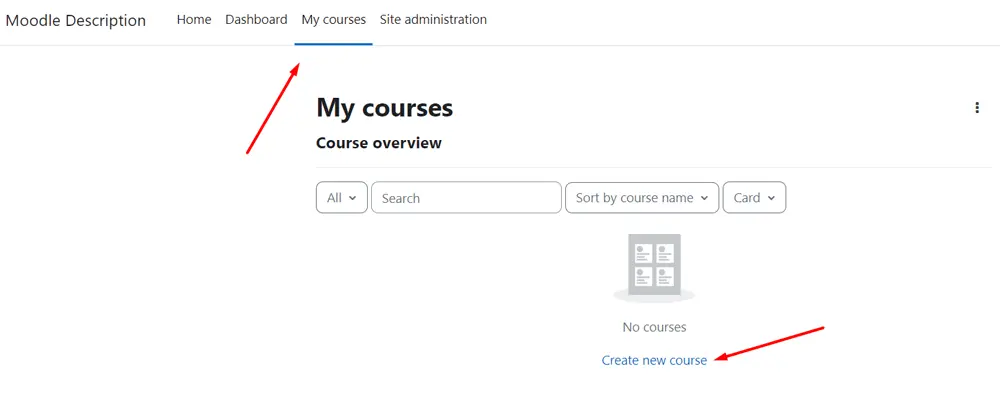 Fill your course information and specifics (if you need assistance, click on the question mark icon for further guidance).
Click the Save and display button.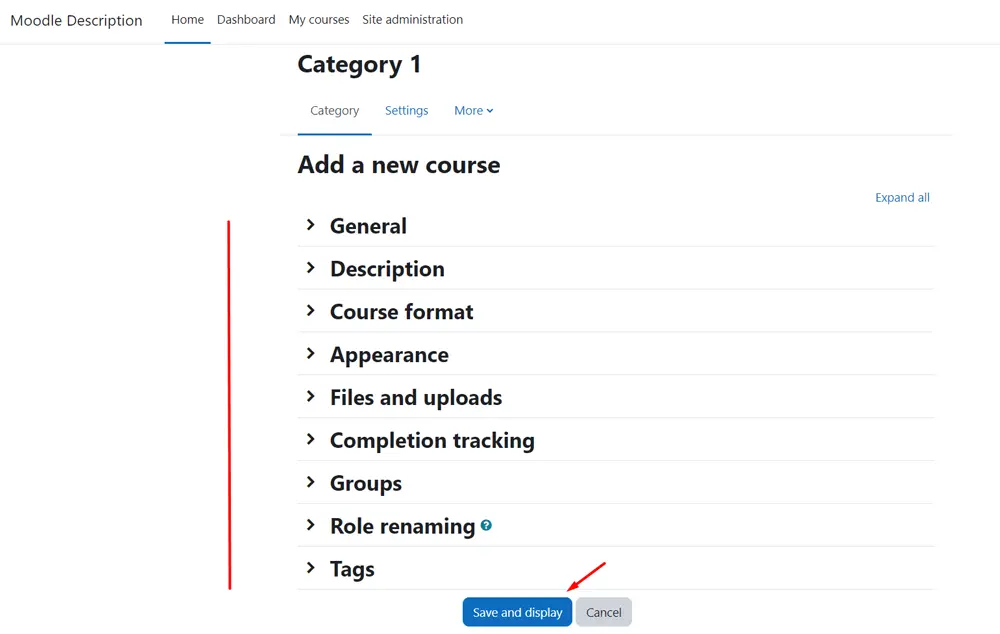 Upload an existing course
Log in with your administrator account and go to My Courses.
Click on New course.
Go to the More section and click Restore course.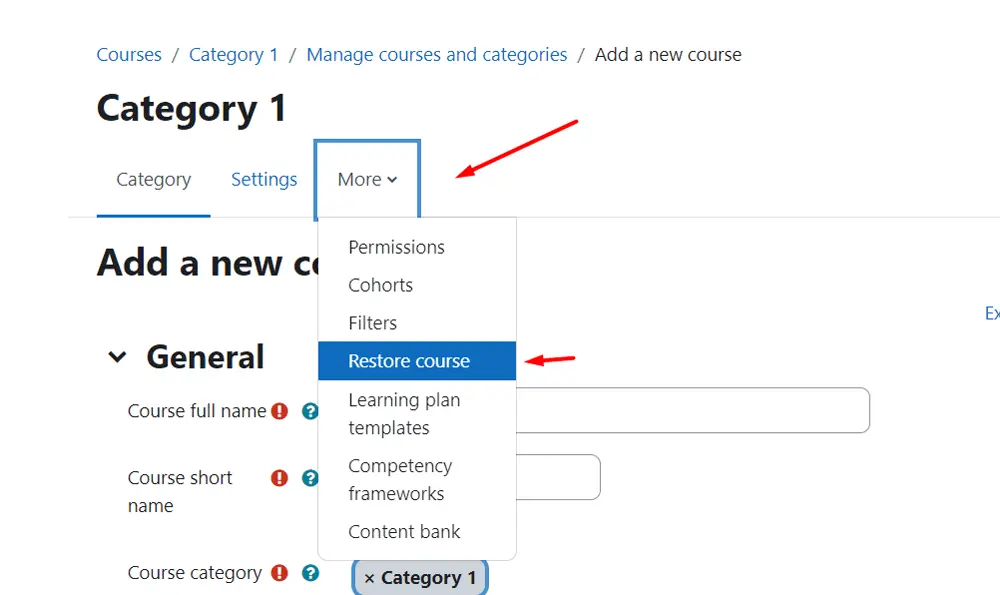 Upload your file and click the Restore button.

On the next page, click Continue.
Under the Restore as a new course section, either select the option next to Miscellaneous or choose the category where you wish to upload your course, and then click Continue.
On the following two pages, click the Next button located at the bottom of each page.
Finally, click Restore on the last page, and your course will be displayed.
IMPORTANT When uploading a new Moodle course, make sure it has a file extension of .mbz.
Wrap Up
Creating an effective online course in Moodle requires careful planning, design, and implementation. Following the steps outlined in this comprehensive guide, you can create an engaging and aligned approach to your objectives.
Additionally, it's important to remember that developing a course in Moodle is an iterative process. You may need to adjust your course design and implementation based on feedback from learners and assessments of their progress. You can create a valuable learning environment for your students by continuously refining and improving.
Frequently Asked Questions
Q: What are the key features of an effective Moodle course?
A: A practical Moodle course should include clear learning objectives, a well-organized course structure, engaging multimedia content, interactive activities, personalized feedback, and learner collaboration and communication opportunities.
Q: How can I customize the appearance of my Moodle course?
A: You can customize the appearance of your Moodle course by selecting a theme, adding a logo, and changing the course layout. To do this, go to the Course settings page and select the Appearance tab.
Q: Can I import content from other sources into my Moodle course?
A: Yes, you can import content from other sources into your course. Moodle allows you to insert various file types, such as Word documents, PDFs, and multimedia. To import content, click the Add an activity or resource button and select the File option.
Q: How can I monitor students' progress in my Moodle course?
A: You can monitor your student's progress using built-in tracking and reporting features. Moodle allows you to view learners' activity logs, track their completion of activities, and generate reports on their overall progress. To access these features, go to the "Course administration" block and select the Reports tab.
Was this article helpful?