Corporate training is critical for employee development in today's modern workplace. However, traditional in-person training methods are often expensive, time-consuming, and ineffective. As a result, companies are turning to Moodle, an open-source learning management system, to overcome these challenges.
With its user-friendly interface and powerful features, Moodle is an effective solution for improving training programs and keeping employees' skills and knowledge up-to-date.
The LMS offers many features for online course creation, such as user management, progress tracking, and outcome assessment. Thanks to its scalability and flexibility, companies of all sizes can offer engaging courses to employees anywhere anytime.
So, without further ado, let's see how to use Moodle for corporate training and all the advantages it can bring to the table.
Organization of Educational Materials and Courses
In terms of corporate training, Moodle is known for its user-friendly platform, which can help you achieve the most out of your online courses and learning materials.
Firstly, Moodle offers easy creation and upload of multimedia content such as videos and audio recordings. It also offers an option for interactive quizzes, making the experience even more engaging.
Secondly, you can easily organize the materials into modules, topics, or weeks. Moodle's drag-and-drop interface allows you to manage your content effortlessly. With its extensive customization freedom, you can easily modify the course as you see fit.
Moodle provides many communication, collaboration, and assessment tools for successful operation and course access. For example, course creators can use labels to guide the learners through the materials.
There is also a conditional activity feature to help ensure learners complete the activities in a specific order. This option can aid them to better understand the materials and ensure a highly efficient learning environment.
User Registration and Administration
Managing employees and other users is a crucial aspect of workforce training, and Moodle is an ideal platform for handling such tasks. Its user management system allows businesses to enroll users in different groups and assign them to training programs based on specific job roles.
Moreover, Moodle allows you to define custom user roles that determine the extent of user access and permissions within the Moodle site. In addition, the app enables you to delegate LMS management responsibilities to HR professionals or other department heads, allowing them to manage their team's training programs independently.
Additionally, the platform frequently undergoes frequent updates to address bugs or issues, providing stability and reliability in the long run. Combined with our Scalable Moodle LMS Hosting, you can rest assured your educational project is in good hands. Your Moodle site will be able to handle high traffic without downtime and maintain adequate security to protect your users from third-party attacks.

Monitoring and Progress Assessment
Assessing and tracking progress and achievements is critical to any effective corporate training program. Moodle offers several tools that allow businesses to track employee progress and evaluate the effectiveness of their training programs. These include the following:
Reporting system: Feedback is crucial! That's why this system provides a valuable record of your employee's achievements. For example, you can monitor user progress, course completion rates, and compliance needs using Moodle's reports.
User management system: With Moodle's user management system, you can place your employees in different groups based on your needs. This makes it easier for them to work on assignments and projects.
Custom training paths: Moodle takes a step further with its ability to create customized training paths for users. It can help you set unique training objectives and goals for each learner's needs. This feature allows your crew to gain relevant training that keeps up with their career track while ensuring that the training aligns with your organization's goals.
Conditional activities: These Moodle activities ensure that learners finish their tasks in a particular order. It makes their comprehension of the material easier and enables a systematic and efficient learning process.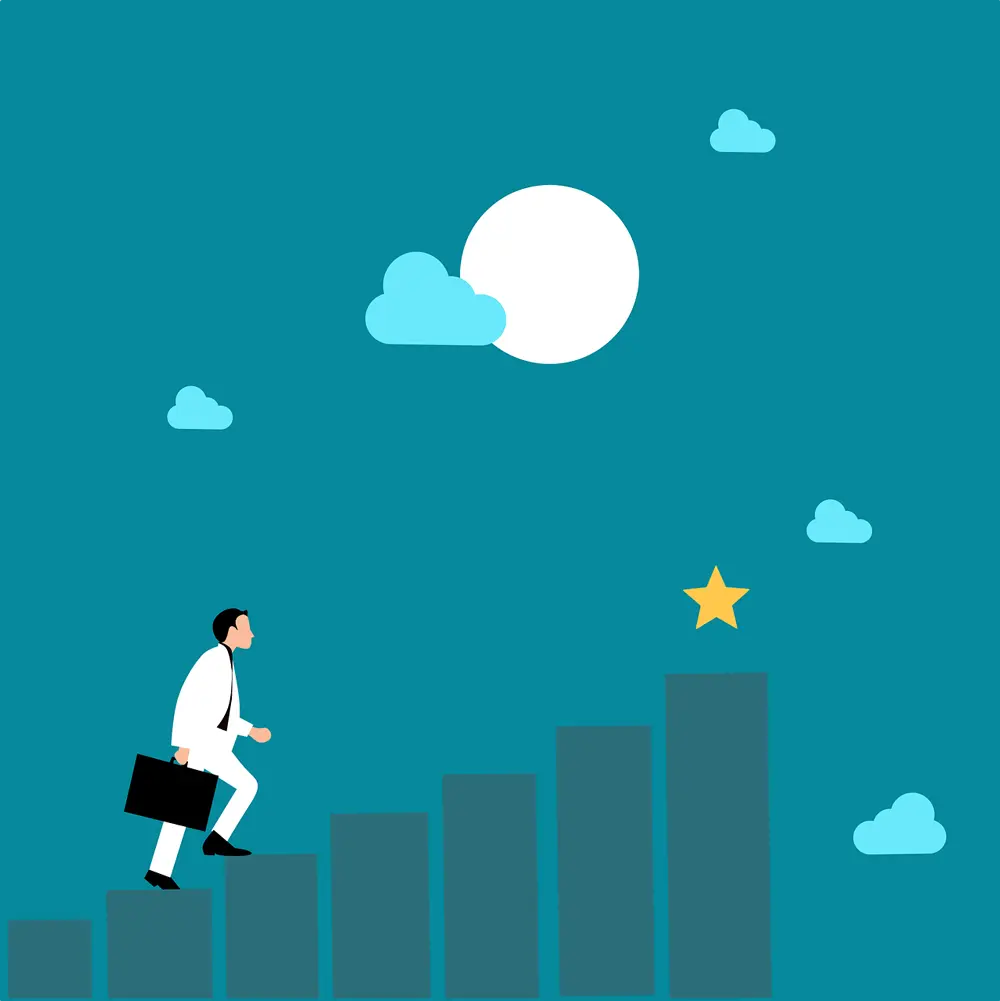 Support and Resources
Moodle offers a range of support solutions for companies putting workforce-training initiatives into place. These include community support, technical help, and customized support.
You can get technical support from Moodle Pty Ltd, which provides technical expertise and resources to help you adapt Moodle to your particular requirements. With this service, you can get help setting up Moodle in a business environment, connecting it with other systems, and resolving technical problems.
If you need modification assistance for certain training content and learning objectives, customization support is available through the Moodle partner network. Moodle creates new training materials, pathways, and specialized reporting systems as part of this service.
The Moodle community offers many tools, forums, and user groups to assist businesses in connecting with other Moodle users and developers. As part of the community support, you can access a wide range of Moodle plugins, themes, and other resources to improve the training activities efficiently.
In addition, to help organizations get the most out of their LMS, the app also provides various training resources, such as manuals, tutorials, and webinars.And if you choose the right Moodle host, you will get additional assistance. For instance, at Scala, we offer 24/7 professional support from Moodle experts via live chat and a ticketing system. We'll cover everything related to your Moodle LMS and its smooth operation.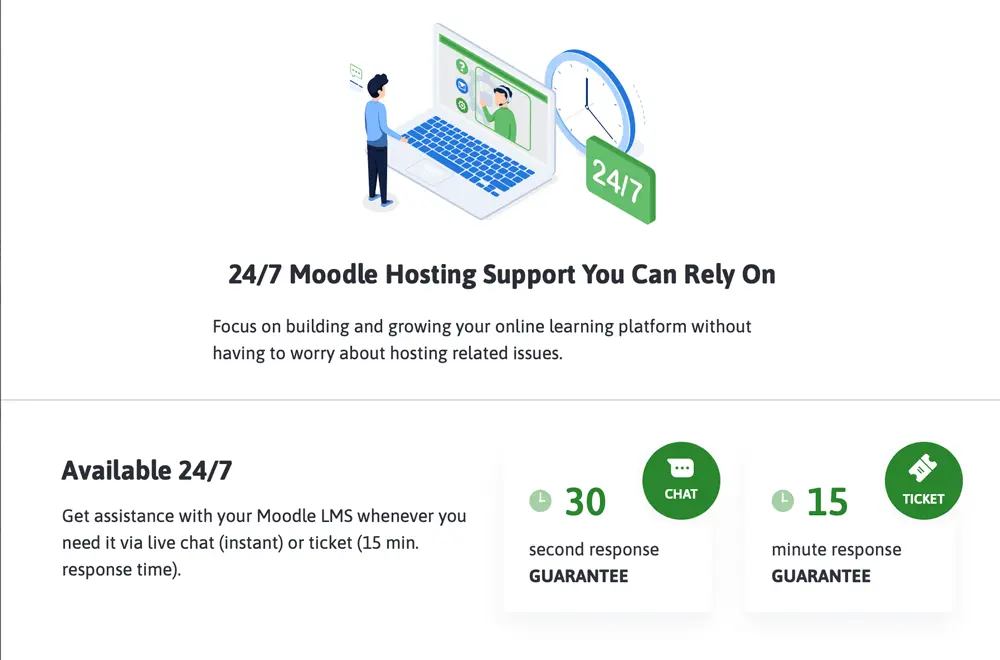 Corporate Training Efficiency & Integrations
Integrating Moodle with other systems and tools utilized within the platform is essential to create a robust and efficient corporate training program. It includes LDAP, CAS, RADIUS, NNTP servers, and external databases, all of which can be easily merged with the Moodle LMS.
In addition to its core features, Moodle allows third-party content from providers such as Adobe Connect, Picasa Web Album, and FirstClass Server, enabling businesses to expand their training materials even more.
Furthermore, Moodle is an ideal platform for workplace training and corporate learning, as it can be customized to meet specific training requirements, education goals, and audience types. The LMS courses are accessible from a variety of devices, ensuring that users can access training materials from anywhere.
When you integrate Moodle with other technologies, the success of your employee training and engagement is guaranteed. But while these attractive features might have left you with a positive impression, you should know they are worth nothing without the right hosting provider or plan.
Installing Moodle on a VPS gives you a flexible, affordable, dedicated virtual environment. It enables you to customize your online courses to meet your necessities. In addition, it offers various resources needed to manage an e-learning program successfully.
Let's see why installing Moodle on a VPS is wise and then teach you how to do so.
VPS Installation of Moodle: What Are the Benefits and How to Do It?
If you want an adaptable and affordable e-learning platform, you should strongly consider installing Moodle on a Virtual Private Server (VPS). While various hosting options exist, VPS hosting has proven as the most viable option for the platform.
It allows greater adaptability, scalability, uptime, and security than shared hosting. At the same time, it is more affordable than a dedicated server for granting your learners remote access. VPS hosting options from ScalaHosting are fantastic for hosting your Moodle installation. However, if you are fussy with these plans' features, we can also set up a tailored solution for your needs.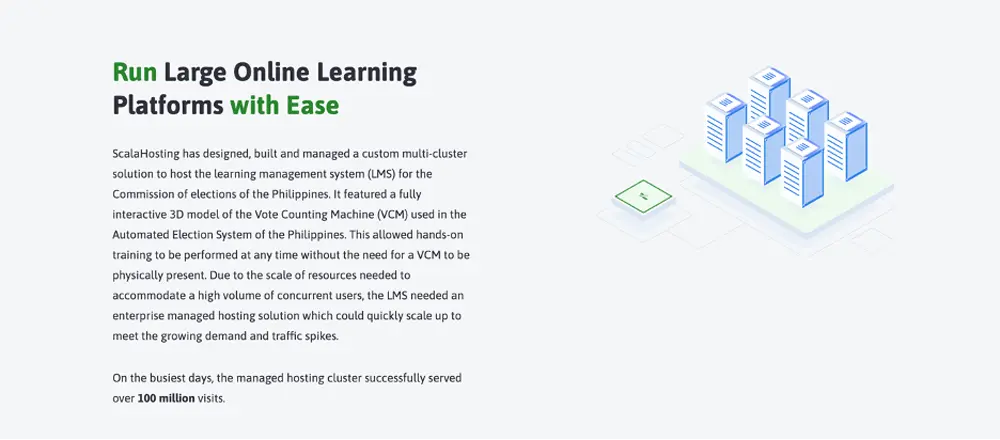 So, how to install Moodle on VPS?
First, you need to find a VPS hosting company that offers all of the tools and functionalities your site requires. Then, select an operating system and choose a platform for your VPS, such as Windows or Linux (the latter is highly recommended for Moodle project).
Now comes the easier part – installing Moodle's latest stable version and uploading the Moodle files to your VPS. The easiest way to do that is to use a one-click installer like Softaculous as this will minimize the manual tasks required from your side.
Or you can simply contact us at Scala, and we'll take care of everything for you.
Conclusion
Moodle is a powerful tool that can help organizations improve their corporate training programs. Utilizing its scalable and flexible platform allows you to create engaging courses accessible to employees anytime and anywhere.
Moodle's user-friendly interface and advanced features provide businesses with a comprehensive platform to manage training programs effectively and remain competitive in today's modern workplace.
And if you decide to install Moodle on a VPS plan through ScalaHosting, you can rest assured that your Moodle site will be able to handle your organization's training needs.
FAQ
Q: Why is Moodle beneficial for corporate training?
A: Moodle is beneficial for corporate training because it is a flexible and customizable learning management system that allows companies to create and deliver training programs, track employee progress, and evaluate results. It also supports collaboration and communication among employees, making it an effective tool for enhancing productivity and job performance.
Q: Can I use Moodle for both in-person and online training?
A: Yes, Moodle works for both in-person and online corporate training. Its versatility allows companies to deliver training in various formats, including e-learning modules, blended learning programs, and virtual instructor-led training. It also enables businesses to create engaging and interactive courses catering to different learning styles and preferences.
Q: How can I customize Moodle to meet my company's specific training needs?
A: You can customize Moodle for your company's training needs using its various features and functionalities, such as customizable themes, course formats, activity modules, and plugins. However, we recommend working with an experienced Moodle developer or a partner to ensure the customization is done correctly and effectively.
Q: Is Moodle secure enough for storing sensitive data?
A: Yes, Moodle is highly secure, as it offers password protection, user authentication, and data encryption. Hosting is an important step too. It provides a secure and reliable environment using firewalls, encryption, and regular updates. Additional steps include keeping software updated, limiting access to authorized personnel, and backing up your site regularly.
Q: Are there any additional costs associated with using Moodle for corporate training?
A: Moodle itself is open-source and free to use. However, additional costs are associated with using Moodle for corporate training, such as hosting, maintenance, and third-party integrations. These costs depend on factors such as the size of your organization, the number of users, and the level of customization required.
Was this article helpful?