Moodle LMS is a popular open-source learning management system with many features and functionalities to facilitate online education. Because of its user-friendly design and extensive documentation, it has gained popularity among educators and institutions worldwide.
However, like any online system, Moodle has its limitations, which are essential to address. If you don't consider these restrictions, they can impact the overall effectiveness and success of your course activities.
In this article, we'll go in-depth about the limitations of the Moodle platform. Whether you're a course creator, a teacher, or a student, this information will help you overcome any boundaries which will get in your way of successful learning.
So, without further ado, let's get started!
User Interface Options
The Moodle interface is an essential component of the learning management system. Still, you might encounter various issues that may influence the user experience of your website.First, Moodle's default structure and navigation is rather crowded and complicated. It consists of an excessive number of menus, settings, choices, and features. Consequently, users may find locating the necessary tools and information challenging, particularly those unfamiliar with the platform's vocabulary or organizational structure.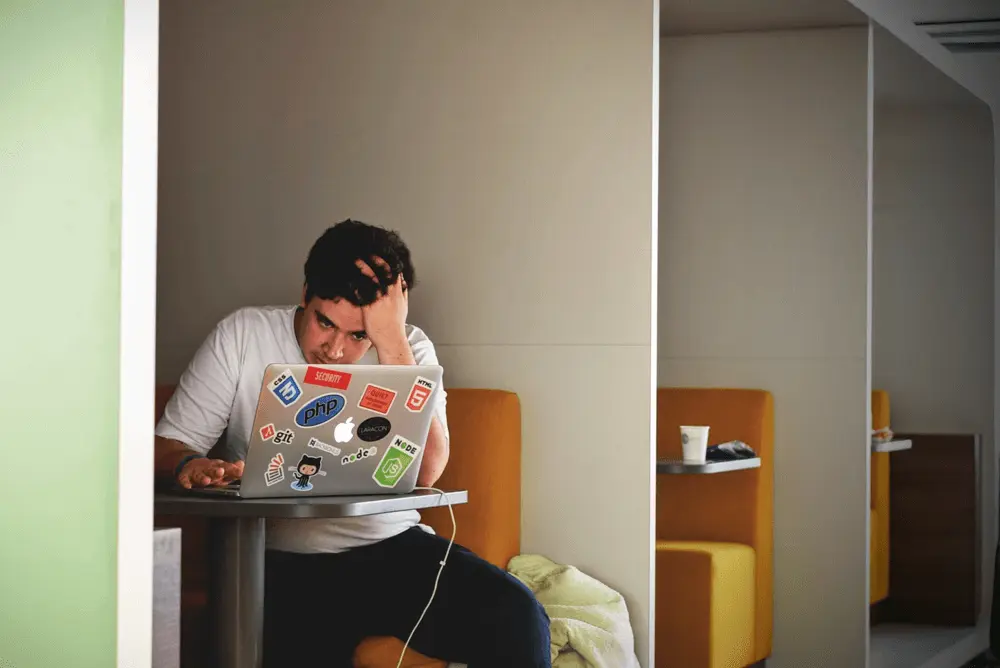 Fortunately, many individuals have pushed for a more user-friendly layout that will simplify exploring and obtaining content. Because of this, a number of developers have created substitute Moodle themes and plugins that provide more straightforward navigation and improved design.
Next, the Moodle customization often requires time, resources, and specialized knowledge from inside staff or external developers, making it expensive. Keeping up with changing technology and security standards can also be time-consuming and costly. So, planning your budget ahead and allocating enough resources for customization and maintenance is vital. To help you with that, ScalaHosting can provide resources and support for Moodle customization and upkeep, helping you overcome some of the financial and time restrictions you may encounter.
Finally, Moodle's user interface is not optimized for mobile devices out of the box. For instance, certain functions, like drag-and-drop support, might not work. Therefore, learners using smartphones or tablets may experience difficulty navigating the site and accessing course materials.
To address this issue, Moodle developers are working on improving the mobile responsiveness of the platform, but in the meantime, users may need to explore alternative solutions or workarounds.
Media and Content Support
Moodle is well-known for its capability to upload various types of multimedia content, such as videos, audio, and images. But while JPG, PNG, MP4, and PDF are frequently used on Moodle, not all file types are supported.
Some of the file types Moodle doesn't accept are the following:
Executable files, such as .exe, .bat, .msi, and .com
System files, such as .dll, .ini, and .sys
Script files, such as .php, .js, and .py
Archive files, such as .zip and .rar (though some Moodle installations allow these file types)
Temporary files, such as .tmp and .bak
So, if you want to upload a document in a file format that Moodle does not support, you might need to convert it to another one. It can result in lost formatting or poor content quality, which is why it's essential to know if Moodle will support your chosen file types beforehand.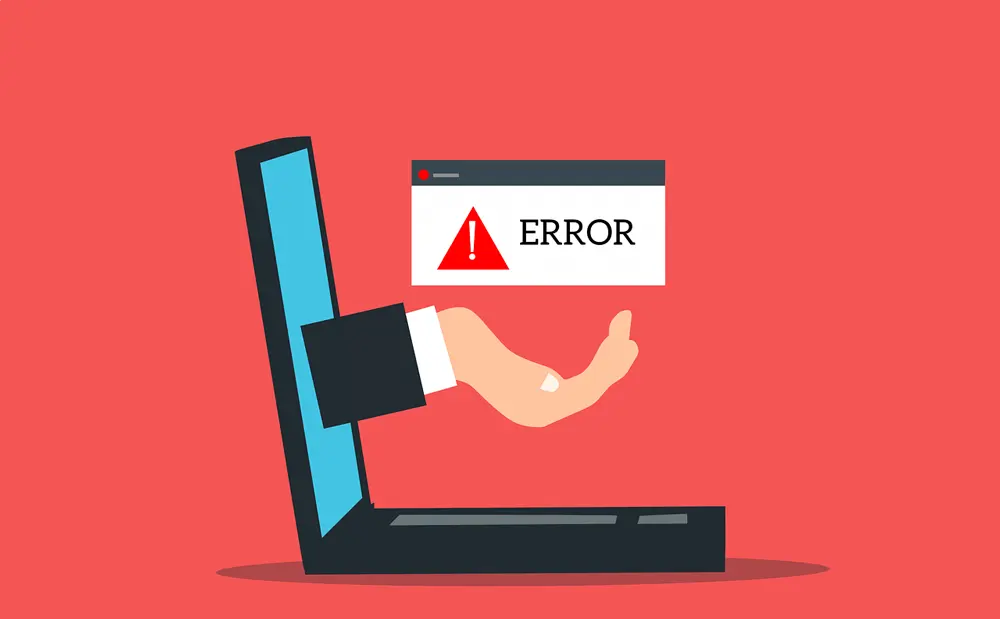 The absence of sophisticated video editing possibilities is yet another drawback. Users can submit videos to Moodle, but no built-in editing features, such as cutting, splicing, or captioning, are available. So there is no quick way for teachers to edit their videos or give proper subtitles.
Additionally, not all devices and web browsers can use the platform's media playback features. For example, issues may occur if some older browsers don't support HTML5 video or audio. Thereby, course participants using outdated or underpowered devices will be unable to view or hear the course material properly.
Depending on the chosen hosting plan, the Moodle storage capacity for media and material can be restricted. Because of this, you might be unable to upload larger files or you will need to compress them, which lowers the content's overall quality.
It's important to remember that some hosting companies, like ScalaHosting, provide extensive SSD storage and quicker upload speeds, which can help reduce some of these limitations. And vice versa, poor choice of a web host can further limit your options and slow down your site.
Integration with External Systems and Tools
External tools, like video conferencing platforms, can definitely improve Moodle's performance. Moreover, integration with a student information system can save instructors time and lower the chance of mistakes. Still, you need to consider their compatibility with the LMS. Specific external tools and systems might not be compatible with Moodle or could require additional plugins or customization to function properly. Examples of that are various video conferencing tools, learning analytics tools, and plagiarism detection software.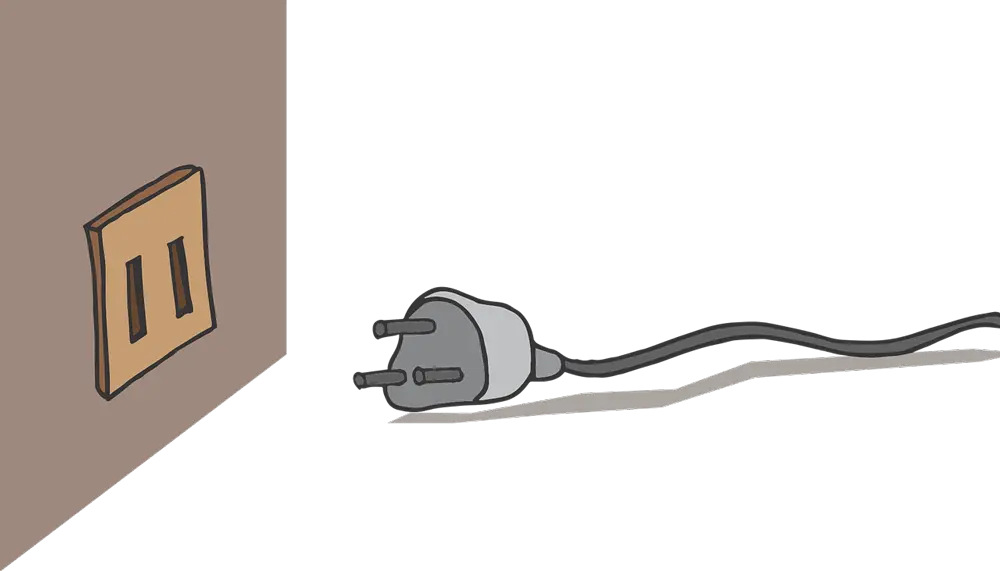 Taking things further, integrating external systems with Moodle can be complex and might require technical expertise. Creating customized plugins and APIs, setting up authentication methods, and mapping data fields are all steps in this process that call for knowledge of software development, database management, and system integration.
Experts must connect separate systems using various programming languages, data formats, and authentication techniques to integrate other systems with Moodle. To ensure a smooth integration without any unforeseen financial obligations, it is crucial to consider these expenditures and budget appropriately. You can also get affordable managed support at ScalaHosting, and benefit from our user-friendly SPanel to easily manage multiple Moodle LMS projects, customize online courses, and work with collaborators.

Scalability with Large Moodle Courses and High User Volumes
Various factors can affect Moodle's performance. Usually, hosting issues with Moodle can arise if the provider doesn't offer enough server resources or if the server is not configured correctly. As you add more users and courses, the system's responsiveness can slow down, potentially affecting student performance and learning outcomes.
An increasing number of users and courses can also cause disruptions in database performance and managing user accounts and permissions. Furthermore, administrative tasks can become more challenging, resulting in longer response times for requests and issues.
Resource scalability might resolve some of these issues, helping the system handle more traffic and workload and delivering better performance and response times.
Unfortunately, scaling up is limited, especially if the system is not designed correctly. Moreover, it's pretty expensive. So, suppose the architecture has bottlenecks that prevent it from fully utilizing the added resources. In that case, you might experience diminishing returns – the improvements you get will simply not be enough for the price you pay.
Here's where scaling out makes more sense. It refers to adding more servers to your Moodle architecture instead of resources to a single server. It will help you improve the performance and reliability of your LMS environment. At ScalaHosting, we can ensure your Moodle platform functions correctly even with extensive courses and high user volumes, reducing the performance limitations caused by server configuration, database performance, course management, and user management issues. After all, we have designed, built, and managed custom multi-cluster solutions that successfully serve over 100 million visits a day.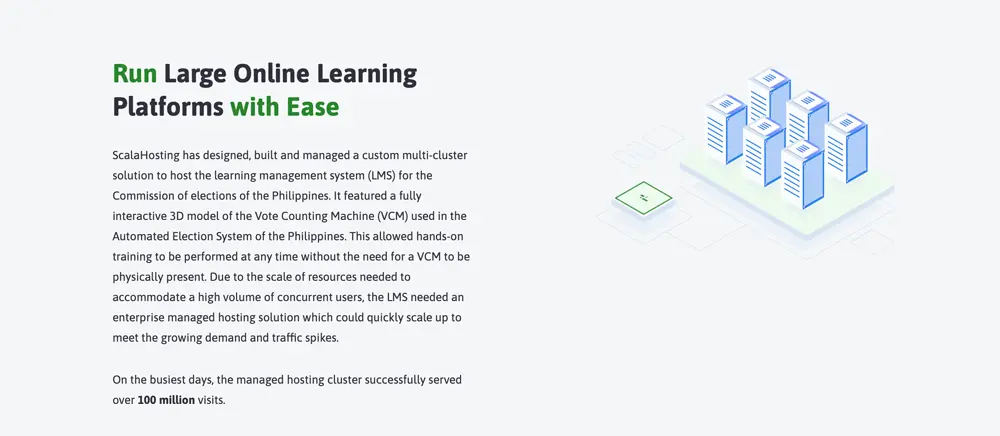 Third-Party Plugins and Add-ons Availability
Using third-party plugins and add-ons can provide Moodle users with personalized and enhanced functionality. As an open-source community, Moodle comes with a huge number of plugins and potential for source code customization. However, the downside is that these customizations might be difficult to learn.
While Moodle integrates with SIS and Microsoft 365 by default, Dropbox and Google integration require configuration. The same applies to external services, such as Teams, requiring an additional app. So, you'll need an experienced partner by your side to take the technical hassles off your back. If you are still looking for one, make sure to reach us at ScalaHosting.
First, compatibility issues can arise if the plugin is not updated. Additionally, licensing restrictions may prevent the use of some third-party tools. For example, some plugins may require an additional license fee or may only be available for specific versions of Moodle.Moreover, quality and security may be a concern. For example, outdated versions of plugins may be incompatible with the current version of Moodle, leading to system crashes or other issues. Additionally, some plugins may pose security risks to the system, making it vulnerable to hacking and other attacks. For instance, a plugin with weak security features may allow unauthorized access to sensitive information or cause data loss.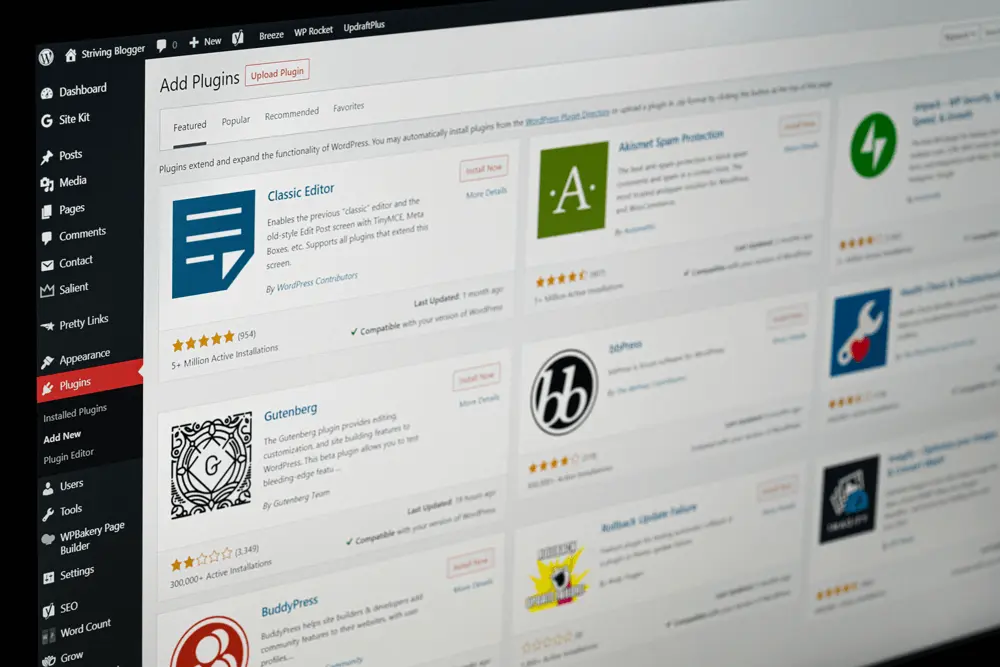 Finally, customization issues can also arise when using third-party plugins and add-ons. While there is a vast selection available, it can be challenging to find one that fits the specific needs of an educator or institution. For example, a plugin may have a particular feature that an educator requires, but it may not be customizable to fit the institution's branding or style.
Using plugins and add-ons developed by the same company as the LMS can be one way to mitigate the risk. It can ensure better integration, support, and fewer compatibility issues. Moreover, institutions can work with developers to design custom plugins and add-ons tailored to their unique requirements.
Conclusion
Moodle is a popular open-source learning management system that thousands of educational institutions and organizations utilize daily. However, regardless of its user-friendly layout and thorough documentation, Moodle has its drawbacks. Its crowded interface, constrained theme options, limited media and content support, and narrow connection with external tools and systems are some of them.
Fortunately, when paired up with a devoted hosting provider, be sure that you will barely notice these issues. ScalaHosting offers a range of Moodle hosting solutions designed to optimize the performance of your LMS, ensuring that you can deliver high-quality online courses without any technical hiccups.
FAQ
Q: Does Moodle have built-in video editing features?
A: No, Moodle does not have built-in video editing features. Users can upload videos to Moodle. However, editing options like trimming, splicing, or captioning are unavailable.
Q: Is safety one of the limitations of Moodle?
A: No, safety is not generally considered one of the limitations of Moodle. The platform has several security mechanisms, including encryption and user authentication. However, it is still susceptible to hacking and data leaks if it is not regularly updated and maintained. Therefore, make sure you always have the latest version and suitable protection.
Q: How can I overcome Moodle's limitations?
A: Selecting the right hosting provider can make a significant difference in the performance of your Moodle site. ScalaHosting offers managed Moodle hosting with dedicated resources, automatic backups, security patches, and LMS optimization, ensuring your site runs smoothly at all times. Using plugins and add-ons, upgrading to the latest version, and providing proper training and support for your users can be of great help as well.
Q: What should I do if integrating Moodle with external systems and tools causes compatibility problems?
A: If you have any issues with your Moodle integration, first identify the source of the compatibility problem. You can then check for updates and patches and consult with the vendor. If needed, you can always contact the Moodle community for more support. If you cannot resolve the issue, consider using alternative solutions compatible with Moodle and the external system or tool.
Q: Does Moodle support different character sets and languages?
A: Yes, Moodle supports a variety of character sets and languages. Users can switch between languages within the interface, which includes built-in language packs for more than 100 different languages.
Was this article helpful?