Budget-Friendly Hosting Solutions: Tips for Cost-Effective Management
Whether you're running a personal blog, an ecommerce site, or a corporate portal, web hosting is the base on which you're building it. Choosing the right plan and vendor can be a hard task, though. There are just too many options on the market. Sometimes, striking a balance between cost and quality might seem impossible.
We've got you.
In this article, we'll share budget-friendly hosting solutions and tips for cost-effective management. Let's dive right in.
:
:
:
Get Up to 20X Faster WordPress Hosting with Entry Cloud
Free, Effortless & No-Downtime Migration
24/7 Technical Support You Can Rely On
Anytime Unconditional Money-back Guarantee
Personal Account Manager
Pay as You Go & Save Money
Get 3 Months FREE When You Subscribe for 1 Year or More
Understanding Your Hosting Needs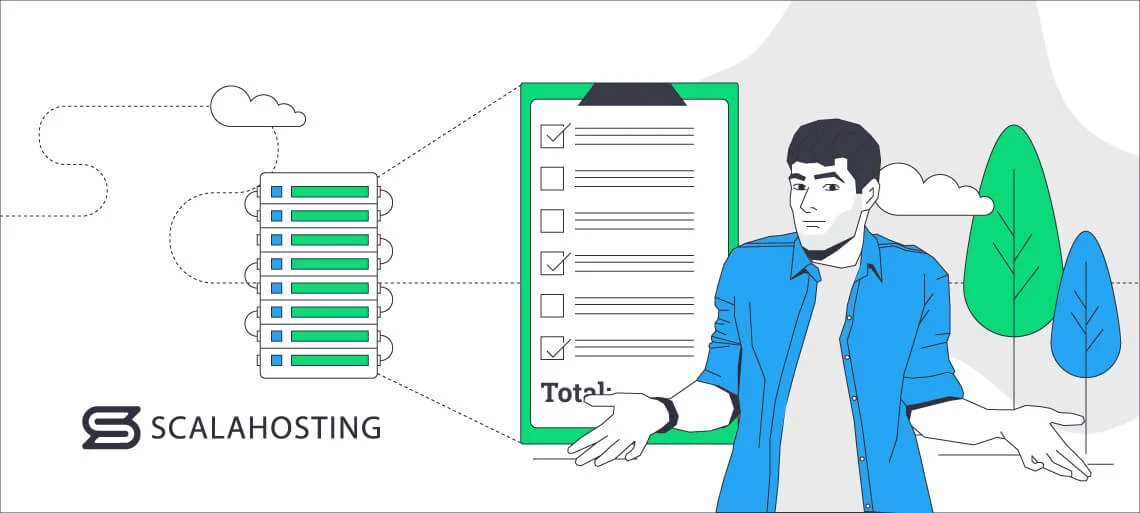 The first step is to assess your website's current and potential resource requirements. Is your site growing fast? Do you need any ecommerce features? Are there any specific compliance needs you need to meet?
Understanding the traffic and the specific features will prevent unnecessary expenses.
Shared Hosting for Beginners
Shared hosting is often the first step for new websites, as it is the cheapest option available. Plans usually range in price between $1 and $15.
Although unbeatable price-wise, shared hosting has several downsides. The first one is the fact that multiple users share the same server and its resources. There's always the chance that one site will take up more of the operating memory, for example, and leave the others hanging.
In addition, if one account is spreading spam or suffers a hacker attack, all other users will bear the consequences with them. And last but not least – you don't get your own IP address. If one of the other accounts gets the server IP blacklisted – this will affect your site reputation as well.
VPS Hosting for More Control
Virtual Private Server hosting is the perfect option for those with growing businesses. Plans cost between $15 and $80 dollars.
At a glance, the VPS environment is not that different from shared hosting. Several users get accounts on the same server. The main difference with shared hosting, however, is that your account is isolated and you get dedicated resources. You also get your own IP address, so you're safe if another user misbehaves.
VPS plans are for those looking for resource control and flexibility. Depending on your needs, you can add more or remove some.
Managed WordPress Hosting
For WordPress users, managed hosting tailored for the platform is an excellent choice. The price range here can greatly vary because WordPress Hosting in itself is not a separate service and still lies on some kind of server – shared, VPS, or dedicated.
Such a plan will present you with features that simplify working with WordPress. Think one-click installation, automatic core and plugin updates, etc. A managed service is one where you get dedicated help from the support team. They will set up the necessary software, monitor your server and account for potential issues, and answer all your questions. Your website will be isolated from other users on the same server, so no worries about paying for someone else's mistakes.
Cloud Hosting for Flexibility
Cloud hosting is getting more and more popular nowadays, with plans usually costing between $10 and $80.
But how does it differ from traditional hosting?
With a traditional VPS service, you have one physical server that the vendor separates into multiple virtual instances. Each account gets one of those. They, however, are limited to the resources that the physical server can handle.
With cloud hosting, you use a physical server to set up a virtual infrastructure. That way, you're not limited to the machine in terms of resources. All types of hosting can be powered by cloud, so the possibilities are truly endless.
Tips for Finding Budget-Friendly Web Hosting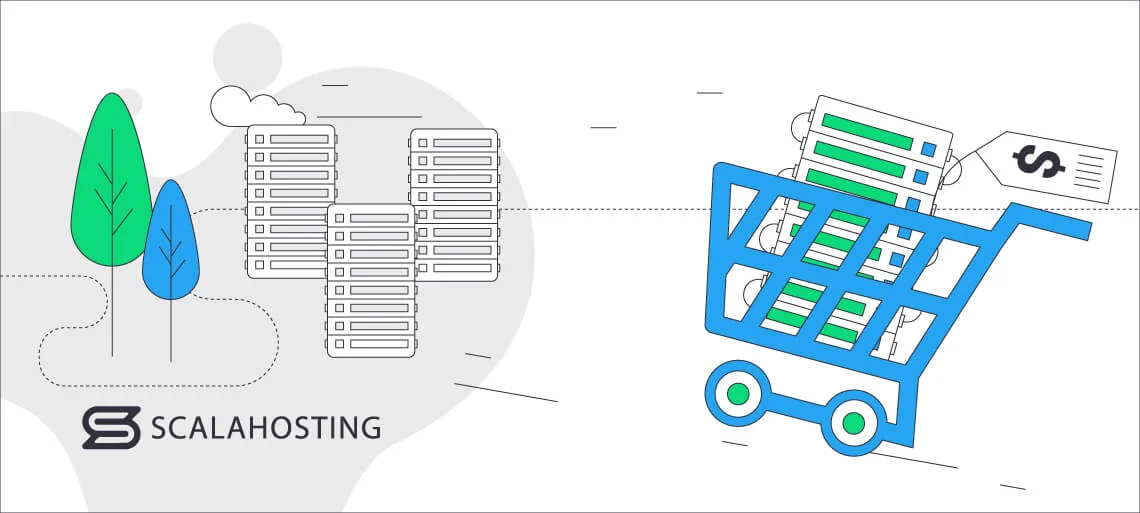 Comparing hosting providers is a crucial step to finding the best fit for your needs. You'll need to look at the features, resources, and pricing offered by various hosting companies and compare them to your usage statistics and projected growth. Reading user reviews and seeking recommendations is one way to get insights into the quality of service offered by different providers.
The other is by following our hosting cheat sheet:
Bundled Services and Features
One of the easiest ways to save money is to get a hosting plan that includes domain registration and SSL certificates. The former will cost you between $10 to $20 a year if you decide to purchase it separately, while the latter is around $60 for the same time period. Choosing a plan that includes those perks means you won't be spending extra for essential features.
Renewal Costs and Long-Term Planning
More often than not, new customers get discounts when signing up for a plan with reputable hosts. So, when renewal time comes, most users get disappointed to see that the prices have gone up.

You might be tempted to just move to another host and benefit from another discount for new clients. But what might save you money initially will probably cost you later.
There are numerous issues you might face, such as sub-par performance, migration problems, idle support, and more. Once you've found a reliable vendor, changing hosts doesn't make any sense.
The point of the initial discount is to give you a taste of what the package has to offer. Most providers lower their prices to the bare minimum in order to showcase what they can do for their users. Renewal prices are actually on par with the market demand. The higher cost is necessary to keep your host afloat and going strong.
If the renewal price still seems too high for what you're actually using, you can always discuss it with your vendor. Plans can be adjusted to better fit your budget and sometimes you can even get further discounts.
Open Source Software and Applications
Utilizing free and open-source software solutions such as WordPress, Joomla, or Drupal can significantly reduce hosting costs without sacrificing functionality.
Most vendors offer one-step installation for such apps. There is no need to spend money on a developer – it takes a minute to configure the application and you can start building your website right away. Depending on your project and technical skills, you can choose a simple platform with a drag-and-drop editor or go for the code customization approach and build your pages from scratch.
DIY vs. Managed Services
First let's establish the differences between self-managed and a managed hosting service:
With unmanaged plans, you will have to oversee the entire process of running and maintaining the website on your own. You will be the one to configure the server, set up the OS, download the apps, monitor for security issues, etc.
Choosing a managed service means you get a dedicated team to take care of everything – from setup to maintenance and updates.
It's arguable which one is better. For the tech-savvy people, who want more control and have the time to take care of a server – getting a DIY solution might be the wiser choice. But if you want to focus on growing your business and the technical side is really not your forte – a managed service is the better financial choice in the long run.
Optimizing for Efficiency
Normally, when you exceed your dedicated resource limit, you will have to pay an additional fee. While many hosting providers offer lucrative scaling options, you can often avoid this altogether by optimizing your website.
There are a few things you can easily do:
Reduce image sizing
Enable caching
Minify the code
By lowering resource usage, you can easily save some money. Reliable VPS hosting plans enable you to add and remove resources whenever you see fit so that you're not overpaying for what you're not using. An optimized website will allow you to transfer part of your budget to other areas.
Resource Monitoring and Scaling
Using monitoring tools to track resource usage will save you from additional fees.
For example, SShield, developed by the ScalaHosting team, has resource usage graph monitors on top of the admin panel. You can check your system load, the memory, and disk usage.
Keep an eye on those and when you're near the limit – contact a member of the support team to discuss scaling. That way you'll ensure optimal performance without spending unnecessarily.
Regular Maintenance and Updates
Bad maintenance can result in unexpected expenses due to downtime and potential damage to your website reputation.
To make sure this doesn't happen, you need to regularly update the:
CMS
Plugins
Modules
Security apps
Server
Most hosting vendors will offer daily offsite backups. However, you can still schedule and automate backups manually. Take time to sort the files and see which are crucial, which need to be saved immediately after an update, and which are not as important. That way, if disaster strikes, you can restore your website to a previous working version and minimize financial losses.
Budgeting and Cost-Tracking Strategies
The easiest way to save money is to establish a clear hosting budget and stick to it. Be realistic, however. Set aside a dedicated sum for renewals, eventual price increases, and additional resources.
Regularly track your usage to avoid unexpected fees. Also, optimize your website performance by reducing image size, enabling caching, and reviewing your code. When the time comes – don't be afraid to scale.
Make informed decisions about the type of hosting you need. Compare plans and vendors and always go for the most flexible and cost-effective option. If your budget is tight – opt for a longer subscription – be it a year or more.
Stay informed about your vendor's renewal policies and price updates by subscribing to its newsletter. That way you can plan your budget accordingly.
Balancing Cost and Quality With ScalaHosting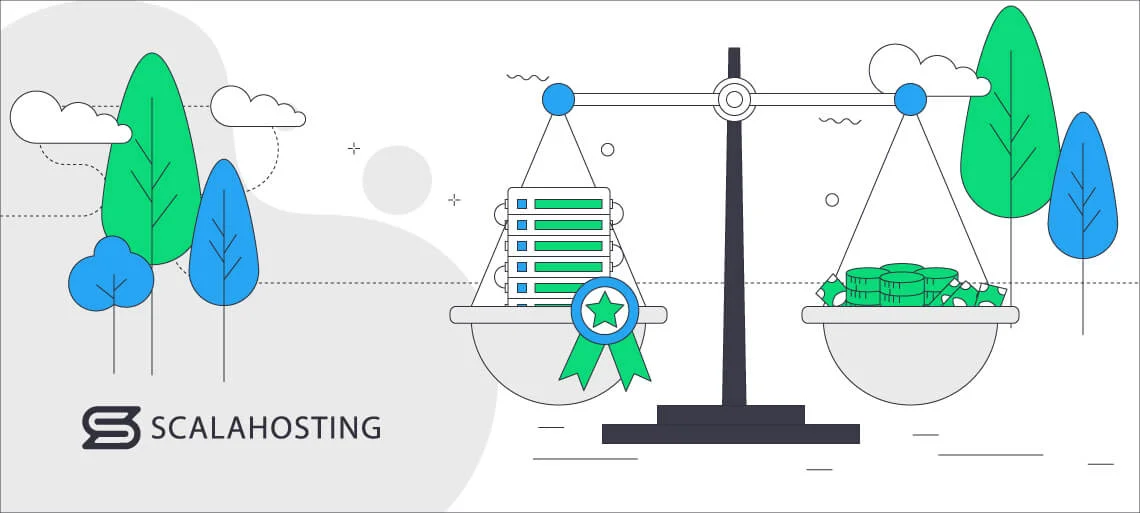 ScalaHosting offers plans for every need and budget. We have options for shared and VPS hosting, DIY and managed services, WordPress and email subscriptions, and more.
Our packages include free extras like:
Website migration
Domain name
SSL certificates
Daily offsite backups
Friendly 24/7 technical support
All ScalaHosting clients get access to SPanel – our very own hosting management platform. It includes integration with Softaculous for one-click installations, usage graph monitors, backup options, and more.
You will also benefit from SShield, ScalaHosting's custom-developed security solution. It blocks 99.998% of the attacks before they even reach your server. The tool is constantly monitoring for issues and sends reports to website owners should something abnormal occur.
Contact us today and we'll help you choose the most cost-effective plan for your budget!
Wrap Up
Finding the balance between cost and quality might seem impossible. Thankfully, there are budget-friendly hosting solutions that can meet the needs of various websites and businesses. By assessing your needs, evaluating different options, and implementing cost-saving strategies, you can successfully build a reputable online brand.
FAQ
Q: Can I host my website for free?
A: Yes, you can host your website for free. There are several vendors that offer free packages. However, this can be very limiting. In most cases, you won't get a domain, but a subdomain, and your website will be bombarded with ads. You'll also have to pay for things such as support, security features, website themes, and more. Free packages are only suitable for personal blogs and portfolios.
Q: Is free hosting safe?
A: Free hosting doesn't exactly offer a safe environment. You'll have to obtain numerous security features, such as SSL, firewall, and malware protection, as vendors rarely offer them on free plans. Updating your website will be up to you as well. Unless you're a professional when it comes to hosting safety, you'll be better off choosing a paid hosting package.
Q: Is free hosting slow?
A: Using free hosting can slow down your website. When opting for such a package, you get to share a server with a lot of other users. This means you get no dedicated resources and limited bandwidth and storage. As a result, your website will not only be slow, but you mayl experience frequent downtimes as well.
Was this article helpful?