Amplify Web Hosting: cPanel Add-ons & Extensions Guide
cPanel is like a new house. The add-ons and extensions are the comfy furniture and cool gadgets that make it feel like home—just how you like it.
They come bearing gifts of enhanced security, swifter site performance, and an arsenal of tools that transform your cPanel into a control hub fit for a digital maestro. This is about taking your hosting experience from basic to a personalized haven, expanding what you can do right from your control panel.
It's not just about managing your website; it's about orchestrating a seamless, secure, and swift digital presence.
This guide is your map to the treasure trove of cPanel add-ons and extensions available. Whether you're seeking to bolster your site's security, optimize its performance, or enhance its functionality, there's a cPanel companion ready to assist.
So, ready your digital toolkit, and let's delve into the diverse categories of add-ons and extensions ready to amplify your hosting experience, right from your cPanel's dashboard.
:
:
:
Unleash the Growth of Your Website with a Managed Virtual Server
Free, Effortless & No-Downtime Migration
24/7 Technical Support You Can Rely On
Anytime Unconditional Money-back Guarantee
Personal Account Manager
Pay as You Go & Save Money
Get 3 Months FREE When You Subscribe for 1 Year or More
cPanel Marketplace Overview
The cPanel Marketplace is not just a storage space; it's a treasure trove of tools waiting to be discovered. Picture a candy store but for website enhancements. It's structured, easy to navigate, and rich with options. You have categories to browse, a search bar to find what you need, and plenty of product details available at a glance.

Security and Backup Enhancements

Choosing a Firewall Solution
Meet ConfigServer Security & Firewall—a security guard for your website, keeping unwanted visitors out. It acts not only as a firewall but also as a watchful guard, detecting any unwanted login attempts or intrusions.
Selecting a Malware Scanner
Having a malware scanner isn't a luxury; it's like having a security system for your digital home, keeping malicious intruders at bay. Pick one that melds seamlessly with cPanel, staying on the lookout without being in your way.
Intrusion Detection Systems (IDS)
An intrusion detection system sifts through the network traffic, spotting anything that smells fishy. It's your silent watchdog, ensuring nothing slips through unnoticed.
Security and backup aren't just checkboxes; they're the bedrock of a resilient online presence.
Performance Optimization Tools

Performance optimization isn't just about putting a pep in your website's step; it's about rolling out the red carpet for your visitors with speedy page loads.
Here are tools that can enhance your website performance:
Optimizing with Caching Solutions
Caching helps store data temporarily for faster access later on. With tools like the LiteSpeed Cache plugin for WordPress, your site data is stored and ready, ensuring quick access for the next visitor without any extra processing.
Content Delivery Networks (CDNs)
Cloudflare is more than a catchy name; it supercharges your website's performance. By spreading your site's content across a network of servers globally it ensures your visitors get the data from the nearest location, significantly cutting down the wait time​​.
Minimize Database Load
Turning off MySQL Disk Stats can help your database run more smoothly and quickly.
Server Optimization Techniques
Enter CloudLinux. This isn't your everyday operating system. It limits the resources, beefs up security, and brings a bag full of features like multiple PHP versions and a Hardened Kernel, making your cPanel run like a well-oiled machine​​.
Compression
The Optimize Website feature in cPanel allows you to compress specified types of content automatically when visitors access that content. It's about less data travel time, quicker loading, and happier visitors​​.
Custom Optimization
Don't just stop at the basics. Dive into the settings, tweak, test, and measure. Every website has its unique quirks and needs. The more you tailor the optimization to your site, the better the performance. Read more about optimizing website performance.
SEO and Analytics Integration

Did you know that 75% of users never scroll past the first page of search results? Now, that's a bustling neighborhood you want your digital house to be in.
Utilizing the cPanel SEO Tool
This tool by XOVI NOW aims to make SEO super easy for website owners.
Features include daily performance reports, unlimited domain analysis, performance improvement suggestions, multi-project management, and task creation for optimization​​.
It has three parts: keywords for analyzing words, projects for website audit, and an advisor for SEO advice based on the site checks.
Diving Deeper: Specific Tools in cPanel SEO
Rank Tracker to monitor your (and your competition's) overall ranking for given keywords.
Advisor to help optimize your website using step-by-step instructions.
Text Optimizer will tailor your website content based on data-driven suggestions​​.
cPanel Analytics
cPanel Analytics collects data on how users interact with cPanel, Webmail, and WHM products, aiming to improve user experience through these insights​​.
Attracta SEO Tools
Attracta's SEO tools integrate perfectly with cPanel, providing powerful SEO capabilities. It's highlighted for its extensive installation on cPanel servers more than any other plugin​​.
Google Analytics Integration
While some hosting's cPanel no longer supports direct Google Analytics integration, website owners can still set up Google Analytics directly at Google​​.
Content Management Systems (CMS) Integration

Ever tackled IKEA furniture without the manual? That's what managing a website without a CMS feels like.
Here's how you can integrate any CMS with cPanel:
Integrating these CMS platforms into cPanel is more than just a technical collaboration – it's about creating a conducive environment for website owners and developers to bring their digital visions to life.
Collaboration and Communication Tools

In the digital theater, your cPanel is the stage manager, orchestrating the behind-the-scenes magic. But even a stage manager needs a good walkie-talkie to keep the show running smoothly.
WHMCS Project Management Software
WHMCS isn't just a billing and automation platform – it houses robust project management software that caters to web designers and developers. It's a harbor for managing, tracking, and billing your projects, complete with task management, messaging, and file storage. The software knits a tight communication loop between staff and clients, providing a client portal for project status updates and file sharing​​.
CRM PRO in Laravel for cPanel
CodeCanyon lists a gem called CRM PRO, a Laravel-based CRM system tailored for cPanel. It's like having a mini-command center within your cPanel, managing client relationships right where your website lives​​.
cPanel Email Manager
Email is the lifeblood of business communication. The cPanel Email Manager is a PHP-based app that takes the chore out of email management. Create emails, list all email accounts, and change email passwords without the usual login hustle. It's a small yet significant step towards streamlining communication​​.
Installing addons via WHM
For the administrators among us, WHM (Web Host Manager) unveils a straightforward path to installing cPanel addons. Click on 'Install cPAddons' select your script, and voila! It's all about bringing those collaboration tools on board with a few clicks​​.

cPanel Plugin Guides
If you're on the prowl for professional plugins, CpanelPlugins offers guides on creating and setting up cPanel and WHM plugins. It's a resource that could lead you to excellent collaboration tools suited to your team's needs​​.
CodeCanyon's cPanel Plugins
Though the direct entry to CodeCanyon's cPanel plugins was barred, the snippets hint at a reservoir of cPanel add-ons, code, and scripts that might contain some collaboration and communication tools waiting to be discovered​.
Ecommerce and Payment Gateways

In the digital marketplace, think of your cPanel as the bustling hub where transactions whirl and carts fill up with desires.
Here are the components essential for ecommerce:
Laying the Ecommerce Foundation
Shopping Carts: It all starts with the right cart. Software solutions like Magento, PrestaShop, or OpenCart can be installed directly from your cPanel.
Inventory Management: Ever heard of TradeGecko or Zoho Inventory? They help keep track of your stock.
Securing Your Transactions
Payment Gateways: Payment gateways are secure services that handle your money transactions. Extensions for PayPal, Stripe, or Square can be added to your cPanel for secure payments.
Navigation and Sales Channels
SEO and Marketing: SEO plugins like Yoast or All in One SEO Pack ensure you're sailing in the right direction, catching the wind of Google's algorithms to propel forward.
Customer Interaction
Live Chat and Support: Tools like LiveChat or Zendesk provide a line of communication and a telescope to see your customers and interact with them in real-time.
Keeping the Ship Shape
Analytics: Knowing the tide is crucial. The Google Analytics plugin for cPanel will tell you the highs and lows of your journey, helping you navigate the stormy nights.
Docking at New Shores
Marketplace Integration: Ever thought of docking at the vast shores of Amazon, eBay, or Etsy? Tools like Codisto or Sellbrite help you anchor your products on these massive marketplaces right from your cPanel.
Custom Decking
Custom cPanel Plugins: Sometimes the generic build of the boat just doesn't cut it. Custom cPanel plugins can be built to suit the unique needs of your e-commerce voyage​​.
Backup and Recovery Solutions

Spilling coffee on your precious manuscript… a nightmare, right? Similarly, losing your digital data can be a cold sweat kind of ordeal.
R1Soft Continuous Data Protection (CDP)
A simple tool for backing up and restoring website files and databases on your server.
Users can easily restore data through a simple interface in their cPanel account..
It performs point-in-time snapshots for Linux, with the MySQL add-on allowing a lock on tables to ensure data consistency during the snapshots.
However, it requires the Continuous Data Protection agent to be running on the server, and any failure in this agent could cause backup problems​​.
JetBackup
Offers the flexibility of creating numerous backup jobs on the server and supports multiple backup destinations like Remote server, Amazon S3, Google Drive, Dropbox, etc.
Provides smart account filters, allowing the exclusion of certain accounts on servers with high loads and resource shortages.
Кeeps resource usage low during the backup process to maintain server performance, although this might affect the backup task completion time​​.
Acronis Backup Plugin
Known for its pre-built integration with most of the renowned control panels, including cPanel.
Simple setup process: download and install the cPanel Acronis plugin, then install a backup agent.
Offers self-service recovery privileges for cPanel accounts, enabling tech-savvy customers to browse backups and recover files, folders, databases, mailboxes, mail filters, and mail forwarders.
It's a licensed product with multiple tenures based on the chosen package​.
Additionally, cPanel offers native backup functionality, allowing server administrators to set up daily, weekly, or monthly backups, which can be stored on remote backup servers too.
Read more about Backing up Your CPanel on our blog.
Website Builders and Templates

Remember the joy of snapping LEGO blocks together? Website builders are your digital LEGOs, and cPanel is the playground where your ideas come to life.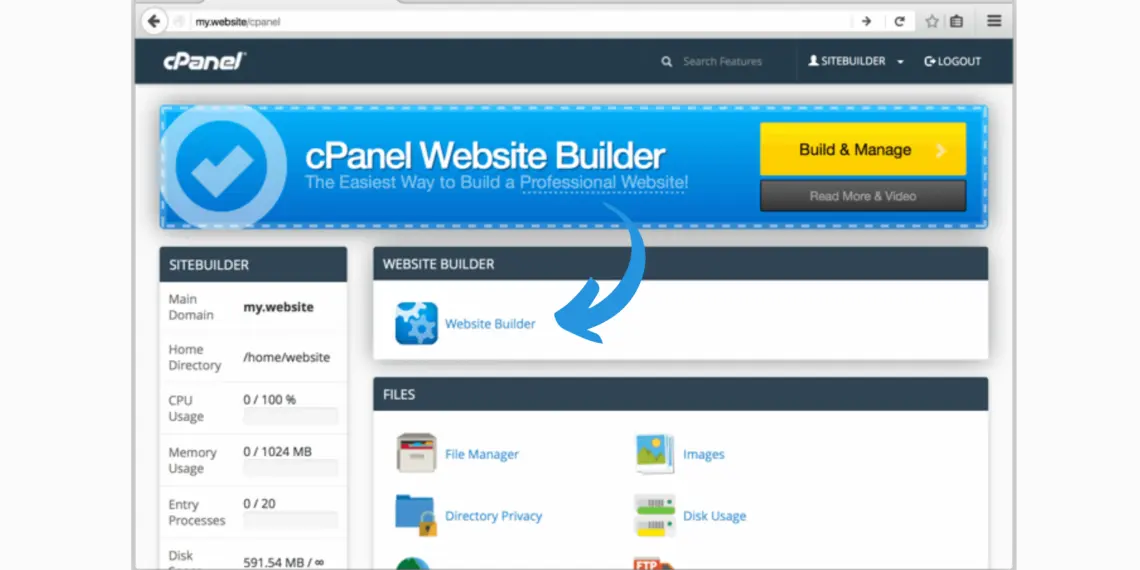 Here are some notable tools:
Building with SitePad Website Builder
SitePad is a robust website builder that integrates seamlessly with cPanel, offering over 500 responsive themes. This arsenal of templates caters to a wide array of categories, including blogs, businesses, portfolios, and more.
The hallmark of SitePad is its user-friendly drag-and-drop editor, which takes the complexity out of website creation. Adding new pages and blog posts or customizing the layout is a breeze with this editor.
Before diving in, ensure your cPanel server is ready to go. If a firewall is in place, configuring it to allow access to *.sitepad.com and *.softaculous.com is essential for publishing your website smoothly​​.
Site.pro Website Builder
Another notable mention is the Site.pro Website Builder available on the WHMCS Marketplace. It's a fully customizable website builder with ecommerce features baked in.
Offering over 200 templates and marketing materials, Site.pro is a solid choice for those looking to kickstart their online presence without getting tangled in the technicalities​​.
Trial and Decision
Many website builders offer demo versions or trials, allowing you to get a feel for the interface and features. Taking a test drive before committing to a particular tool is a wise step.
Once satisfied with your choice of tool and after crafting your website, hitting the publish button is all that's left. These cPanel integrations are tailored to ensure a smooth launch, letting you focus on managing your newly built online presence.
Social Media Integration

In today's world, where a tweet can stir waves, integrating social media isn't just an option, it's a wise move.
Here's a breakdown:
Social Media: cPanel Add-ons and Scripts
cPanel offers a variety of plugins, add-ons, and scripts that can be utilized to enhance social media integration. These tools can help automate posting to social platforms, add social sharing buttons, and embed feeds on your website.
Multilingual and Globalization Tools

In the grand tapestry of the web, different languages are the colors that make the picture complete. Don't let language be a barrier – let it be the bridge.
Translation Plugins
These plugins can automatically or manually translate your website content into different languages.
Currency Converters
Currency converter plugins are essential for ecommerce websites that cater to a global audience. They allow your customers to view prices and transact in their preferred currency.
Localization Tools
Localization tools help adapt your website to different regions' local preferences and regulations. This might include adjusting date and time formats, units of measurement, and other locale-specific details.
For instance, if you're running a WordPress website on cPanel, plugins like WPML, Polylang, or TranslatePress can be installed to manage multilingual content. Similarly, WooCommerce Currency Switcher or other currency converter plugins can handle multiple currencies on your ecommerce site.
Analytics and Reporting

In the grand casino of the internet, analytics are your poker chips. The better you understand your hand – the smarter your bets.
Tracking Your Website Performance
AWStats and Webalizer: Integrated within cPanel, these tools provide basic insights into traffic trends, providing a preliminary understanding of your website performance.
GTmetrix and Pingdom: Although not housed directly within cPanel, these tools offer a deeper dive into website performance, measuring page loading speeds, server response times, and script performance. Their integration provides a comprehensive view, helping you identify areas for improvement.
User Behavior and Engagement Metrics
Google Analytics: A stalwart in the realm of user behavior analytics, Google Analytics, though requiring an external setup, unfurls a rich tapestry of data. From real-time analytics to cohort analysis, it's an invaluable asset for understanding user engagement and behavior on your site.
Jetpack for WordPress: This plugin offers a suite of analytics and engagement metrics, providing a cohesive narrative of your WordPress site's engagement story right within the cPanel environment.
Domain and SSL Management

Domains are your digital address, and SSL is the lock on your front door. And you wouldn't want to live in a house with no address or lock, would you?
Managing Domain Registration
Domain Registrar Plugins: Domain registrar plugins in cPanel help you easily register, transfer, and renew domain names all in one place.
WHMCS: Not just a billing platform, WHMCS is a robust tool that also covers domain registration services. Integrated with cPanel, it enables a streamlined domain management process, from registration to renewal.
SSL Certificate Management
AutoSSL: A gift to the realm of SSL certificate management, AutoSSL automates the SSL issuance and renewal process. It's a vigilant guard, ensuring that the websites under its watch are always armored with valid SSL certificates.
Let's Encrypt: A free, automated, and open certificate authority, Let's Encrypt can be integrated with cPanel, providing a straightforward path to SSL certificate issuance and management. It's about democratizing SSL security and making it accessible to everyone.
SSL Installation Wizard: cPanel's SSL Wizard is a faithful companion in the journey of SSL installation. It simplifies the process, guiding you step by step in the proper steps of configuring a security certificate.
Simplified Domain Transfers and SSL Installation
Transfer Tool: cPanel's Transfer Tool eases the process of domain transferring from one registrar to another. It's about moving domains seamlessly within the cPanel environment, minimizing the technical hurdles.
cPanel SSL/TLS Manager: This manager is your control center for SSL certificate installation. It's about simplifying the SSL setup and ensuring your website's connections are secure.
Choosing and Installing cPanel Add-ons

Picking the right add-on is like choosing the perfect outfit – it should fit well, look good, and not break the bank.
How to Evaluate and Select Add-ons
Identify Needs: Know what you want to achieve with the add-ons.
Research and Read Reviews: Look for reputable sources, read reviews, and compare different add-ons. User reviews and community forums can provide invaluable insights into the performance and reliability of the add-ons.
Compatibility: Ensure the add-ons are compatible with your cPanel version and other installed software. Compatibility issues can lead to functionality problems and could potentially affect your website's performance.
Vendor Support: Opt for add-ons from providers who offer robust support. Good support can be a lifesaver when facing technical issues or seeking assistance with configuration.
Step-by-Step: Installing and Configuring Extensions
Backup: Before you begin the installation process, back up your cPanel and website data. This is a precautionary step to prevent data loss in case something goes awry during installation.
Read Documentation: Go through the instructions provided by the add-on vendor.
Access cPanel: Log into your cPanel account and navigate to the section where you can manage and install add-ons. This is typically found under the 'Software' or 'Plugins' tab.
Install Add-ons: Follow the instructions provided by the add-on vendor to install the extensions. Some plugins may have an installer wizard that guides you through the process, making its installation even easier.
Configure Add-ons: Configure the add-ons per your needs and preferences after installation. Again, refer to the documentation for best practices on configuration.
Ensuring Compatibility and Security During Installation:
Check Permissions: Ensure the permissions are set correctly to prevent unauthorized access to your cPanel and add-ons.
Use Secure Connections: While accessing cPanel or downloading add-ons, use secure connections to prevent data interception.
Test Functionality: After installation, test the functionality of the add-ons to ensure they are working as expected and not causing any issues with other aspects of your control panel or website.
Regular Updates: Update your add-ons regularly for security and to ensure they work well with your system.
Final Takes
To wrap up, navigating through the maze of cPanel add-ons and extensions is akin to unlocking doors to endless possibilities and tailoring your hosting environment to your specific needs.
A notable mention is ScalaHosting, which provides managed cloud VPS solutions with an SPanel control panel, an alternative to cPanel, designed to save you time and resources. With features like daily backups, SShield real-time cyber security protection, and a free website migration, ScalaHosting ensures a smooth transition and a reliable hosting experience, enhancing your website's performance and security.
Whether you opt for cPanel or ScalaHosting's SPanel, integrating the right set of add-ons and extensions is the key to optimizing your hosting experience.
Was this article helpful?