If you're reading this, chances are your website is part of the 40.9 percent using WordPress — which is a great thing, by the way.
Now you have your WordPress up and running and the next thing should be customization.
This guide will walk you through vamping your website by installing and setting up a new theme from your WordPress dashboard.
Let's dive in.
Installing a New Theme from WordPress Theme Directory
WordPress offers a directory of over 6,000 free themes (and plugins) to users from its directory. Using these themes requires little to zero knowledge of coding.
With a few clicks, you can switch up your site's aesthetics using free themes or installing a premium one.
These themes go through a strict review process to make sure they're not only compatible with the different versions of WordPress but with all the free plugins found there too. Actually we'll teach you how to install a (free) new theme from your WordPress directory right now.
You just need to follow these steps :
If you haven't already,

log in to your WordPress

admin dashboard.

Click on

Appearance > Themes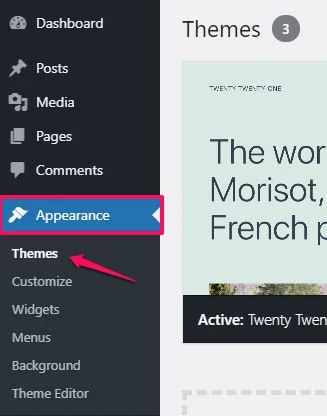 Right on the top, hit the

Add New

button.

The next page will reveal a

variety of themes

to choose from. Take your time and scroll through the catalog.
You can also streamline what you're looking for by searching through these categories — Featured, Popular, Latest, and Favorites.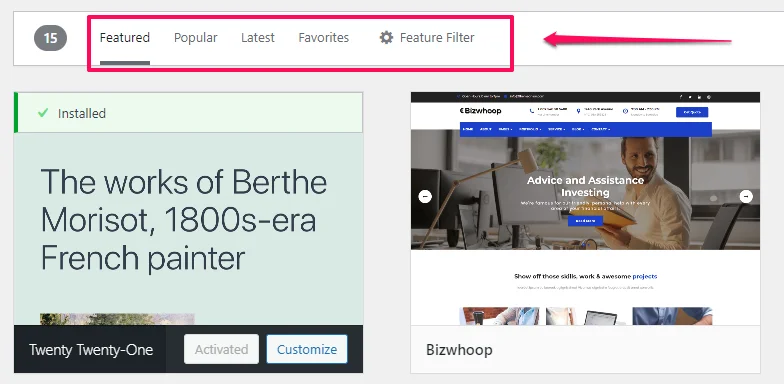 Use the

Feature Filter

settings to set parameters and get the best theme features for your website. Filter your options by –

Layout, Features, and Subject.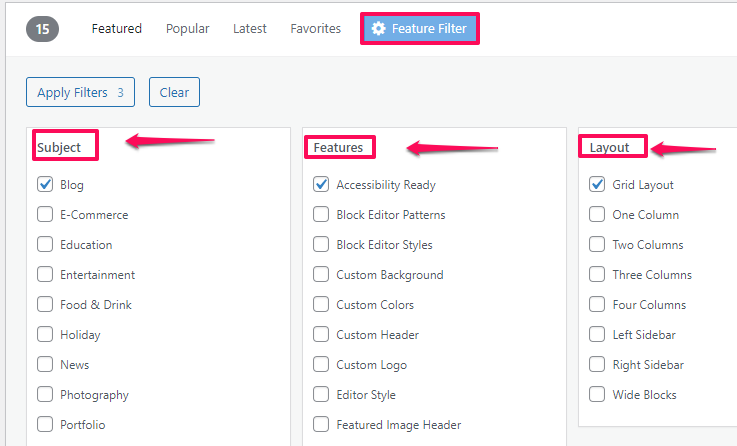 Hit

Apply Filter

when you've chosen the features you need.

Click

Details and Preview

when you find the theme of your choice to see more information about the theme. Preview lets you see how a

theme plays out live

on your dashboard before installing.

Then, click

Install.

Complete the installation process by hitting the

Activate

button.
That's it. Now you can play around with different customization effects and choose what works best for you.
Installing a New Theme via Uploads from the WordPress Dashboard
To install a new theme on WordPress via uploads, you must first purchase a premium theme from a non-WordPress developer.
Use the following instructions to learn how to upload and install a new theme on WordPress :
First, download a premium theme from a theme marketplace —

Themeforest, StudioPress

, and

MOJO Marketplace

are great places to start.
Downloaded themes are always in .zip files — but don't worry — you won't need to unzip them before uploading.
Head over to your dashboard and select

Appearance > Themes

.

Click the

Add New

button at the top.

On the new page that appears, click

Upload Theme

. This uploads the zip file from your computer to the

WordPress dashboard.

Select

Choose file

to choose from the files on your computer. Then, click

Install Now

to complete the installation process.
The remaining steps are similar to what we discussed above. To check the theme out, hit the Live Preview button and then Activate it to seal the process.
How to Setup your New WordPress Theme on your Dashboard
There are many ways to set up your WordPress theme after installation. If you're not sure where to begin, use the theme's documentation.
Usually, you'll find it embedded in the theme or on the developer's website. If that doesn't bring up favorable results, then just search it up on the internet.
For this post, we'll look at three basic things you can do to extend your website's functionality and design.
Install Necessary Plugins
Plugins give your site's functionality an extra oomph when you install them. Most themes require plugins to perform well.
To know the right plugins to install, check the theme's documentation, or look for a notice on your dashboard immediately after installation.
Chances are, if you get a notice on your dashboard, you'll go through the plugin installation process automatically. Use the bulk select tool to install and activate multiple plugins at once.
If you get the details from the theme's documentation, you must manually install the required plugins.
Using Theme Options or Customizer
Sometimes, your theme might have a theme options page, though some of its functionality has been moved to the customizer to show you a live preview after activation. You can access the theme options page under Appearance > Theme options or as a standalone menu on your dashboard.
Here's what you can do on the theme options page :
Set up your general homepage

Choose and customize color schemes.

Work on the site's layout.

Add social media links.
However, with the customizer, you can do more than this — like fix header and background images and change basic site information. This also means that your theme might not support every customizer functionality.
To use the customizer, head to Appearance > Customize. The following page will have two panels — the left for testing out functionalities and the right for seeing a live preview.
You can now change your site title or upload a background image (if applicable).
Add Menus
The menu editor lets you set up navigation blocks for users. You'll find the menu editor under Appearance > Menus.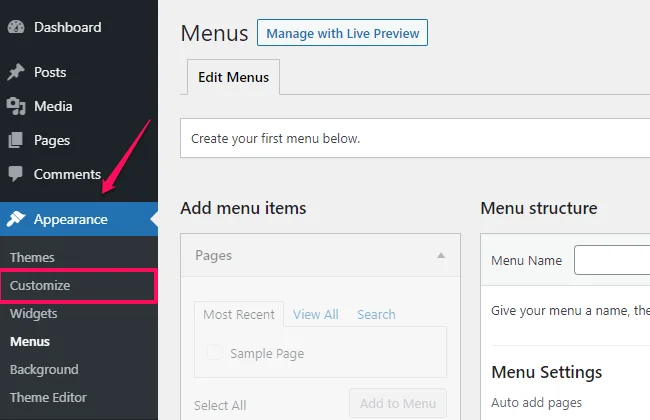 As with the customizer, you'll see a two side panel. This time, you can fiddle with items on the left side and see the structure on the right. You may also give your menu a name that reflects the section you want to be displayed.
You can do everything from using custom links to fix up what's missing to indenting menu items to show as sub-menus.
Play around with the drag and drop feature to arrange the menu items, and click View All to see how everything turned out.
What Next?
Now you've changed up your website's style, look, and feel, the final thing you should keep in mind is to keep your plugins and themes updated.
Of course, if you use a Managed WordPress, we'll notify you of outdated plugins. Along with this, we keep your site running at 100 %.