Creating a WordPress site and building your own WooCommerce store is not going to be an easy ride. The good news is that as long as your website is on a local server, you're free to experiment with zero consequences.
Once you're ready to show your work to the public, however, you need to move from localhost to live site.
Today, we'll discuss the easiest way to do that. But first, we need to start with the basics:
Local Server vs Live Site
To put it simply, a local server is like your personal computer. When connected to the internet, it's protected via a password so that other people won't be able to access it. That means you can make changes to your site without affecting its live performance.
But when you're done making changes, you still need to move your store from the local server to your live WooCommerce site. That way, viewers and customers will be able to actually see the modifications you've made.
Do keep in mind that any changes made on a live website will be seen by visitors and might cause downtime or slow speeds.
Here's the whole process, step by step:
How to Move WooCommerce From Local Server to Live Site
There are some basics you have to take care of before you start moving your online store. You'll need a reliable hosting provider, domain name, and an FTP client.
You are then faced with two options:
Transfer Your WooCommerce Store Manually
You can move your WooCommerce store from local server to live site manually. It's best to have some technical skills if you're going for this approach. But even if you don't – we can help you with the steps!
Start by exporting your local WordPress database. Go to http://localhost/phpmyadmin. Click on Export and select your WooCommerce database. Then, go to your Control panel and create a new MySQL database.

It's an easy enough task – there are just two steps:
Fill in several fields that will show up, once you click on MySQL Databases.
Click on the drop-down and choose Manage in phpMyAdmin.

Go to Import > Choose file and upload your archive.

The next step is to connect the WooCommerce website to your domain. Click on wp_options and change the site url and the home options. You will also need to update the database details in the wp-config.php file. Add the username, password, and database name you set earlier and save the changes.
The last step is to go to your WordPress dashboard and update all the links. Navigate to Settings > General.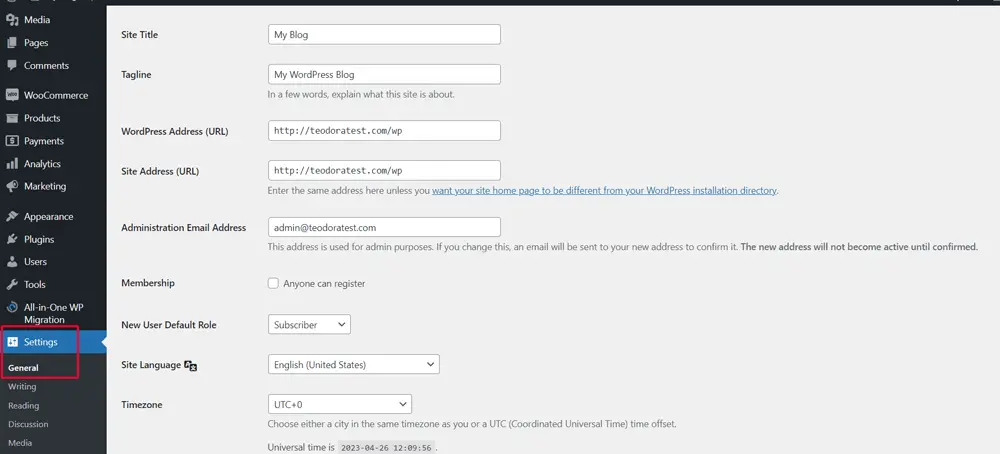 The WordPress address and site address should lead to your domain name. Save the changes, navigate to Permalinks, and save the changes there as well.
Transfer Your WooCommerce Store via a Plugin
The easier option would be to use a plugin, such as the All-in-One WP Migration or Duplicator Pro.
After you've downloaded the extension of choice, you should:
Go to your WordPress admin dashboard
Scroll down to Plugins
Click on Add new.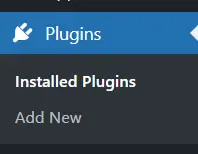 You can either upload the ZIP file you've downloaded or directly search for the add-on in the available database.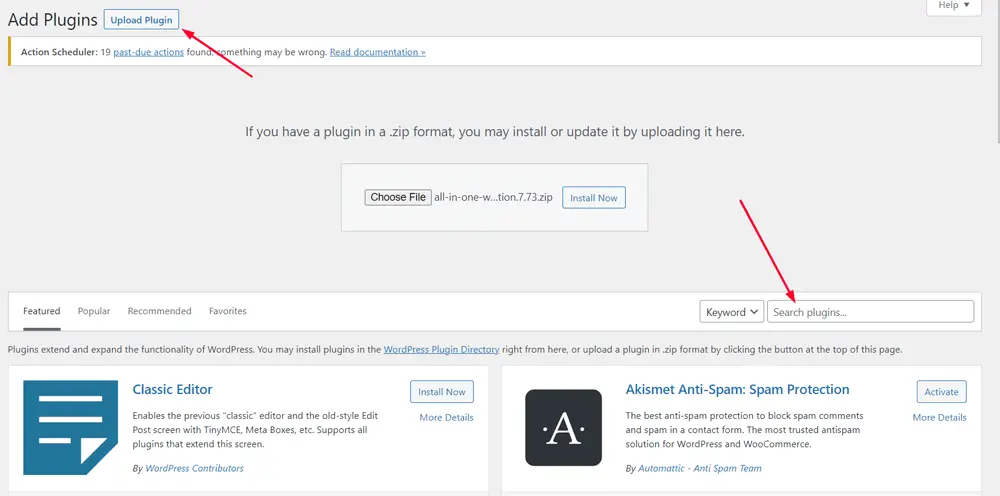 Whichever option you chose, click on Install Now. Then, click on Activate Plugin.
Your next step is to back up your WooCommerce store. Different add-ons will provide different ways to do that. The All-in-One WP Migration, for example, has Import, Export, and Backups options. With Duplicator Pro, you'll need to create a Package to serve as a backup.
IMPORTANT: The archive can be used for future websites or just as a backup for your current one, so don't delete it after moving your store to live site.
After you've downloaded your store's archive, you'll now need to create a new database for your live website. Go to your control panel and find the MySQL Databases option.
On the next page, create a new database by filling in the data fields. You'll see an Import data to your database section. Choose Upload the database from your computer and add the backup you created earlier.

When the upload is finished, you can use the localhost ID and password to enter your live WooCommerce store to test it.
Hosting WooCommerce
As mentioned earlier, one of the first things you need before you move your WoOCommerce store from local server to live site is hosting.
Thanks to its years of experience, ScalaHosting created a scalable WooCommerce hosting tier. The plans include free website migration done by our experts. They also come with a free domain name and SSL certificate, also crucial for your online business.
We realize that website speeds are of utmost importance for shop owners. Therefore, we use the fastest web server solutions – LiteSpeed and OpenLiteSpeed. Besides the speed boost, users will immediately notice another huge benefit – saving up server resources.
We guarantee the best speeds, top-notch security, and 24/7 support.
Contact our team today for more information.
Wrap Up
Depending on your technical skills, you can move your WooCommerce store live by either:
doing all the work yourself
using a plugin
The first option might be a bit complicated for newbies. The good news, however, is that there are a lot of WooCommerce extensions that can do the hard work for you.
FAQ
Q: How to move WordPress from a local server to live site?
A: You have two options if you want to move your WordPress project to live site: use a plugin or do it manually. If you go for the latter you will have to export your local WordPress database, create a database, connect the website to your domain, and update all your links.
Using a plugin is arguably faster. The most popular options on the market currently are All-in-One WP Migration and Duplicator Pro. Once you're done using the extension, you're better off deleting it.
Q: Is WordPress localhost free?
A: Having a local WordPress site is free, yes. Localhost is basically your personal computer. However, if you want your website to be online and available for everyone to see – you will need to purchase a hosting plan and a domain name.
Q: Can you migrate your WooCommerce website from localhost to live server using plugins?
A: Yes, you can use plugins to migrate your website from localhost to live. We recommend using All-in-One WP Migration or Duplicator Pro. The former is free, while the latter has subscription plans.