You've probably heard about G-Suite before now. Or maybe not.
But I guess you're familiar with Google Docs, Gmail, Google Sheets, Google Drive, and the rest of the Google productivity tools.
Google offers a 'virtual office' where team members can work and collaborate on tasks together. It used to be called G-suite.
However, G-suite has now evolved into a better and more flexible solution for businesses who want to upgrade their operational excellence. Thereby, introducing the all-new Google Workspace. 
In this article, we will explore Google Workspace, its pricing and contents.
Let's get to it.
What is Google Workspace
Google Workspace is a suite of powerful computing software built by Google to help businesses manage their operations better. It contains all the apps you need to get the work done without juggling different platforms.
The apps are highly secure, easy to use, and sync across various devices. These products improve content creation, effective communication, easy integration and synchronization, cloud storage, and team collaboration from anywhere in the world.
Next, we will discuss the apps that make up the all-new Google Workspace and its use. Let's dive right in.
What Are the Products included in Google Workspace?
The new face of Google Workspace includes apps that offer enterprise solutions for communicating with team members, webpages, file sharing, cloud storage, admin control, etc. 
Making it easy for team members to 
Collaborate on projects, and tasks

Schedule meetings

Send messages

Share ideas in real-time without hassles. 
In addition, you can sync your apps across all devices and access them from anywhere and at any time.
These products include
Google Docs

Sites

Appmaker

Slides(presentation)

Google voice, Google Meet

Google Chat

Google Drive

Cloud Search
And a host of others. 
However, we will group them according to their mode of operation, as seen below.
Connect and communication tools

Create and collaborate tools

Access and storage tools

Admin management and control tools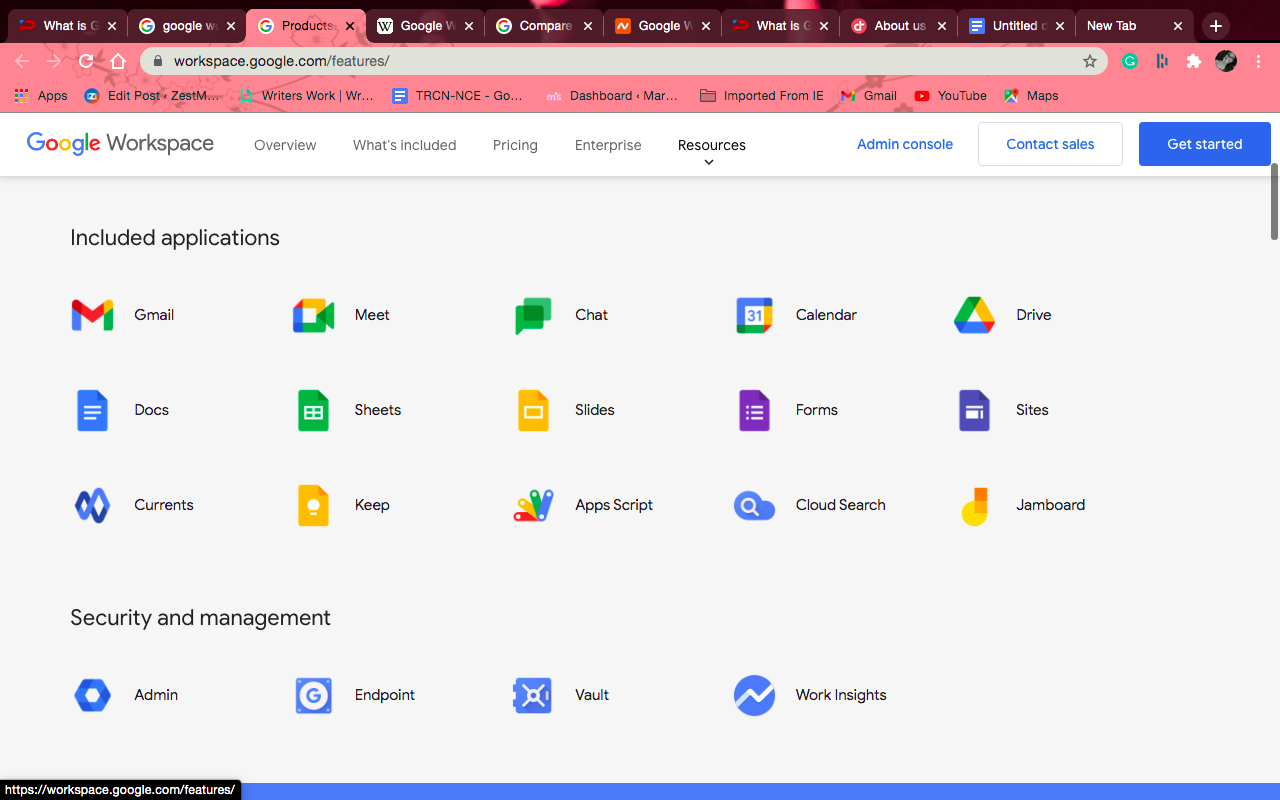 Connect and Communication Tools 
Gmail
Google mail offers email services, voice, MI, and video chat options for its users. You also enjoy safe access to your email inbox, spam protection, search engine options, and instant notification for emails. Gmail provides 30 GB – unlimited email storage for users, depending on subscription plans.
Google Meet
Gain access, through shared links, to video conferences, meetings, and webinars from your mobile phones, tablets, laptops, and desktops without stress. You can share your screen, send comments, chats, and documents in real-time.
Calendar
Google Calendar integrates with your email system to help you arrange meetings, daily schedules, events, and appointments. You can access your calendar schedules from any device to help you keep track of your company's affairs.
Chat
Google Chat allows your team members to send private messages and group conversations while collaborating on tasks. Enjoy threaded conversations and dedicated virtual rooms for handling specific projects.
Chat also integrates with Vault, allowing admins to search, access, archive, or export messages at any point in time. 
Voice
Google Voice assigns a phone number to each of its users. You can use the Voice app for voice calls, messaging, and voicemails. It allows sync across devices and can access them with your:
mobile phones

Laptops

tablets, etc.
Access and Storage Tools
Drive
Use Google Drive to save files:
Images

Documents

Videos

reports, etc. on google cloud.
It syncs in real-time, and you can easily access them from any of your connected devices without stress.
Cloud Search
Cloud search uses Google AI to help you search specific items, messages, files with ease. It syncs with Google vault to make your admin duties as easy as possible. 
Create and Collaboration Tools
Docs
Create, edit and collaborate on text documents without stress, using your web browser or Google docs app. It integrates with google drive and allows you to access your documents from any device.
Spreadsheets
Google Spreadsheet allows you to create charts, tables, graphs, etc., with inbuilt formatting options and formulas that enable you to pull your data or collaborate with team members without stress. It also integrates with Google Drive for easy access across any device.
Forms
You can now create surveys and share them online to get data and responses from target users and the general audience with Google Forms. This tool helps you improve your business strategy, gain more leads and scale your business.
Slides (Presentations)
This tool offers various templates to help you unleash your creative ideas during a presentation. You can embed videos, images, and animations to buttress your points and make your ideas shine. It also allows collaboration amongst team members and syncs with Google drive. 
Sites
Google Sites allows you to create secure web pages that you can connect to your custom domains. Without writing a single line of code. Gain access to already-designed templates and build sites for team projects and intranets.
AppSheet
Create and design apps with ease, using AppSheet's low-code platform. You can build apps from scratch or use the available templates, data modeling, and drag and drop UI designs. 
Management and Control Tools
Admin Console
This is a dashboard that helps you carry out your admin duties on Google Workspace. You can add or delete users, manage your subscriptions, set up devices, and lots more. 
Vault
Google Vault helps you search, manage, archive,  and store your company's data with ease. You can download email records, staff members' chats and export them in any format of your choice. 
Google Workspace Pricing 
The table below shows the price list for Google Workspace plans and features included.  You can choose from the Business Starter, Business Standard, Business Plus, or the Enterprise plans. The subscriptions are billed monthly or annually, depending on your choice.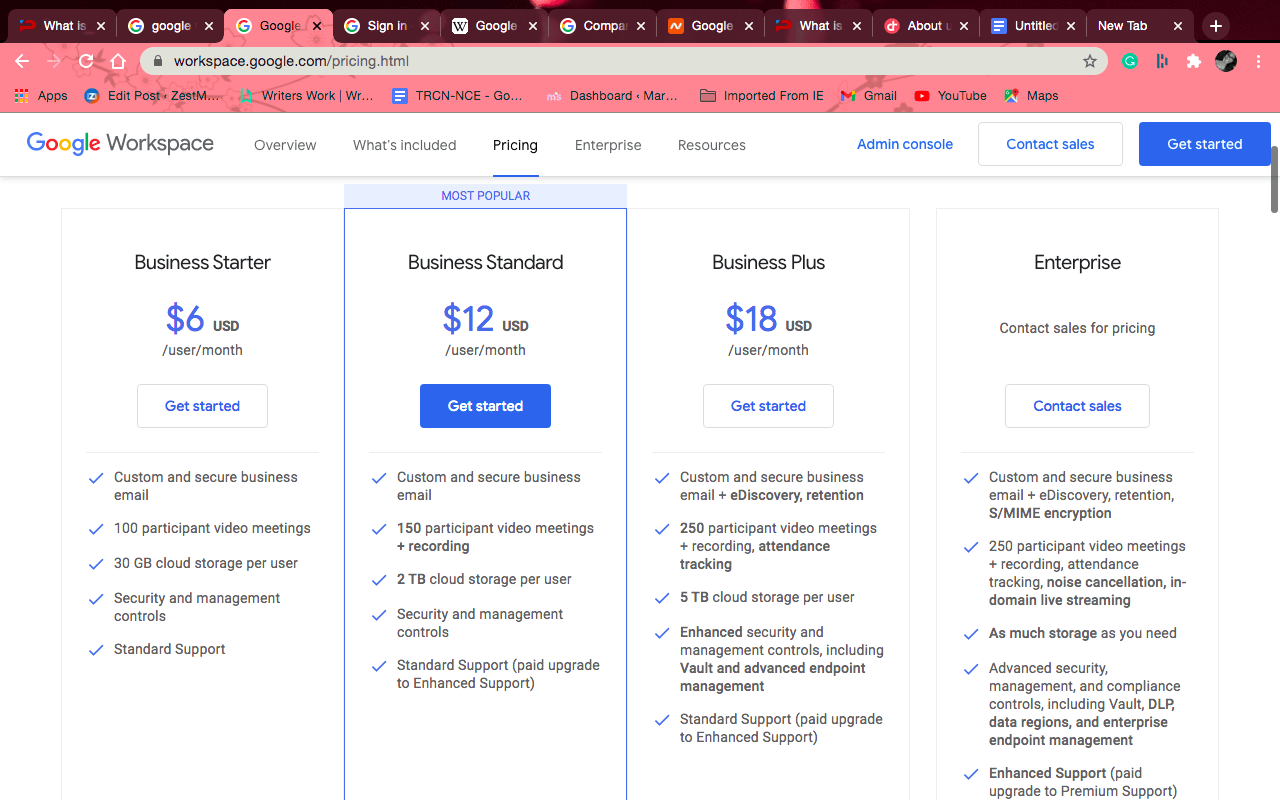 How To Get Started
To set up a Google workspace account, you have to follow the steps below:
Provide your details to complete your Google Workspace account setup

Choose the number of team members you would want to bring on board.

Add your preferred domain name and verify it with Google.

Choose a username to complete account registration.

Log in to your Admin console with your

username@yourdomainname.com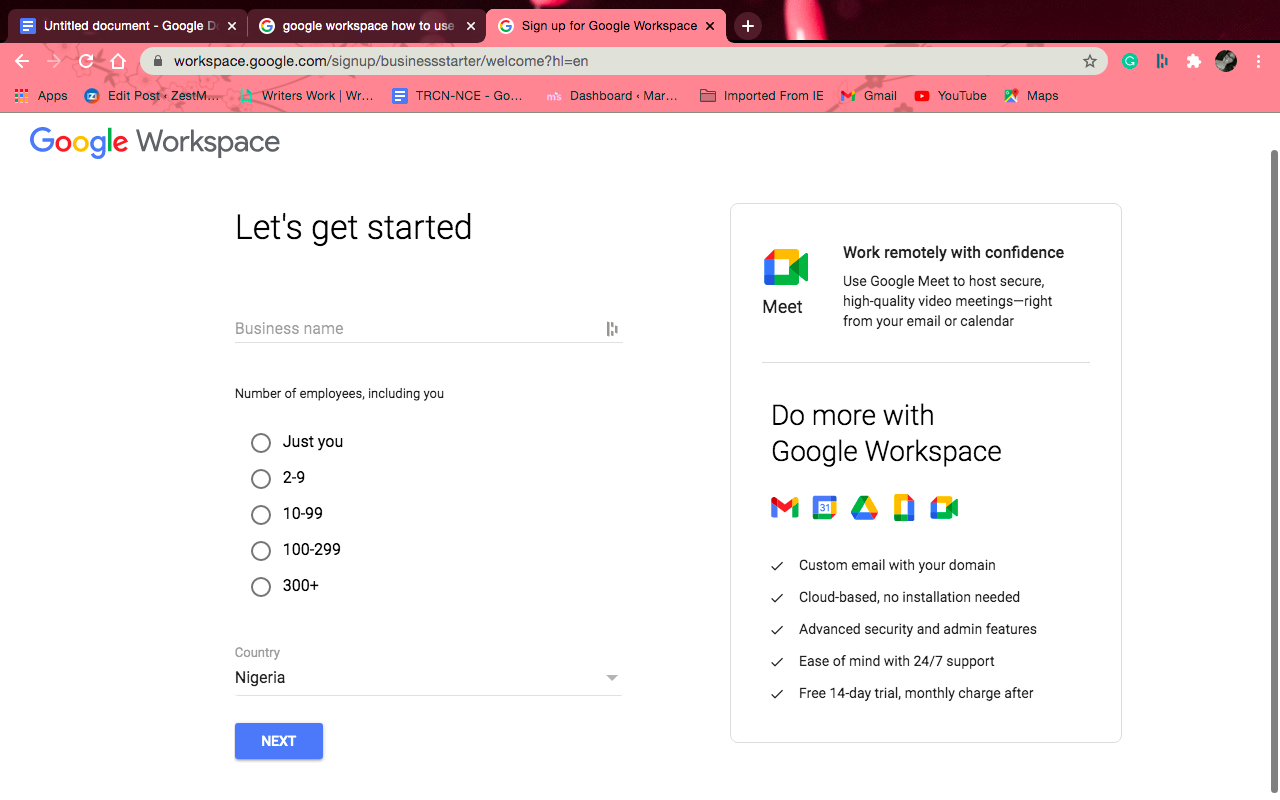 FAQs 
How many domain names does Google Workspace accept?
Google Workspace allows you to set up your account with ONE primary or add-on domain name at a time. To use multiple domain names, you might have to set up numerous admin accounts, which might incur extra charges.
Can I migrate my emails, contacts, and filters from SPanel to Google Workspace?
At the moment, it is not possible to migrate contacts and filters from your Scalahosting Panel to your Google Workspace. However, you can import your emails from the Gmail service provider. 
Can I host some email addresses with Google and some with Scalahosting?
Sadly, you may not be able to do so at the moment. You can either set up your email with Scalahosting or point all your emails to Gmail, depending on your choice. Just make sure to add the necessary Gmail MX entries.
Wrapping it Up
Google Workspace provides a high productivity suite for small, medium, and large businesses. The products are super easy to use and can help you grow your business. They help to foster communication and collaboration amongst team members in real-time. Team members can now work on projects, tasks, create content, and share files without stress. 
You can also connect your Google Workspace to your Scalahosting account without stress. Click here to contact ScalaHosting Support on how to get started.