If you have been using WordPress for a while and are looking to manage your database's size, you would want to consider freeing up some space by removing some WordPress files or clear off your database.
You would also consider this option if you are trying to troubleshoot an unresolved WordPress issue or you just want to uninstall your WordPress application completely.
Clearing your files and database while troubleshooting should not be the last resort. You should only consider this option when everything has failed to work.
If you are in this situation right now and you'd like to know how to remove your WordPress files and database, then hang on tight because this article will do good justice to that.
However, we recommend that you backup before you begin the process of removing your WordPress files and databases.
How to Remove WordPress Files and Database using an FTP client or Files Manager
FTP, also known as File Transfer Protocol, is a standard network protocol for transferring files-images, text, software, and others- over a computer network. 
For this article, we will be using Filezilla, a popular, widely used, and free-to-download FTP client that provides a multipurpose solution for transferring files remotely.
To remove your WordPress Files using an FTP client like Filezilla, follow these basic steps :
Setup and successfully

connect your Filezilla account

. If this process is new to you, do not worry because we've got you covered. We've got an entire article that shows how you can set up an

FTP connection

using Filezilla.

After your setup and connection are complete, your

FTP Server directory listing

would be displayed. 

In this server directory listing, locate the

wp-content folder

. This folder contains all plugins, themes, images, and files in any other format.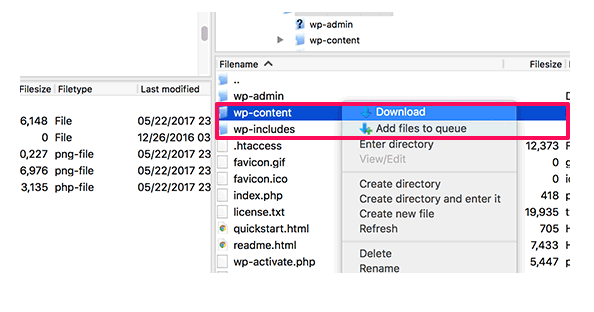 Download this file as a backup for your WordPress site. Then go ahead to

delete your entire WordPress folder.
Removing your WordPress files using cPanel requires a similar process but with a slight difference.
Using Scalahosting sPanel, you would have to first log in to your sPanel account.
Locate the File Manager 

Navigate to the public_html folder

Inside this folder, delete every WordPress-related content.

After successfully deleting your WordPress files, the next step is to delete your database.
How to Delete Your WordPress Database
To delete your WordPress database follow these steps :
Login to your SPanel Account

Click on the MySQL databases option

Go to the Existing databases section. Select the database related to your WordPress website and click on the delete button
Your WordPress database will be successfully deleted.
Conclusion
By following these steps, you would be able to successfully delete your WordPress files and database. If you still want to troubleshoot your WordPress site or have further inquiries, please leave feedback, and our team will be on standby to provide you with the necessary help that you may require.