SPanel Control Panel

Many years have passed without anything major happening in the web hosting industry. The most serious issue for websites in the last 8-10 years remains security and speed. The hosting industry leaders are not working hard enough to develop a solution. Instead, they continue competing on pricing, disk space and other standard features.

Scala Hosting wants to fix that and allow website owners to sleep well knowing their data is secure and their website loads instantly 24/7 with no risk that another website on the same server may affect their business. That's the reason why we initiated the process of developing sPanel.
What is sPanel?
sPanel is the next generation control panel. It is a "all-in-one" solution for managing cloud VPS services. It includes everything a website owner needs to grow their business in a secure environment.
As a CEO with 18 years of experience in the web hosting industry, I have seen alot. I know what website owners need and what will help them grow their online business quickly. After 3 years of developing sPanel, Scala Hosting has finally released it to the public in May 2018. The name of the control panel was naturally born and it comes from the name of Scala Hosting (Scala Panel or in short sPanel).
The control panel at the moment has everything a website owner needs to manage their cloud VPS. sPanel is integrated with the Nginx web server which is running as an Apache proxy and significantly speeding up websites and TTFB (time to first byte) which is critical for ranking high in Google. The Nginx microcaching feature can speed up a website up to 1200%.
sPanel supports the latest and fastest PHP 7.3 & MariaDB 10.3 to extract everything that can be extracted and achieve the fastest PHP processing. That is only possible with proper setup and the use of PHP-FPM plus Nginx microcaching. sPanel comes with memcached installed by default as another mechanism and caching layer to speed up websites.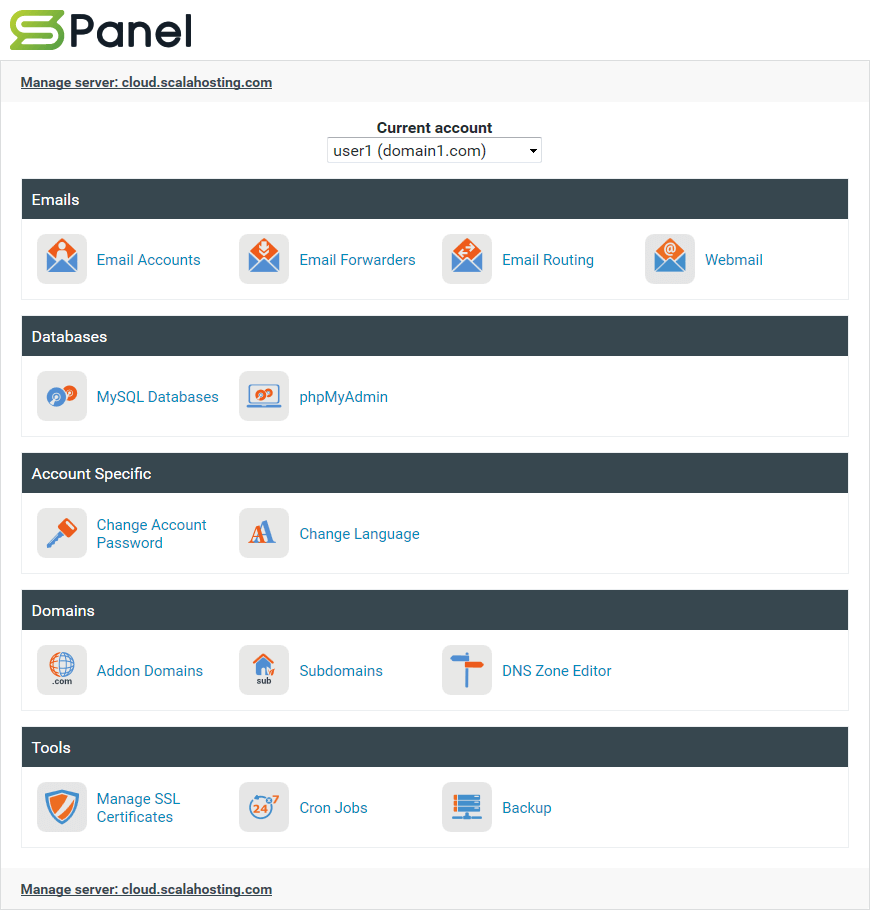 sPanel Shield
sPanel is a "all-in-one" solution for website owners who want to have the highest security and reliability for their websites. In simple words, if you are using sPanel you will not need to pay for additional licenses to have a fast, secure and reliable hosting service. Nowadays, to have a cloud VPS, website owners are forced to pay for several things to "build" a working solution.
Control panel license
Backups
Security software to block attacks
A monitoring company to monitor their server is up
A security company to monitor their website is secure
A systems administrator to manage their cloud VPS
Add the hassle and effort to find the best company offering each of the items above and you end up wasting days. All those features are included in sPanel. sPanel Shield is the software that stops 99.998% of the attacks to websites. At the same time it is a real-time protection system which will notify you immediately should a hack happens. The shield will give you a detailed report of the attack and the affected data. It will help you secure your website and resolve the vulnerability which caused the hack.
sPanel Backup System
sPanel has an integrated and innovative backup system which can be configured to fit the requirements of every website owner. It stores as many restore points of your data as you want on remote backup servers. The sPanel backup system allows you to browse recovery points and restore individual files, whole directories and databases from the control panel through an easy to use and intuitive web interface.
sPanel WordPress Manager
The WordPress manager in sPanel will make the life of WP users much easier. Except the standard install, uninstall, reset admin password, automatic updates, cloning and staging the WordPress Manager in sPanel comes with a feature that makes WP websites really hard to hack. Every WP website's security is increased hundreds of times by implementing several security adjustments such as setting proper permissions of files with sensitive data, disabling PHP execution in the folders of WP which do not need it enabled and which hackers usually use to store their PHP malicious files and the most important one – sPanel WP Manager locks the installation so that none of the files can be modified or new malicious files uploaded.
SSL for all websites on sPanel
All websites hosted on sPanel servers get a free SSL certificate from Let's encrypt automatically. The certificate is installed and renewed automatically. All communication on a sPanel server is encrypted for maximum security.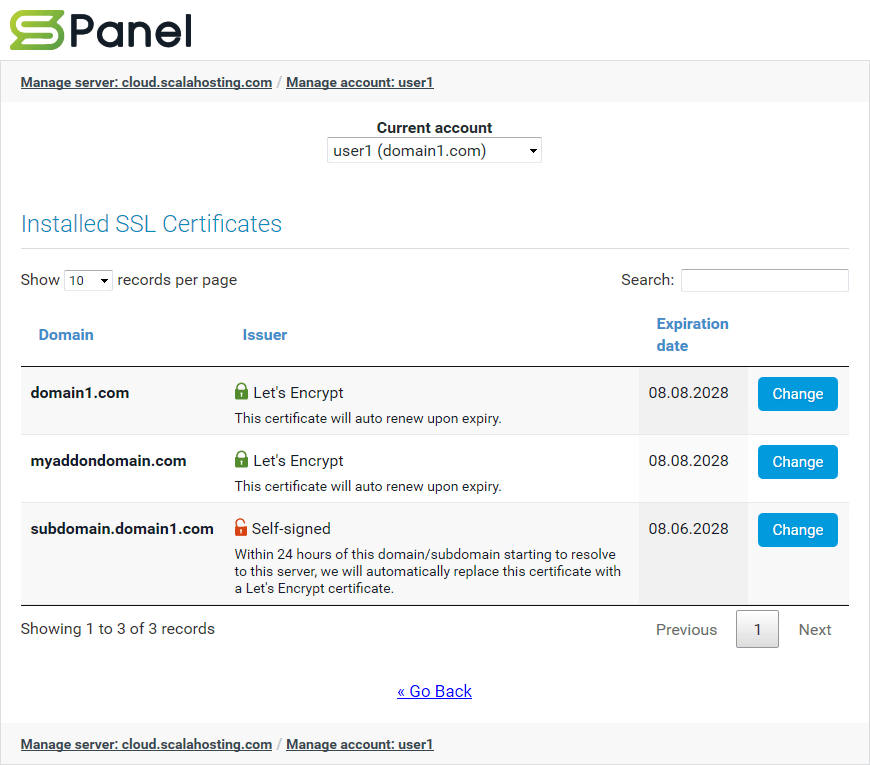 Easy Migration to sPanel
All cloud VPS services with sPanel include free migration for unlimited websites. The control panel is 100% compatible with cPanel for quick and easy migration. Websites migrated from cPanel servers will function in the same way or faster on sPanel because of the Nginx integration and the fact that our systems administrators will tune the server to perform at its best depending on the requirements of the website. All your emails, passwords, databases and mysql users, addon and parked domains, cron jobs, email forwarders will be copied and working after a migration to sPanel. Our migration team works around the clock and ensures each website is working correctly after the migration.
See more screenshots of sPanel at https://www.scalahosting.com/cloud-servers.html