SPanel Control Panel
Many years have passed without anything major happening in the web hosting industry. The most pressing issue for websites in the last 8-10 years remains security and speed. The hosting industry leaders are not working hard enough to develop a solution. Instead, they continue competing on pricing, disk space, and standard feature offerings.
ScalaHosting wanted to fix that and allow website owners to sleep well, knowing their data is secure and their website loads instantly, unaffected by other clients on the same server. That's the reason why we initiated the process of developing SPanel.
What is SPanel?

SPanel is a versatile and feature-packed solution for cloud VPS management. It includes everything a website owner might need to grow their business in a secure environment.
As a CEO with 18 years of experience in the web hosting industry, I have seen a lot. Our company focuses on what website owners need and what will help them grow their online business quickly. After three years of developing SPanel, ScalaHosting finally released it to the public in May 2018. The name of the control panel came naturally as it derives from the name of ScalaHosting (Scala Panel or SPanel for short).
SPanel integrates with the Nginx web server, which is running as an Apache proxy, and significantly speeds up websites. Benchmark scores on Scala machines reveal a minimized TTFB (time-to-first-byte), which is a critical metric for ranking high in Google. Additionally, Nginx's microcaching feature is proven to speed up a website up to 1200%, compared to other web servers.
SPanel supports the latest and fastest PHP 7.3 & MariaDB 10.3 for lightning-fast PHP processing. That is only possible by properly setting and utilizing PHP-FPM plus Nginx micro caching. The Scala Panel comes with Memcached installed by default as another mechanism for fast content caching.
Having your data security in mind, SPanel has an integrated and innovative backup system that can easily be configured to fit any client requirements. The tool keeps as many restore points of your data as you want on remote backup servers. When needed, you can just browse the recovery points and bring back individual files, whole directories, and databases from the control panel.
Our goal with SPanel was to develop an all-in-one tool with a strong focus on security and easy management, so we integrated a few unique features in this accomplished platform.
SPanel — The All-in-One Cloud Hosting Management Platform
What is SShield?

Building your own functional VPS solution nowadays can be a very costly venture. The least you'll need is:
Control panel license
A backup solution
Security software to block attacks
Anti-spam mailbox protection
A server monitoring service
A system administrator to take care of the cloud VPS management
Add the hassle and effort to find a reliable company that offers all of the above, and you can end up wasting days (and a lot of money). All those features are included in SShield. This is a unique software that stops 99.998% of cyber attacks on websites.
At the same time, SShield offers a real-time protection system that will notify you immediately should a hack happen. Our security tool will give you a detailed report of the attack and the affected data. It will, in turn, help you secure your website and resolve the vulnerability that caused the hack.
What is SWordPress Manager?

SWordPress Manager is another integral part of SPanel, one that aims to make the life of WP users much easier. The solution packs all the standard functionalities you would expect — software installation, uninstall, resetting admin passwords, automatic updates, cloning, and staging are all included.
Additionally, SWordPress Manager comes with a fantastic feature that makes WP websites really hard to hack. You can increase your site security hundreds of times by implementing several tweaks like setting file permissions or disabling PHP execution in unused folders. The cherry on top is the account lock function that prevents your files from being modified or new malicious files uploaded.
Apart from the strong focus on performance and security, SPanel is also designed with ease of use in mind. At ScalaHosting, we understand that not every client is technically-versed, nor should they be. SPanel had to be equally accessible for novice users, and this was a key priority when developing the tool.
There are two fundamental parts of your account:
SPanel Admin Interface
The administrative area is where you manage your server and associated accounts. Right from the get-go, you will see a clean and intuitive dashboard with left-side menus. There are indicators for your most important resources, so you can always monitor your CPU, storage space, and RAM, ensuring you don't go over the limits.

The menus are divided into three distinct categories — Server Management, Accounts Management, and SQL services. Let's go over their options:
Server Information — your configuration details
Branding — customize the SPanel with your own brand elements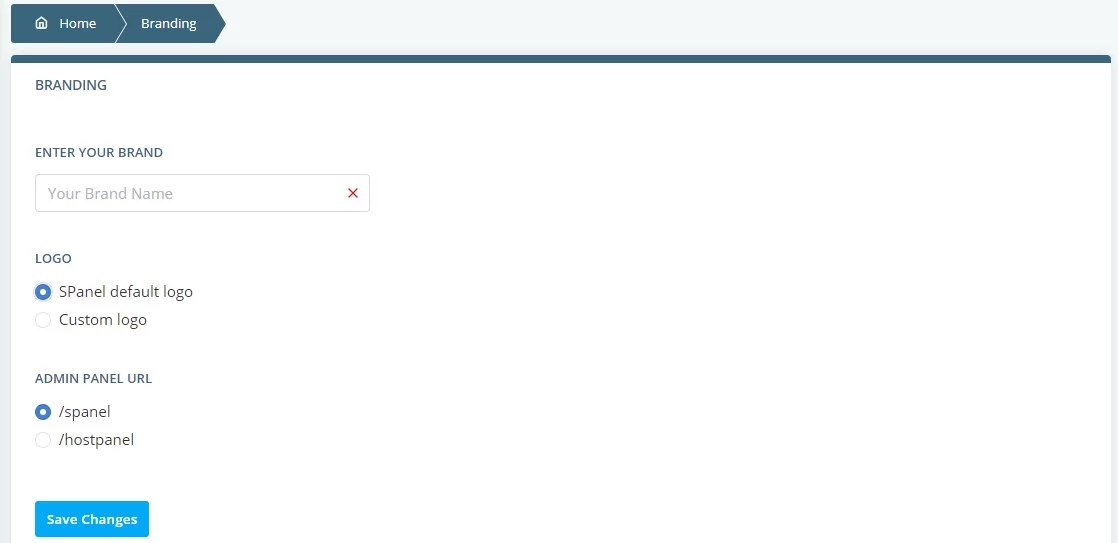 Server Status — monitor your server activity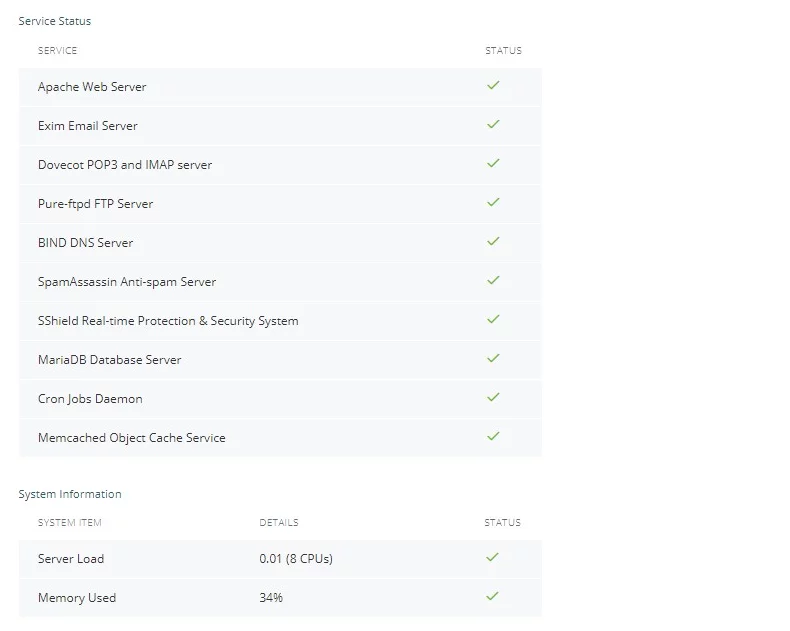 Restart Server/Service — reinstate any part of the server or the whole machine
Create/Terminate an Account — easy account creation with a couple of clicks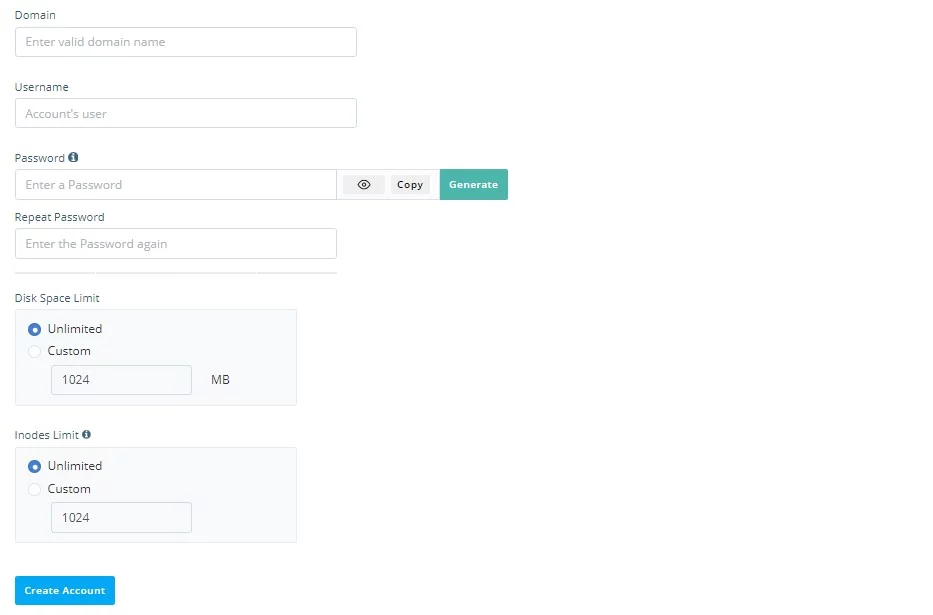 Suspend/Unsuspend an Account — temporarily block the services for a certain account
Password Modification — change your server credentials
Quota Modification — alter the resource allocation for a certain account
Manage SSH Access — utilize a command prompt to operate the server
Show MySQL Running Queries — monitor your database requests
There is no limit to the number of accounts you create on the server, as long as you don't go over your allocated resources. Each of the instances come with their own isolated SPanel area, which is also designed with optimized UX in mind.
SPanel User Interface
Operating with multiple accounts has never been easier. Each client gets access to a user-friendly panel dashboard, filled with vital hosting information. Some of the most essential services include domain management, email accounts, files, databases, and extra tools.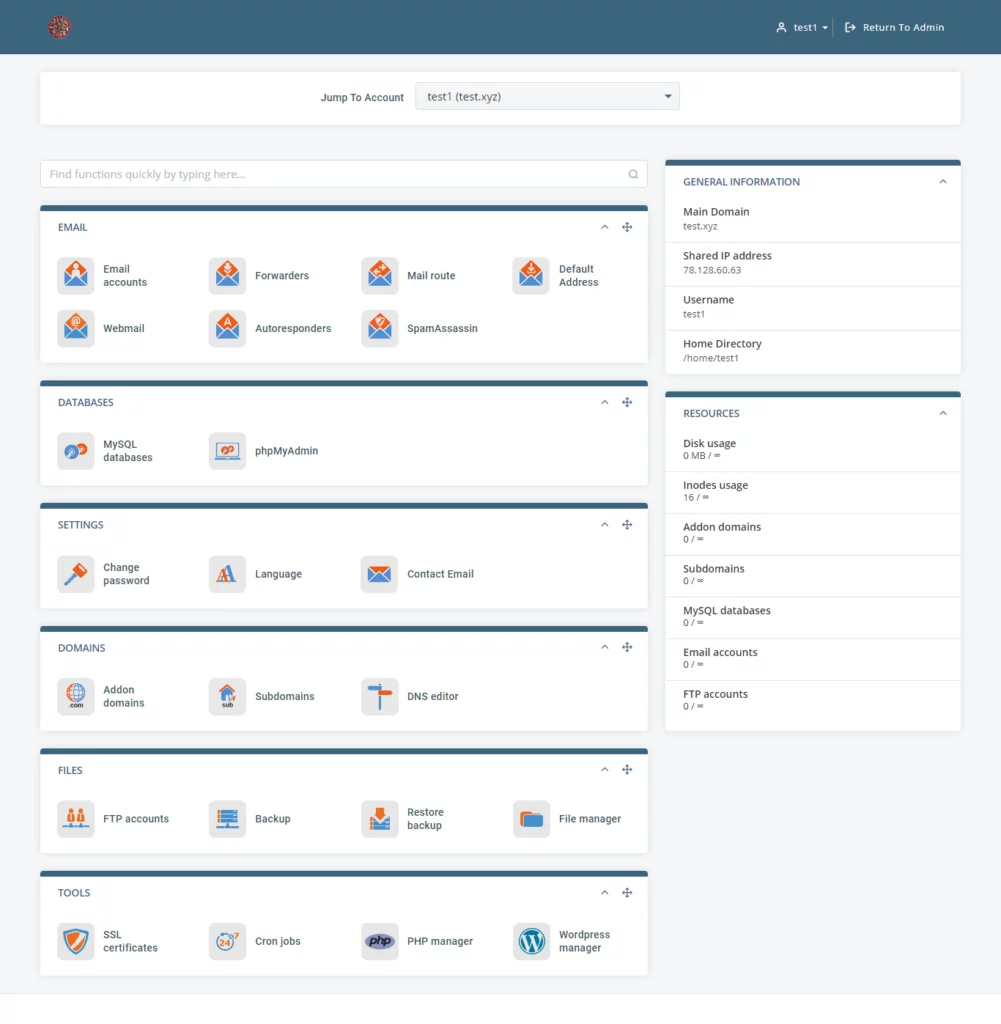 You can find options like:
Email Accounts — create, edit, and delete email accounts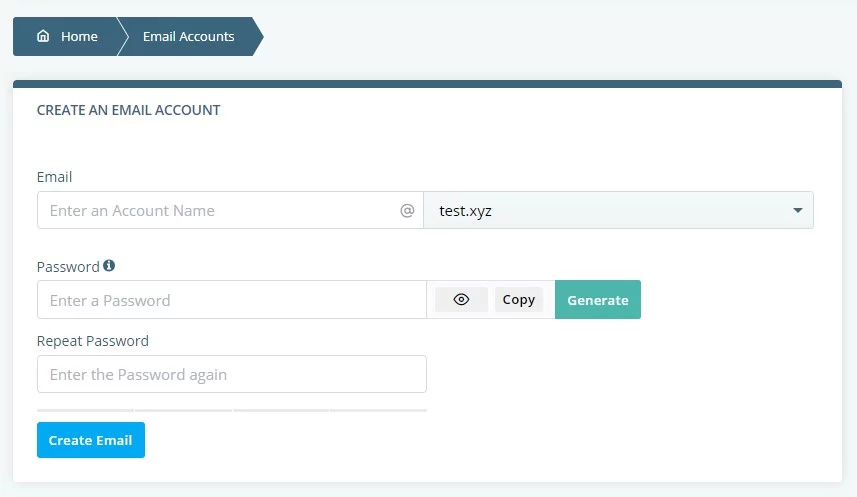 Forwarders and Autoresponders — set up additional functions to optimize your email communication.
SpamAssassin — mailbox protection activated with a single click.
PHPMyAdmin — easy database administration.
Subdomains/Addon Domains — operate multiple websites under one account.
FTP Accounts — set up FTP users for easy file transfer.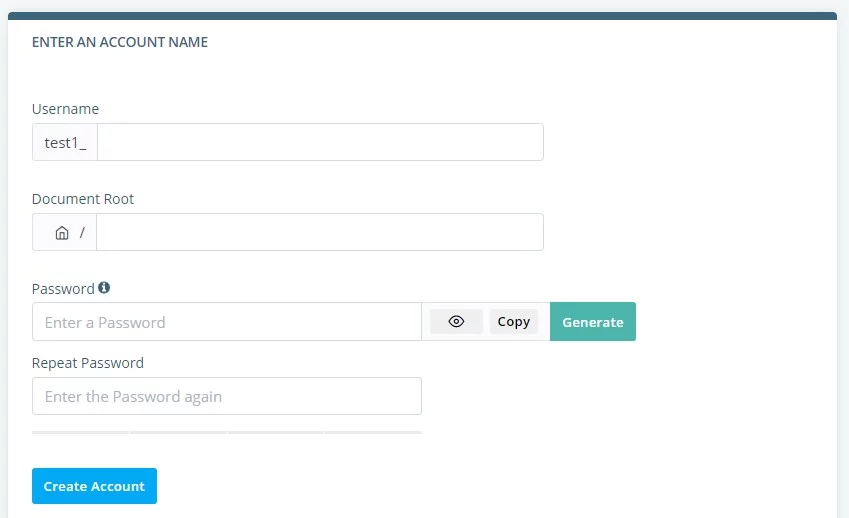 Backup and Restore — full account backups and easy one-click retrieval
SSL Certificates — assign a free security certificate or add a private SSL

PHP Manager — change your PHP version (supports anything between 5.6 and 7.4)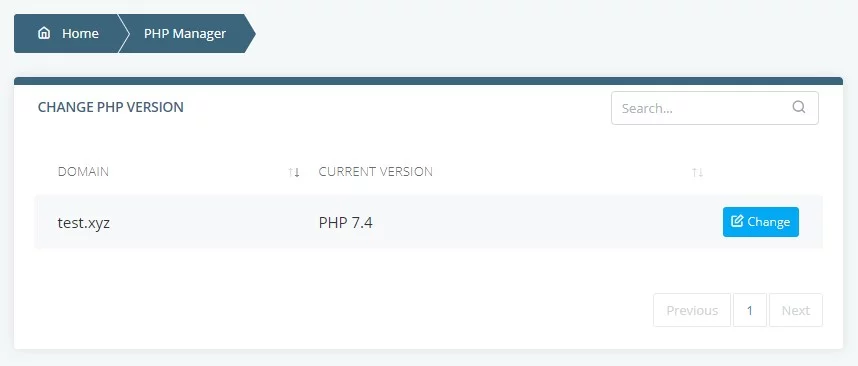 In short, there's little you can't do with the help of SPanel. Just so you can master the tool even easier, ScalaHosting also supports a YouTube channel with helpful video tutorials.
CPanel to SPanel Transfer
Considering a move? ScalaHosting will gladly throw in a professional migration to SPanel.
All managed cloud VPS services with SPanel include free migration for unlimited websites. Our control panel is 100% compatible with cPanel, so we can guarantee quick and easy data transfer. Websites from cPanel-powered servers will function in the same way or even faster on SPanel.
All your emails, passwords, databases, MySQL users, addon and parked domains, cron jobs, and mail forwarders will be copied and working after the migration to SPanel. Our technical support team is available 24/7 and will ensure each website is working perfectly after the migration.
Was this article helpful?