Opencart vs. PrestaShop – Which One to Choose?
Creating an online business that stands out is no easy task. That's why choosing the right ecommerce platform is vital.
But how can you narrow it down to one, when there are so many options?
Don't worry, we're here to help.
If open-source is what you're looking for, you've probably already seen OpenCart and PrestaShop listed among the best CMS solutions for ecommerce. To help you choose, we've compared the two, listing all their pros and cons.
So, OpenCart vs. PrestaShop – which is better?
What is OpenCart?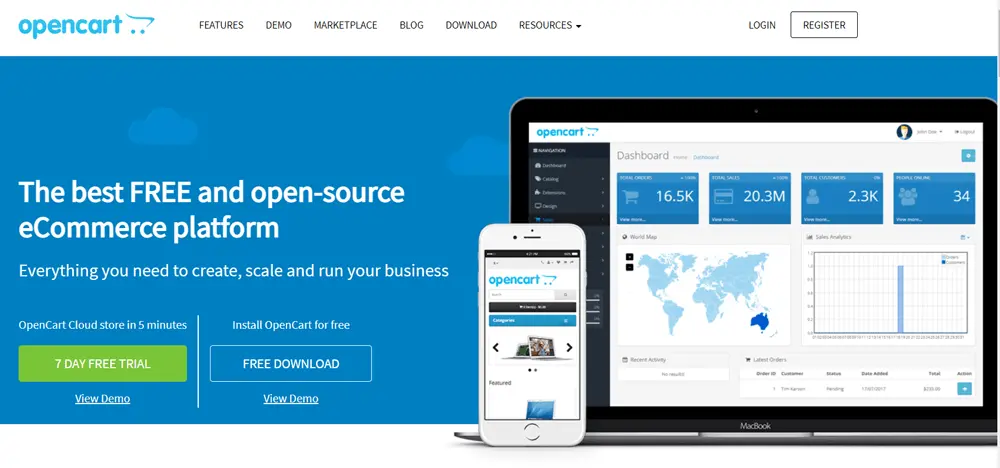 OpenCart is a leading open-source ecommerce platform. As of this year, there are 1,012,256 websites built with the solution.
OpenCart is free to download and use, but you'll have to find a suitable hosting provider yourself. The overall security of the store will also be up to you, but with the right tools and settings – you can ensure the safest environment for your online store.
On the bright side, OpenCart is the perfect solution if you need to manage multiple online businesses. Its admin dashboard is created with this goal in mind, enabling you to control several stores from a centralized point. The platform is also scalable, so it can grow alongside your business.
What is PrestaShop?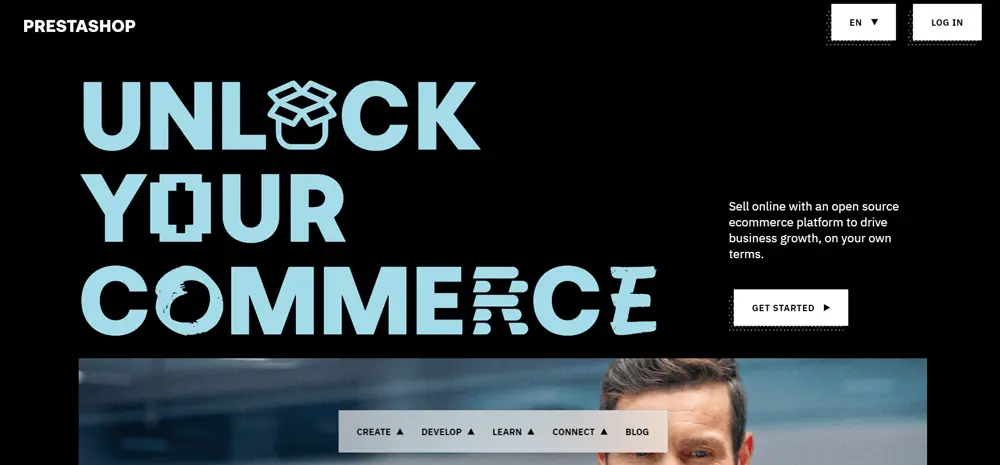 PrestaShop is an open-source platform, that appeared on the market in 2007. It's still a worthy competitor in the ecommerce market. Currently, 703,875 websites are utilizing this solution.
Its biggest PrestaShop benefit is the integrated multilingual support. The solution can be translated into more than 70 languages, while also supporting multiple currencies.
PrestaShop is free, user-friendly, and uses minimal hardware resources. You can easily find extensions for any missing functionalities, as there are many options available.
As for the downsides, PrestaShop has limited scalability, meaning it's not a good choice for bigger or rapidly growing online stores.
OpenCart vs. PrestaShop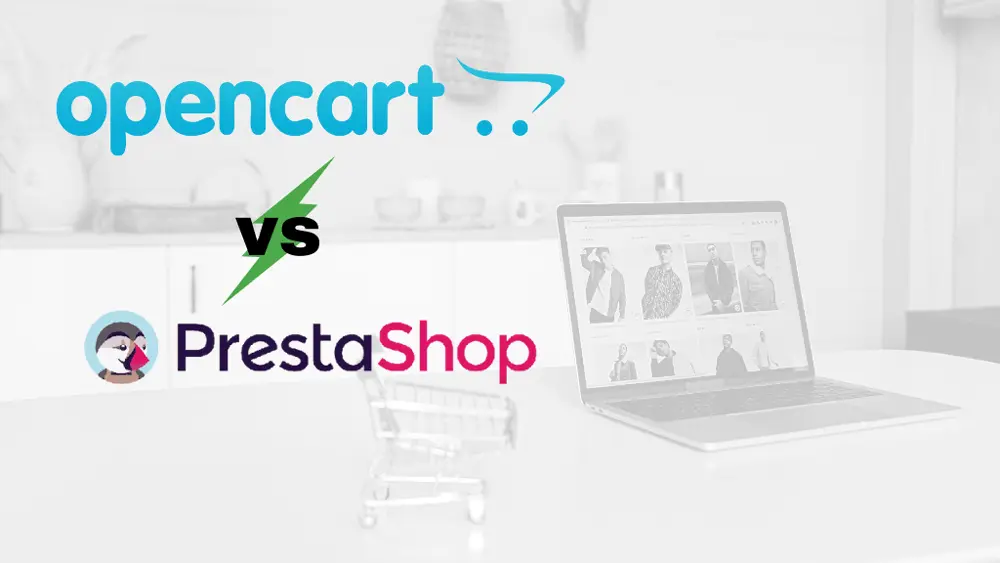 A brisk glance will show you that OpenCart and PrestaShop are pretty similar. We put them side-by-side to see where the differences lie:
Setting up both ecommerce platforms is fairly easy. You might also some add-ons for some functionalities. In that sense, both have some learning curve but not as steep as Magento, for example.
After the initial setup is completed, OpenCart and PrestaShop are pretty intuitive. The latter even has the reputation of being one of the most user-friendly options on the market.
| | | |
| --- | --- | --- |
| | OpenCart | PrestaShop |
| Admin dashboard | ✓ | ✓ |
| Multi-store management | ✓ | ✓ |
| Coupons, discounts, vouchers | ✓ | ✓ |
| Integrated payment options | ✓ | ✓ |
| SEO options | ✓ | ✕ |
| Reports | ✓ | ✕ |
| Security features | ✕ | ✕ |
Both platforms allow for multi-store management. However, OpenCart has a slight edge over the competition, as it is more scalable.
Thanks to its integrated SEO features, OpenCart also makes it easier to rise in the search ranks. PrestaShop can also utilize an SEO pack, but it is offered as a paid add-on. Prices start at 450€, but you can also get the Performance pack, which has some SEO options and is significantly cheaper, starting at 90€.
Regarding inventory management, OpenCart allows users to upload, organize, and sell an unlimited amount of products without charging them additionally. This ecommerce platform also shows shipping estimations and different tax rates.
PrestaShop can also calculate shipping and estimations – if you get an extension. On the bright side, it allows you to upload thousands of products and sort them into numerous categories out of the box.
Both ecommerce solutions offer integrated payment methods, with OpenCart featuring more options. Don't write PrestaShop off, though – it supports the most popular gateways, like Visa, MasterCard, American Express, and PayPal. No matter which platform you choose – you'll be able to easily add coupons, vouchers, or discounts.
| | | |
| --- | --- | --- |
| | OpenCart | PrestaShop |
| Add-Ons | 13,000+ | 4,000+ |
| Themes | 1,000+ | 2,000+ |
The official marketplaces of OpenCart and PrestaShop offer plenty of options, whether you need a unique template or more functionalities. As with any similar CMS, you can find both free and premium plugins for the task at hand.
Other popular marketplaces also feature both themes and add-ons for these open-source solutions. For example, you can check TemplateMonster, ThemeForest, and Webkul.
No matter which solution you choose, you'll be the one responsible for the security of your website. Things like getting an SSL certificate, applying two-factor authentication, and choosing monitoring tools will be up to you.
PrestaShop 8 – the latest version of the shopping cart – allows admins to configure the shop's password policy. They can also manage customer and employee sessions. If you're willing to invest, you can get the Security pack, with prices starting at 720€. While it does feature a lot of additional goodies (like a check of your Google Search Console to improve SEO results) the price is pretty hard to ignore.
OpenCart's website has some tips on security, but you want to find more – you would have to do some searching online. There are a good number of tutorials, videos, and guides, so that shouldn't be a big setback.
Most people turn to open-source options because they are free. While this is also true for OpenCart and PrestaShop, it all goes out of the window the second you need support.
PrestaShop offers support plans for the following prices:
Technical support – starting at 249€
Migration and updates – also starting at 249€
The plans are valid from 1 to 12 months.
OpenCart's charging seemingly less:
Password Reset – $50 per reset
One-time Store Backup – $50 per backup
Update OpenCart version – starting from $300
One-time Bug Fix – starting from $100
However, if you need a combination of those, it will even out.
The good news is that finding a reliable hosting provider will solve many of those issues. Any good vendor would have a trained support team, that will be able to fix bugs, help you with website maintenance, and answer all your questions. Even if you already have a website with another host – your new provider can move it for free.
Downloading and using the most basic versions of PrestaShop and OpenCart is free.
Some investments would still be needed, though – web hosting, a domain name, maybe some premium extensions. This means the costs for both OpenCart and PrestaShop can greatly vary depending on the project, but the market provides enough cost-effective solutions, so even those on a tighter budget can find a fitting option.
Choosing a suitable vendor is one way to save money. Look for offers with good security options and an easily accessible support team.
Ecommerce Hosting
After everything we've discussed, working with an open-source platform should seem like an exciting opportunity. Of course, for things to go smoothly, you need to carefully select your hosting service.
You need to work through three issues, though – setup, security, and support.
If you choose ScalaHosting's VPS plans, you will get your own SPanel. It gives you direct access to the most popular auto-installer – Softaculous. In a matter of minutes, you'll be able to install and use either OpenCart or PrestaShop.
SPanel also features SShield, which monitors your website for security issues and online attacks. Its neutralization success rate is 99.998%. Additionally, you won't need to worry about getting an SSL certificate. It comes with every ScalaHosting plan, so you can reap all its benefits – data encryption, confirmed website identity, improved SEO rankings, and more – for free.
Last but not least, our dedicated support team is available 24/7 to help with any issues and answer all your questions. You won't be charged additionally for that.
Get in touch today, so we can tell you more about our managed VPS hosting plans!
Wrap Up
OpenCart and PrestaShop are pretty similar in terms of functions and benefits. Both also share weak points in terms of support and security. But those are not a challenge for a good hosting vendor.
In the end, it all comes down to scalability – if your shop is growing fast, your best bet would be OpenCart.
FAQ
Q: Is PrestaShop better than WordPress?
A: Whether PrestaShops is better than WP will depend entirely on your needs, as the two are very different. PrestaShop is an open-source ecommerce platform, while WordPress is a website builder, that can be transformed into an online shop. Which is superior will depend on your end goal and tech skills.
Q: Is PrestaShop still being used?
A: Yes, PrestaShop is still being used. According to BuiltWith, currently 249,644 registered live websites use the platform. Its latest version is PrestaShop 8, released in December 2022.
Q: Does OpenCart require coding?
A: You would need a hosting provider to work with OpenCart, and most reliable ones feature auto-installers, so you can get the CMS in just a few clicks – no coding required. On the other hand, it is an open-source ecommerce platform, so if you're a tech enthusiast – this can only serve as an advantage.
Was this article helpful?