OpenCart vs Magento – Which One Should You Choose?
It doesn't matter if you're just starting an online store or have an established business you'd like to introduce to an internet audience – choosing the right ecommerce platform is crucial. However, we are talking about an oversaturated market, so finding a fitting solution is no easy task.
If you're one of those people who like having a bit more control over the creation and management of your store – you need an open-source platform. So today, we took two of the more popular ecommerce solutions and compared all they have to offer.
OpenCart vs Magento – which one should you choose?
What is OpenCart?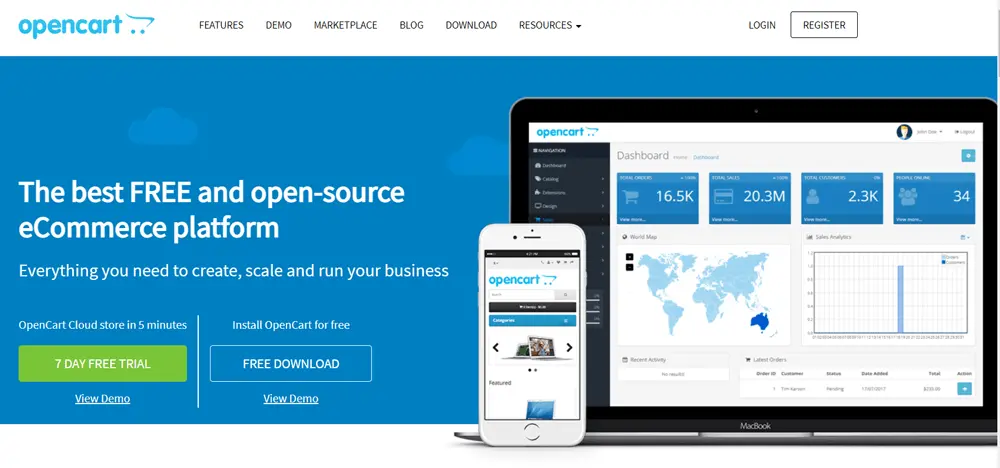 OpenCart is an open-source ecommerce platform. It's free to download and can be customized to fit your needs down to a T. It currently powers 1,024,195 websites.
OpenCart is a great option for those who need to manage multiple stores, allowing them to use the same dashboard for many projects. They can also do so on the go as the platform is fully mobile-friendly.
There is, however, an undeniable downside to using an open-source option – you'll have to set up everything yourself. This might prove to be challenging if you're a beginner but there are enough free resources (tutorials, guides, videos) to help with this task.
What is Magento?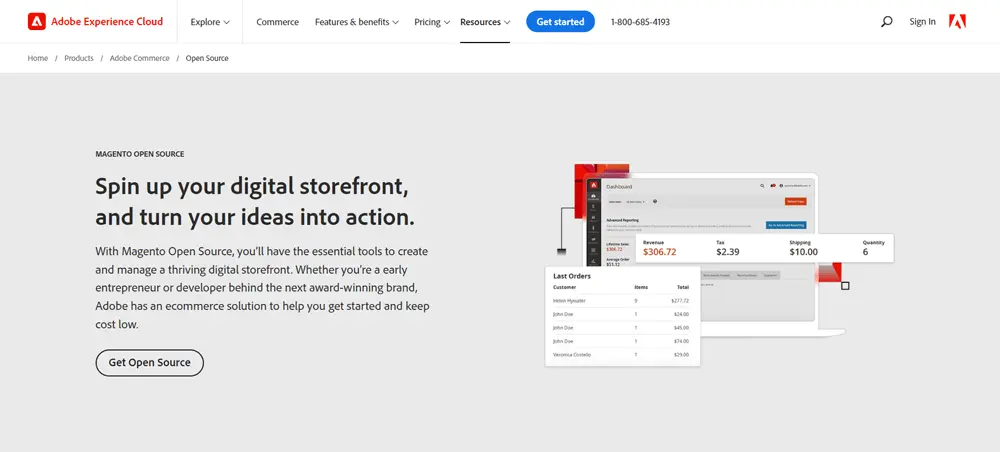 Adobe acquired Magento in 2018. Today, you can find two versions of the ecommerce app – one under the name Adobe Commerce and the other under Magento Open Source. The latter is free to download and use. As of 2023, 714,308 websites use Magento.
Magento can be tailored to fit your exact needs, as the platform is extremely versatile and scalable. This will require some technical knowledge or hiring professional developers, though.
Enterprise-grade customers with more complex needs often choose Magento for their ecommerce projects. Provided you know what you're doing and have a reliable hosting provider by your side – you can do wonders with the app.
OpenCart vs. Magento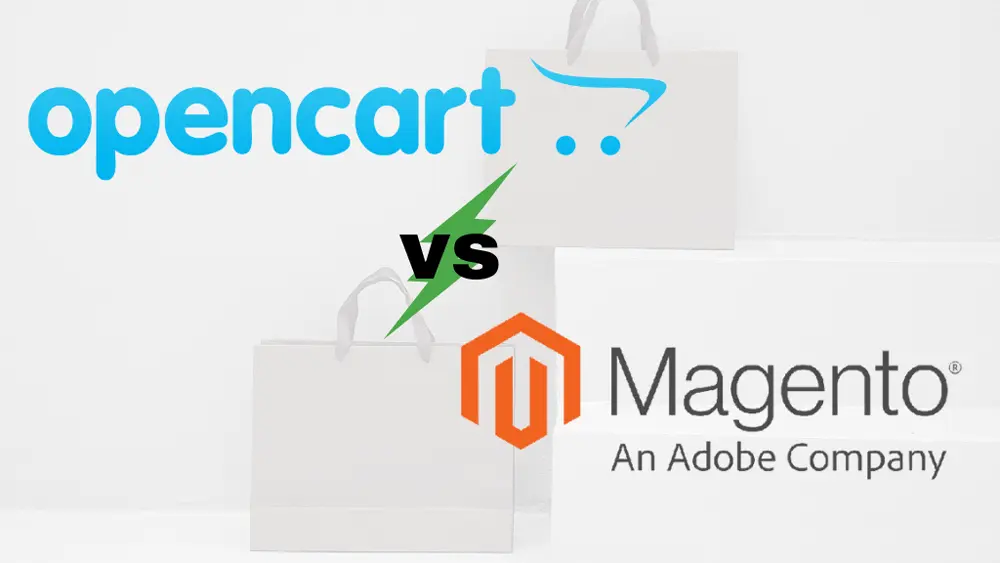 Ease of Use
Both OpenCart and Magento are on even grounds here. You can easily download them and the setup process depends on your hosting environment.
You'll need to find a hosting provider and install the platform of choice on your account. It's up to you to get all the necessary extensions, customize the theme, take care of security, etc.
So, are OpenCart and Magento easy to use?
Not particularly, but taking full advantage of Magento might require a bit more technical knowledge than OpenCart.
Features
Magento and OpenCart are pretty similar in many areas, including the feature set.

Let's take a look:
| | | |
| --- | --- | --- |
| | OpenCart | Magento/Adobe Commerce |
| Admin dashboard | ✓ | ✓ |
| Multi-store management | ✓ | ✓ |
| Coupons, discounts, vouchers | ✓ | ✓ |
| Integrated payment options | ✓ | ✓ |
| SEO options | ✓ | ✕ |
| Reports | ✓ | ✓ |
| Security features | ✕ | ✕ |
Both platforms have admin dashboards, which you can use to manage multiple stores. They're pretty standard and intuitive.
As for payment gateways, OpenCart provides the following straight out of the box:
Amazon Pay
PayPal
Square
Skrill
Klarna
If you don't see the one you need, you can always check the official Extensions Directory.
Magento offers PayPal, Braintree, and Authorize.Net as default payment solutions. Versions 2.4.0 through 2.4.3 also include Amazon Pay, though you'll need to use an extension to add it to the later ones. In addition, the Magento payment provider gateway allows users to create integrations with other options. Alternatively, you can get the Adobe Commerce Payment Services addon, which is free and supports a lot of the popular gateways.
With OpenCart you can easily issue vouchers, coupons, and discounts. Magento also allows that, but you'll need to enter coupon codes manually.
Both OpenCart and Magento provide a wide array of reports for store admins. The former, however, has an advantage in this race because of its integrated SEO options.
As for security, Adobe promises to protect your store even if you choose the free Magento Open Source. On the other hand, OpenCart claims no responsibility in this matter.
Еxtensions and Themes
| | | |
| --- | --- | --- |
| | OpenCart | Magento/Adobe Commerce |
| Add-Ons | 13,000+ | 3,784 |
| Themes | 1,000+ | 8 |
The clear winner here is OpenCart. It has way more plugins and themes than Magento. That doesn't mean that the Adobe store lacks the most important options. You'll just have less choice.
Security
The OpenCart developers are clear on this one – the company will not participate in protecting your website. They have posted some safety suggestions on their website, but other than that – you are on your own.
Magento, on the other hand, has several security guides. Apart from that, if you choose the free option, Adobe promises to use several processes and controls to protect your installation from the physical layer up.
The Commerce option is PCI-certified as a level 1 Solution Provider. It also scans your online store for malware and other threats that the security features in place later take care of. You can also trust the active global developer community, which is tirelessly working to improve the Magento defenses against current threats.
Support
Magento does offer 24/7 support – but only to its paying enterprise clients. This means that if an issue arises – you'll have to find a way to fix it yourself.
OpenCart, on the other hand, will lend you a hand with some particular issues…but at a price.
Here's what you can expect:
Password Reset – $50 per reset
One-time Store Backup – $50 per backup
Update OpenCart version – starting from $300
One-time Bug Fix – starting from $100
There's also a community forum, where every user can share their experience.
Pricing
Both ecommerce platforms are open-source, which means they're free to use and customize. Still, you might need to get some extensions to be able to add all functionalities you require. You also need to consider the fact that OpenCart charges for support.
Adobe has a paid option for enterprise clients – Adobe Commerce. Pricing is available upon request.
This is why your hosting provider is so essential – choosing a reliable partner, you can take advantage of their assistance, often absolutely free of charge. The support operators often have enough knowledge and experience with hundreds of apps and will be glad to help.

Ecommerce Hosting
As we already established, installing and taking care of an open-source platform is not an easy task if you lack coding skills.
There's an easy solution, however:
Choose a good hosting provider with a reliable support team.
With each ScalaHosting VPS plan, you get access to your very own SPanel. It will give you fast access to Softaculous – the most popular app autoinstaller. With just a few clicks, you'll be able to set up either OpenCart or Magento and start creating your online store.

In addition, SPanel comes with SShield. It monitors your website for possible issues and successfully neutralizes 99.998% of online attacks. Given OpenCart's policy about security, having something like SShield in your arsenal is a must.
Last but not least – our dedicated support team can help you with installing the open-source platform of your choice. They're available 24/7, and you'll get an instant response if you contact them via chat.

For ecommerce projects, we recommend managed VPS hosting. You'll get an entire server with isolated system resources, daily remote backups, and a free SSL certificate.
Contact our team today to learn more!
Wrap Up
OpenCart and Magento might sound a bit intimidating to use, but their benefits are undeniable for online store owners. They will give you more control than hosted options, allowing you to create the exact website you're imagining.
And don't worry if you lack the technical skills – just choose a hosting provider with an expert support team and they'll help you out.
FAQ
Q: Is OpenCart good for ecommerce?
A: OpenCart is great for small to medium-sized ecommerce businesses and managing multiple stores. It's open-source, which means you get more control over the overall process. In addition, the OpenCart marketplace features quite a lot of plugins, which can help your business grow.
Q: Is OpenCart completely free?
A: Downloading OpenCart is completely free. However, you will have to pay for other services like web hosting, domain, support, and some of the plugins. So, while the platform itself is free, having a functional store will require some budget even for starters.
Q: Is Magento no longer free?
A: Adobe acquired Magento in 2018. It split the solution into two versions – Adobe Commerce and the Magento Open Source. The latter is free, while the former is paid.
Was this article helpful?