How to Transfer Your Emails to Your SPanel VPS
The transition from one hosting account to another can be quite stressful.
Moving a large volume of data between servers always hides risks, especially if you haven't done it before. There's a lot to think about, including factors that are not immediately obvious.
At ScalaHosting, we're trying to make the entire experience as stress-free as possible, and the introduction of SPanel's mail transfer feature is a part of this effort.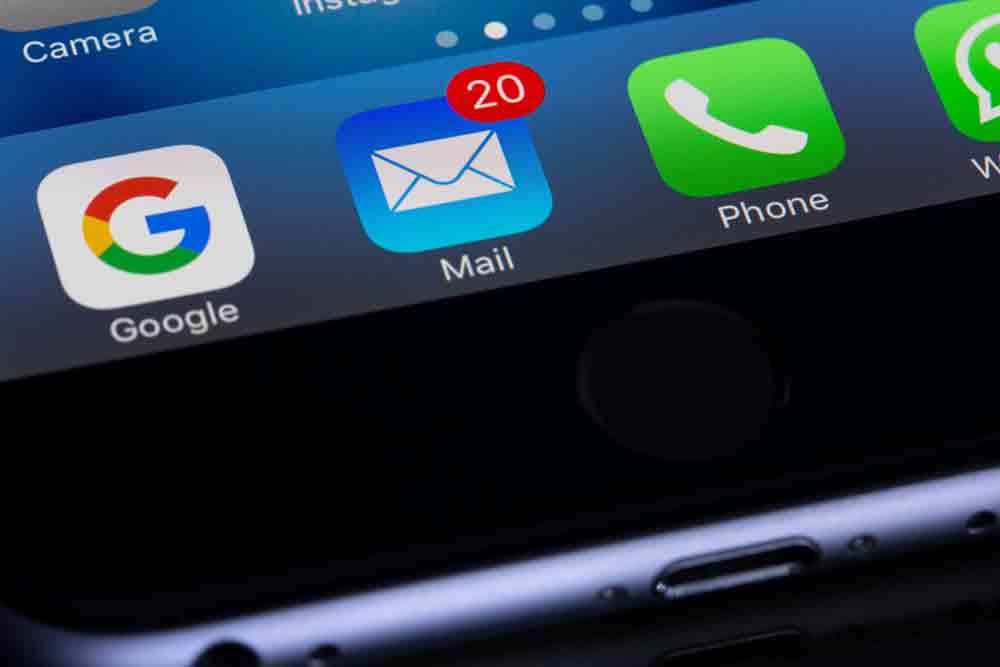 Moving a Website From One Server To Another
To transfer a website, you must copy the files and databases from the old server and upload them to the new one. How you're going to go about it depends on the hosting setup.
Sometimes, you can simply create a backup on the source server and restore it on the new one. In other cases, the process is a bit more complicated.
Whatever the setup, you don't need to worry about anything if you're switching to an SPanel VPS.
Whether you're upgrading from a ScalaHosting shared account or moving in from a different provider, if you're deploying a new SPanel server, you can let our technical support specialists transfer all your websites to your new VPS for free.
Our experts have decades of experience and thousands of successfully migrated websites between them. You can schedule the transfer for a quiet time of the day to avoid potential service disruption, and you can rest assured that once the migration is complete, our team will make sure everything works as intended before letting you know that the transfer is complete.
When it is, all you need to do to make your website work on the new SPanel server is change the domain's DNS settings.
Before you do, however, you'll likely want to think about transferring your emails, as well.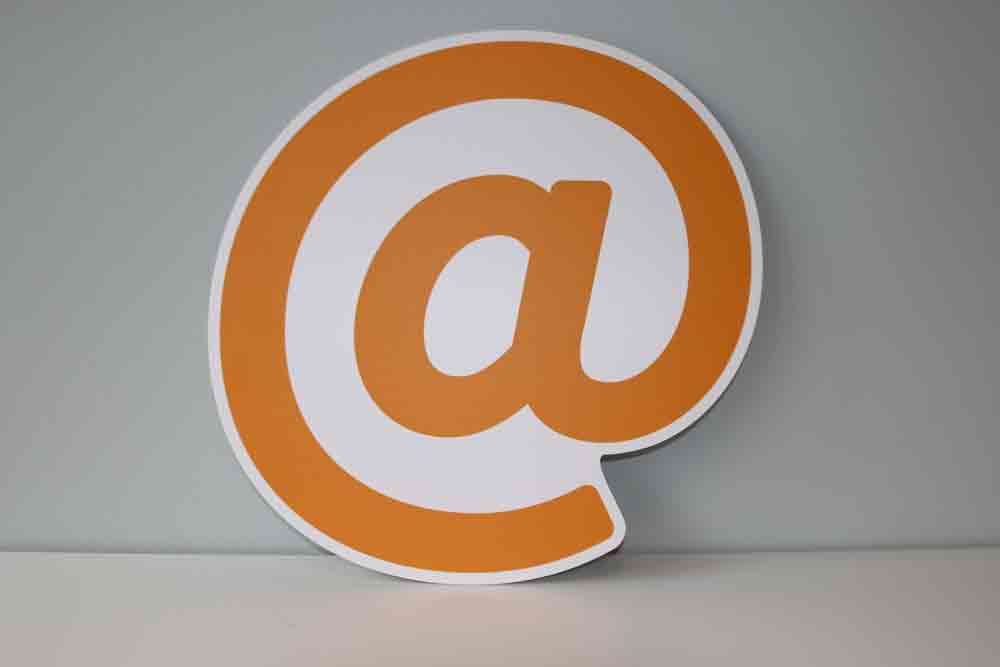 Moving Emails From One Server To Another
Our technical experts can also migrate your emails from your old server. However, to move them, they'll need the username and password for each mailbox.
Some users aren't especially pleased about this, and it's not difficult to see why. Many use emails to exchange sensitive information, and they are understandably concerned about the prospect of anyone else having even temporary access to their inboxes.
This is a problem. We know that most of our clients want to consolidate everything under their new SPanel VPS, and we want to help them with as much of the technical work as possible. However, without the email login credentials, we simply can't do it.
If you try to do it yourself, you'll see that the process is complicated and time-consuming. And while there are workarounds, they're hardly simple and don't work all the time.
Here's one example – you can add your existing email account to a mail client you install on your computer. Then, you can create the destination mailbox on your new server and add it to the same client, configuring it to work with the IMAP protocol. Finally, you can drag the contents of your old account and drop them in the new one. Because it works with IMAP, the client will automatically sync the data with the server.
The method does work, but imagine having to follow these steps for dozens of different accounts or instructing all your employees to do it on their own. It's a nightmare waiting to happen.
SPanel has a much better solution.
Transferring Email Accounts With SPanel
SPanel's latest version is equipped with a facility that can automatically transfer all your emails (including the messages in your Sent, Junk, etc. folders) from your old server to your new VPS.
To use it, you'll need to provide your existing accounts' login credentials and mailserver settings. However, because the process is fully automated, you don't need to worry about anyone accessing them.
To use the new tool, go to the homepage of SPanel's User Interface.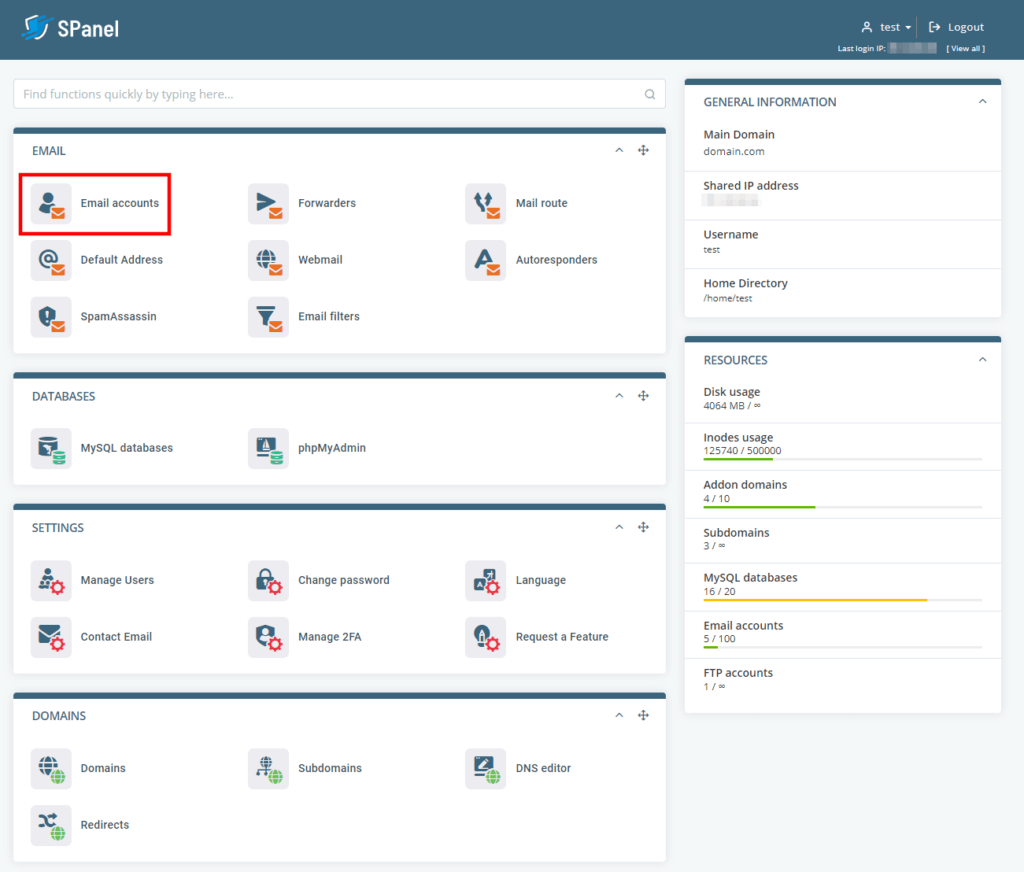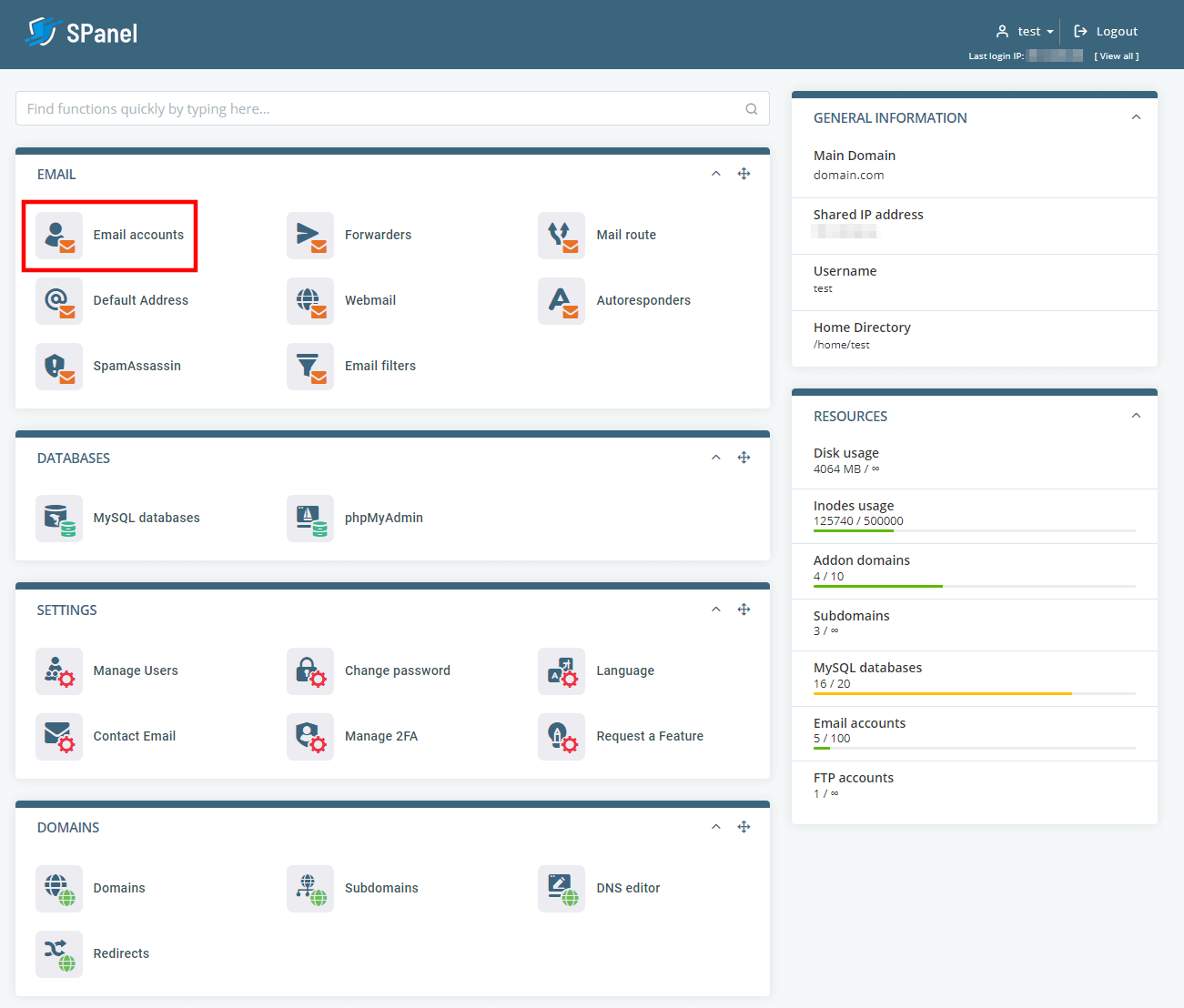 After you click Email Accounts, you'll have two options – create a new email account or transfer existing ones.
Select the tab for migrating mailboxes, and you'll see yet more options. You can either transfer a single inbox or move multiple accounts at once.
Transferring a single email account.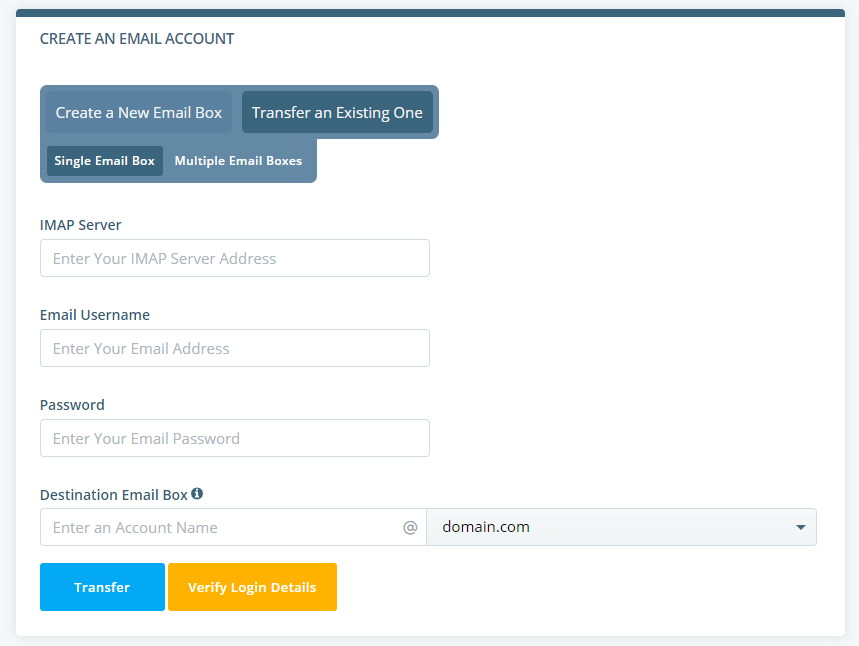 In the IMAP Server field, you need to enter the source account's IMAP mailserver. If you're not sure what it is, your old hosting provider should be able to help.
Below, you have the fields for the old account's address and password. Finally, SPanel asks you to specify the destination email account.
It's up to you to decide whether the destination mailbox has the same address as the source. Remember, however, that to use the identical addresses, you need to add the domain to your SPanel account first.
If the destination email account doesn't exist, SPanel will set it up automatically and set the source inbox's password for it.
The Verify Login Details button can confirm that you've entered the correct details without migrating any data.
Click Transfer, and all the contents from your old mailbox will be copied to the new one.
Depending on the number and size of the messages and attachments stored in the source account, you may need to wait for anything from a few seconds to several hours. As soon as the process is complete, SPanel will notify you, and you can start using the destination email account immediately.
Transferring multiple email inboxes.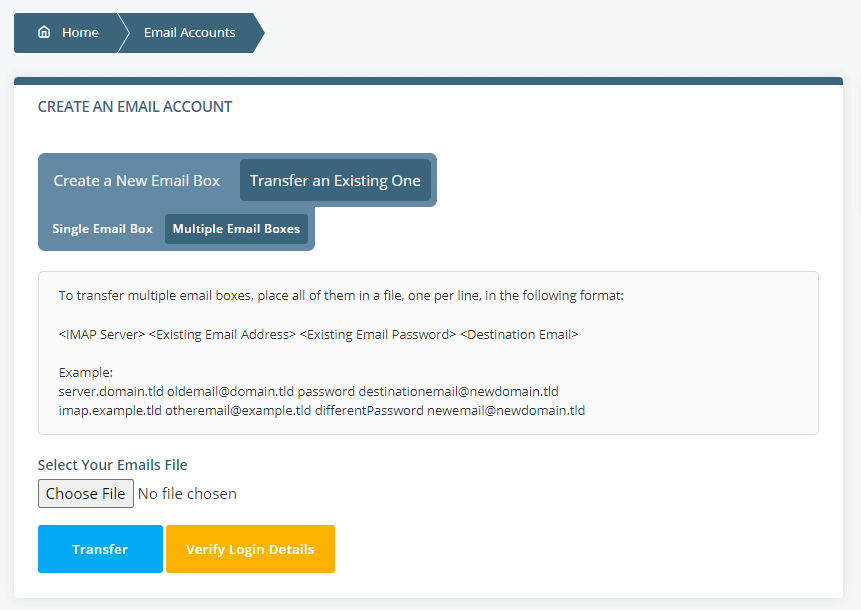 Transferring multiple emails requires a bit more preparation. You need to open a text editor like Windows Notepad or macOS' TextEdit on your computer and enter the information SPanel needs in order to transfer your emails to your new VPS.
Every account you want to transfer should be situated on a line, and the format should look like this:
[source IMAP mailserver] [source email address] [source email address password] [destination email address]
Here's an example of what your file should look like:
mail.olddomain.com admin@olddomain.com strongpassword admin@newdomain.com
mail.anotherolddomain.com john@anotherolddomain.com strongerpassword john@newdomain.com
mail.thirdolddomain.com kate@thirdolddomain.com thestrongestpassword kate@newdomain.com
As you can see, you can migrate accounts from multiple different domains and mailservers at once.
Save the file (the file extension doesn't matter as long as the file is created with a plain text editor) on your computer.
Click the Choose File button, navigate to the list of email accounts you just saved, and select it for upload. Once again, the Verify Login Details button confirms that the details you've entered are correct, and clicking Transfer initiates the migration.
Because you're moving multiple accounts, the process will likely take longer.
Conclusion
While many hosting providers can offer free site migration upon signup, the scope of the services is often somewhat limited.
At ScalaHosting, we want to make sure that the transition from one hosting platform to another is as smooth as possible, which is why our technical support specialists can migrate your entire server, including your mailboxes, completely free of charge.
Nevertheless, we appreciate that some of you may not be willing to give their email passwords just like that.
SPanel's mail transfer feature was designed to ensure they have a working alternative.
FAQ
Q: Do I need to transfer my old emails to an account with the same address?
A: Not necessarily. As long as you have your old inbox's login information, you can transfer its contents to whichever email account you want on your SPanel VPS. If the new address doesn't exist, SPanel will set it up using the password from the old one.
Q: Can I transfer multiple accounts at once?
A: Yes, you can. All you need is a list of the accounts you want to migrate, their IMAP settings, login details, and the destination account for each transfer. SPanel will copy all the data in the background and notify you when it's done.
Q: Is there another way to migrate my emails to my new SPanel VPS?
A: Yes, you can let us do it. Every client that opens a new SPanel VPS with us can get a free transfer of all their websites and email inboxes from the old server to the new one. All you need to do is open a support ticket.
Was this article helpful?