A Beginner's Guide to Backing Up Hosted Email at ScalaHosting
Email is the backbone of communication in the modern business landscape, and failing to back up important messages can sometimes be harmful. Whether due to hardware failure, human error, or cyber threats – the possibility of losing critical business data is always looming.
Fortunately, ScalaHosting provides an easy-to-use backup solution that ensures the safety of your inbox. In this beginner's guide, we'll walk you through the step-by-step process of backing up your hosted email using the latest best practices and techniques.
Let's get started and safeguard your mail data today!
What is Email Hosting?
Email hosting is a service that enables individuals and businesses to send and receive emails using custom email addresses that match their domain name. For example, instead of using a generic email address like yourname@gmail.com, you can use yourname@yourdomain.com. This gives your emails a professional look and helps build brand recognition.
Hosted emails also offer several features, including spam filtering, email forwarding, autoresponders, webmail, and more, which make email management more accessible and efficient.
Additionally, it provides a secure communication environment, protecting sensitive information from cyber threats.
Why is Backing Up Your Email Essential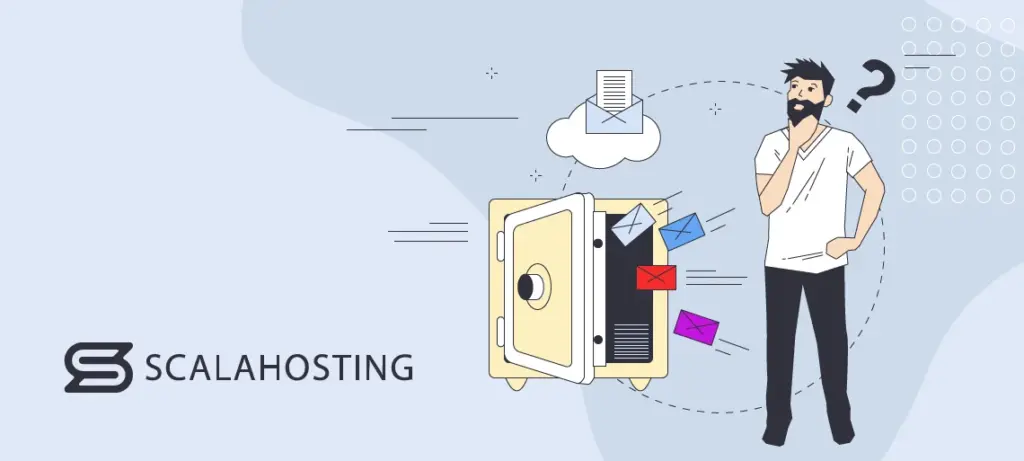 Email is a critical communication tool for businesses and often the lifeblood of daily operations. By backing up your hosted email, you ensure your data is always secure and can be recovered quickly.
One of the benefits of backing up your inbox is that you have peace of mind, knowing you won't lose critical conversations or attachments. Additionally, data backups help you meet compliance regulations and protect your business from legal or financial implications.
On the other hand, failing to back up your email can certainly have a negative impact. Studies show that over 90% of cyber-attacks start with an email, and without proper backup mechanisms, businesses risk losing confidential information to phishing scams, malware, or ransomware.
According to 2023 research, the average cost of data loss for small businesses is over $4 million, a figure just further highlighting the importance of backups.
How to Back Up Your Hosted Email with ScalaHosting
At ScalaHosting, we prioritize the security and protection of our clients' data. As part of our comprehensive backup system, we regularly back up your entire account, including emails, to a remote offsite location.
Still, as it's always good to frequently back up your emails, our SPanel control panel gives you the user-friendly interface to do so. Below, we have provided a detailed, step-by-step guide on how to do manual backups with Scala:
Log into your SPanel account and go to Files>Backups.

Click on New Manual Backup.

Choose the website's files, emails and databases you want to include in your backup. Or click on the Select All button to check all boxes.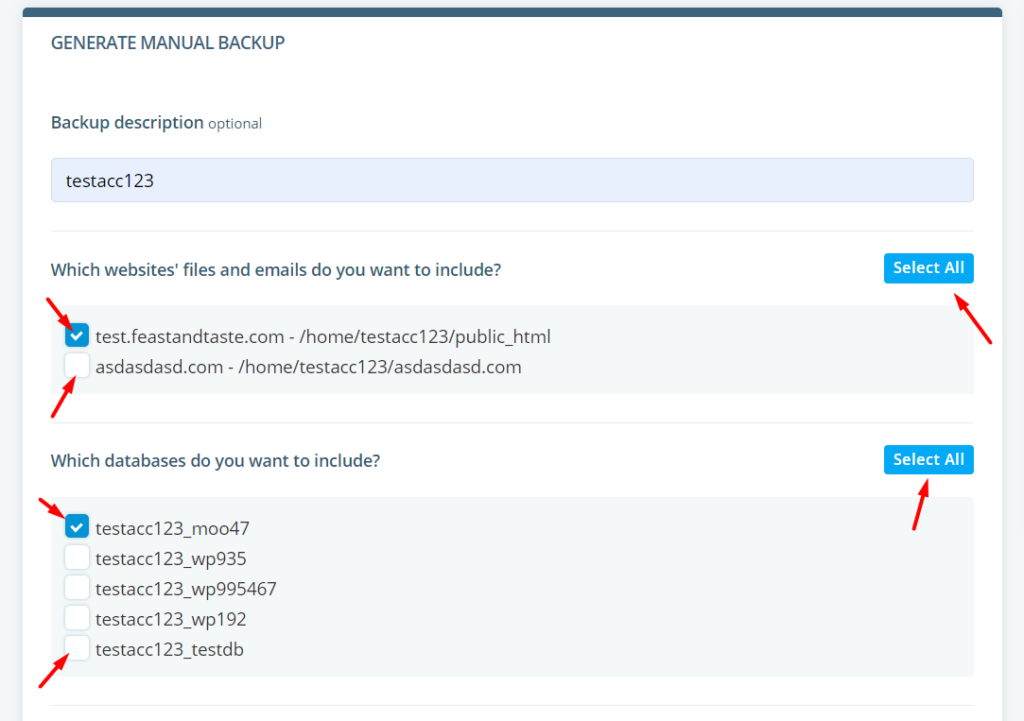 Choose the options you need for your backup and click on Submit to start the process.
Wait until the backup is finished and go back to Backups on top of the page.

You will find your backups in the Manual Backups section where you can Download them by clicking the right mouse button.

And Voilà! Your backup is ready!
Takeaway
Backing up your hosted email is essential for any business or individual relying on email communication. ScalaHosting provides an automated and secure system that creates regular backups of your email data, ensuring you can recover it quickly in case of loss. With features like email notifications and easy restoration, backing up and restoring your email data is hassle-free with us.
Moreover, our email hosting solution is cost-effective and scalable, making it suitable for businesses of all sizes. By investing in it, you can safeguard vital and confidential information, protect your brand reputation, and ensure the continuity of operations.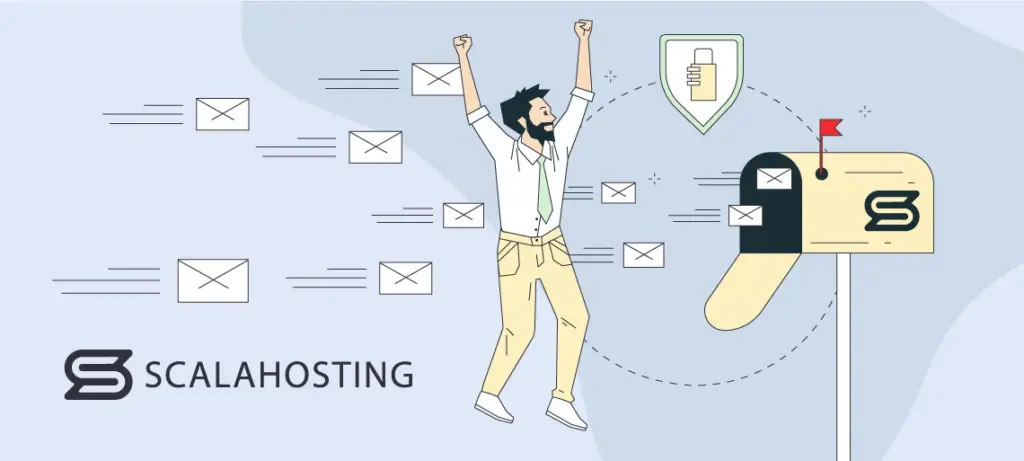 ScalaHosting's business email plan offers a fully-managed mail server supporting one or more domain names. While adding user email accounts, it is essential to prioritize password and inbox security to ensure data privacy.
Password security can be customized to support multiple users per inbox, allowing them to access an email address with the same password. Alternatively, unique passwords can be set up for each user.
An email server verifies the owner of the domain and confirms authenticity to other web servers using Sender Policy Framework (SPF). This ensures that spammers cannot misuse your email address. You can also add an extra layer of security.
The messages must be encrypted when sent and received to the web server to establish email hosting privacy. This is why we provide a free SSL certificate and a webmail option so you can check your messages from everywhere..
Contact our support team today to learn more about our email hosting plans and solutions!
Frequently Asked Questions
Q: What is hosted email backup, and why is it important?
A: Hosted email backup is the process of creating a copy of your email data and storing it in a secure location. Backups are important because they ensure your email data is safe and can be recovered quickly in extreme cases like system failure, cyber threats, or human error.
Q: How does ScalaHosting's email backup solution work?
A: ScalaHosting's email backup solution is an automated system that regularly creates backups of your email data. The backups are stored in a secure environment and can be accessed anytime through the web interface. You can also set up email notifications to alert you in case of any backup issues.
Q: Can I restore my email data from a backup?
A: Yes, you can restore your email data from a backup. With ScalaHosting's email backup solution, you can restore your email data with just a few clicks through the web interface. This feature is beneficial in case of accidental deletion or data loss due to system failure.
Q: What types of email data can be backed up?
A: ScalaHosting's email backup solution can back up all types of email data, including emails, attachments, contacts, calendars, and tasks.
Q: How often should I back up my hosted email data?
A: It's recommended to back up your hosted email data at least once daily, preferably at the end of each business day. This ensures you have the most recent copy of your email data in case of data loss. However, the frequency of backups may vary depending on your business needs and email usage patterns.
Was this article helpful?