A VPS has a number of advantages over the traditional hosting solutions. You don't need to worry about other users on the same server putting too much pressure on the hardware and compromising the performance of your website. You have a virtual machine with all its resources at your project's disposal. If you need more CPU cores, RAM, or disk space, you can add them in seconds without any downtime, and the virtualization layer means that there's no single point of failure that could bring your website down.
A VPS is more expensive than a shared host, but you do get guaranteed resources. At the same time, it's a lot cheaper than a dedicated server, and because of its flexibility, you don't need to pay for CPU cores, RAM, or disk space you're not going to use.
Having control over an entire virtual machine might scare some of the less experienced website owners, but they needn't worry about anything. With our managed VPS solutions, you'll get access to SPanel, an easy-to-use management platform that gives you full control over your VPS account. Through it, you can monitor your VPS' health and restart individual services or the entire server, if needed. Crucially, you can also create and manage accounts in order to run multiple separate projects on the same VPS.
Terminating accounts in SPanel
When a project runs its course, you'll want to remove it from your VPS in order to free up some space for the rest of your (or your customers') websites. Here are the steps:
Log into SPanel's Admin Interface.
Information about your Admin Interface login URL and credentials is available in the Welcome Email.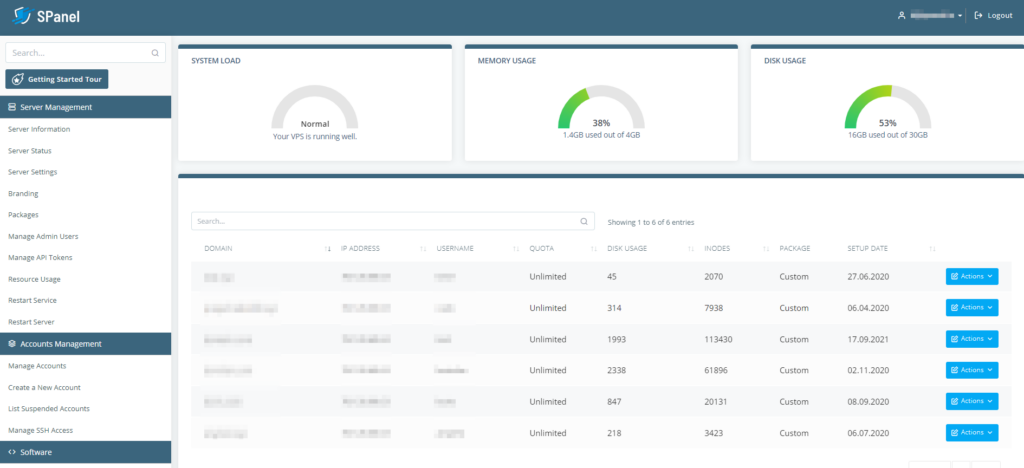 Click the Actions drop-down next to the account you want to terminate and select Terminate Account.
The Actions menu is where you manage your SPanel user accounts.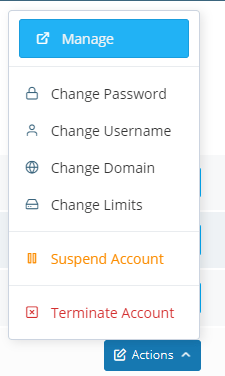 Confirm that you want to terminate the account.
SPanel will warn you that terminating the account will result in irreversible loss of the data stored on it. By confirming that you want to purge it, you will complete the process.

How to Terminate an Account