A WordPress auto-installer is one more way you can streamline your website. In today's guide, we are going to learn step-by-step how to set up Softaculous and a few other auto-installers. The process of configuring WordPress has never been easier…
What's an auto-installer?
Even though the name gives it away, an auto-installer is a tool that automatically installs software.  Suppose you want to launch a WordPress blog by yourself. You would first need to know some computer commands to install and configure WP on your web server.
But this can be much easier.
Auto Installers use a Graphical User Interface (GUI) which automates all the click-heavy technical tasks and presents you with one-click decisions.
Softaculous
Softaculous is one of the most robust auto-installers for WordPress. It will help you to not only set up WP, but to apply updates or import existing installations as well.
How to Auto-Install WordPress Using Softaculous
Log in to your control panel and look for

Softaculous

in the

Software

section. When you find it, click on the

Softaculous Apps Installer

icon to go to the user panel.

Once you're on the Softaculous user panel, click on

WordPress

.

This takes you to the WordPress page.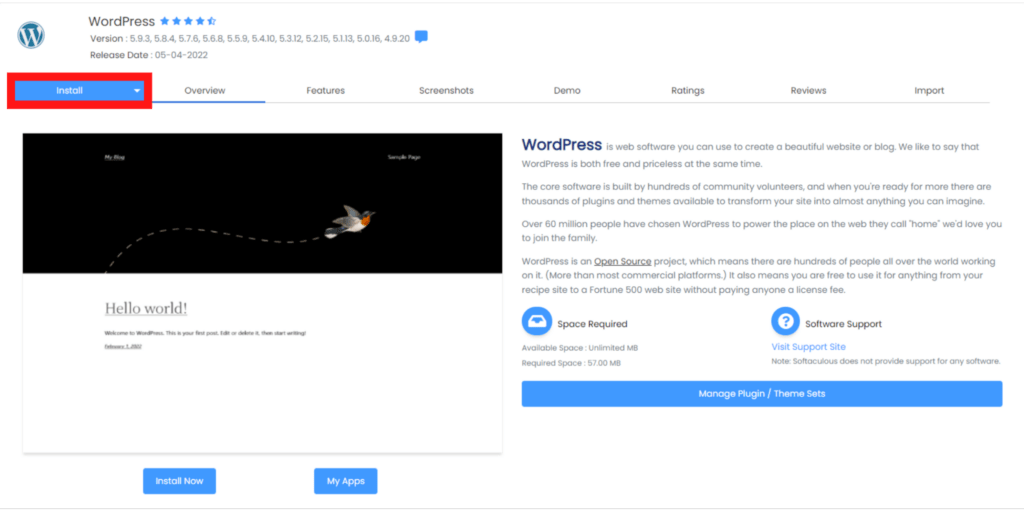 Once you click on

Install

, you will see the installation setup wizard.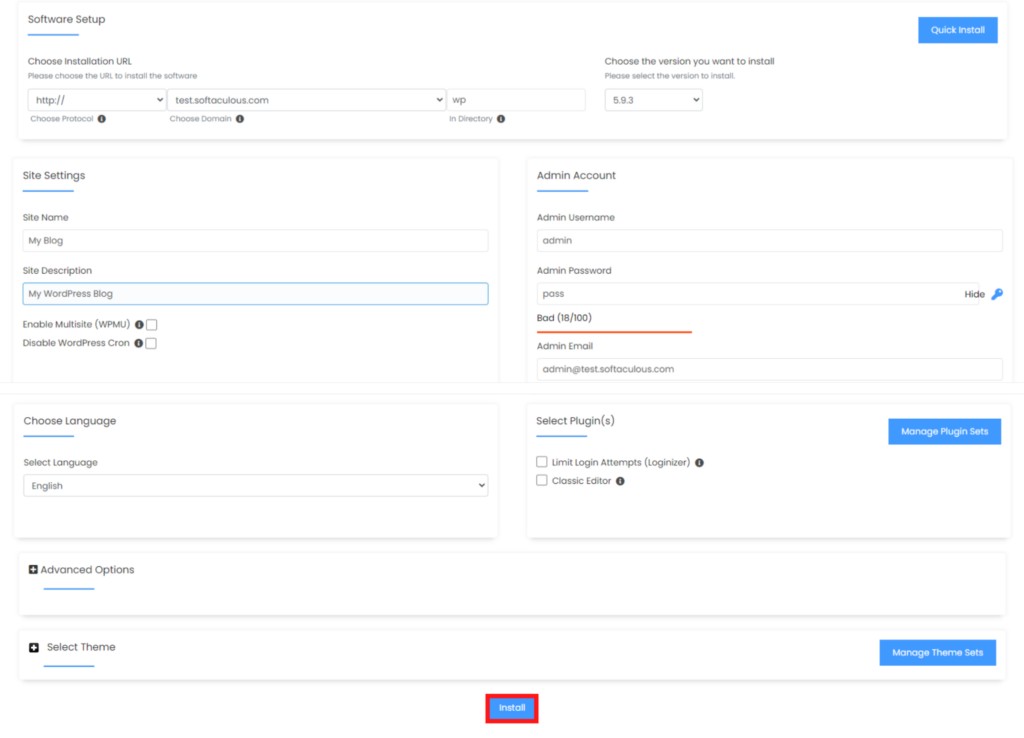 The form asks for some details, including

admin name

,

password

,

email

,

site name

,

language

, etc.
When choosing the domain and installation folder, note that you can put WordPress in the document root by leaving the In Directory field blank. Putting any name here will create an associated subfolder and install WP inside.
After filling in the form, click

Install

and let Softaculous handle the rest.

You will see a success message when the installation is complete.
Alternative Auto-Installers for WordPress
Several other popular WordPress auto installers include Plesk, Fantastico, and Installatron. All of them are relatively easy to set up and duly perform the job they're made for–auto installing WordPress.
Let's take a closer look at each of them:
Plesk
Never touch the command line again using the Plesk management platform. Its dashboard makes it easy to manage multiple websites. You can make unique membership plans and limit or expand the resources available to each client.
The software is simple to use, including all the necessary capabilities for website management–install, moderate, or uninstall extensions, update CMS, etc. Mostly preferred by Windows server clients.
Go to the

Applications

tab from your Plesk dashboard, which opens the

Featured Applications

page.

If you want a one-click quick install, click

Install

next to WordPress. Click the drop-down arrow next to it and select

Custom

for custom installation parameters

.

If you choose the quick installation option, there is no need to do anything else–the installation is done.
If you opted for the custom configuration, modify the specific settings you want and click Install.
Fantastico
Fantastico is an automatic installation program offering a more straightforward way to install WordPress. It makes the migration from any domain or subdomain to another a simple delight. The only thing you have to make sure you do right is to correctly modify the source URLs and the ones you want for a destination.
Login to cPanel and click on

Fantastico

or

Fantastico Deluxe

.

Next, find the

Blogs

category on the left-side menu. Under it you will see the

WordPress

option.

Click on the

New Installation

link in the

WordPress Overview

.

Fill in your details and click

Submit

.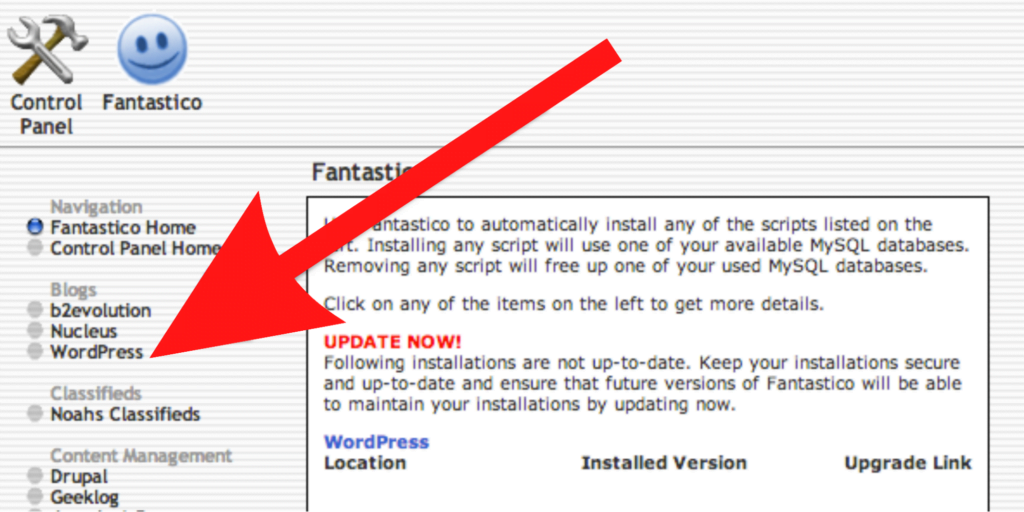 Installatron
Apart from remote and automatic backups, one-click installation, and improved WordPress integration, Installatron introduces a bunch more advanced features and services. These include the upgraded administrative panel with multi-server syncing, cloning, integrated application changelogs, and comprehensive email support.
Log in to your web host's control panel and find Installatron. Then, click

WordPress

and choose the

Install this application

option.

Modify any of the install prompts–language settings, for example–if you want to customize your new WP installation.

Click

Install

.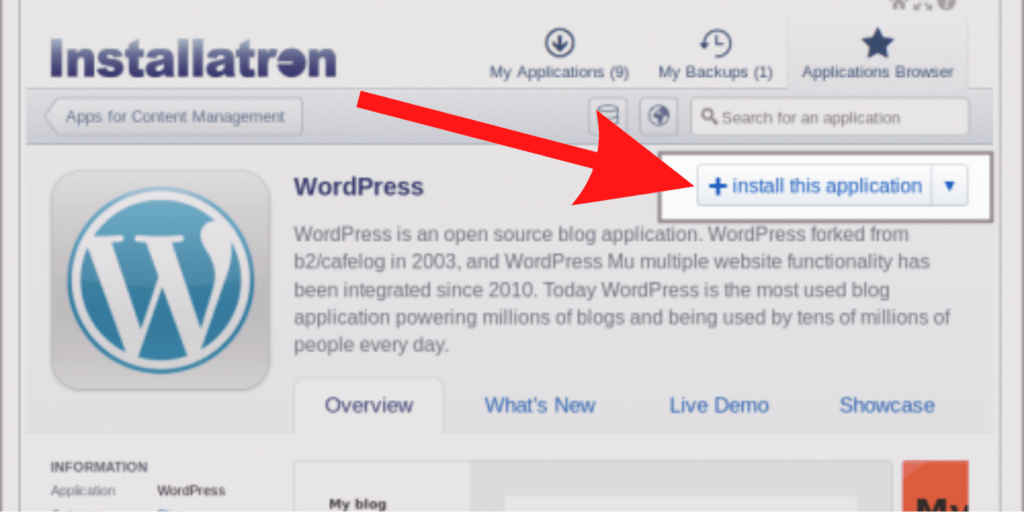 Upgrading WordPress Performance
Many of us prefer to have our WordPress site as hands-off and efficient as possible–after all, we would want to optimize it to our exact liking. So, here's one more way to free yourself from the time-consuming technical stuff and put your WordPress site on auto-pilot.
WordPress Management
Taking care of a website may seem a part of the job for many techies and server admins. But as a business owner, you want to focus on entirely different aspects of running your project.

That's why we "outsource" these tasks to more efficient systems like auto-installers. But why stop there? After years of adapting to customer feedback, new challenges, and evolving alongside competitors, ScalaHosting has created some unique solutions to simplify your WordPress management even more.
SPanel is one such evolutionary system.
SPanel VPS Hosting
SPanel is an all-in-one solution to WordPress management and security that effectively boosts our website performance while at the same time improves website security.
SPanel is a free and easy replacement for cPanel, so you don't have to be tied to constantly rising licensing fees. Our solution is fast, lightweight, and knows no limits when it comes to your chosen software.
Faster Websites
SPanel comes as part of our lightning-fast Virtual Private Servers (VPS) with maximum control over the customizations. Setting up a WordPress website is exactly how you want it–fast and effortless.
Our system ensures a stable network with an uninterrupted web connection, a solid ground that helps you keep your loading time in the milliseconds.
Effortless WP Management
Streamlining your websites often comes at a price–creative flexibility for the convenience of automation. In other words, making a process automatic reduces the number of decisions you can later make for it. In this case, SWordPress Manager is your key to no compromise.
This unique ScalaHosting tool allows you to install WordPress with one click, automatically update plugins, and instantly clone, stage, backup, and restore your website–without reducing your capacity to change and customize.
SWordPress Management also includes our one-of-a-kind Security Lock feature that renders all cyberattacks useless by locking all editing opportunities until further notice.
Better Security
SShield is your 24/7 digital security guard that monitors your websites in real-time. The solution will notify you immediately should an attack occur–we gather information about the security threat as it unfolds and email you a report about what's happening and how to fix the vulnerability and secure your site.
Smarter Choice
The SPanel suite costs just a little more each month than many pay for shared web hosting. But for those extra few bucks, you are securing yourself a fully managed cloud VPS, many new free features (dedicated IP, SSL certificates, etc.), and our highly-trained "muscle" – the support team.
Customer support is vital for technology to run smoothly. That's why our WordPress professionals are always at your service to keep your website performing at its best.
It's no wonder we build so many tools to make the entire hosting industry better. We realize that time is our most valuable asset and tailor our services to save yours as much as possible.
And how are YOU saving time? Let us know in the comments below.
FAQs
What is a one-click WordPress install?
One-click WordPress installer is a script that automates most of the time-consuming steps of installing WordPress. The software operates through an easy-to-use interface that eliminates the tedious reading and decision-making associated with manual installations.
How do I install WordPress without hosting?
You can create a free website on the WordPress.com subdomain. This way, you don't have to worry about hosting, but the scarce features and control limitations may not be worth losing the benefits of a unique domain name and hosting service elsewhere.
Do you need to install WordPress on your computer?
If you want to have your website online, you should avoid installing WordPress on your computer. Instead, you can set it up on a web server. Still, it may be helpful to install WordPress locally for testing purposes, adding new plugins, running updates, and more.