IP Reputation Management in SPanel
Despite the quick evolution in the field of Communications, emails still remain one of the most popular ways to connect with other people and businesses. Just look at the numbers – there are currently over 4 billion email users daily, sending more than 306 billion electronic messages. Online brands recognize that value as well, and a whopping 37% are increasing their email marketing budget compared to last year.
But there is another statistic that is much more worrying – according to a recent research by Email Tool Tester, around 15.8% of sent emails are not received by a recipient or caught in a spam filter. But why is that? And is there something we can do about it?
Today, we are going to learn more about IP reputation, why it is important, and how to keep ours spotless.
What is IP Reputation?
Each web hosting client, regardless of their chosen plan, has a server IP address associated with their account. When your server communicates with other devices, its IP reputation will "tell" them if it is trustworthy or not.
A strong IP reputation means requests from your source can safely be processed, and communication will go as smoothly as ever. Fail to keep it high enough – and your recipients will soon stop getting your emails. Just imagine what that might mean – lost customer orders, invoices, system notifications, payment reminders – it's a situation that can easily spiral downwards.
What are Email Blacklists?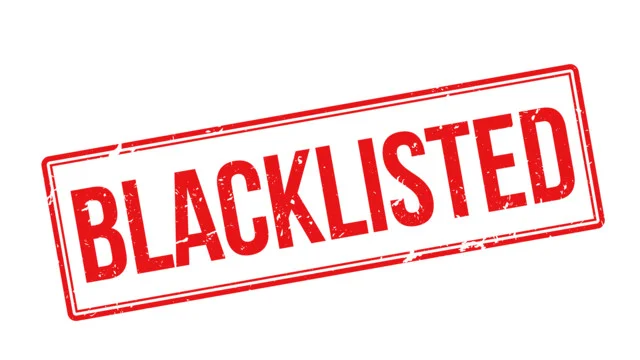 Email blacklists are one of the major ways to tackle spam worldwide. They provide real-time information about IP addresses that are known to engage in spamming activities so the recipient server can filter out their messages.
Today, there are over 300 publicly available email blacklists. Some of them are supported by the biggest and most-renown security companies, while others are handled by independent entities. Practically anyone can create a blacklist upon their desired factors, but that doesn't mean its score will hold much weight.
The most popular blacklists with the highest impact on email deliverability are Spamhaus, Barracuda, and SpamCop.
How do You Calculate Your IP Score?
Your server address reputation is depicted with the so-called IP score. The mail filters analyze this score from the recipient's side and decide if it is safe to process your email.
Different blacklists look for different factors within your IP score to determine if you pose a high risk of being a spammer. How often does your server send out messages, has it been detected as "spammy" before, are there any previous complaints about its activities are just a few of the factors monitored. In that sense, you can appear clean on one blacklist and risky on another.
Shared vs. Dedicated IP Addresses
If you are a shared hosting client, you are basically placed on the same server as many other clients, sometimes even more than 100. Because of that, all customers utilize the same IP address for their online projects. That means even if you keep your communication and activities clean, someone else can still damage your IP reputation and result in your emails getting rejected.
So, what can you do?
If your business heavily relies on its smooth communication, VPS hosting is often the best answer. Virtual server solutions come with a dedicated IP address, which means you will be the only person using this IP. Should you find yourself on a blacklist – you can trace the cause of the issue more easily and take the appropriate actions in due time.
IP Reputation Management in SPanel
IP reputation has been a crucial metric for many hosting clients, yet none of the popular control panel solutions (cPanel. Plesk, Webmin) offers an easy way to check it. That is certainly not the case with SPanel, though.
The Scala-developed hosting management solution has added tons of features in the last few months, one of which is the long-awaited IP reputation management tool.
Getting to the right option is as simple as 1-2-3…well, as simple as 1, really, as there is only a single step to get to it – log in to your SPanel Admin area. Once inside, you will see your IP reputation on the top right of your dashboard, among other essential server statistics. Usually, it should look a bit like this: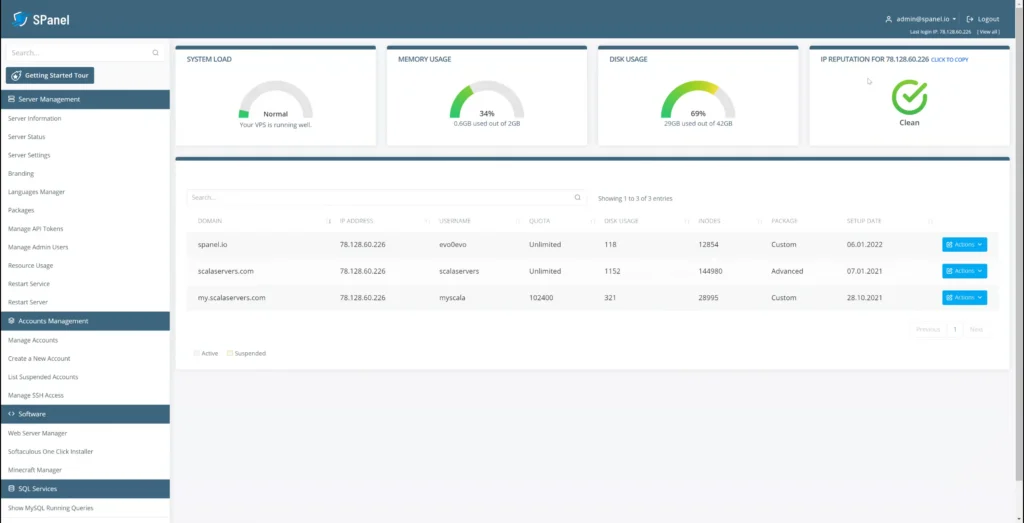 The green tick indicates that nothing alarming is going on with your IP address, and it has not been added to any of the five major spam blacklists we follow:
SpamHaus
SpamCop
Barracuda
SORBS
JustSpam
Keeping your IP out of these five blacklists will greatly increase your email deliverability and ensure your messages always reach their intended recipient.
If your server address appears in any of the above blacklists, the green tick will turn into a red X sign, looking like this: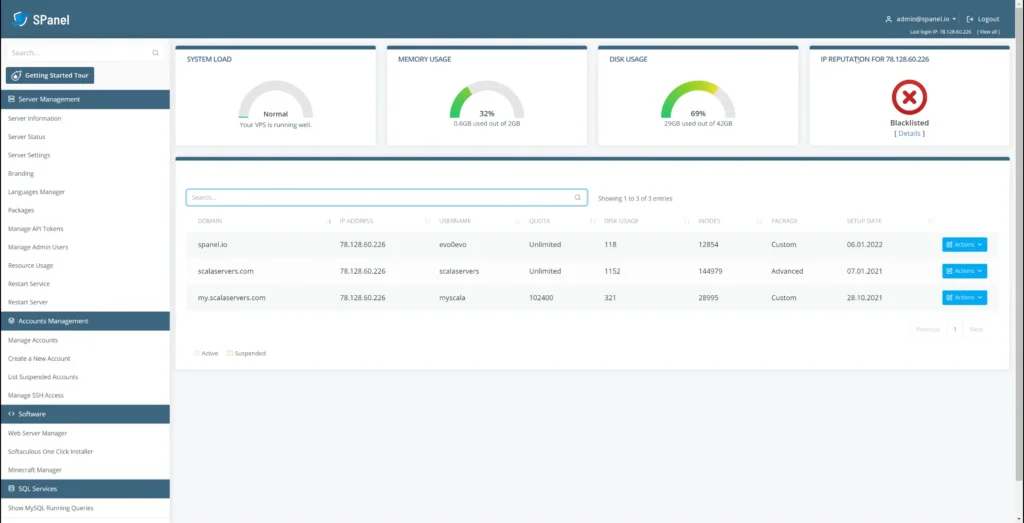 As you can see, a Details link also appears under the warning. Clicking on it will reveal which spam database has detected and blacklisted your IP. In some cases, multiple sources might blacklist you at once as they exchange database information for better filtering.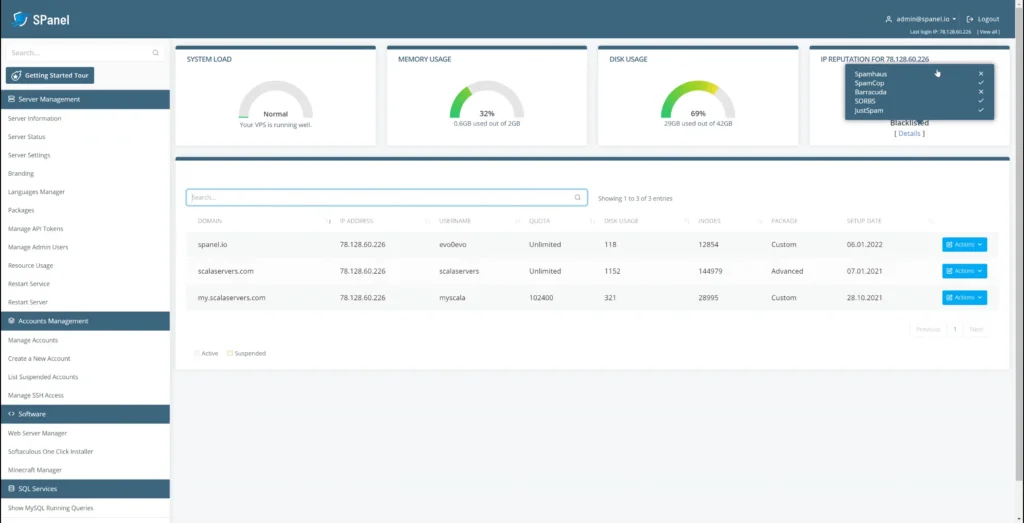 So, what do we do when we see that our IP is into a blacklist?
While there is no unified procedure, you can always start first by analyzing your server activity. Check where the potential spam is coming from – it might be a big mailing list you are trying to reach or even a faulty plugin sending too many emails in bulk. Whatever the case, clearing the underlying issue should be your Step 1.
Once done, you can go ahead and contact the company that blacklisted you. Once you explain the case and they run a test to confirm the potential spamming has stopped – they can remove your IP address from their database.
The IP reputation management tool is now available for all ScalaHosting clients, regardless if they are just starting with us or already utilizing our servers.
Conclusion
ScalaHosting's SPanel includes outbound email spam monitoring mechanisms, which means that we also keep an eye over our VPS clients to ensure no spamming goes through. Adding to that security method, the IP reputation manager will always keep you aware if your email communication should be uninterrupted or if you have appeared on a blacklist.
Missing a feature?
SPanel is an ever-growing hosting management platform, and community support is a big part of our evolution. Check out our Feature Request forum and suggest your desired functionality today!
FAQ
Q: What is an IP address?
A: Each device connected to a local or global network gets its own IP address. The IP is the unique identifier that is used both for network identification and location addressing. The abbreviation stands for Internet Protocol and is represented by a string of numbers – ex. 202.8.8.8
Q: What is an IP score?
A: The IP score represents the reputation of the sending device. The score is marked between 0 and 100 – the higher it goes, the more risk of your IP address being marked as spammy. Keeping your score below 70 is often good enough to avoid blacklists, but you would still want to keep it as low as possible.
Q: How to find out if my server is sending spam?
A: The two main ways to check if your server is sending out spam are to check your outbound email logs and keep an eye on the major email blacklists. Other useful actions include managing your postmaster address, verifying message authenticity, using DMARC for monitoring mail failures, and more.
Was this article helpful?