Did you know you can use a single domain to create different websites? With a subdomain, users can set up multiple websites running simultaneously on the same domain.
Another way to do this is by using subdirectories. However, subdomains are the recommended choice because of their Search Engine Optimization impact.
What is a Subdomain?
A subdomain is an added part of the domain name, and it helps businesses navigate and categorize their website into multiple sections. Users can create different subdomains on their main domain with ease.
Subdomains come before the domain extension and the primary domain name, and it allows users to set up different websites using one domain. Also, users can use subdomains to launch a forum, support page, or career site, and they can use it to create localized content.
Businesses can use subdomains to set up blogs with different themes, and it allows them to create backlinks to their primary domain to increase authority. Search engines view subdomains as individual sites, thus increasing the chances of users getting more traffic.
How does a Subdomain work?
Everything from mobile phones to websites that connect to the internet has an IP address. The Domain Name System (DNS) is responsible for connecting users to websites using that IP address. It translates a domain name into its accompanying IP address used to locate and load up a website.
Subdomains, just like domains, are website addresses that the DNS translates into IP addresses. A domain consists of two main parts- the top-level domain(TLD) and the second-level domain (SLD), while the subdomain has a second name before the SLD.
Uses of a Subdomain
How can use a subdomain? It's not just for building websites on an existing domain. So let's find out.
To create an ecommerce store
Users use subdomains to run an ecommerce store that complements their primary website. Because ecommerce sites require a complicated setup, most companies prefer to have a separate subdomain for them. Besides, users use subdomains to expand their businesses without spending money purchasing additional domains.
For Search Engine Optimization (SEO)
With a subdomain, users can organize their website content to simplify the navigation for end-users. The better the customer experience on their website, the higher it will appear on the search engine page. Plus, subdomains enable users to set up backlinks to their main domain to increase their search engine optimization.
To set up a testing version of a website
Developers often use subdomains to test new updates and plugins before putting them live on the internet. Website designs and layouts evolve as time goes by, and subdomains enable users to test their new content structure before publishing on their leading site.
To target a variety of audiences
Businesses use subdomains to target different audiences — this way, they can get their products or services to the right people. For example, a furniture business can use different subdomain URLs to focus on different types of customers.
To develop a mobile version of their website
Most businesses use subdomains to create mobile-compatible versions of their website. This mobile site version enables companies to please their mobile audiences and increase their reach.
To create a blog or publish alternate content
Subdomains enable users to create any blog while associating it with their main domain. They also help users who want to publish ideas separate from what their website represents.
How to Create a Subdomain
A domain is needed to set up any subdomain, and once users purchase a domain, they have the rights for the subdomain. With the ScalaHosting platform, users can create a subdomain with ease.
Usually, your hosting account comes with a control panel that allows you to create a subdomain. The steps vary from management platform to management platform, but they should generally follow the same structure. Here's how to do it on ScalaHosting's SPanel VPS solutions:

Log into SPanel's User Interface and click the Subdomains icon.
The default login URL is https://yourdomain.com/spanel (make sure you substitute yourdomain.com for your actual domain). The Subdomains icon is located on SPanel's homepage.

Enter a valid subdomain.
You will see a drop-down menu with all the domains added to your account. You first need to pick the parent domain and then enter a valid subdomain. Subdomains can consist of letters, numbers, and hyphens.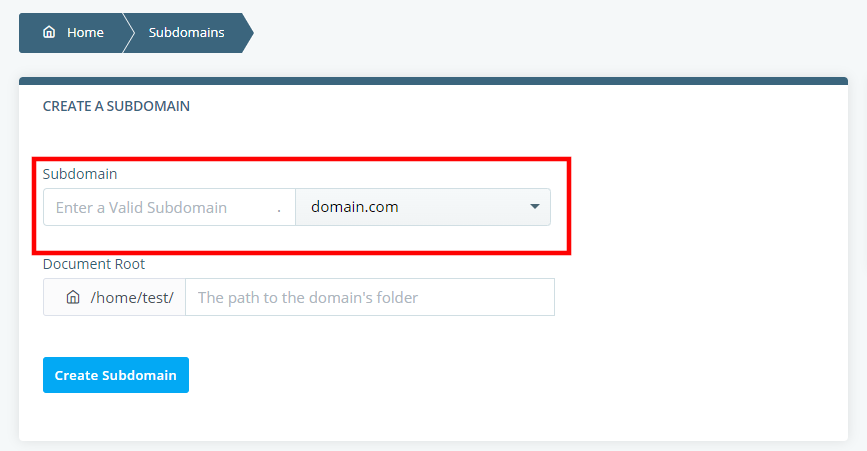 Select a document root and save the changes.
Finally, you'll need to select the folder for the files accessible under the subdomain (the document root). By default, SPanel is designed to create a folder inside your account's home directory, but you can choose a custom one using the field below the subdomain. When you're ready, click the Create Subdomain button.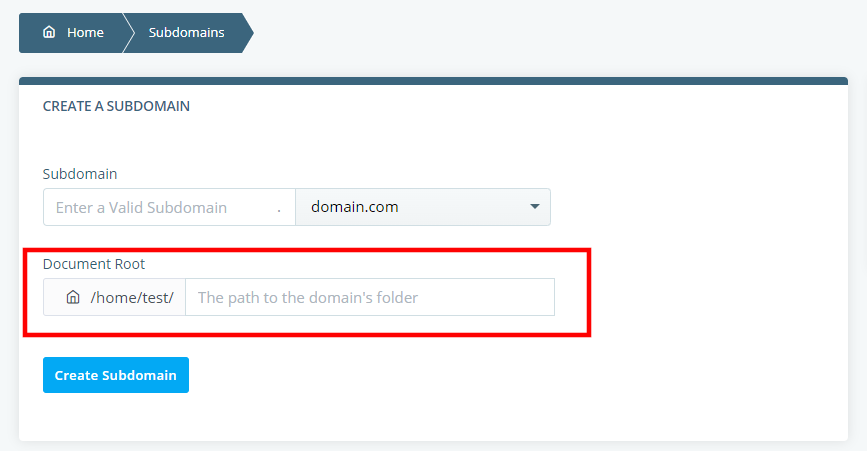 Subdomain Vs. Subdirectory
Subdomains and subdirectories both achieve the same end-goal — setting up multiple websites within a single domain. However, search engines view both of them differently– they view a subdomain as a different website and view subdirectories as files under the main domain.
Small businesses with limited resources can opt for subdirectories. On the other hand, companies with resources can use subdomains for multiple uses.  ScalaHosting offers users free DNS management, Email forwarding, and Domain forwarding when they register their domain names.
How To Point a Domain Name To a Web Hosting Provider