How do you stay safe in an era of increasing online threats?
The AV-Test Institute found that over 970 million pieces of malware are currently circulating the internet, growing by about 100 million annually. 
And sadly, at least 350,000 new malware gets detected daily—that's over 10 million monthly. 
Data from Securelist shows the number of malware attacks on mobile devices almost doubled in one year, jumping from 66.4 million in 2017 to 116.5 million in 2018. And in the same year, Sonicwall reported a record-breaking 10.5 billion malware attacks.
The increasing rate of these attacks is becoming scary.
However, to keep our clients safe and help protect your critical digital assets, we put together a list of our top ten antivirus software. 
So, let's get to it, of course, in no particular order.
Norton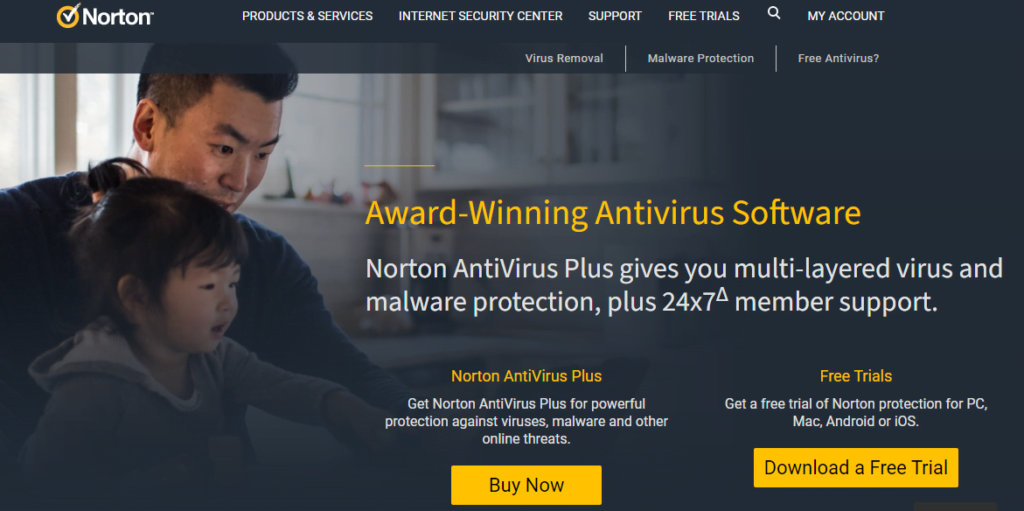 Norton 360 uses multiple layers of protection to safeguard users against viruses, malware, and online threats, offering real-time cyber protection and cloud backup. 
In addition, users can get a Password manager, secure VPN, and intelligent firewall.
The software uses machine learning to determine if a file has a virus or malware by running it through a lightweight virtual machine to cause the threats to reveal themselves. 
The Norton Power Eraser lets users remove deeply embedded and difficult-to-detect malware.
Norton offers protection for Windows, Mac, iOS, and Android devices.
The starting price goes for $19.9, and the company offers a 60-day money-back guarantee.
BullGuard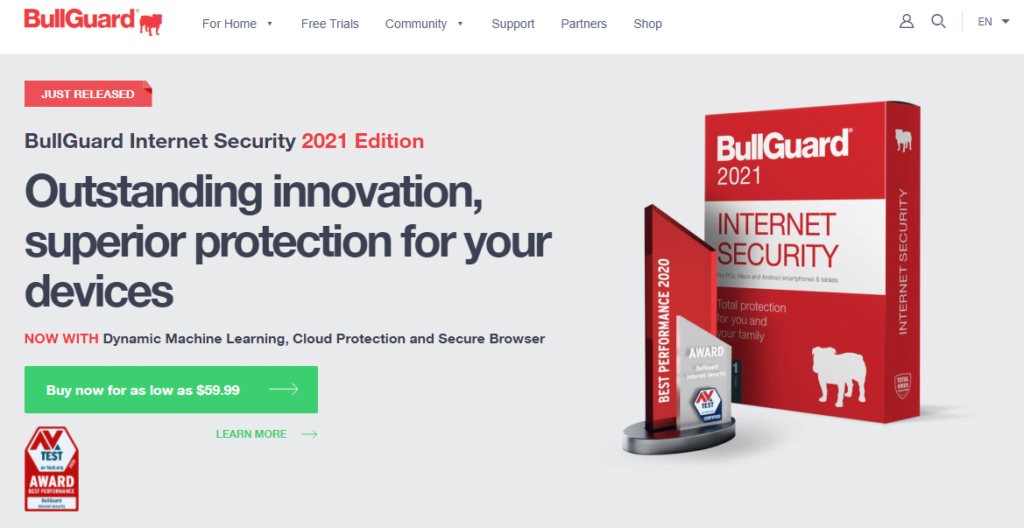 BullGuard has over 19 years of experience offering complete security and privacy for all devices. It provides users antivirus protection, internet security, and a secure browser.
Over 53 million people rely on the solution to stay safe online.
It protects about 120 million devices, enabling users to connect securely to public WIFI, complete sensitive online transactions with confidence, and stay private by ensuring no one tracks their online activities.
BullGuard's basic protection plan goes for $23.99, and users get a 30-day money-back guarantee.
Bitdefender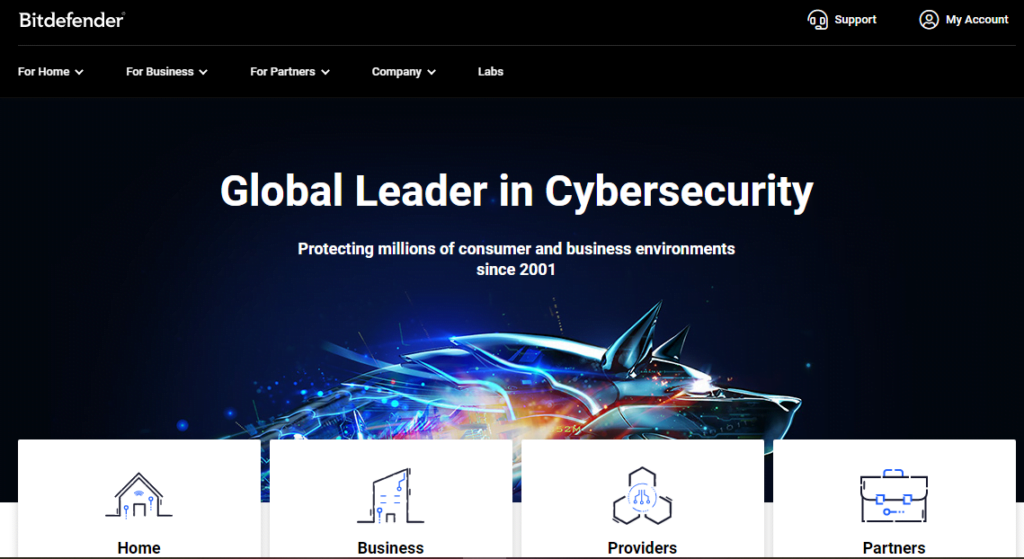 Bitdefender helps protect millions of users online by detecting and blocking cyber threats in real-time. 
It delivers well-rounded threat prevention, detection, and response cybersecurity solutions to people and businesses that want to stay safe. 
Bitdefender offers a  free version that lets users enjoy real-time threat detection, advanced threat defense, web tracking, and phishing protection.
The paid versions provide richer features and more advanced protection, like secure VPN, password manager, SafePay for secure online transactions, and vulnerability assessment. 
The starting plan is available at $26 per device and comes with a 30-day money-back guarantee. 
McAfee

McAfee is a comprehensive cybersecurity solution for the whole family. It's suitable for people seeking to protect multiple devices.
The software defends you and your family against the latest viruses, malware, and other online threats, including protecting your privacy and identity. It also offers users a secure VPN, password manager and helps them browse securely over public WIFI.
McAfee is available for Windows, Mac, iOS, and Android, and over 500 million devices rely on the software to stay safe.
The family plan goes for £39.9 annually for up to ten devices with a 30-day free trial.
Kaspersky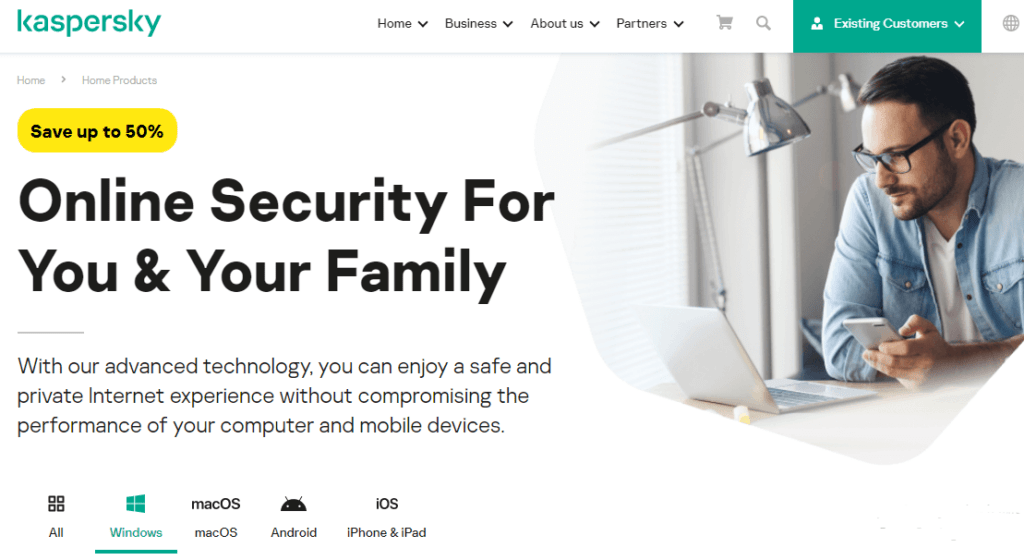 Kaspersky offers users protection against hackers, viruses, malware, and online threats, including payment protection and a privacy tool, giving them an unmatched feeling of security from every angle.
It also provides users file backup and encryption, safe WIFI connection, password manager, secure VPN connection, and kids protection solution through its parental control and GPS tracking feature.
Kaspersky is available on Windows, macOS, Android, and iOS. It also offers custom solutions for every situation and can match users to the perfect security solution in about 30 seconds.
The Essential Antivirus Protection plan goes for $29.99 annually for three Windows PCs.
Panda
Panda offers real-time antivirus protection for multiple devices like Windows, Mac, Android, and iOS, plus secure VPN connections for your online privacy.
In addition, it lets users enjoy free VPN (150MB) daily, WIFI protection, secure online shopping experiences, and files cleanup. Also, users can get an update manager that updates their OS in real-time and a parental control solution to keep their kids safe online.
Panda also offers users custom solutions that are adaptable to their needs.
The Essential plan goes for $29.59 annually for one device.
Avast  Antivirus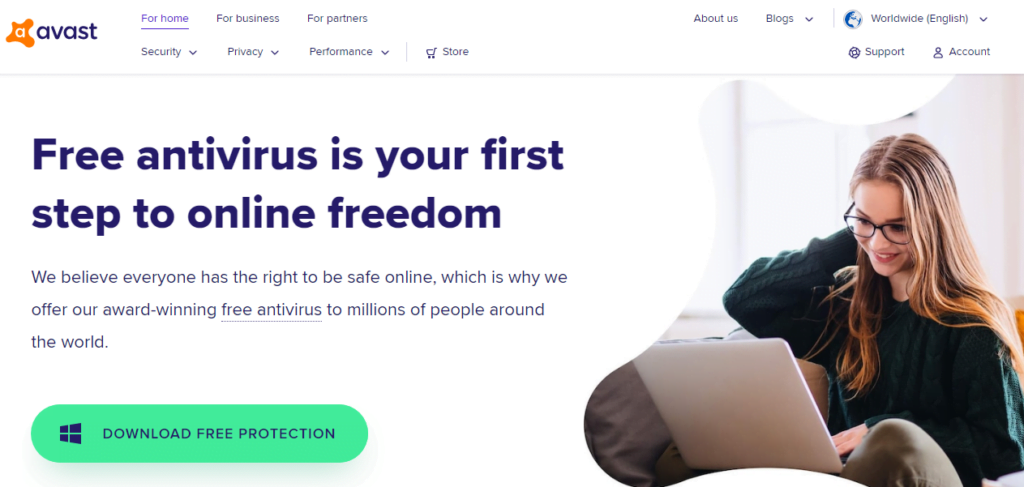 Avast is a powerful, fast, and lightweight cybersecurity solution.
It offers individuals and businesses free and premium protection against viruses, malware, WIFI vulnerabilities, webcam spying, phishing, and others.
The software protects users' privacy while browsing online, keeps them safe, and safeguards their data with premium VPN services. In addition, its business solution enables organizations to focus on their endgames while taking care of their endpoint security.
Avast prevents over 66 million threats daily, keeping over 450 million users safe.
The starting premium plan goes for $39.99 annually, per device and with 30 days free trial.
Webroot SecureAnywhere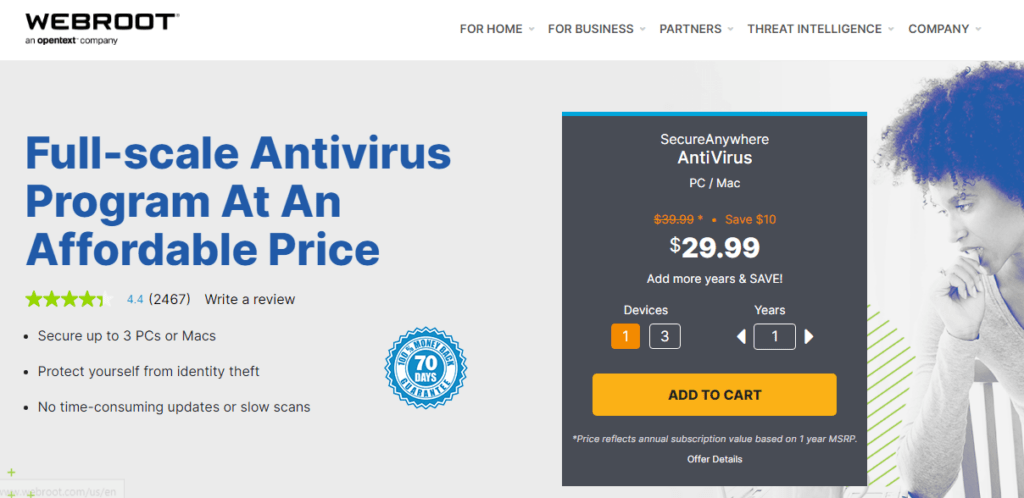 Webroot SecureAnywhere is an antivirus for Mac users that offers them advanced protection against online threats, phishing detection, and fast scanning ability.
The software takes about 20 seconds to run a scan, making it 60-times faster than the average scan time of other antivirus software.
It combines antivirus protection and VPS security to protect users' identity, offer them safe and secure browsing, WIFI and webcam protection, real-time anti-phishing, and others.
The subscription is available at $29.99 annually per device, and it comes with a 70-day money-back guarantee.
VIPRE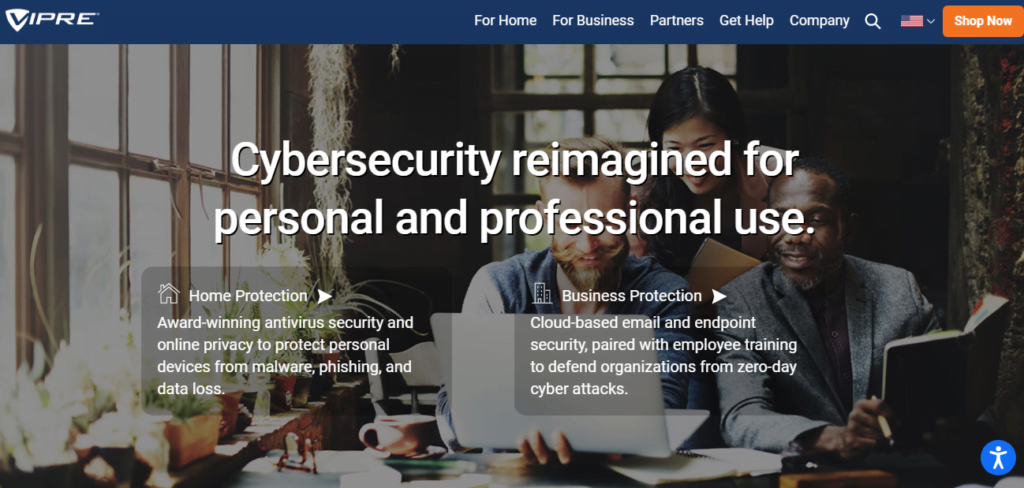 VIPRE is a top-rated antivirus software with over 25 years of experience protecting users from malware, phishing, and data loss.
It offers advanced protection to personal and business environments, uniting AI technology with real-time threat tracking to protect users from cybercriminals. 
The business solution enables organizations with cloud-based email and endpoint security and defends against zero-day cyber attacks. Also, it lets businesses protect their proprietary information, keep their staff safe, and safeguards their devices.
Over 50,000 customers use VIPRE, including top brands like Samsung, Deloitte, and NYSE.
The starting plan for individuals comes at $14.99 for five PCs for the first year, renewing at $54.99, while the Core Defense plan for businesses is available for $96 per user.
Cylance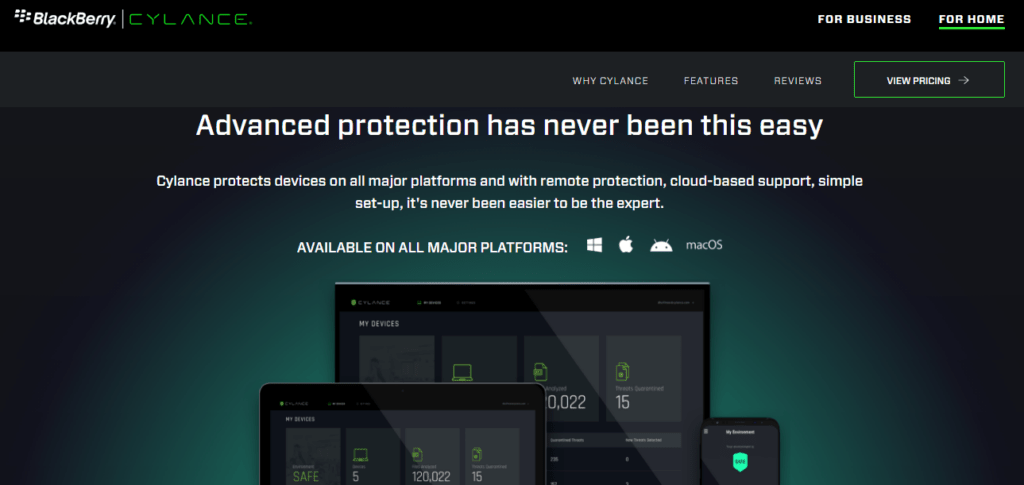 Cylance is a smart antivirus from the makers of Blackberry phones.
It offers lightweight, non-intrusive and advanced AI protection against new viruses and emerging threats that traditional AV software can't keep up with. 
Cylance doesn't scan for viruses, which often slows down PCs, but sits in the background, recognizing threats the moment they emerge, reacting in milliseconds to catch and quarantine them.
The software is available on all major platforms, including Windows, Mac, Android, and iOS.
One device protection sells for $24.5 annually, with 30-days money-back guarantee.
Wrapping it Up
Antivirus software offers users the first line of defense against malicious attacks. It helps them to browse the internet safely and with confidence.
A plethora of AV software is available in the market, and using this guide could help you streamline your searches.
But if you're finding it difficult to decide, get in touch with our support via live chat for quick assistance.