When you register a domain name, you take rightful ownership of it. You decide where it points to, and you are responsible for the content hosted under it.
To give users more flexibility over how domains are managed, the Internet Corporation for Assigned Names and Numbers (or ICANN), the organization responsible for maintaining the world's Domain Name System, allows you to transfer domains between registrars. You can also change the contact information associated with the domain if it has a new owner.
All these options make domain management much easier, but registrars need to make sure only domain owners can access them.
That's why the Registrar-Lock status exists. If it's enabled, you can't transfer the domain name to another registrar, and you have no way of changing the contact details associated with it.
The most popular TLDs support Registrar-Lock, and it's usually enabled by default.
If you want to transfer the domain you've registered with ScalaHosting to another registrar, you'll need to unlock it from the Domains section of your Client Area.
Inside it, you'll see a list of all the domains under your customer account, along with their registration and expiration dates and auto-renewal status. Every single one has a checkbox you can use to select them, and under the list, you'll find the With Selected drop-down menu.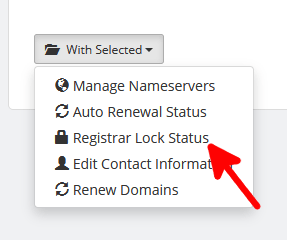 Through the Registrar Lock Status option, you can check the domain's current status and change it.
Be sure to unlock the domain only if you plan to change its contact information or transfer it to another registrar. Locking the domain immediately after you're done is just as crucial if you want to make sure it remains under your control.
How To Point a Domain Name To a Web Hosting Provider