SPanel is designed for projects of all shapes and sizes. It can help a couple of friends trying to launch a WordPress blog as a hobby, but it can also be instrumental in keeping an established online business on track.
But how does it do that?
By presenting users with unique solutions to problems other management platforms just can't cope with. Today, we'll show you one of them.
The Problem
Most websites are one-person projects in their initial stages of development. You always start small, but in the online world, things can change quickly. In no time, you may reach a point where you no longer have the capacity to do everything on your own.
Your site has grown popular, and you need additional people to help you manage it. It's a great problem to have, but this doesn't make it any easier to solve.
After hiring the right people (a challenge in itself), you need to ensure everyone has the tools they need to do their job. This may be trickier than you think.
You could share your control panel login credentials with your team members, but there are many reasons why this may not be such a good idea. Here are just some of them.
For one, giving everyone access to the entire control panel will likely slow them down. Workers will spend more time looking for the tools they need, and they won't be able to customize the interface without disrupting other team members' work.
Furthermore, the more buttons they have, the more likely they are to click the wrong one. And because everyone uses the same credentials, finding out who did what would be an absolute nightmare.
The problems don't end there. When one of your employees decides to quit, you'll want to ensure they no longer have access to your control panel.
This means resetting the password and informing the rest of the team members. Even if you have a relatively small team, this is bound to frustrate both you and your colleagues.
All in all, sharing your control panel login credentials is hardly the most efficient way to manage an online project.
Fortunately, you won't need to do it if you use an SPanel server.
SPanel's Multi-User Login Feature
SPanel's multi-user login feature is now available on every virtual server running our proprietary management platform. It can be useful for website owners who need to get more people on board, but it can also be beneficial for resellers and web development agencies that work on multiple projects alongside their clients.
It allows you to create individual admin and user accounts, so other users can log in to your server's control panel. As a result, your partners, clients, contractors, and/or employees can all do their job without using your main SPanel login credentials.
Every new user and admin account has its own username and password, and its owner can even enable two-factor authentication. Crucially, you decide what sort of privileges every single user gets. You can give them full SPanel access, but you can also restrict some of the tools and features to ensure a smoother experience for the workers and better security for the server and the projects hosted on it.
Here are a couple of real-world examples showing you just how useful the feature can be.
Let's say you've hired a project manager responsible for setting up and running new and existing websites hosted on your SPanel server. They need access to the Admin Interface to create and manage the SPanel accounts for individual projects. However, you probably don't want to give them the freedom to change server settings.
Here's another scenario – you head a web development agency, and you've built a website for one of your clients. They want access to the tools allowing them to manage their email accounts, which is a fair request, but you'd prefer it if they didn't touch the site's files and databases.
In both cases (as well as in many others), SPanel's Multi-User Login feature is the perfect solution.
Setting Up a New SPanel Admin User
If you want to give another person access to SPanel's Admin Interface, log in with your admin account and go to Manage Admin Users. The section is accessible from the menu on the left.

You'll see a list of all admin accounts, and above it, there's a Create Admin User button.

The button opens a popup that first asks for the new user's login credentials. Note that every admin user must use an email address as a username.
The password must be at least 8 characters long, and you can use the built-in generator to create a truly random and strong password.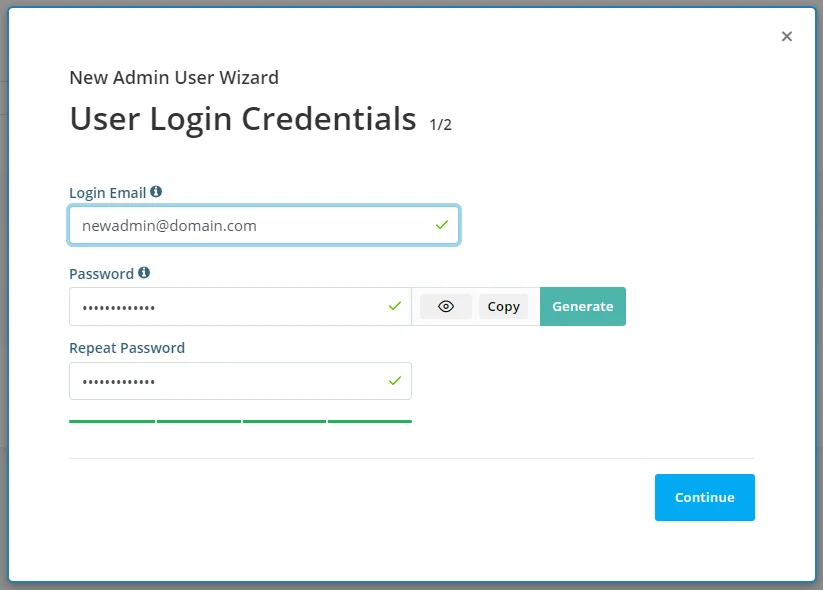 Next, you need to set the permissions for the new admin user. If you want them to have full access to SPanel's Admin Interface, you can simply select the checkbox at the top and click Create Admin.
Alternatively, you can restrict access to individual parts of the Admin Area.
Here's a list of all options and how they're grouped:
Server Management

View Admin Logs
Server Information
Server Status
Server Settings
Branding
Languages Manager
Packages
Manage API Tokens
Manage Admin Users
Resource Usage
Restart Service
Restart Server

Accounts Management

Manage Accounts
Create a New Account
List Suspended Accounts
Manage SSH Access

Software

Web Server Manager
Softaculous One Click Installer

SQL Services

Show MySQL Running Queries
After you configure the permissions for the new user, click the Create Admin button to complete the process. SPanel sets up the new user, and it appears on the list of admin accounts.
Next to each account, there's an Actions drop-down menu. Through it, you can update its login credentials, enable and disable two-factor authentication, or edit its access levels. This menu also lets you delete admin users.

Setting Up a New SPanel Sub-User
If you want to have people help you with project-specific tasks, you can create sub-users inside SPanel's User Interface. To do it, log in with your user account, and go to Manage Users.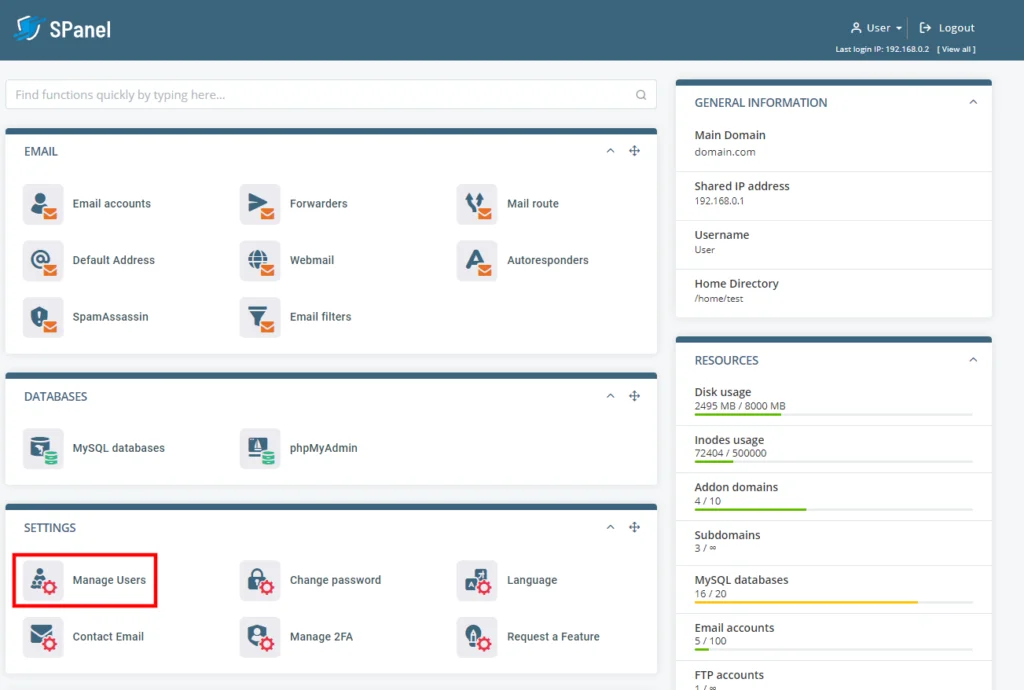 The form for creating a new SPanel sub-user is at the top of the page.
Once again, you first have to pick the login credentials. Because you're creating a sub-user profile, its username has a prefix that consists of the main account's username followed by an understroke (e.g., if you want to set up a sub-user called "test" under an account with a username "user", you'll use "user_test"). As with the Admin user, the password must be no shorter than eight characters.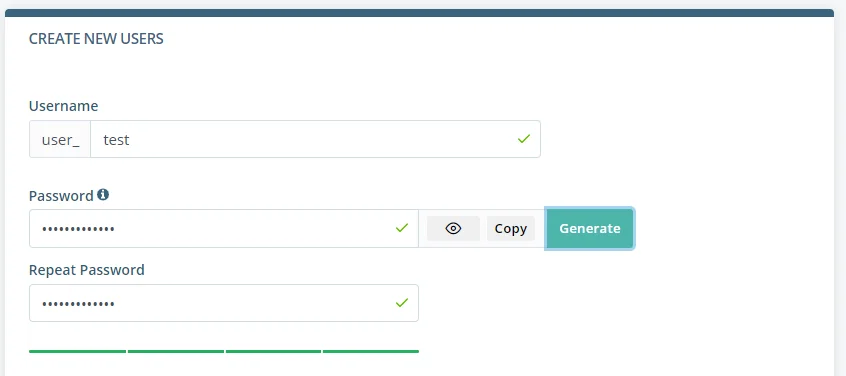 Directly below this form, you can decide what permissions the new user will have. The options represent every single tool on SPanel's User Interface homepage.
Here's the list:
Email

Email accounts
Forwarders
Mailroute
Default address
Webmail
Autoresponders
SpamAssassin
Email filters

Databases

MySQL databases
phpMyAdmin

Settings

View user logs
Manage users
Contact email

Domains

Domains
Subdomains
DNS editor
Redirects

Files

FTP accounts
Backup
Restore backup
File manager
Disk usage

Tools

SSL certificates
Cron jobs
PHP manager
PHP INI editor
Resource usage
Cloudflare
SShield

Software

WordPress manager
Joomla manager
NodeJS manager
Softaculous
Minecraft manager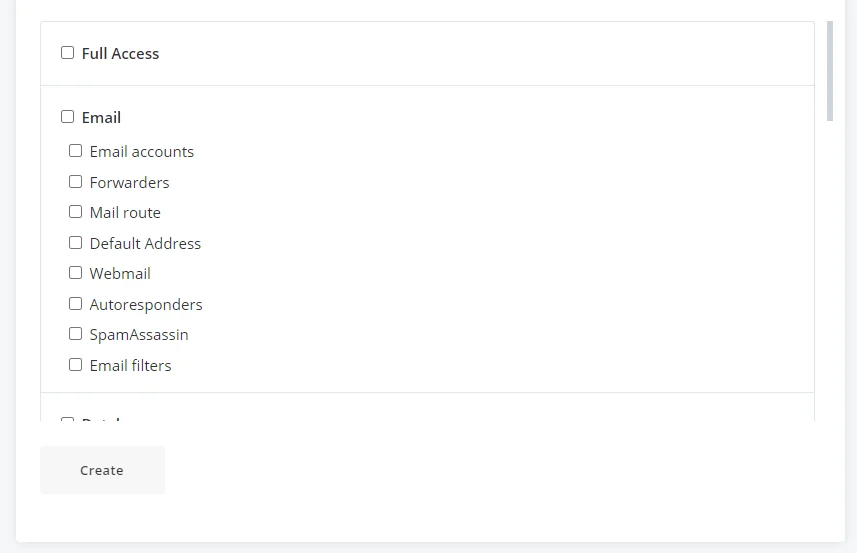 After you set the privileges, you can click the Create button to set up the new user. In a second, the new account will be ready to go, and you will be able to log in to SPanel's User Interface with its login credentials.
It will also appear on the list of existing users at the bottom of the Manage Users page. Using the Actions drop-down menu next to it, you can delete the account, change its password, edit the list of tools it has access to, or manage its two-factor authentication settings.

Conclusion
We know that delegating tasks among team members is crucial for the development of a successful online project. We know it partly because we have enough experience in this area and partly because the multi-user login feature has been highly requested by users of popular web hosting management solutions like cPanel.
At the moment, SPanel is one of the few platforms of this kind that has it out of the box and perhaps the only one that offers this kind of flexibility. For us, it represents just one of the many small steps in our quest to make SPanel one of the world's best web hosting control panels.
Stay tuned if you want to learn more about the rest.
FAQ
Q: Is the Multi-User Login feature available for both the User Interface and the Admin Area?
A: Yes, it is. As a server owner, you can create as many admin users as you want, each with its own set of privileges. Similarly, account owners can set up sub-users with access to selected parts of SPanel's interface.
Q: If I create an additional admin account or sub-user, will they get full SPanel access?
A: That's up to you. You can give additional admin and user accounts full access to your SPanel server, but you can also restrict any part of the control panel you want. You are in full control of what they can access.
Q: Can multiple user/admin accounts be logged in to the same server at once?
A: Yes, each user/admin account has its own set of login credentials, and multiple people can work on the same project without interfering with one another.