The first email was sent back in 1971, and yet right now, more than half a century later, we continue to use this form of communication every day. It's especially important for website owners like you. You use it to contact potential and existing customers and send newsletters, service updates, password reset links, subscription expiration notifications, etc.
All of this is crucial for your project's development. So, how do you ensure that your messages reach their intended destination? SPanel has a few tricks that could help.
First, though, let's see what sort of problems website owners face.
Why Am I Experiencing Email Deliverability Issues?
Spam is a huge problem. Research suggests that it accounts for as much as 85% of all emails. This constitutes more than 120 billion unsolicited messages every day.
Unfortunately, the internet doesn't have that many methods for keeping all that unwanted communication under control. In fact, one of the most efficient mechanisms for limiting the number of spam messages flying around is via the so-called remote block lists (RBL).
In simple terms, an RBL is a list of IP addresses that have sent spam emails. Providers use RBLs to determine which emails should be treated as legitimate and which should land in the junk folder or be discarded altogether. If your server's IP ends up on one of the major RBLs, your recipients will almost certainly stop receiving your emails.
But why would your IP end up on a block list if you're not sending the spam yourself?
Sometimes, honest mistakes could land you on one of the naughty lists. Failing to add an unsubscribe link to your newsletter, for example, is bound to be flagged, and you could get into trouble if you use email address lists you've bought online.
However, more often than not, it's down to the sheer volume of outgoing emails. If too many messages are sent out from your IP in a short period of time, the address is bound to appear on most block lists within hours. Often, you're not even the one to blame.
If you have a shared hosting plan, you use the same IP as hundreds of other people for your outbound emails. It only takes one spammer to put the IP on a block list and disrupt the communication of everyone on the shared server.
Even if you have your own IP, you're not completely safe. You probably won't be surprised to find that spammers don't like to pay for their infrastructure. It's much more financially viable to compromise someone else's website or email account and use it instead. This is part of the reason why brute-force attacks are so common.
If they manage to break their way into your site or email account, attackers get the infrastructure to send out waves upon waves of junk mail. Eventually, they will get your IP blocked, but they're not particularly bothered about it because they'll just find another server to compromise and exploit.
From your perspective, it's a different story.
Keeping the IP away from the blacklists is important not only for your email deliverability but also for your site's SEO. Acting quickly is vital in such cases, but unfortunately, it's sometimes impossible simply because you don't know that your IP has been blocked.
That's why we recently implemented IP reputation monitoring on all SPanel servers. The feature is available in the Admin Interface, and it's visible as soon as you log in.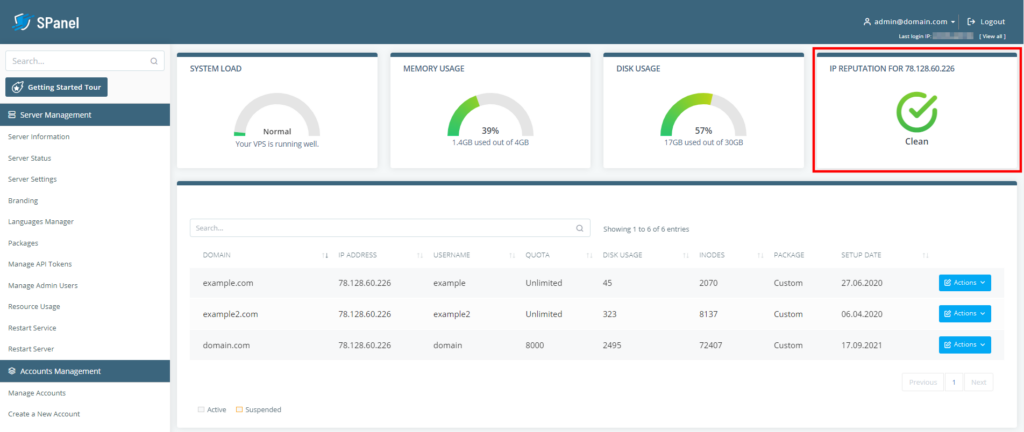 It checks whether your server's IP is listed on the world's five major RBLs – Spamhaus, SpamCop, Barracuda, SORBS, and JustSpam. If it is, SPanel will make sure you're aware of it. That way, you can take action to remove the source of the spam, contact the RBL operator, and ask them to unblock the IP.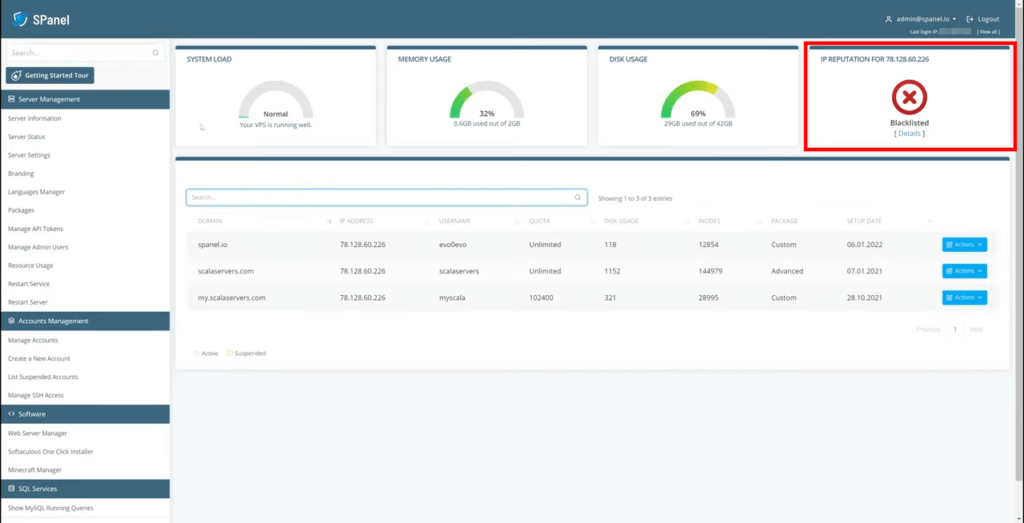 Of course, you would prefer not to get on the block lists in the first place. But how can you do that?
You can follow a few best practices when formatting your emails, so they don't look suspicious. You have probably heard about them, and you surely know that you must always use strong passwords and only the latest versions of all software applications powering your website. However, this isn't always enough.
As an SPanel user, you have our proprietary SShield security system and the built-in outbound email scanning functionality that alerts you whenever it detects suspicious activity. In addition, you can protect all admin and user accounts and webmail logins with two-factor authentication.
All that being said, the most effective way of keeping your IP address out of the spam blacklists is to limit the number of outgoing messages.
How to Limit the Number of Outgoing Emails on Your SPanel Server
SPanel's sole purpose is to give you complete control over your virtual server. Restricting the volume of outgoing email communication and protecting your IP's reputation is a significant part of this.
That's why SPanel gives you not one but two ways of limiting the number of messages users can send. Let's explore them.
Setting global outbound email limits
Every SPanel VPS has a global limit dictating how many emails a user can send in the span of sixty minutes. To manage it, log in to the Admin Interface and go to Server Settings. The limit is visible and can be edited from the Max hourly emails per user field.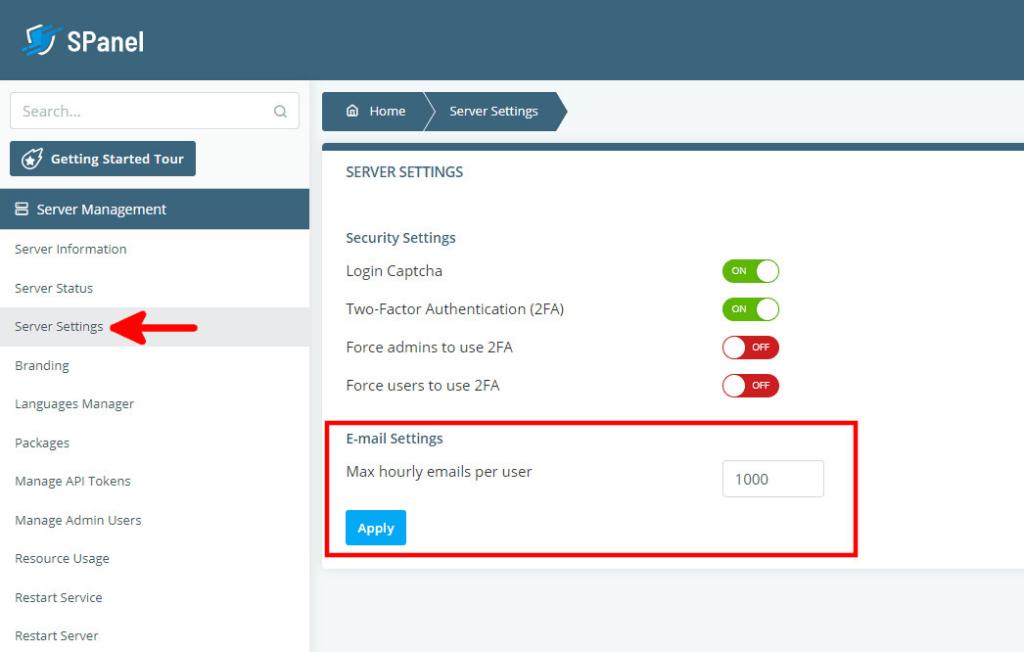 Try to base the restriction on your experience. Check how many emails you usually send and use the number as a ballpark figure for your limit. If you do get blacklisted because of too many outgoing emails, try to re-think your communication strategy and re-schedule or skip some of the messages.
Don't forget to click Apply to save the changes.
Setting individual outbound email limits
The global limit is a great way to protect your IP's reputation. However, SPanel gives you yet more tools for controlling what users can and can't do. For example, if you know that one of the accounts on the server hardly sends any emails at all, you can set a much lower limit.
Meanwhile, if another user operates a newsletter with a large number of subscribers, you can allow set the bar higher and let them communicate with more people.
By using the global and individual outbound email restrictions wisely, you can keep your IP away from the spam blacklists while also ensuring that users can grow their projects without worrying about rules and regulations hampering their progress.
You can set individual limits for both new and existing accounts.
During the account setup process, you'll find the outbound email limit in the Disk Space Resources section located at the lower end of the page.
You can also add a limit as a part of a package.
If you want to update the outbound email restriction at a later stage, go to the homepage of SPanel's Admin Interface, and open the Actions drop-down menu next to the account you want to modify.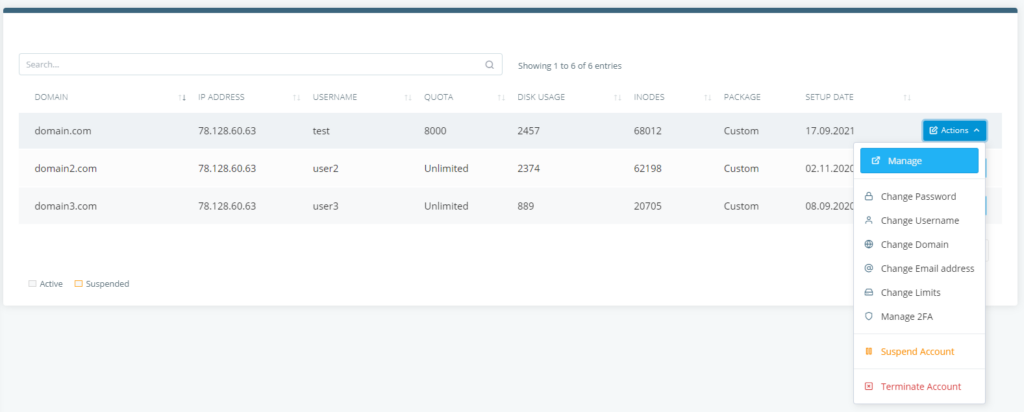 The Change Limits option lets you modify all the resources available to the account, including the hourly limit for outbound emails.
Conclusion
A blocked IP can lead to a lot of missed communication and could have costly consequences for online businesses. Taking the necessary precautions to avoid it is essential, but it could sometimes be trickier than it seems.
The tools you need aren't always available, and it's often difficult to see how they could help. With SPanel, the entire process is about as straightforward as it could be.
FAQ
Q: Why am I experiencing email deliverability issues?
A: Problems related to your email service are usually either due to misconfiguration of your client application or because an RBL has blocked your server's IP address. If the latter is true, you can ask the RBL operator to remove the IP from the list, but you first need to ensure no spam is being sent from your server.
Q: Why would my IP be blocked if I'm not sending any spam?
A: You should never eliminate the possibility of a successful cyberattack against a website or a mailbox hosted on your server. More often than not, this is the reason for the blacklisting, and if it turns out that this is the issue, timely actions are important not only to restore the normal functionality of your emails but also to protect the integrity of the projects hosted on the server.
Q: How can SPanel protect me from ending up on one of the RBLs?
A: SPanel has a number of security mechanisms to protect the websites and mailboxes hosted on your server. In addition to standard features like two-factor authentication, you get outbound email scanning functionality.
Last but not least, you have the facilities to limit the number of emails users send.