The domain's nameservers tell your browser where it needs to go when you enter a URL into the address bar. They are an integral part of the Domain Name System, and without them, the World Wide Web would be a very different place.
Yet, they remain largely unnoticed. You can see a domain's nameservers either in a Whois database or through the nslookup command. However, it's fair to say that very few end users actually bother to check them out. When it comes to website owners and hosting resellers, however, things are a little bit different.
As a reseller, your business plan involves setting up your own hosting company and establishing a brand that people recognize.
If you resell ScalaHosting services to individual site owners, you don't want your clients to know where the services are coming from. Instead, you want to assure them that they are doing business with you.
That's why all our reseller plans let you create private nameservers and tell your clients to point their domains to them. 
They look something like this:
ns1.yourbrand.com

ns2.yourbrand.com
The private nameservers are just one of the white-labeling features that let you build your reseller business while leaving the complex task of maintaining a reliable hosting environment to us.
To set up your private nameservers, log into your Client Area and go to the Domains section. Next, click on your domain, open the Manage menu on the left, and select Private nameservers.
You need to enter only the first part of your nameserver (i.e., if you want to register ns1.yourbrand.com, enter only ns1 in the field).
Below it, you need to enter the IP address of your hosting account. You can find it in the Welcome Email you received upon signing up, which is also available in the My Details > Email History section of your Client Area. After you're done, click Save Changes to register the new nameserver.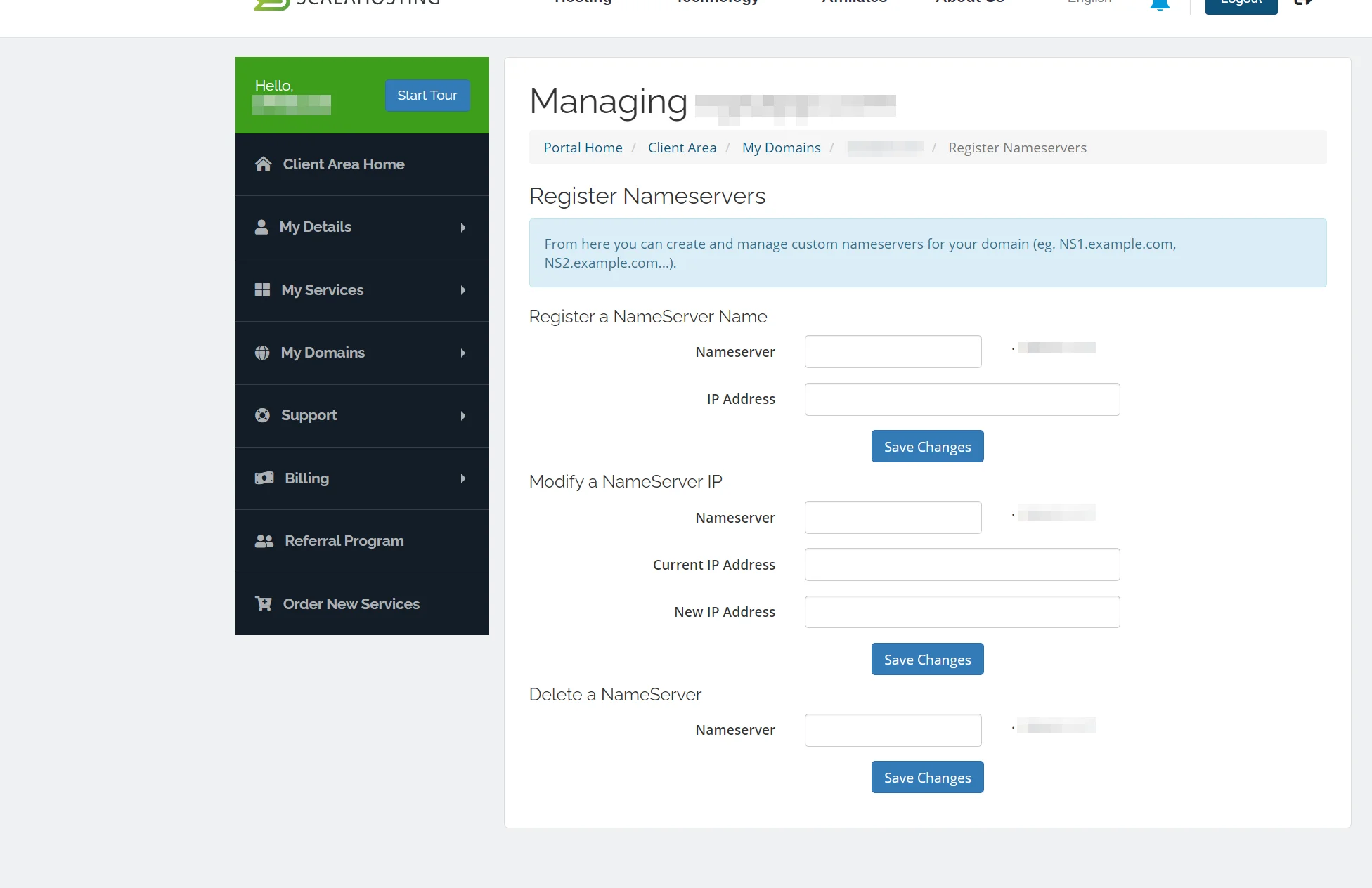 The interface also gives you options for editing and deleting existing private nameservers. Be sure to contact our technical support experts if you have any further questions.
How To Point a Domain Name To a Web Hosting Provider