How to Prepare Your Website for Black Friday
No shopping event is more awaited and memorable than the Friday after Thanksgiving. First coined in the 70s, the term Black Friday has been used to describe a fad that has steadily turned into a national holiday.
Shop owners start preparing months in advance – shaping lucrative deals, ensuring they have enough goods in stock, coming up with unique strategies to gain even more attention and sales. And that's not even half it. Having a brick-and-mortar store means finding enough personnel, arranging the showcase windows, and optimizing the entire shopping process on the spot.
While the online store environment solves many of the above problems, it creates a flurry of new matters to consider, especially around Black Friday.
Today, we will delve deeper into how websites prepare for the biggest shopping holiday and throw in our insights on the best way to approach it, hosting-wise.
Black Friday Statistics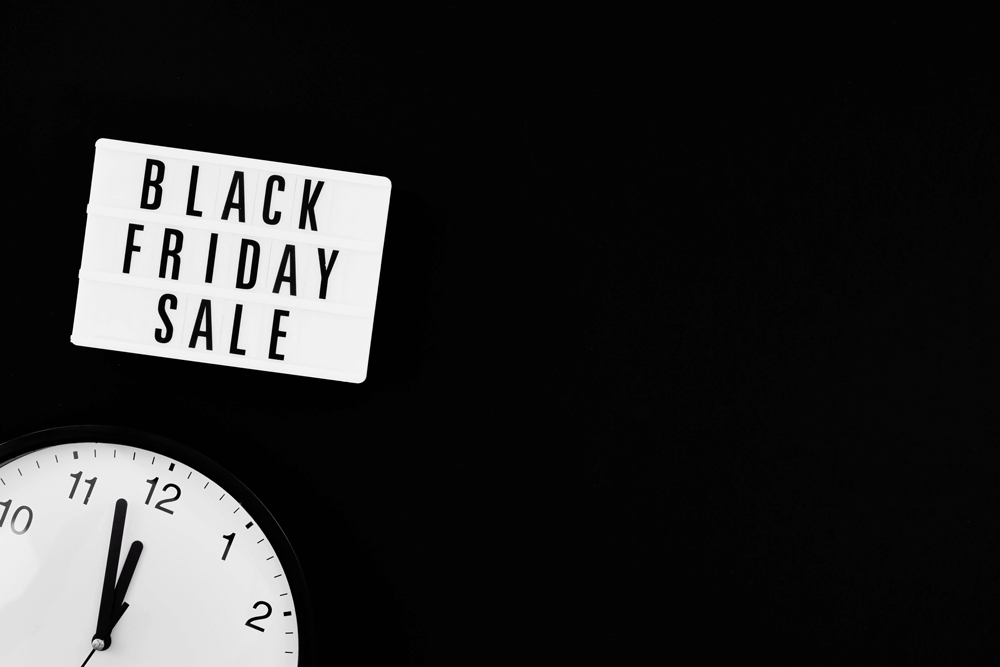 To understand just how important Black Friday is for businesses worldwide, let's look at some of the numbers associated with the holiday in recent years:
Over 160 million shoppers snatched at least one deal on Black Friday last year. Around 90 million made their purchase online, while about 70 million still prefer to buy their goods in-store.
Black Friday sales in 2021 reached $8.9 billion in the US alone. Customers have spent around $410 on average for the reviewed period.
The second most popular shopping holiday, Cyber Monday, sees ecommerce businesses get about 23% less sales than what they do on Black Friday.
Amazon is the retail company with the most sales on Black Friday. The industry leader in ecommerce accounts for nearly 18% of all transactions during the period.
While there is no clear distinction in shoppers age-wise, the 18-24 and 35-44 groups seem to be the most active.
Outside the US, the most active countries around Black Friday come from Germany (12.91% of total shoppers), Brazil (10.99%), and the UK (10.28%).
Most common reasons for online shopping include satisfying basic needs, getting the best value for money, and pure boredom. But Black Friday adds another motive to the mix – impulse purchases. Over 48% of Black Friday sales in 2021 belonged to that category.
Ecommerce businesses can't overlook the experience for smartphone users anymore – almost 43% of Black Friday shoppers made a purchase through their mobile device.
To summarize, Black Friday is already much more than a holiday – it's a cultural phenomenon that involves millions of people around the globe…so, is your business ready for it?
Black Friday and Web Hosting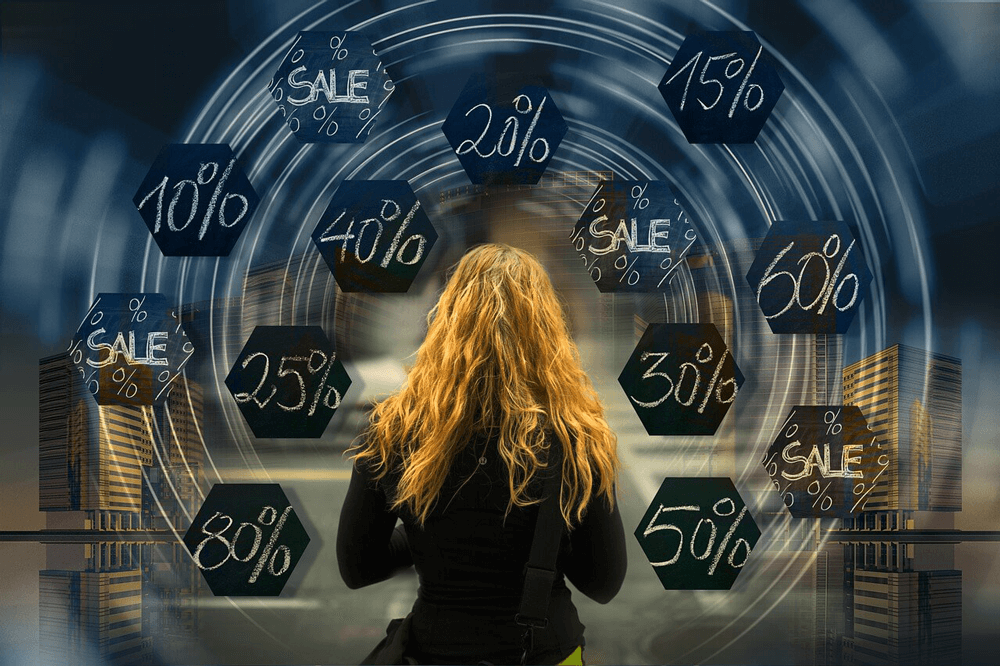 As you should be well aware by now, web hosting is one of the key elements for the existence (and success) of any online project. The service provides us with all the necessary tools to build a website and ensures our project is up and running smoothly at all times.
But Black Friday is not just any day, and with the right campaign – your numbers can go sky high.
Here are some aspects that can easily be affected:
Site Speed
Imagine a small-to-medium online clothes shop that normally brings in about 100 visitors per day. The owner has measured this steady flow of traffic over time and has picked an appropriate web hosting plan to go along with it. The right server helps their pages open within a couple of seconds, and the visitors are quite happy with this aspect of their experience.
Now, imagine, instead of 100, the same shop needing to accommodate 1,000+ people. This corresponds to a lot more running processes, and your hosting plan better be prepared for the job.
Uptime
Easily one of the key aspects when shopping around for a new host. Just as the site speed, you have to ensure the expected influx of new customers around Black Friday does not interfere with the constant availability of your ecommerce website. Every second of downtime means lost potential sales, and that rings especially true during this shopping galore.
The days around Black Friday are crucial, and you have to get ready well in advance.
Scalability
When users decide to trust their online shop with a shared hosting package, they usually consider it's just the start of their venture, and because they don't have a lot of visitors, the most affordable option should be the one that fits them best.
While that might be true for starters, the underlying problems of this type of hosting will soon start popping up, and that's even before Black Friday comes along. The lack of scalability will not allow shop owners to quickly react to traffic spikes, and the shared pool of resources can be exhausted rather quickly.
In that respect, going for a VPS hosting plan guarantees you a dynamic environment that is even more cost-effective than shared hosting, considering you only pay on a per-use basis.
Security
This might not come as a surprise, but the more popular your online shop gets, the more lucrative it will become for hackers. After all, somebody is bound to want to take a shortcut wherever money transactions are involved. And that's not even considering your industry rivals might also invest in some shady deals just to stop your potential success in its tracks.
Make sure you follow all essential site security guidelines and choose a hosting plan that will put you in an isolated environment, free from the risk of "bad neighbors."
Now that we know how crucial it is to prepare for Black Friday, it's time to find a solution that will give us peace of mind during the holiday.
What is Multi Datacenter Clustering?
Multi Datacenter Clustering, as the name suggests, employs the use of servers in different datacenter facilities. Similar to the cloud setup, there is no single break-in point, and you can configure your project to best utilize the available system resources.
Multi DC Clustering is a state-of-the-art service aiming to improve your hosting experience in three directions – speed, availability, and redundancy.
While shared hosting plans offer a single pool of CPU and RAM to multiple users, the clustering model gives just the opposite – multiple resource pools to a single client. Some of the available servers act as load balancers, while other machines carry your website files and all the incoming traffic to your pages.
You can forget about downtimes, as well. Employing the multi datacenter clustering model connects you to a widespread network of servers, and each of them is ready to serve your content depending on the visitor's location. Even if one (or multiple) servers fail, there are failover switches that will ensure your uptime remains uninterrupted.
Data corruption and loss are a thing of the past with the right configuration. The multi DC model gives you a redundant environment where your files, databases, and other vital information are replicated in numerous secure locations.
Multi Datacenter Clustering Benefits
Ecommerce stores have a lot to gain by employing a multi DC clustering solution, especially around Black Friday. Here are some of the sweetest benefits:
Distributed Configuration – the different servers in a clustering model are set up to serve different roles. Some of them are configured as load balancers, others take care of cashing, you even have a separate machine to handle your database connections. This advanced setup ensures your ecommerce project can survive the Black Friday traffic surges and the possible security issues associated with the holiday.
Maximized Performance – drawing from a different pool of system resources inevitably means you will always have plenty at your disposal. The biggest problem with successful marketing campaigns is the sudden influx of new visitors, but that won't be a problem on a multi datacenter clustering plan with practically limitless CPU and RAM.
Zero Downtimes – even if one of your servers fails for some reason (hardware issue, DDoS attack, hacking attempt), there will always be a backup solution ready to take its load. This guarantees your Black Friday campaign will go as smoothly as possible.
Enhanced Scalability – adding more resources and even more servers is a great advantage of the multi DC model. You can start on the smallest possible plan and upgrade your configuration as the need arises. Great for keeping your web hosting expenses to the needed minimum.
ScalaHosting and Multi DC Clustering
ScalaHosting partners up with industry giants Amazon AWS to offer you three amazing plans for your online shop this Black Friday. You can have your pick from the following models:
Single DC Cluster – utilize a minimum of 5 cluster nodes in a single datacenter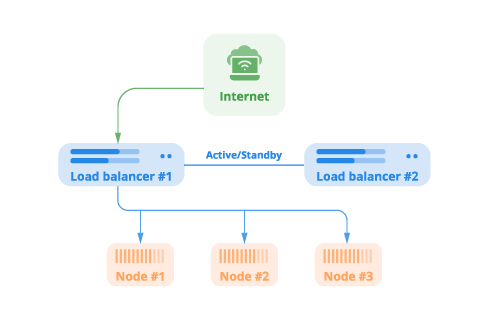 Multi DC Cluster – utilize a minimum of 10 cluster nodes in two datacenters (active or standby)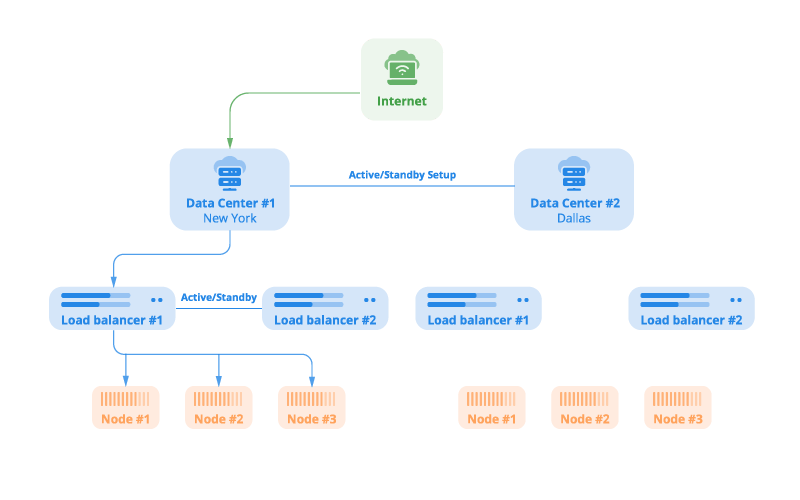 Multi Region Cluster – utilize a minimum of 15 cluster nodes in over three datacenters (all active)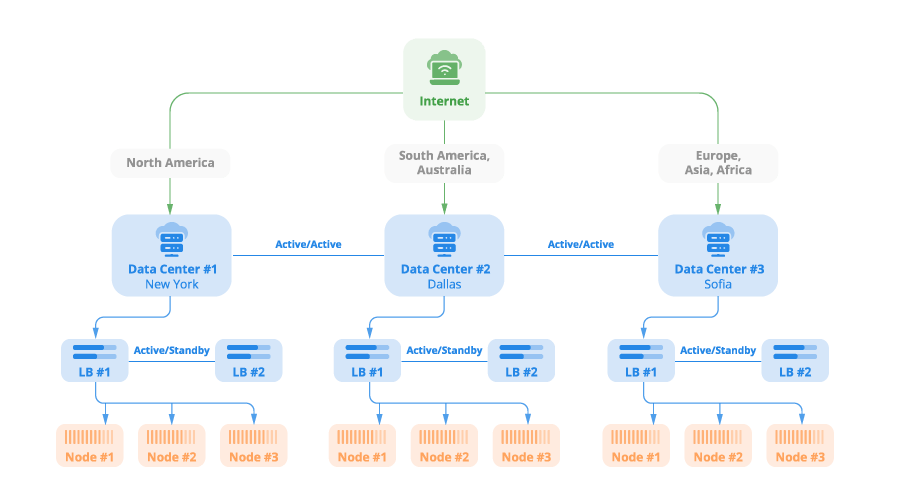 Contact the ScalaHosting Team and find the best plan for your online store today!
FAQ
Q: What is a failover mechanism?
A: Failovers are automatic mechanisms that monitor your server configuration. Whenever they detect a failing system – they immediately switch to a backup one, so all services remain up and running. Switchovers work similarly to failovers, but they require manual human interaction for the swap.
Q: Who can benefit from multi datacenter clustering?
A: Ecommerce shops are among the best-suited businesses for a multi DC clustering model. Such brands often experience unexpected traffic growth and find it hard to plan in advance. Established enterprises and companies with advanced customization needs will also find this model handy because of the various hosting configurations.
Q: Can you build a custom multi datacenter clustering solution?
A: Yes, that is absolutely possible. Although we have configured our server plans to best cover the needs of different groups of clients, we are well aware that some users won't fit into the predetermined packages. In such cases, you can contact the ScalaHosting Team, and the online operators will be glad to check your project and propose the most suitable solution.
Was this article helpful?