Apache HTTP servers maintain detailed records of their activities on the server log files, enabling web admins to receive regular feedback on their web servers.
It logs visitors' data, including the files they viewed, server response status code, the time it took the server to respond, the visitors' IP addresses, and web browser types on the server's access log files.
In addition, it uses the error log to record all issues encountered by the Apache server while processing clients' requests, such as missing files.
The error log also records server diagnostic information and warnings of potential problems.
This article explores accessing your domain's log files; so, let's get to it.
Finding Your Server Access Log File
You can find your access log file in your home directory. Follow these steps to get started.
Step 1: Log in to SPanel's User Interface.

The default login URL is https://yourdomain.com/ (don't forget to replace yourdomain.com with your actual domain).
On the control panel login, enter your email address (or username) and password to sign in.
If you log in as an admin, SPanel takes you to your admin dashboard but logs you straight to your account's control panel if you use user access.
Step 2: Open File Manager
Scroll to your control panel's FILES section, and click File manager to open the home directory.

Go through your home directory till you get to the access.logs file, right-click it and select Download to save a copy to your local computer.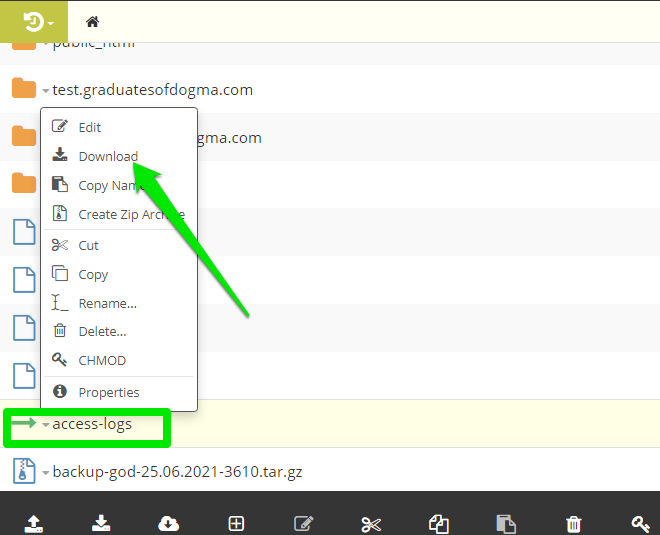 That's it.
Besides using SPanel, you could also find your access log file by connecting to your remote server via SSH access and running this command:
$ sudo locate access.log
Bear in mind, however, that it will only work if you have root access.
Locating Your Server Error Log File
The server Linux distribution often determines the error log location, making the location vary for users, but you can run the grep command to find its exact location.
$ grep ErrorLog /usr/local/etc/apache22/httpd.conf
$ grep ErrorLog /etc/apache2/apache2.conf
$ grep ErrorLog /etc/httpd/conf/httpd.conf
Need Support?
If you need assistance accessing your Apache log files, kindly reach out to our support, and we'll be glad to help.