An addon domain is a function of your web hosting control panel that allows you to host multiple different projects under the same account.
If you're a ScalaHosting client, you can run multiple websites simultaneously on our Start and Advanced shared hosting packages, and if you have a managed VPS solution, it's up to you to decide how many projects each account can host.
Before you can make a decision, however, it's best to first get to know how the functionality works. Let's dive in.
How the Addon Domain Works?
Addon domains are additional domains managed under a single control panel.
They are often confused with subdomains, and it's not really that difficult to see why. A like addon domains, subdomains are usually hosted on the same account as the primary domain. They have their own document root folder, and you can effectively build a separate website under them.
However, there are couple of fundamental differences. Visitors can see that subdomains are a part of the primary domain. When people visit blog.domain.com, they know that domain.com is the primary domain, and the subdomain is just a section of the website.
By contrast, an addon domain is entirely separate. For example, it can be anotherdomain.com. It can have its own website, and people will have a hard time figuring out that domain.com is hosted on the same account.
How the Addon Domain Appears to Visitors?
From a visitor's perspective, it is pretty much impossible to tell that you're hosting multiple websites on the same account. The addon domain appears as an entirely separate URL, and it can have a website that has nothing to do with the primary domain.
From your perspective, things are a little bit different. You have a separate document root folder inside your hosting account dedicated to the addon domain. Depending on the management platform, the addon domain website may also be accessible via a subdomain of main URL (e.g., anotherdomain.domain.com). Users, however, will have no way of knowing that.
How to Create An Addon Domain on SPanel?
You must meet two basic requirements before you add a new domain name to your hosting account.
Change your domain name's nameservers to ScalaHosting.
You can use this guide to change your new domain's nameservers. If you bought the domain from a third-party registrar, contact its support agents and ask them for further assistance.
Connect your new domain to the server where your account is hosted.
Remember, this new domain name must be different from any other domain name hosted on that SPanel account for this to work.
Here's what you need to do:

1. Login to your SPanel, then navigate to the Domains section and click on it.

2. Under create an Addon Domain, enter a valid domain name. By default, SPanel creates a new folder in your account's home directory.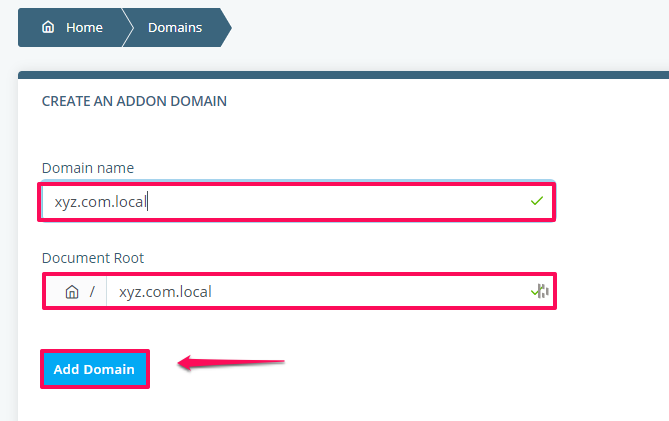 3. Click Add Domain to save the addon domain.
Your new domain joins a list at the bottom of the page the page. From there, you can modify the document root folder or delete an addon domain.
When you've changed it to the preferred directory, you can go ahead to upload files and content to it.
And that's it.
Wrap Up
So you see, it's pretty easy to create an addon domain. If you encounter any issues with changing your name servers or DNS settings, don't hesitate to contact us.
How To Point a Domain Name To a Web Hosting Provider