An addon domain is a different domain that's linked to the hosting account you already have. These are additional domains you can host under the same hosting package as your primary domain.
You shouldn't confuse this with a subdomain, though. While there are a few differences between the two, the major difference is, an addon domain is simply what it is— "an add-on —no more, no less. 
For an addon domain, you add content and files of a new but registered domain (website) in a unique folder within the home directory. Whereas, with the subdomain, you create sub-domains (sub-websites) from existing records of your primary domain.
If you're a Scala hosting client, you can host multiple websites through a single SPanel user account under any of our hosting packages. But before you do this, we'll give you a clean rundown on how the addon domain works and what to expect.
Let's dive in.
How the Addon Domain Works?
Addon domains are additional domains managed under a single control panel.
For instance, we created a subdomain from our primary domain—www.scalahosting.com—to create a Client Area under "my.scalahosting.com." It only makes sense to create a subdomain for a designated section brand under your domain (brand) name.
As a result, subdomains often have a prefix before a domain name and points to the same site as a primary domain. But the addon domain has a different domain and points to another website entirely.
For example, if you have http://examplexyz.com, you can add an addon domain to it like http://xyz.com.local or http://xyz.co.uk using a single SPanel account.
How the Addon Domain Appears to Visitors?
Notice how the addon domain sample above looks like a new website address? Well, that's because it is. 
From a visitor's perspective, it is impossible to know you're hosting all three websites on one hosting account. Because there is no evidence or references to the primary domain, the add-ons are independent domains.
However, in the case of FTP, the username is the only link between the addon domain and the primary domain. In most cases, the username looks like this: addonthisexampledomain@primarythisexampledomain.com. 
Where "addon" signifies the addon domain, and "primary" indicates the primary domain.
Three things happen when you create an addon domain to a SPanel:
The home account creates a new folder in the user (root) directory.

The primary domain links to the path for the new folder.

The new domain name becomes associated with the new folder.
Using the sample primary domain above, if you assign the addon domain xyz.com.local to the "examplexyz" public_html folder, you could have the following paths:
examplexyz/xyz.com.local

xyz.examplexyz.com

xyz.com.local
Of course, these three paths access the same directory and point to the addon domain: xyz.com.local. 
Since you registered xyz.com.local, a visitor won't know they're routed through examplexyz/xyz.com.local.
How to Create An Addon Domain on SPanel?
You must meet two basic requirements before you add a new domain name to your hosting account.
Change your domain name's nameservers to Scala Hosting.
You can use this guide to change your new domain's nameservers. If you bought the domain from a third-party registrar, please have them guide you over there.
Connect your new domain to the server where your account is hosted.
Remember, this new domain name must be different from any other domain name hosted on that SPanel account for this to work.
Once you've met these requirements, proceed with the next steps.
Login to your SPanel, then navigate to the

Domains

section and click on it.

Under create an

Addon Domain

, enter a valid domain name. By default, SPanel creates a new folder in the root directory of your home account.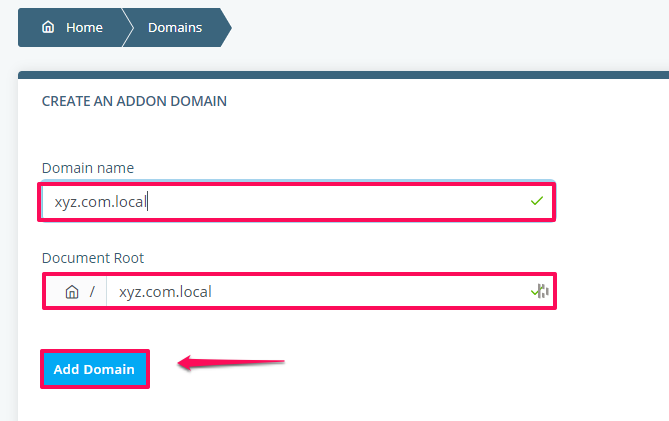 Click

Add Domain

to save the addon domain. 
Your new domain joins a list down the page. From there, you can modify the document root folder or delete an addon domain. 
When you've changed it to the preferred directory, you can go ahead to upload files and content to it.
And that's it.
Wrap Up
So you see, it's pretty easy to create an addon domain. If you encounter any issues with changing your name servers or DNS settings, don't hesitate to contact us.