Website crashes could be devastating to businesses.
So, Scala Hosting regularly backs up clients' websites automatically to protect their digital assets and gives them complete control to restore their data any time with just one click.
We keep seven archives of your data for each of the last seven days on a remote server for shared hosting accounts. In addition, VPS account holders get daily data backup to a remote backup server, and they can restore at any time.
Though we regularly backup your data to a remote server, we don't guarantee the existence of the backup copies at all times, so we recommend you store your backups at all times.
Thankfully, this article walks you through backing up your server, accessing and restoring your backup copy.
So, let's get started.
Backing Up Your Website Files Manually
You can backup your website data from your SPanel account—Scala Hosting all-in-all control, in a few simple steps, and let's examine how.
Step 1: Sign in to Your SPanel Account
Please visit www.domain.com/spanel/login, replacing domain.com with your domain name to open your SPanel.
Then, enter your email (or username), and password in the appropriate text boxes log in.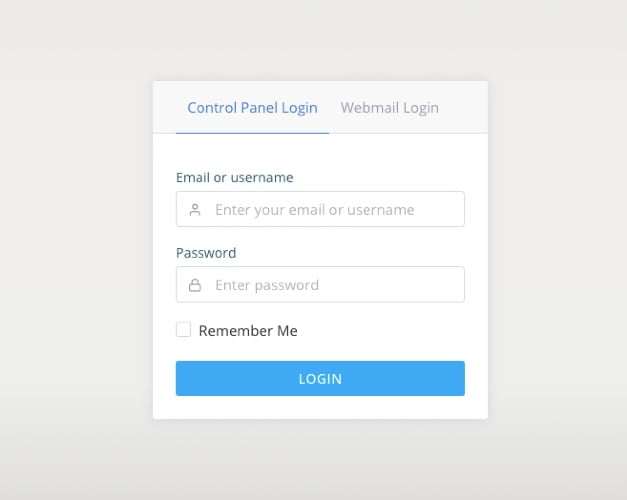 If you sign in with admin access, Spanel takes you to the admin dashboard, and you can easily find your way to your domain's control panel.
But if you log in as a user, it takes you straight to the control panel.
Step 2: Choose your Account 
To get to your account's control panel from the admin dashboard, scroll to the QUICK LINKS section and click List Accounts.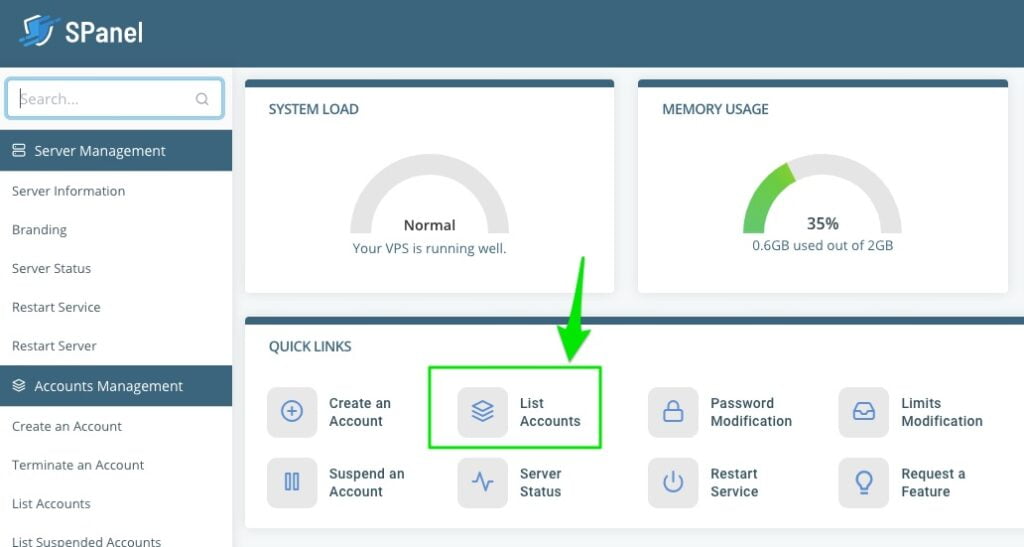 Now, locate the account you wish to log into its control panel.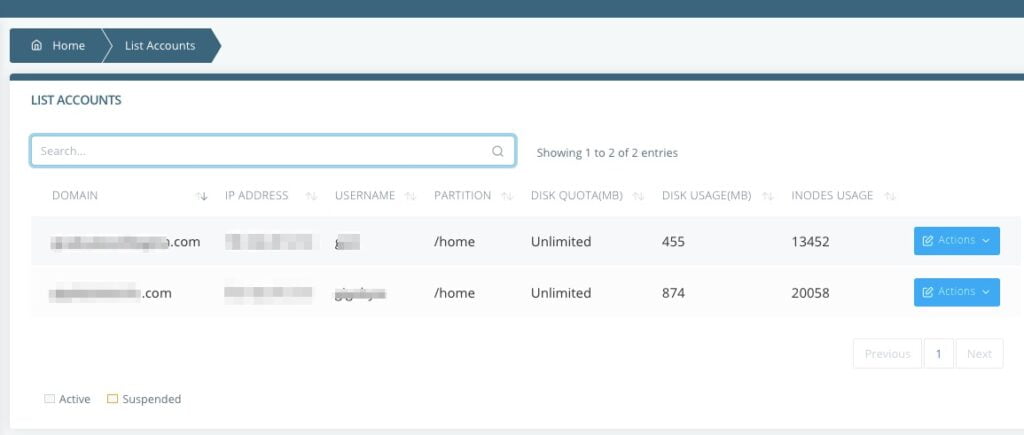 Now, click the account's Actions button to reveal a drop-down menu and select Login to access the control panel.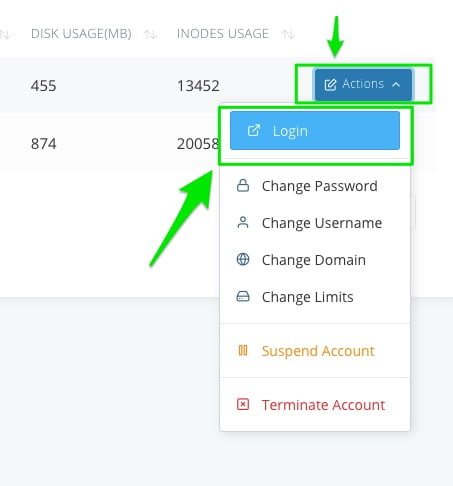 Step 3: Open the Backup Tool
Scroll to the control panel's FILES section and click Backup.

Click the Generate Backup button to generate a complete backup of your account, including files, databases, emails, and hosting account settings.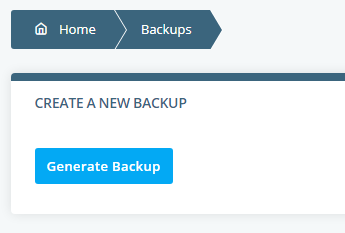 Select your backup options and click Generate to get it done.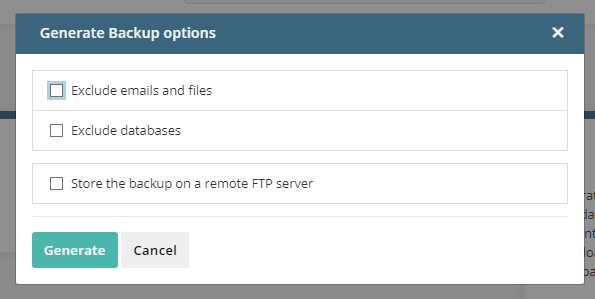 You can see the status of your backup files by scrolling down to the EXISTING BACKUPS section.

To access your backup copies and download them to your local computer, go to your SPanel home directory—that's the directory hosting your webroot folder.
You're in your home directory when you open the file manager. It contains folders like Softaculous, public_html, Autorespond, Mail, and others.
Scroll down the folders and files in your home directory until you get to your backed-up files.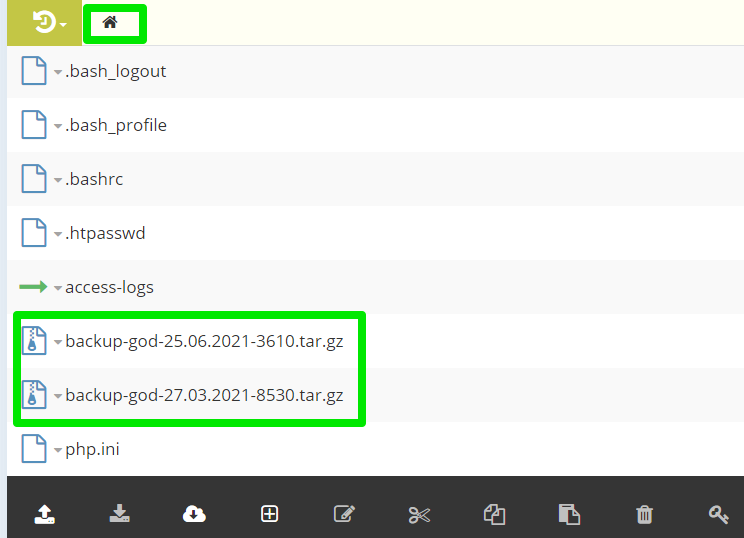 Please select the copy you wish to download to your computer, then choose Download from the menu to get it done.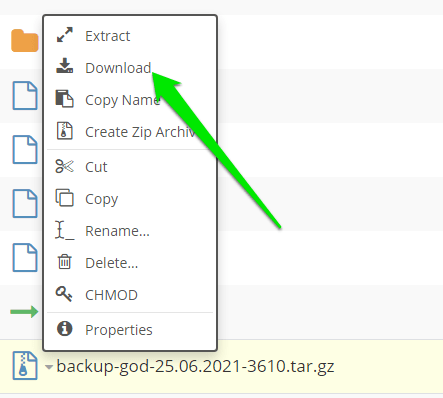 We recommend removing the backup files from the server once you've downloaded them to your local computer.
Restoring Your Backup Files
Scala Hosting saves your data backups on a remote backup server. To restore your backups, log in to your account's control panel, scroll to the FILES section and click Restore backup.

Select your data restore point. 

Use the Browse Files option to restore files and directories from your remote server or the Browse Databases button to restore any database.
Let's examine how to restore your backups using the options.
Restoring Files and Directories
To restore a specific file or directory, click the Browse Files button and select the folders or files you wish to restore.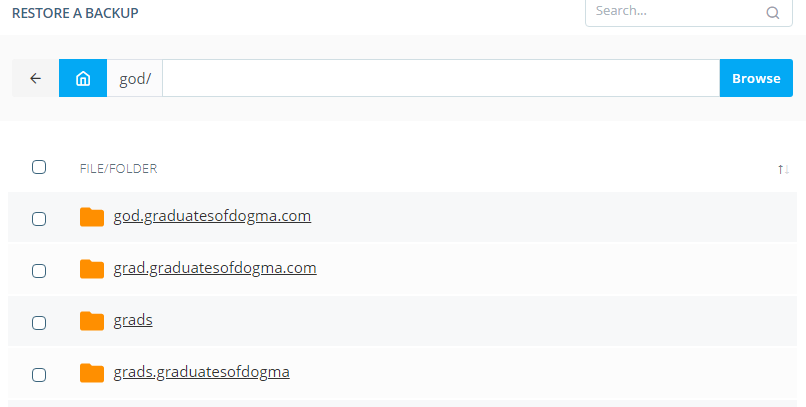 If you intend to restore the entire website, then select the domain's root folder, but if it's just a file or a group of files, then open the folder and select the file(s).
When you select all the files you wish to restore, click the Restore Selected button to initiate the process.
Now, wait patiently as our system restores your files, and do note that the process runtime depends on the size of your backup file. 
Restoring Databases
To restore your backed-up database, click the Browse Databases button and select the database you wish to restore.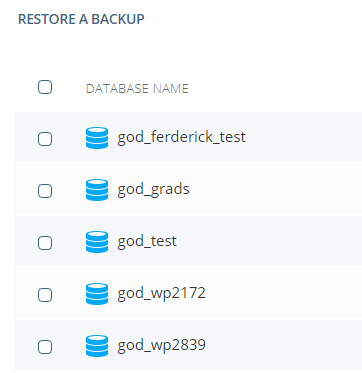 Click the Restore Selected button to get it done.
Need Support?
If you have questions relating to backing up your website or restoring backup files or databases, kindly contact our support, and we'll be available to help.