ScalaHosting in Top 25 Most Popular Hosting Providers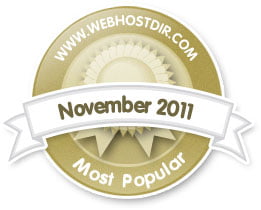 ScalaHosting has been selected to be one of the most popular web hosting providers for the month of November by www.webhostdir.com. We are actually on the 10th place. You can verify that on our profile page
We were really excited about it when we received the award on our email address. That also reminded us to update our profile with the latest details and also to add our Facebook and Twitter accounts.
Being in top 25 is not a big surprise for us though. We have done a pretty good job in the last few months. We have finished our new website, we have doubled the specifications of most of our plans and we have added some new nice services such as unmanaged vps plans, colocation, bulk mail plans, backup storage.
Today, we have received our product keys from Microsoft and we can now offer dedicated servers with Windows OS. If you are an existing customer and you want to order a server with Windows 2008 standard R2 operating system in the next 30 days, we will provide the OS license for free (worth $25/mo). Just contact us to arrange that special. We will be publishing the Windows servers options on our web site in the next couple of days.
We are also working on adding more services and features which will become available at the beginning of 2012. Those services will allow you to offer a higher variety of services yourself and earn more money by offering more to your customers.
At the end of this article, we are posting the new widget developed by WebHostDir for getting reviews/feedback from customers. We would be happy if you spend 10 minutes to write your opinion about our services by clicking on the link below. Thank you in advance for your time!