ScalaHosting in Top 25 Most Popular Hosting Providers
ScalaHosting has been selected to be one of the most popular web hosting providers for November, according to Webhostdir (now Serchen).
We were very happy with the recognition, but becoming a part of this honorable Top 25 was anything but a surprise for us. The ScalaTeam have been working tirelessly in the last few months, finishing our company website redesign and doubling the resources on most of our hosting plans. Additionally, we have thrown entirely new services in the mix – like the unmanaged VPS plans, offering full control to webmasters.
There are exciting news for Windows users as well.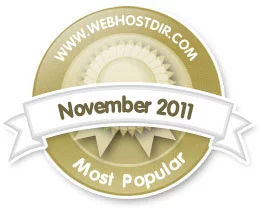 Today, we have received our product keys from Microsoft, and we can now offer dedicated servers with Windows OS. If you are an existing customer and want to order a server with the Windows 2008 standard R2 operating system in the next 30 days, we will provide the OS license for free (worth $25/mo). Just contact us to arrange that special. We will be publishing the Windows servers options on our website in the next couple of days.
We are also working on adding more services and features, which we plan to announce at the beginning of 2012. Those extras will allow you to take advantage of a wider variety of solutions yourself, which you can later resell for a profit.
Ready to join the growing ScalaHosting family? We will be happy to have you!
Was this article helpful?