ScalaHosting Launches Enterprise SSD Cloud Hosting Services
ScalaHosting is continually working on implementing new technologies and enhancing services. We understand that the web hosting industry is dynamic and if you want to grow you have to keep up with the changes. The time of predefined web hosting packages is almost obsolete now. The new hosting is called cloud. But what is a cloud hosting service? The cloud hosting gives you the opportunity to save money by paying for exactly what you use. It allows you to scale easily and use the additional resource immediately. In some setups, the cloud service may include redundancy too. At ScalaHosting we do not compromise quality and we are happy to announce that after a successful 6 months testing period with zero downtime we have launched an enterprise SSD based cloud web hosting solution. That is a premium service designed to deliver maximum performance and decrease downtime to minimum.
How does ScalaHosting SSD cloud work and what makes it a premium service?
Our cloud service is built with Intel Enterprise SSD drives specifically designed for cloud web hosting environment. The storage is 100% based on enterprise SSD drives. Some cloud providers advertise they offer cloud SSD hosting but most of them use desktop SSD drives or SSD for caching purposes only. Desktop SSD drives are not reliable and they are not designed to be used on production servers however they are much cheaper and that is why most cloud hosting companies use them. Our cloud hosting storage is 100% based on Intel Enterprise SSD drives. We have also built N+1 redundancy which means we keep multiple copies of your data. If a storage device fails your online application will remain online and it will continue to be served via another storage device in the cloud.
We use the latest and most powerful servers to serve your online applications 24/7. Each server has 24 CPU's and 96-128GB of memory. If a server fails another server in the cloud will take over automatically. ScalaHosting cloud is a self-healing system minimizing downtime and bringing it to exceptionally low levels.
What are the main benefits that cloud will bring to you?
The main benefit is that cloud will allow you to save money and pay for exactly what you use like your electricity consumption. If you need to have 1GB extra space then you will only pay for 1GB extra. With cloud there is no need to order web hosting packages anymore and pay for 20GB space when you only use 2GB. You can scale your web hosting service and add/remove resources as you need them. The extra resource is instantly available for you and you only pay for the time you use it for. If you need 2GB space for 2 days then you will pay for those 2 days only.
The ScalaHosting enterprise SSD cloud product will also give you the opportunity to start offering cloud hosting yourself without spending many thousands of dollars. Each SSD drive we use costs over $1000 but you can start offering an SSD cloud hosting service by signing up for our cloud reseller hosting program and paying just $6.95 per month. You will also get free private nameservers, 100% private label service, 30 backup restore points of your data, a free web site builder, Softaculous scripts installer, unlimited domains, 24/7 support, 60 days money back guarantee and many other features.
Due to the fact that the cloud storage is 100% based on Enterprise SSD drives the performance delivered will be much higher than a traditional web hosting account using SATA drives. An Enterprise SSD drive is up to 50 times faster than a single SATA drive.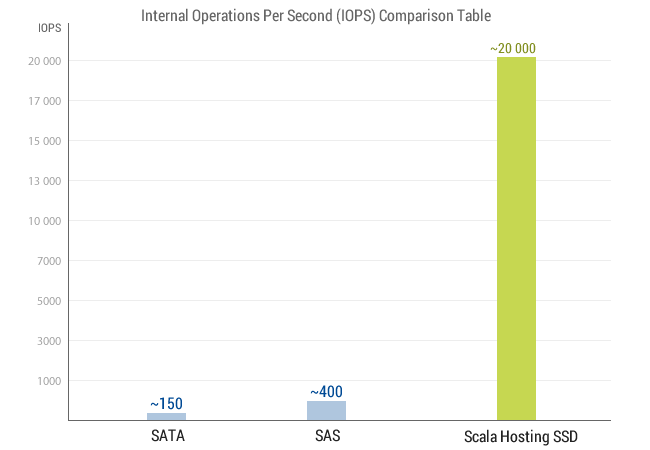 Multiple locations available
We built cloud solutions in both datacenters we use . You can choose which datacenter you want your cloud service to be activated at – USA or Europe depending on your location for better network latency.
What SSD cloud hosting products are available?
We are offering shared and reseller SSD cloud hosting. We also offer cloud servers giving you full root access to install your applications. If you need management included with your cloud server, we provide that too. All cPanel cloud servers are fully managed. You can order monitoring, backups and we will take care of your server 24/7, 365 days per year.
Still not convinced? Order and use the coupon code joinscala and you will get a one time 20% discount for your cloud hosting account. Let's get you up and running on the cloud today!
Was this article helpful?