OpenCart vs Shopify – Head-to-Head Comparison
Did you know that ecommerce sales are predicted to grow by 10.4% in 2023?
Now really is the best time to kickstart your online business! An issue you'll encounter fairly quickly, however, is finding the right ecommerce platform for your goals. With an abundance of options on the market, finding a suitable one can be challenging.
To help you out, we'll take a look at two of the most popular platforms – OpenCart vs Shopify. We'll discuss the pros, cons, and everything in between to see which shopping cart can fit your business better.
What is OpenCart?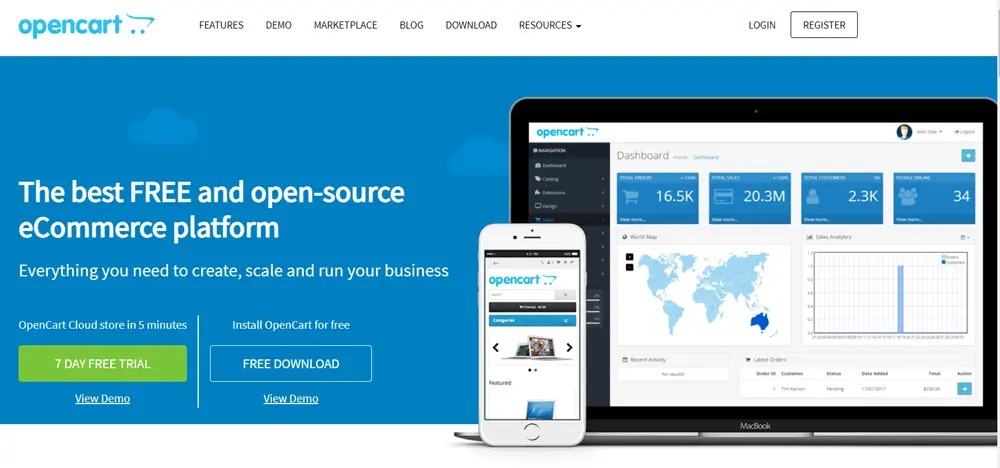 OpenCart is an open-source ecommerce platform, used by 0.8% of websites worldwide. It allows users to manage multiple online businesses via a single backend. The platform is also mobile-friendly, enabling admins to deal with every aspect of their store on the go.
Being open-source means that you'll have to do some of the heavy lifting, like finding a hosting server and setting up a database. On the bright side – this all gives you more control over your store.
But what is OpenCart's main benefit?
It's free.
The platform is great for small to medium-sized businesses. It has all the necessary features to help you scale your store.
What is Shopify?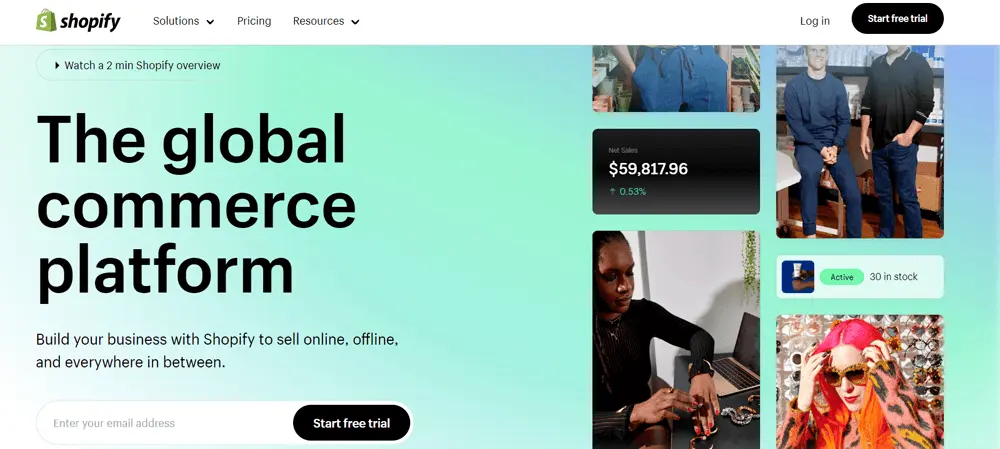 Shopify is maybe the most popular SaaS (software-as-a-service) in the ecommerce world. It is currently used by 4.15 million businesses. The solution can handle all types of stores – from small to large scale.
Shopify provides users with an all-in-one platform, that allows them to build a store and sell in multiple locations. It's cloud-based so it can be accessed from different devices, no matter your location. It's also hosted, which means that once you create an account – the software is set on Shopify's servers and the company keeps it running for you.
While not free, Shopify does offer a trial period – three days. It also allows interested parties to dabble for three months for only $1/month on select plans.
OpenCart vs. Shopify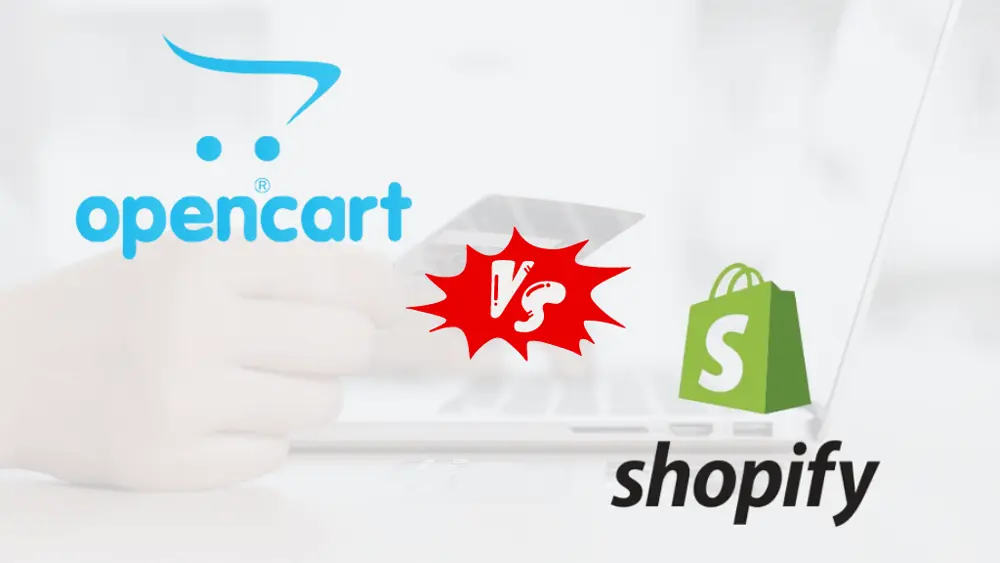 Ease of Use
Shopify is fairly straightforward to use. You just need to provide an email, password, and store name. Once that's set up – you'll be taken to your admin dashboard and you can start configuring your store. The platform is very intuitive and even a complete beginner will get the hang of it pretty quickly.
OpenCart is a completely different story.

First, you'll need to purchase a domain name and web hosting. You'll then need to create a database via open-source administration, install the platform, and set up the store all on your own. That does require some coding skills or hiring an expert, which will cost you extra.
Still, many hosting providers might offer free OpenCart setup or an autoinstaller for the task.
Features
When it comes to the must-have features, the two ecommerce solutions are pretty much equal.
| | | |
| --- | --- | --- |
| | OpenCart | Shopify |
| Admin dashboard | ✓ | ✓ |
| Multi-store management | ✓ | ✕ |
| Coupons, discounts, vouchers | ✓ | ✓ |
| Integrated payment options | ✓ | ✕ |
| SEO options | ✓ | ✓ |
| Reports | ✓ | ✓ |
| Security features | ✕ | ✓ |
Both OpenCart and Shopify have an admin panel, which is fairly intuitive. You can easily manage user permissions, extensions, themes, payment gateways, etc.
Speaking of payments, with Shopify you'll need to get the Payments addon in order to offer credit or debit cards for your customers.
An OpenCart installation gives you access to:
Amazon Pay
PayPal
Square
Skrill
Klarna
And more. There are also options in the official Extensions Directory.
OpenCart also wins in the multi-store management race. You can control several stores via one installation. On the other hand, Shopify will have you create a new account for every online business you have.
Both ecommerce platforms offer in-built options for SEO and reports. Same goes for vouchers, coupons, and other means for discount.
Last but not least…
OpenCart's Achilles' heel is the security aspect. We'll discuss it in detail later in the article, but let's just say you're on your own there. With Shopify, you get SSL certificates, 2FA, and other security perks.
Еxtensions and Themes
| | | |
| --- | --- | --- |
| | OpenCart | Magento |
| Add-Ons | 13,000+ | 8,000+ |
| Themes | 1,000+ | 135 |
In terms of extensions, OpenCart is ahead in the race. The shopping cart offers over 13,000 add-ons, both free and paid. The most popular options include:
PayPal Checkout
Facebook for OpenCart
Mollie
Square
Google Shopping
As for themes, there's a surprising amount of free options with OpenCart. Some of them are not exactly a work of art, but even clients on a budget can find something nice.
Shopify's offer is a bit more modest, but that doesn't affect the quality of it.
The most popular extensions among merchants include:
TikTok
Pinterest
Shopify Email
Shopify Translate and Adapt
Shopify Search & Discovery
While there aren't quite as many themes as with OpenCart, there is a good amount of free layouts. Most of them aesthetically pleasing, too.
The underlying issue with both ecommerce solutions is that some of the plugins add functionalities, that should be included in the platform. For example, if you need a drag-and-drop editor for Shopify – you need to get an extension. OpenCart's security features come mainly from add-ons. Some come with a paid license, which is hardly ideal if you're on a budget.
Security
Things are about to get interesting.
As mentioned before, OpenCart is an open-source software. That means that the company has no responsibility to protect your website. The official page offers several tricks you can use to make your store more secure, but that's basically all you get.
Shopify, on the other hand, has an array of security features. First of all, users get two-factor authentication – in fact, they can't use Shopify Payments without activating it. Speaking of that, Shopify is PCI level 1 compliant for credit card processing, which is only granted to very large businesses that process over 6 milion transactions annually. Customer data is also protected by GDPR.
In addition, there's a fraud protection system. It is responsible for flagging suspicious orders and notifying admins to review them.
As you can see, in terms of out-of-the-box security, Shopify clearly takes the cake.
Support
If things go wrong, you'll need to be able to reach the support team fast.
So, who offers the better deal here?
OpenCart offers a community forum that everyone can join and share their knowledge and experience. If you have an urgent issue, however, things get a bit more complicated.
OpenCart does provide fast support, but it's part of its Enterprise Services, which you'll have to pay for. The pricing is as follows:
Password Reset – $50 per reset
One-time Store Backup – $50 per backup
Update OpenCart version – starting from $300
One-time Bug Fix – starting from $100
Shopify has a Help Center with extensive articles while also allowing users to connect with freelancers and agencies that can help them with their stores. All of the platform's plans include 24/7 live chat and phone support, plus social media and email as a way to reach the team.
Pricing
As an open-source solution, OpenCart is completely free to use. You will, however, have to pay for things like web hosting, domain name, SSL certificate, etc. Also, some of the available subscriptions and themes might require subscription or one-time payments.
Clearly, the costs will start piling up and you might need to spend more than you're ready to.
On the flip side, Shopify has six tiers of service plans:
Basic – $32/mo
Shopify – $92/mo
Advanced – $399/mo
Starter – $5.00/mo
Shopify Plus – Starting at $2,000/mo
Components – price depends on the features you choose
The best thing is that for the first three months, all plans come for just $1/month, allowing users to get to know the platform before committing long-term.
Ecommerce Hosting
The biggest issue with self-hosted platforms like OpenCart face is finding a suitable vendor to partner up with.
After years of researching the market, we at ScalaHosting determined that the best option for ecommerce projects is managed VPS hosting. Users get an entire virtual server with isolated system resources and a dedicated IP address. In addition, you can also take advantage of a free SSL certificate, 24/7 protection from web attacks, and remote daily backups. All of those – included in the price.
As for OpenCart itself, you can count on additional assistance in the form of easy one-click installation and on-demand support at any time.
Wrap Up
So, who's the winner in the OpenCart vs Shopify debate?
If you have coding skills, a clear vision, and are not new to the game – OpenCart will make the ecommerce world your oyster. Just remember to choose a reliable hosting provider.
However, if you don't have the time to build everything from the ground up and need more support – Shopify is the better choice for you.
FAQ
Q: What are the advantages of Shopify over OpenCart?
A: The biggest advantages of Shopify over OpenCart are easily the security features and dedicated support. OpenCart does have several security extensions in its marketplace, but it's up to you to set them up properly. The CMS also charges you extra for support from its developers. Shopify offers security features in every tier and the support team is available 24/7 via live chat and phone.
Q: Why use OpenCart?
A: OpenCart is an open-source solution, which means it will give you full control over your store. If you have more than one ecommerce business – you can manage them all from a single back-end. Additionally, OpenCart is free, making it a great option for people on a budget.
Q: What are the Shopify disadvantages?
A: Shopify doesn't let you manage multiple stores from the same account. You'll need to create new ones for every single shop. In addition, some of the functions you'd expect to have built-in – such as a drag-and-drop editor and payment options – are missing. Users will need to get specific extensions for those.
Was this article helpful?