The ability to transfer domains between registrars means you have pretty much infinite freedom in managing the services related to your online project. By moving domains between registrars, site owners can choose providers and control everything from a single dashboard.
However, ICANN, the organization responsible for running the world's Domain Name System, needs to make sure domain transfers don't result in lost domains, compromised data, or service downtime. That's why there are certain rules.
Transfer restrictions vary from TLD to TL,D but here are some of the most common ones:
You can't transfer a domain within 60 days of its initial registration.


Most registrars put a

60-day

lock on freshly registered domains. The lock cannot be lifted, making a transfer impossible.

You may not be able to transfer a domain if you have recently changed its registrant data.


Many registrars put the same

60-day

lock on domains that have recently had their contact details changed.

You can't transfer a domain if it's close to its expiration date.


The domain transfer process can take up to a week, and if it

expires during this period,

restoring it could be a tall order. That's why most registrars disallow the transfer of domains that are close to their expiration dates.

You can't transfer a domain if you don't have access to its administrative email address.


To ensure

hijacking a domain is not possible,

the registrant must verify they own the transferred URL. Usually, this is done via the contact email address.

You can't transfer a domain if it has ID protection.
You must disable your domain's Whois protection before you request the transfer. If the new registrar provides such a service, you can turn it on after the transfer.
The transfer is initiated by the gaining registrar, so if you're moving the domain away from ScalaHosting, you'll need to request the transfer via your future provider.
Before you do, however, there are a couple of tasks you need to complete:
Disable the registrar lock

Obtain the EPP (or authorization) code
To prepare your domain for the transfer, log in to your Client Area and go to the Domains section. Then, click on the domain you want to transfer away from ScalaHosting. Both the registrar lock and the EPP code are available in the Manage menu on the left.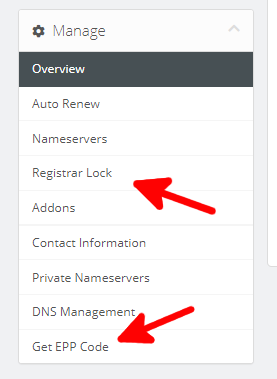 Feel free to contact our technical support experts if you have any further questions.
How To Point a Domain Name To a Web Hosting Provider