If you've just transferred your existing website to ScalaHosting, you can continue to use your old registrar and simply point your domain to the nameservers available in your Welcome Email. However, by transferring the domain to us, you will manage all the services related to your online project from a single Client Area.
It's a multi-step process, and there are a couple of prerequisites you need to bear in mind to ensure the transfer will be a success. Here they are:
Check whether the domain is supported
First, you need to make sure the domain can be transferred to us. The TLDs we support are:
.com
.net
.org
.info
.eu
.biz
.de
.in
.com.au
.mn
.asia
.ca
.org.uk
.co.uk
.us
.co.in
.club
If your domain has a different TLD, you can still point it to our servers and host your website with us, but you won't be able to manage it from your ScalaHosting Client Area.
Check the domain's renewal and expiration dates
Transferring a domain that has recently been renewed or is close to its expiration date is not a good idea. The renewal period of a recently renewed domain may be lost, and if it expires during the transfer, you may lose control over it.
Make sure the domain is correctly pointed
The transfer may take up to a couple of weeks, and during this period, you won't be able to change the domain's nameservers. To avoid downtime, check the DNS settings and make sure they're pointed correctly.
Disable the domain's privacy protection
Privacy protection is an additional service that masks the domain's contact information in WHOIS databases. Disabling it before you initiate the transfer is essential, as it will allow us to contact you with important information regarding the service.
Update the domain's contact information
Check the domain's contact information and make sure it's up-to-date. We will use the contact email address to verify your identity and send important notifications regarding your domain, so it's crucial to ensure you have access to it.
It's best if you use public providers like Gmail and Yahoo for your domain's contact email. Otherwise, service interruption may affect your ability to receive alerts about your hosting services.
Unlock the domain and get its authorization code
Before you can initiate the transfer from our end, you need to disable the domain's registrar-lock and obtain its EPP (or authorization) code. Ask your old registrar for more information on the exact steps you need to take.
Transferring your domain to ScalaHosting
After you've prepared the domain for the transfer, it's time to initiate the process through your ScalaHosting Client Area. First, go to My Domains > Transfer Domains to Us. Then, select the Transfer your domain from another registrar radio button and enter your domain name in the field below.
Follow the instructions you see on the screen and make sure you regularly check your domain's contact email address over the next few weeks. Quick responses to notifications coming from us or the losing registrar can speed up the transfer process.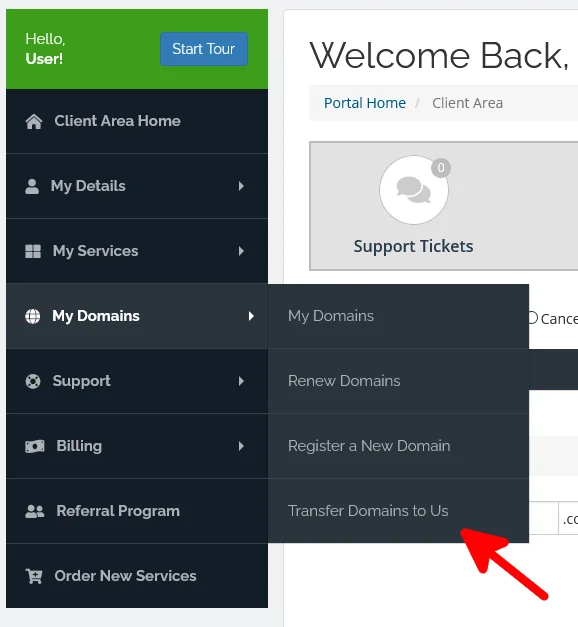 Generic TLD domains like .com, .biz, etc. are automatically renewed for another year after they're transferred from one registrar to another. Feel free to contact our technical support experts if you have any further questions.
How To Point a Domain Name To a Web Hosting Provider