When Joomla causes problems, it's often due to a software bug or coding error. Ideally, you will get an error report, deal with the issue, and carry on. But what if your Joomla site stops working and leaves you in complete darkness about what's happening?
Error messages may not be popping up because the default settings aren't sensitive enough to trigger a response. That's why we need to turn up the error reporting knob, so to speak! After setting it to maximum, it's much easier to detect errors and respond to them immediately.
Every step you need to take is right here in this guide–how to access the Joomla configuration file from the admin panel and how to enable Joomla PHP error reporting.
Error Reporting in Joomla: What are your options?
You can switch between Joomla's five levels of error reporting at any time:
None—This option disables PHP error reporting. If you get tired of guessing what the problem could be, you can always turn it back on.
Simple—This level overrides the server default settings and provides the bare minimum for error reporting.
System Default—A preset level of the Joomla install. It's what most people continue to use if they never run into problems. These settings are found in the php.ini file.
Maximum—This is a diagnostic error reporting level for when you need to troubleshoot and solve all possible issues.
Development—You can set your error reporting to this level and receive the same complete reporting that Maximum provides. The Development option used to include errors added in future upgrades, but since PHP 5.4 – Maximum includes that as well.
Option 1: The Joomla Admin Panel
Of the two methods for enabling PHP error reporting, using Joomla's administrator panel is the least technical. To achieve this, log in to the Joomla dashboard and go to System > Global Configuration.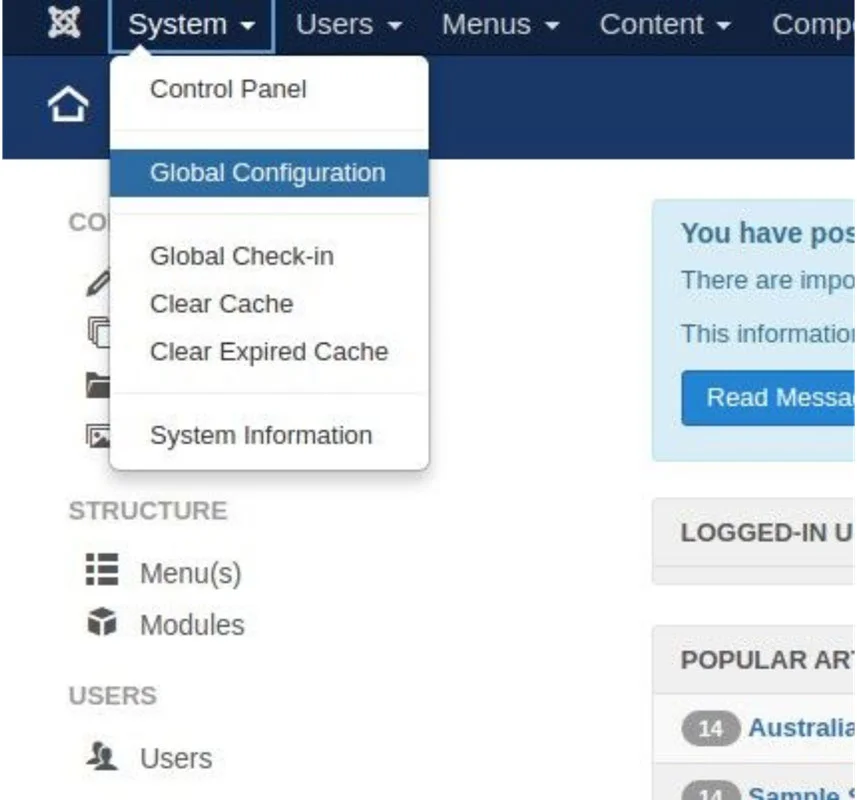 After you click on Global Configuration, the administration page will appear. It looks a little something like this: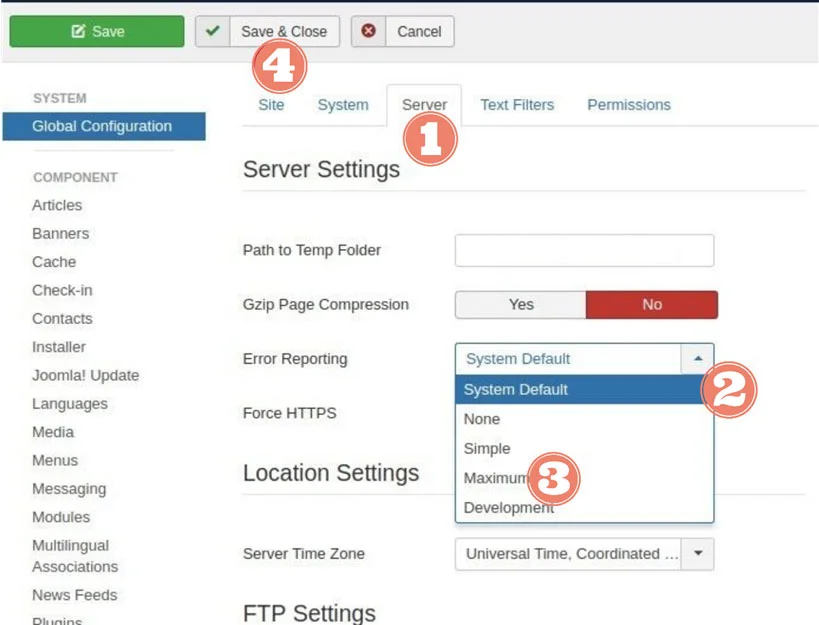 Click on the Server tab.
Find the Error Reporting drop-down menu where it says System Default.
Select the Maximum or Development error reporting option.
Click on Save & Close.
And that's it! You can always follow the same steps to change the reporting level again.
Option 2: Joomla's configuration.php file
The previous option takes advantage of Joomla's tidy graphical user interface but using the PHP config file will take straight to the code. While this may sound like a more challenging route, it's actually a shortcut.
All we have to do here is find the error reporting line in the config file and change the word 'default' to 'maximum' or 'development.'
NOTE: If you've already set your error reporting level to Maximum or Development using Option 1, change it back to System Default from your Joomla admin page before you try Option 2.
1. In the folder that has your Joomla installation files, find and open the configuration.php file. It looks slightly different depending on whether you're using your local computer or a remote virtual server.
2. In the PHP config file, locate the line stating:
public $error reporting = 'default';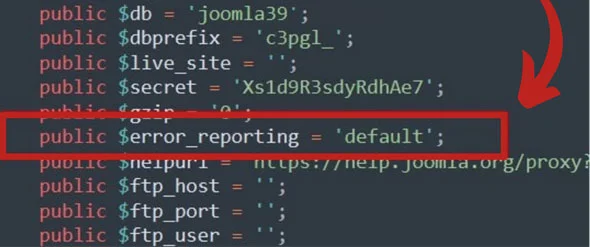 3. Change the 'default' value to 'maximum' or 'development' and save.

That's all you need to do! Naturally, we should always check to see if it works afterwards.
Return to your Joomla administrator panel via System > Global Configuration > Server > Error Reporting. If you see the error reporting level now stating Maximum–well done, all changes have been applied correctly.

Suppose, after all this, you still have problems with your Joomla website. If that's case, it may be time to upgrade your server. For the best Joomla experience, ScalaHosting recommends the ease and power of a managed VPS plan.
A virtual server combines the full customization control of your local system with the speed, storage capacity, and security of the cloud. In other words, you can easily optimize your entire hosting performance without losing anything.
Contact the team at ScalaHosting for more information about PHP error reporting and upgrading your Joomla site to make it safer, faster, and easier to use.
FAQs
Q: What is Joomla used for?
A: Joomla is a content management system (CMS). Similar to WordPress, you can use the platform to publish content on the web. It's a free and open-source software program you can install directly to your local system or set up on a remote hosting server.
Q: Is Joomla as good as WordPress and Drupal?
A: Although Joomla, WordPress, and Drupal are all popular content management systems, they have their differences. Drupal is more suitable for developers looking for customization freedom. Both WordPress and Joomla are accessible to anyone with little to no technical experience, but Joomla is compatible with more programming languages.
Q: What is PHP?
A: PHP (Hypertext Preprocessor) is a popular scripting language for managing dynamic content, databases, session tracking, and building websites. PHP is a server-side scripting language, whereas something like JavaScript is a client-side scripting language. It integrates with several popular databases like MySQL, PostgreSQL, Oracle, Sybase, Informix, and Microsoft SQL Server.