Secure Shell (SSH) is a protocol that allows users to access a server through a network connection safely. Strong encryption and integrity help safeguard data (such as usernames and passwords) transmitted during the connection.
Connecting With SSH on Shared Hosting
Customers on shared hosting plans get SSH access by default. They can use their hosting account's login credentials to set up a secure shell either through a dedicated client or via their operating system's built-in command-line interpreter.

Connecting With SSH on VPS Plans
With a managed VPS, you decide who's going to have SSH access to the server. Here's what you need to do: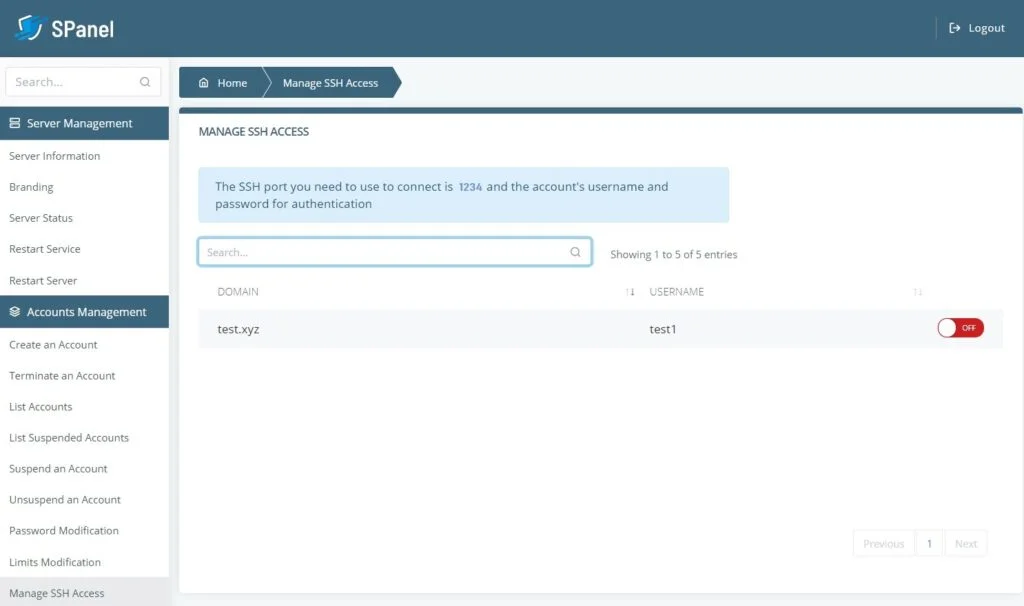 Step 1.

Log in to your SPanel Admin Interface and select "Manage SSH Access" from the navigation bar.

Step 2.

Use the toggle switches next to individual accounts to enable and disable SSH access.

Step 3.

You are now ready to log in to your server using SSH. Dedicated clients like PuTTY give you more options, but you can also use built-in interpreters like the Terminal on Unix-based systems or Windows' PowerShell

.
NOTE: Make note of the port you'll use to establish an SSH connection. The default SSH port is port 22, but many hosting providers change it for security reasons. For example, the SSH port for ScalaHosting's managed VPS plans is port 6543.