Secure Shell (SSH) is a protocol that allows users to access a server through a network connection safely. Strong encryption and integrity help safeguard data (such as usernames and passwords) transmitted during the connection.
Connecting With SSH on Shared Hosting
Customers on shared hosting plans can get SSH access by submitting a request to the ScalaHosting technical support team. Once they have enabled it:
Step 1.

Log in to your web hosting control panel and

create an FTP account

.

Step 2.

With an SSH client such as

PuTTY

, connect to your server with the FTP account created. 
Connecting With SSH on VPS Plans
Accessing your server via SSH will require managing SSH access control and using a client application to create the connection.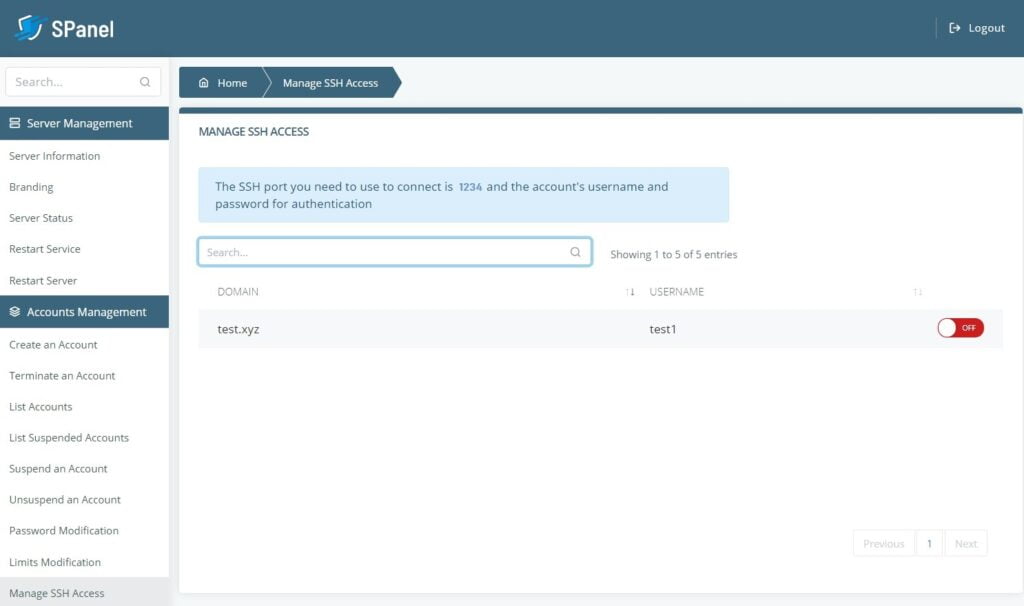 Step 1.

Log in to your SPanel server dashboard and select "Manage SSH Access" from the left navigation bar.

Step 2.

SSH access comes disabled by default. On the right of the domain name for which you want to

enable SSH

, click the toggle button to switch it to "ON." 

Step 3.

Log in to your SPanel hosting dashboard and click on "FTP accounts." Fill in the requested information, then click "Create Account." 

Step 4.

You are now ready to log in to your server using SSH. It is recommended you make use of an SSH client for this.

PuTTY

is a good option as it is available for both Windows and Linux systems.
Install your SSH client of choice and create a profile using the server information and FTP account you've just created. You can then use it to connect using SSH.
Important Note: SSH port, by default, is Port 22. For security purposes, it is recommended you change the SSH Port to an alternate port number.