2023 VPS Hosting Statistics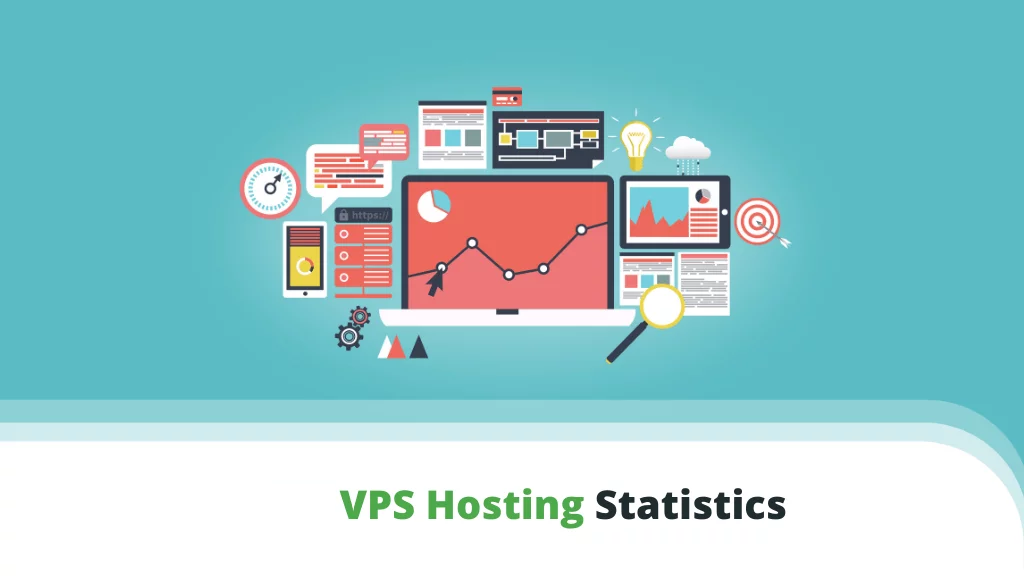 Wrapping your head around the sheer vastness of cyberspace may be a bit of a challenge. The technology is evolving so fast that we sometimes forget to stop and realize how much we've come for such a short time.
Here are some great statistics to help you understand the web hosting industry better:
There are more than 1.97 billion websites online.
The indexed web contained around 5 billion web pages back in September 2021.
2021 ended with 364 million domain name registrations across all top-level domains.
There are close to 5.03 billion internet users in the world. This is more than 63.1% of the global population.
100% of the 18- to 29-year-olds in the US are active internet users.
In light of these figures, it shouldn't really be a surprise the global web hosting business is worth over $75 billion, according to Fortune Business Insights. Although VPS hosting is one of the industry's relatively new segments, it's already grown quite a lot.
Let's look at some figures and see what's fueling its progress.
Table of Contents:
---
Industry Statistics
The hosting industry as a whole is enjoying a successful period. The COVID-19 crisis forced people and businesses to start paying more attention to online sales and communication channels, which led to increased demand for hosting services.
Being one of the most popular segments, VPS hosting is also moving in the right direction.
10.3% of the entire web hosting market consists of VPS platforms. (source: WebsiteSetup)
Accounting for only a tenth of the total industry revenue might not sound like much of an achievement, but you shouldn't forget that VPS hosting is a relatively new service. Shared hosting continues to be popular, mainly because of its affordability. However, the better performance and security offered at relatively low prices have already moved quite a few site admins to virtual private servers.
The VPS market size is projected to reach $8.3 billion by 2026. That's a CAGR of 16.2%.
(source: Allied Market Research)
The demand for web hosting is unlikely to dwindle any time soon. According to Grand View Research, the market is expected to expand at a Compound Annual Growth Rate (CAGR) of 15.5%, and VPS hosting is shaping up to be one of the leading industry segments.
Managed VPS plans have an even more impressive CAGR of 16.5%.
(source: Allied Market Research)
It's clear that users are starting to appreciate the performance, security, and scalability that VPS hosting offers. Still, it looks like ease-of-use is equally important. Managed VPS services are much more popular than self-managed ones, and the higher CAGR assigned to them suggests this trend will continue in the foreseeable future.
More than 51% of all hosting providers are based in the US.
(source: HostAdvice)
Asia is the continent with the most internet users, but North America and the US continue to be the largest consumer markets in the world. In light of this, it should be no surprise that most physical and virtual web hosting servers are situated in American data centers.
About 60% of all VPS servers run Linux.
(source: Global Market Insights)
Linux is completely free and open-source, meaning hosting providers can offer much more affordable VPS packages than they would if they used Windows only. In addition to this, Linux has proven itself a solid website hosting platform and supports many of the industry's vital technologies out of the box.
KVM is the most popular virtualization technology.
(source: HostAdvice)
Linux is the dominant operating system for VPS platforms and the web hosting industry as a whole. The most widely used technology for virtual server creation and management is embedded in the Linux kernel. It effectively turns the operating system into a hypervisor and allows for full hardware-based virtualization, greater flexibility, and additional security.
The rise in the number of ecommerce websites is likely to fuel VPS future growth.
(source: Global Market Insights)
The ecommerce industry is booming at the moment, and it's unlikely to run out of momentum any time soon. A VPS solution is an excellent choice for every owner of an up-and-coming online store because it provides excellent security and performance at a fraction of a dedicated server's price.
Company Statistics
The VPS market is a crowded place that has its own dynamics. Different providers have different strategies, and the supply-and-demand shifts make for some interesting stats.
More than 2,500 companies offer VPS hosting.
VPS's growth is in no small part due to the increasing number of providers that offer this sort of service. The competitive landscape pushes hosting companies to provide a high-quality service at the most affordable price possible, which is good news for website owners.
Small and medium-sized providers are expected to register higher CAGR in the coming years.
(source: Market Research Future)
Smaller providers are more likely to focus on managed servers, with user-friendly control panels and point-and-click management tools. Since the demand for managed VPS services is expected to rise, smaller companies stand to register more significant progress.
Local providers dominate the market in their countries.
(source: BuiltWith)
Global brands hold much of the business to themselves when it comes to the overall picture, but if you start to look at the stats on a country-by-country basis, you'll see that local providers tend to have a strong presence in their regional markets. Technical support in the clients' native language and servers situated close to the end user certainly help.
Close to 39% of all websites are hosted in the US.
(source: W3Techs)
North America is home to many of the world's biggest data centers. Couple this with the enormous consumer market, and you'll see why a vast number of people have decided to host their websites in the USA.
VPS adoption in the Asia Pacific region is booming
(source: Global Market Insights)
Although most hosting providers primarily target the US market, experts predict that users from countries in the Asia Pacific region will generate the largest volume of VPS-related revenue very soon. This part of the world is densely populated, and as the ecommerce industry gets more and more popular, this will increase the demand for reliable, high-security hosting.
Speed and Performance Statistics
VPS hosting improves your site's user experience and gives it a better SEO ranking thanks to the faster loading speeds and the constant availability. However, many people want to know just how much quicker their websites will be on a VPS.
VPS-hosted sites load between 15% and 35% faster than those hosted on shared plans.
(source: Elegant Themes)
The guaranteed hardware resources and completely isolated environment that VPS hosts offer can massively improve your page loading speeds. Quite a few people have been trying to estimate how big the performance gain is exactly, but since loading times depend on many different factors, every stat you read should come with a "your results may vary" label.
VPS hardware configurations range between 1 and 32 CPU cores and between 1GB to 128GB RAM.
(source: HostAdvice)
In addition to the improved loading speeds, VPS solutions also offer an enhanced flexibility and scalability. As a general rule, virtual servers are placed between shared packages and dedicated servers, but their hardware configuration can be endlessly scalable, especially if they are hosted on a cloud platform.
SSD-powered VPS servers have been benchmarked to load web pages in under 200ms.
(source: HostAdvice)
SSD devices have no moving parts and can, therefore, read and write data much more quickly than traditional HDDs. Sites hosted on all-SSD VPS plans exhibit much quicker loading speeds and stand a better chance of a high search engine ranking.
Security Statistics
Security is one of VPS hosting's main selling points, and there's no shortage of site owners who upgrade their accounts because they feel that the shared hosting won't give them the protection they're after. Here are some of their concerns.
90% of IT professionals are concerned about their data security
Few people know more about online security than the professionals who work in the field. They are fully aware of how much of a challenge keeping a website safe is, and know fully well how serious the threats are. This is part of the reason why the demand for virtual private servers has been growing lately.
Ransom DDoS attacks rose 175% in the final quarter of 2021.
(source: Cloudflare)
DDoS attacks are popular with hackers because they're relatively cheap and easy to launch, causing significant damage. A DDoS attack targeting a single website on a shared server can disrupt the performance of the rest of the projects hosted on the same machine. That's why more and more people prefer to have a more isolated environment and a dedicated IP.
More than 16.5 million websites were hacked during the first quarter of 2022.
(source: Internet Live Stats)
Websites get hacked for all sorts of reasons, and sometimes, the attacks have nothing to do with the type of hosting. That said, a virtual private server provides a more secure setup out of the box, and self-managed solutions let you configure the server security to your exact specifications.
Pricing Statistics
The prices of hosting services as a whole vary wildly, and VPS plans are no exception to the rule. Nevertheless, for the most part, they offer a cost-effective alternative that sits between the affordable shared plans and the costly dedicated servers.
The average price of a mid-range VPS sits at just under $27 per month, about $10 higher than entry-level plans.
(source: WebHostingSecretRevealed)
VPS hosting gives you all the benefits of having an entire server to yourself at a fraction of the cost of a dedicated machine. Self-managed VPS solutions are cheaper still, and if you do your research, you'll see that many providers are trying to bring prices even further down.
Business organizations make up the vast majority of hosting clients.
(source: Grand View Research)
Enterprise clients generate about 90% of the web hosting industry revenue. Businesses need web hosting services because they want to expand their online presence. VPS solutions are especially suitable for them, as they provide the virtual server owner with more hardware resources and control.
Conclusion
Although certain aspects of the hosting industry make it difficult to quantify the rise in popularity of VPS hosting services, it should be pretty obvious what the trends are. People haven't stopped building websites, and they're unlikely to do so any time soon. However, more and more of them are starting to realize that a virtual server is a much more secure, powerful, and easily scalable solution that can come at a very reasonable price.
ScalaHosting 2022 VPS Hosting Statistics
Was this article helpful?