Shared Hosting or Managed VPS Hosting – Which is Best for Business Websites
Business websites may work in similar ways to non-commercial ones but often face more significant threats. In the first half of 2020 alone, data breaches exposed over 36 billion records. Yet this is just the tip of a colossal iceberg. Even as the cost of combating cyber threats increase, one factor often overlooked is web hosting.
The choice of web hosting and even hosting provider can play a significant role in safeguarding business websites. Let's have a closer look to understand why…
What is a Business Website?
The term "business website" is quite generic and simply refers to the official website representing a business interest. While such websites may differ in features and services, the key directive is to represent your brand online.
Business websites don't necessarily have to sell something online. They can, for example, simply offer the general public more information about a business. What these websites do depends on the role assigned to them by the company.
You can build a business site to achieve:
Branding
Lead generation
Commerce sales
To break this down in greater detail, let's explore some types of business websites.
Types of Business Websites
Ecommerce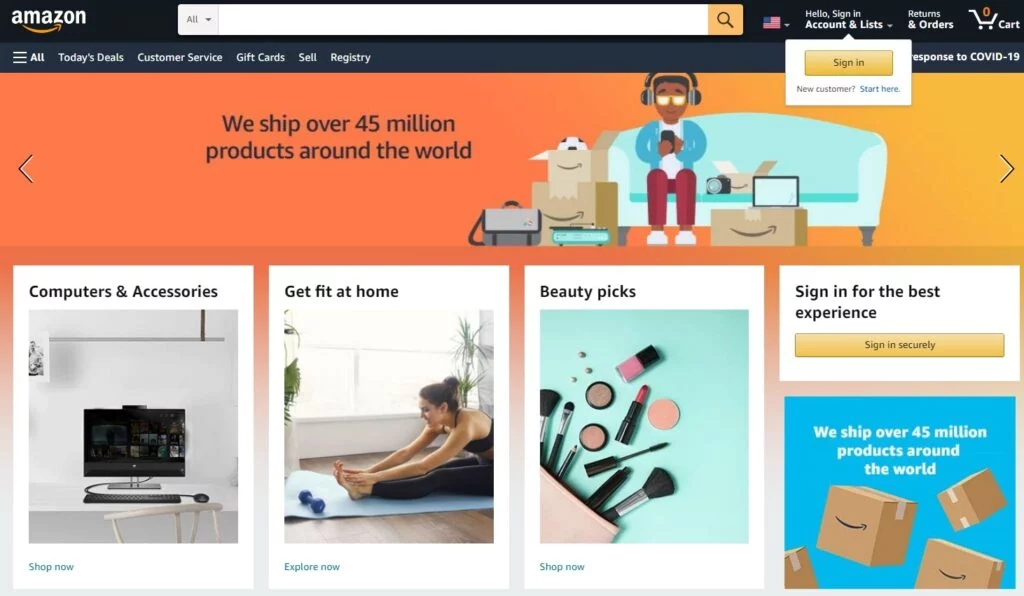 Direct revenue generation is one of the most significant driving factors behind the creation of new business websites. The retail eCommerce market in 2020 was valued at an estimated $4.2 billion. By 2023 this figure is expected to exceed $6.5 billion.
These websites are purpose-built to drive sales in the digital space. Still, to achieve this result, you will need more than just collections of products. Because of this, ecommerce websites often integrate a wide variety of features.
Online Catalogs / Directories
Some businesses may not implement a mechanism for potential buyers to purchase via their website. However, they may instead offer extensive product information to lead customers towards an offline purchase.
These sites are known as online catalogs. Quite so often, such directories implement highly structured information to provide quick product information. They will also include notable brand elements and provide the means of easy engagement with the sales staff.
Digital Showrooms
Many big brands and manufacturers create digital showrooms to highlight "hero" products in the best way possible. These showrooms can have multiple objectives, such as building hype or driving more user engagement.
The digital showroom contains a more limited number of products to inspire maximum impact. For example, a brand may create a microsite around a single product as part of an overall marketing campaign.
Educational Websites
Although education is widespread, few think of educational websites as related to a business entity. In fact, private businesses run many scholar sites as part of their overall strategy.
Some may offer static information, while others create immersive experiences to attract potential students.
Portfolio Websites
Whether or not a portfolio website can be classified as a business one depends on the site objective. After all, the primary driver behind creating a site like this is mainly personal branding and showcasing the creator's skills.
Portfolio websites are most often purely informational. They serve as a means of marketing and keep their content shorter and to the point.
How to Choose Web Hosting for Business Websites
Earlier, we mentioned that web hosting plays a vital role for businesses to get online. Choosing the best hosting provider for your business page is important not just for optimal speed performance but also for long-term manageability.
Although different types of business websites have specific needs, some core elements can help guide your decision-making.
Web Hosting Speed
How quickly your web pages load can impact not just the visitor experience but also your search rankings. While a big part of the performance relies on you building the site correctly, another part depends on the quality of hosting service. The underlying server hardware and configuration are essential to ensure the right environment for your business website.
Reliability
Online users can land on your page at any time. Because of this, websites need to be in top form and accessible 24/7. A business site that goes down even for a couple of minutes can result in consequences far beyond the loss of just a few visitors. Working with a reputable host and choosing the right hosting plan can make a big difference when it comes to website reliability.
Customer Support
Web hosting is a remote service where you will likely never come into face-to-face contact with the service provider. Because of this, you must choose a web host which offers a solid support system. Take into close consideration the support channels available and the working hours of the different departments.
Features
As web hosting is quite competitive, some service providers build special plans to maximize site performance in various use cases. ScalaHosting, for example, offers purpose-built WordPress hosting plans. Always remember to match the features provided by your web host to the requirements of the chosen type of business website.
Security
All web hosting plans come with some standard security features, but most of these are meant as basic means for protection. Keep an eye out for hosting providers that go beyond the essential measures and introduce more customer-centric security solutions to safeguard your website.
Price
While it is understandable to look for affordable pricing, remember that business sites have a more urgent need for advanced performance and security. Resist the urge to get the lowest price and instead look for the most cost-effective solution.
Shared Hosting for Business Websites
One of the most commonly available types of web hosting is shared hosting. These plans typically come at a low cost and are very easy to manage.
However, while shared hosting may be suitable for many websites, it is seldom recommended for use in a business context.
Shared hosting users are often highly clustered. Each account gets access to a shared pool of resources like CPU, memory, and storage space. The more websites draining server resources at one time – the less there is left for your online project.
The use of shared hosting can also result in serious security vulnerabilities as well. If another website on the same server gets hacked or affected by malware – your site may end up affected too.
Because of the low cost and high customer volume for shared hosting, you may also face the problem of slow access to customer support.
To address these issues and more, check out another web hosting plan category instead – Managed VPS.
Managed VPS Hosting for Business Websites
Virtual Private Server, or VPS, offers account holders access to a virtualized server environment. While this environment is software-created – you will be looking at a completely isolated and full-featured server for all purposes.
Each VPS plan will get a set amount of system resources allocated to that account alone. This means much more reliable access, allowing you to better observe the exact amount of resources your business site needs to run optimally.
The isolated environment of the VPS leads to better security as well. Even if there are multiple VPS accounts on a physical server – none of them will be able to affect your site operations.
Perhaps the most significant advantage of VPS platforms, however, is flexibility and scalability. VPS plans are essentially blank, allowing you to create the perfect environment for your business website. As your project scales up, you can increase your system resource allocation at any time, paying only for what you currently need.
It's important to note, though, that VPS falls into two key categories – Unmanaged and Managed VPS. The latter often costs more due to the web hosting taking on responsibility for your server's technical management.
ScalaHosting and Business Websites
ScalaHosting is a full-service web hosting provider with a solid reputation in the industry. Aside from that, we offer users seeking to build business websites a crucial advantage – potent yet cost-efficient Managed VPS plans.
ScalaHosting has long tried to make virtual servers more accessible to the broader market. The result is incredible prices for managed VPS services.
At the same time, ScalaHosting offers other key advantages like the option to use SPanel to manage your hosting. This self-developed solution is free for ScalaHosting VPS customers and a great alternative if you're trying to move away from costly web hosting control panel licensing fees.
Conclusion
Managed VPS doesn't need to come at sky-high rates. By choosing the right hosting provider for your business site, you can pay affordable prices while getting much better performance and website security.
With so many reasons to opt for Managed VPS hosting for your business, why risk potentially crippling financial or reputational damage with sub-par hosting?
Frequently Asked Questions
What is the best web hosting for small businesses?
Managed VPS is ideal for business sites of almost any size. The improved security of such plans means safety for you and your customers – often just slightly more expensive than shared hosting. VPS plans are also scalable, which is great for small businesses that need more room for growth.
Where can I host my business website?
Ideally, choose a hosting location that closer to your target market. Server proximity to customers can affect the speed at which websites load. For example, if your primary customer base is in Los Angeles, try to find a hosting server on the West Coast of the U.S.
What is business web hosting?
Some hosting providers may create a "business web hosting" label with purely marketing purposes. Instead of the package name, focus on the type of plan, such as shared or VPS hosting. There are rarely any distinct advantages to opting for plans labeled "business web hosting."
Was this article helpful?