How to Save $74 with a ScalaHosting Managed VPS
Managed Virtual Private Server (VPS) hosting often costs а bit more than a standard shared account – that's a fact. Even with all the benefits it brings to the table, many projects work on a tight budget, so every saved penny is vital.
But what if a VPS solution can actually prove even more cost-efficient? To see how ScalaHosting Managed VPS can help you save more than $74 each month, read on…
Why VPS Hosting?
As websites grow in features, content, and visitor traffic, they need more and more system resources to run smoothly. If you're utilizing a shared hosting plan, ultimately, your growth is limited.
That's where VPS hosting comes into play.
VPS hosting is a type of service that lets you rent an entire virtual server for your needs alone. Thanks to this environment and its underlying technology, there are certain advantages VPS solutions bring to the table:
Reliable Performance – VPS hosting plans come with dedicated resources. Everything allocated to your account remains idle until your website needs them. The result is optimized site performance and fast page loading times.
Better Security – Virtualization technology gives each VPS account isolated space on a physical server. This segmentation significantly improves security since nothing happening with your server neighbors can affect you.
Scalability – The resources that come with VPS hosting are scalable, giving excellent room for growth. You can adjust the amount of resources to fit, paying only for what you need to run the website efficiently.
Customizability – Since most VPS hosting plans come as a blank slate, you get to build the entire server to your exact specifications. Everything is in your hands, from the operating system (OS) choice to the precise applications to run.
Managed VPS Hosting Benefits
The key distinguishing factor for Managed VPS is that experts from the hosting provider take on responsibility for your server's technical management.
Earlier, we mentioned that VPS accounts often come as blank slates. If you don't have server management knowledge – it's easy to get overwhelmed.
On a Managed VPS, however, you can simply let the host know what you need, and they'll set it up for you.
The result is that practically anyone can use Managed VPS hosting – even those with no previous server knowledge or experience. The solution opens up a pool of opportunities for a broader audience – small businesses and solo ecommerce site owners, for example.
There is a slight drawback to Managed VPS, though, and that lies in the price. Managed services often come at higher prices compared to Unmanaged VPS. But when you take into account all the time and money saved from handling and maintaining your own web server – aren't you actually paying less?
ScalaHosting Managed VPS Bundle
ScalaHosting has long tried to make powerful Managed VPS plans accessible to a broad market. Since cost is a significant factor, not only do we keep prices reasonable, but we do everything possible to help users save money.
With ScalaHosting, a mix of potent elements help users save more than $74 each month. To understand how this works, let's examine some of the free features included in each VPS package:
SPanel
Savings: $15 per month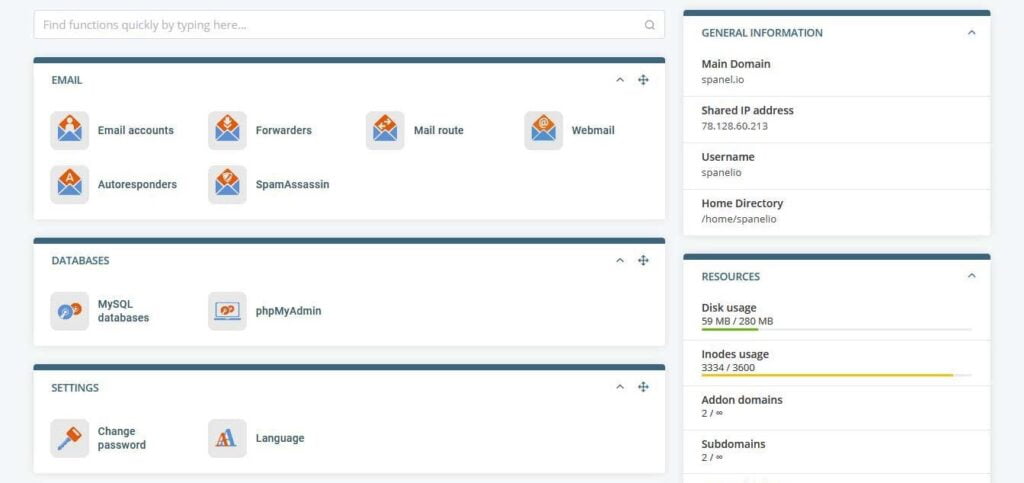 Control panels help users manage their hosting accounts more easily. They often come with an integrated dashboard with a graphic interface. Inside, you can manage your website files, databases, domain names, emails, and much more.
The problem is such control panels often involve licensing fees.
How much they add up to your monthly costs depends on the brand and even version of the chosen web hosting control panel. cPanel, one of the most popular Linux-based web hosting control panels, costs at least $15/mo for a single Solo account.
ScalaHosting, on the other hand, offers users our self-developed solution – SPanel. This feature-rich alternative is not only free but allows an easy migration path from other control panels.
SShield
Savings: $25 per month
With security being a major web hosting concern today, you'll need to find a well-protected server for your VPS plan. These solutions don't come cheaply, and prices vary significantly between various service providers.
Why pay extra when you can make use of SShield, a free cybersecurity utility embedded in SPanel?
SShield provides valuable real-time information, actively safeguarding your website. It boasts a high web attack block rate of over 99.998%.
OpenLiteSpeed Server
Savings: $26 per month
The web server is a vital component of most VPS accounts, and there are many options to choose between. Several top solutions often come to mind, but you need to be prepared for the extra costs.
ScalaHosting makes use of OpenLiteSpeed Server, an open-source version of LiteSpeed, possibly the fastest web server technology today. By doing this, you're essentially saving a considerable chunk of money while still getting lightning-fast performance for all VPS projects.
Daily Backups
Savings: $5 per month
Backups are the lifeblood where reliability is concerned for websites. As long as you have backups of your site, you can recover from almost any incident within moments.
The problem is that many VPS service providers consider this a chargeable extra.
With ScalaHosting Managed VPS, you get a free backup utility, thanks again to SPanel. The best part is the utility not only allows backups – it helps to restore them as well. That cuts out the need to wait for customer support to make the restoration for you (and possibly charge you for it).
SWordPress Manager
Savings: $3 per month
Having the convenience of managing WordPress from your web hosting control panel shouldn't be underestimated. This is especially true for those who need to administer multiple WordPress installations.
SWordPress Manager, another utility on SPanel, helps ease this process for free. With SWordPress, you get complete control over your WordPress sites, including extra features like cloning, staging, updates, and backups.
SWordPress Manager introduces security enhancements as well. One of these, Security Lock, prevents modifying any files or directories for your WordPress sites. This prevents hackers from exploiting vulnerabilities even if any are found.
24/7 Expert Support
Savings: Priceless!
Handling VPS can be a stressful job, especially since servers and websites operate around the clock. If anything happens, you may have trouble getting adequate levels of support.
ScalaHosting Managed VPS plans come with 24/7 expert support.
Our dedicated teams are highly trained, with a customer-first attitude. If you need assistance at any moment – these are the people you want to have on call.
ScalaHosting VPS Deals
VPS hosting plans at ScalaHosting are available in both Managed and Unmanaged forms.
Unmanaged VPS plans start at $10/mo and are ideal for those who prefer to handle their servers personally.
Prices will vary depending on the resource allocation desired, but every client gets to choose between servers located in North America (Dallas or New York) and Europe.
All Unmanaged VPS hosting packages also include:
Instant account provisioning
SSD storage
Access to 10Gbps redundant networks
Managed VPS plans on ScalaHosting come in a few flavors depending on your needs. These feature-rich packages include a host of benefits such as:
Free migration and domain name
SPanel web hosting control panel
SShield Security
Dedicated IP address
HTTP/3 support
You can also choose from a broad range of server locations, thanks to a partnership with Amazon AWS. More locations in North America and Europe are included, plus some in Asia as well.
The best part of ScalaHosting Managed VPS is that prices start from as little as $9.95 per month.
Conclusion
While $74 per month may not sound like a staggering amount, multiple that and imagine saving hundreds of dollars each year. Besides, you get access to better account handling, excellent performance, robust security, and many other top-of-the-line features.
Taking every essential factor into account, managed VPS at ScalaHosting is a deal that is simply hard to beat.
Frequently Asked Questions
Why is Managed VPS so expensive?
Software licensing and technical expertise are the main contributing factors to high managed VPS prices. However, this isn't always the case. The more extra help and third-party products you utilize – the more budget you have to allocate for your hosting needs.
Still, some providers manage to cover most expenses and offer VPS hosting for prices very close to shared hosting.
What is the difference between Managed and Unmanaged VPS?
The two types of VPS services offer similar characteristics and benefits. However, with Managed VPS, the web host is responsible for the maintenance and technical support of the virtual server. This helps reduce much of the burden on Managed VPS hosting users when it comes to server management.
Is a VPS challenging to operate?
Unmanaged VPS plans will require you to know how to handle servers and networking – it's just how they operate. They typically come as a blank slate, and building the needed environment to operate a website or web application is entirely the client's responsibility.
Still, if you know a thing or two about server management, there is little you can't do with the help of a VPS.
Was this article helpful?