How to Migrate Your Email to a New Hosting Provider
Are you planning to switch hosting providers but worried about moving your important business communications?
Email migration can be daunting, but it doesn't have to be. This post will guide you through seamlessly migrating all your data to a new host. We will also discuss best practices and tips for managing the risks associated with such transfers and avoiding any downtime during the process.
But let's start from the beginning.
Why and When to Migrate Your Email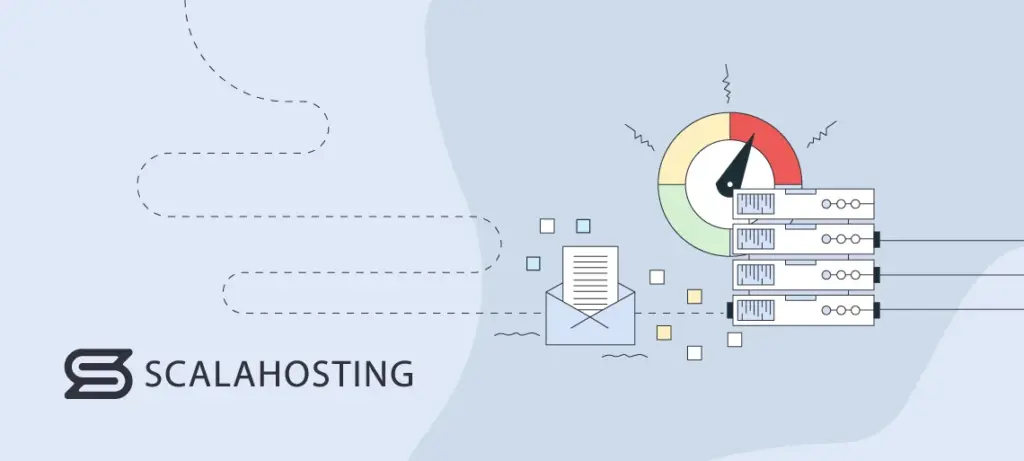 You might consider migrating to a new hosting provider for several reasons. You may be dissatisfied with your current provider's service quality, pricing, or features.
Alternatively, you may have outgrown your current plan and require more storage space or advanced email management features that your current host isn't prepared to give you.
It's also important to consider the timing of your migration. Ideally, you should perform transfers during periods of low activity for your business to minimize disruption.
Before You Start
Before starting your email migration, we suggest making a checklist of everything you need to do. There are nuances to the various mail client migration methods, but here are some items you should definitely consider for your checklist:
Back up all your emails: It's crucial to back up all messages from your inbox and other folders from your current hosting provider before migrating to the new one. Include your junk inbox, unread messages, spam, and custom folders to ensure you get everything.
Select a new hosting provider: Research and choose one that meets your requirements regarding performance, security, ease of use, features, pricing, and even reputation. Ensure they are compatible with IMAP servers.
Configure MX records: Pointing your email's MX records (mail exchange records) to the new server is necessary for ensuring that mail is delivered to the correct email server.
Test migration: It's crucial to test the migration process before going live to ensure the transfer is successful and no data is lost.
Notify employees or clients: As mentioned earlier, it's vital to communicate the migration process and timeline with your employees or clients to make sure everything is clear.
Step-by-Step Guide to Migrating Email to a New Host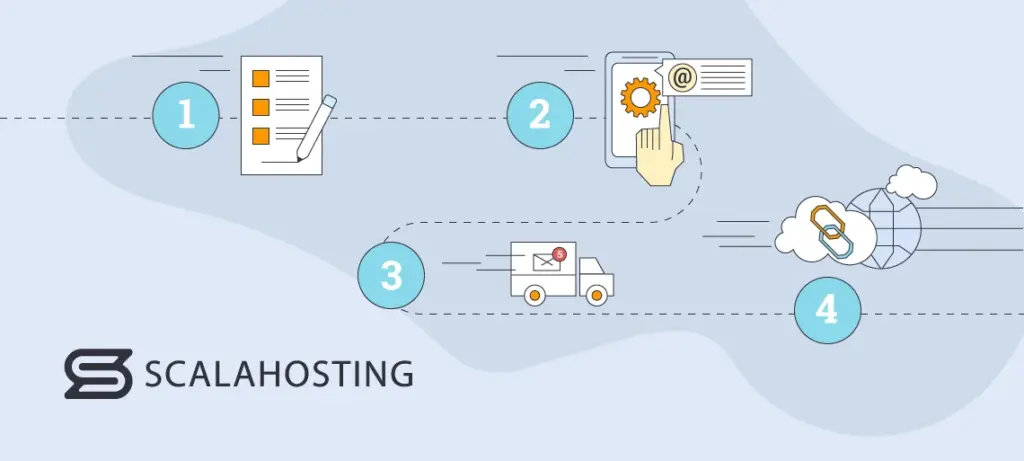 Migrating your email is actually not such a big deal, especially if you follow a simple, logical procedure. Here is a step-by-step guide to help you along the way:
1. Sign up with the new provider and create an email account
Creating a new email account with the selected provider is the first thing you want to do when moving. Choose a unique password for your newly created email address, avoiding weak or duplicate passwords. Combining uppercase/lowercase letters, numbers, and special symbols is your best approach.
For any particular inboxes you wish to keep from the old provider, simply recreate them on the new email server. This may seem simple, but it is essential, as you need a secure account to proceed smoothly with the remaining steps of the migration process.
2. Set up the new email account on your devices with the new mail server.
When you've created a new email account with your new hosting provider, setting up the new email account on your devices is next. You need to obtain the correct server settings from your new hosting provider and update them on every device you use to access your email (including your mobile device).
3. Move old emails to the new email client.
Several options are available for moving old email data to a new client. Most major email services (Microsoft Outlook, Gmail, Mozilla Thunderbird, and Apple Mail) have built-in tools for exporting and importing mailbox data, which can be a convenient and straightforward way of transferring your messages and attachments from one place to another.
However, you can also use third parties or services to automate the migration process if you prefer a more hands-off approach. It's worth noting that if you're moving a lot of emails, it's best not to transfer everything in bulk at once. This could cause your email client to crash or slow down significantly, potentially causing data loss or other issues.
Instead, take things one step at a time and download smaller batches as you go along.
4. Repoint your DNS
Repointing your DNS (Domain Name System) is the final step and crucial when migrating to a new hosting provider. It involves updating all the records to point to your new server, including MX, SMTP, and CNAME records.
Contact your new host for the correct nameservers if you need to know your DNS information. You can then change those at your domain registrar.
To avoid any issues, ensure you know your DNS host before starting the process and double-check all changes made to the records.
Important: When making any kind of DNS modifications, allow up to 24 hours for the changes to propagate globally.
How to Minimize Downtime During an Email Migration
Email migration can be time-consuming and cause downtime, which you definitely want to avoid. Good thing there are some steps you can take to minimize this downtime and keep your communication flowing smoothly.
One practical approach is to plan the migration during off-peak hours, when your traffic is at its lowest. This will reduce the impact of the migration on your day-to-day operations while also ensuring a faster transfer of data.
Back up all your emails and data before making any changes. This ensures you have a copy of your important information if something goes wrong during the migration process.
Another critical tip is to choose a reliable hosting provider with extensive experience in email migrations. Look for companies that offer support and guidance (even a free professional transfer) so you can avoid common pitfalls.
Inform all stakeholders about the migration beforehand, including clients, colleagues, and partners. This allows them to make alternative arrangements and reduces the likelihood of miscommunication, interrupted workflow, or lost emails during the transition.
Additionally, thoroughly testing your new account before fully committing to the migration is essential. This includes testing all the features and ensuring all emails have been transferred successfully. Doing so lets you catch any potential issues before they become major problems and avoid extended downtime.
By following these tips, you can ensure a seamless migration process that minimizes downtime and maximizes efficiency.
ScalaHosting for Zero Downtime Email Migration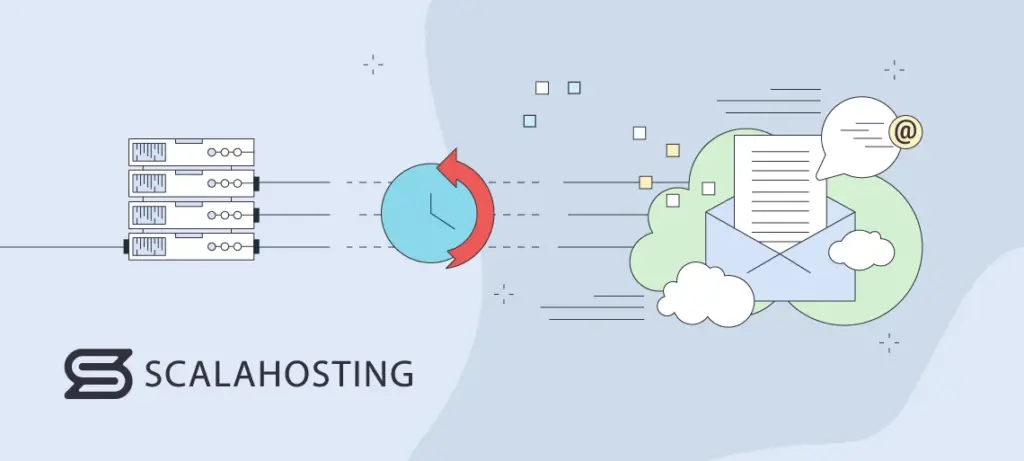 When it comes to email migration, you want to ensure the whole process goes smoothly and without hiccups. This is exactly what ScalaHosting is prepared to do for you.
The email transfer is done upon your request and at a time that is most convenient for you. Our technicians only need the login details for your old server, so they can log in and copy all the needed information from there. Once migrated to your ScalaHosting server, we will double-check if everything is working correctly and if we have copied your entire information.
And the best thing?
This service is absolutely free of charge.
In Summary
Migrating your email messages to a new hosting provider doesn't have to be complicated or time-consuming.
Remember to follow our checklist to ensure everything is in order before starting the migration process. Follow the step-by-step guide for moving your emails from old accounts to new ones. You should also consider minimizing downtime, which may affect your business operations.
Don't let email migration stress you out—just ask the ScalaHosting experts, and they will do the move for you.
FAQs
Q: How long will it take me to migrate all my mailboxes and accounts?
A: The time it takes to migrate mailboxes and email accounts depends on various factors, such as the number of accounts, size of mailboxes, type of email server, and the complexity of the transfer. Additionally, unexpected issues may arise during the migration that can impact the timeline.
Q: Will I lose my emails if I change hosting?
A: You shouldn't lose any emails if you take the proper steps to transfer them. Before switching hosting providers, back up your email data, including email messages, contacts, and settings. You can do this using an email client such as Microsoft Outlook or Mozilla Thunderbird to download all your emails.
Q: Can I use MX records or A record changes to migrate my email?
A: MX records direct incoming email traffic to the appropriate mail server, while A records map a domain name to its corresponding IP address. If you want to transfer your emails, you will need to update your MX records to point to the new mail server once the migration is complete. However, if you change the location of your email service within the same provider, MX record changes may not be necessary.
Was this article helpful?