The Importance of Password Management Tools
In the early days of the Internet, we used to have a couple of passwords for important online properties (email, website, etc.). But as technologies evolved, we are now creating hundreds of passwords, some of which we rarely use more than once or twice.
Creating and managing secure passwords for different services can be impractical in the long run…at least without the assistance of a password management tool.
If you've been keeping your passwords written on the side of your desk or saving them in a text file on your device – you should stop immediately.
Password management tools are there for the rescue…
Cybersecurity in 2021
Unless you've been living in a bubble, chances are you have at least caught a glimpse of news regarding a couple of significant data breaches lately. From Facebook to the Marriot – organizations large and small have experienced data loss of varying volumes.
To give you a better idea of the scope of the problem, here are some of the more notable recent incidents:
April 2021: Data from over 500 million Facebook users was released, available for download. The number represents around 20% of the social media giant's subscriber base.
November 2020: Indian grocery delivery platform BigBasket lost information on over 20 million users. The data was allegedly sold on the dark web for approximately $730,000.
January 2019 – Users discovered more than 773 million email addresses and passwords shared for free on a hacking forum. The information totaled a whopping 87GB in size.
Surprisingly, as years pass and technologies improve, more and more data is lost each day.
The industries are trying to duly respond. From anti-virus at the lower end of the scale to enterprise cybersecurity solutions at the upper – the world is facing massive growth in the cost of cybersecurity.
Over the past 16 years, the cybersecurity market has increased in volume by over 35 times. By 2025, the cost of defense against cybersecurity threats will reach an estimated $10.5 trillion.
These numbers are just the tip of an enormous iceberg, and undoubtedly, many will be asking, "who's at fault?" The answer is simple – everyone. Although companies should take care of the data we place in their hands, many of us are equally at fault for being so lenient with our data security.
The Importance of a Strong Password
Passwords are the guardians of our information. They represent information that should be unique to every user – much like the key to your front door. If you lose your door key – anyone who finds it can simply walk through your door at any time. The results can be devastating.
Similar to that idea, your password safeguards any online account you create on different platforms. It can protect your financial (in the case of an online bank account) or private information (for example, Facebook).
If your bank account password gets stolen, the one holding it can easily clean you out financially. Losing your email password can lead to identity theft and compromise many other accounts you've created online.
What Are Password Management Tools?
Password Management tools are applications or services that help us create, securely store, and quickly autofill passwords when necessary. Of course, not all of the available solutions will necessarily offer the same features.
For instance, the Chrome web browser has a password utility that can store and fill in passwords as a basic quality-of-life feature.
On a more advanced level, some password management tools create complex passwords on demand. The utilities then associate the passkeys with particular accounts and store them securely in encrypted form.
Essentially, the purpose of a password manager is to help us control our passwords and keep secure credentials everywhere we sign up.
The Benefits of Password Management Tools
When told to create a secure password and keep it safe, many of us ignore the benefits of password managers and reuse strings like "Pаssword" or "123456." Sure, those are easy to remember, but also the first credentials hackers try when attempting to break in.
Password managers ease our lives immensely in that direction. Using one, you get more than a few benefits:
Never Having to Memorize Another Password
When it comes to passwords, it's best to create one that includes letters (uppercase and lowercase), numbers, and special symbols. Not to mention you should keep different credentials for every different login.
That's hundreds of passwords to remember!
One of the main benefits of password managers is they cover this for you. You simply need to create a strong password on any website, and the password manager will store it safely without you needing to remember it.
Additional Security for Passwords
Some password managers do more than store your passwords. They use complex algorithms, encryption, and other methods to make sure your passwords are safe. Using tactics like this, even if someone steals your passwords, they will be unreadable to them.
Complex Password Creation
Earlier, we mentioned having to remember hundreds of passwords. Since that's nearly impossible, many of us simply re-use one password or use a simple string like "123456."
Since password managers help us store them, we can create highly complex and unique passwords for every service. The added advantage is that you only need to change a single password if the platform gets compromised.
Most password managers not only store but also help you fill in passwords. For instance, you create a password for a website, and the next time you visit it and click on the username field – the password manager will present a list of credentials from which you can choose.
That's much faster than having you remember and type in lengthy passwords on a keyboard, right?
Adding Associated Information
Another feature that dedicated password managers often include is the ability to store additional information. This data can include details like address fields, contact numbers, credit card information, and more.
It's the same as the password autofill feature, except on a hyped-up scale.
Remember those pesky forms that many websites want you to fill in? Well, the password manager could handle that for you as well.
Best Password Management Tools
Not all password managers are equal, and the one you choose will also affect how helpful it can be to your digital life. Here are some excellent options in user password management from which to choose.
Norton Password Manager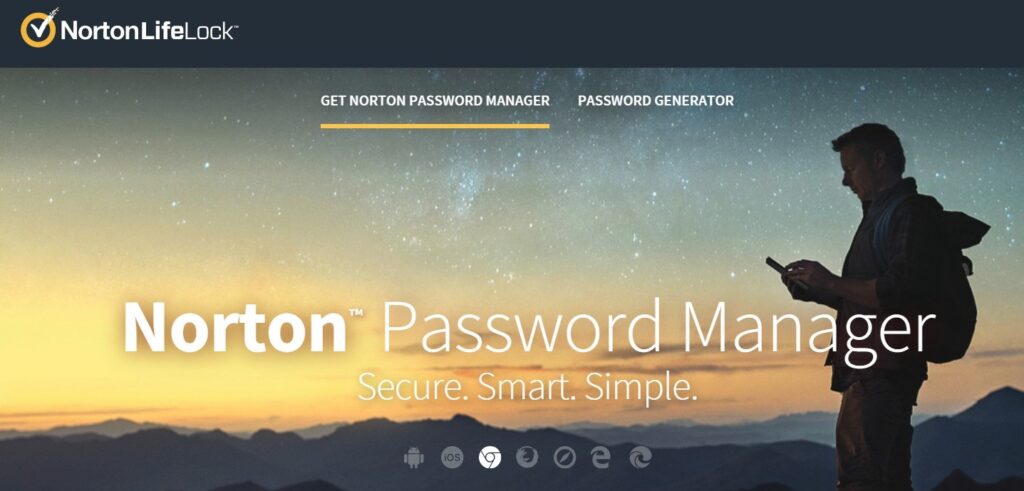 Top Features
Sync passwords across devices
Multi-platform support
Biometric logins
While the Norton brand is often associated with antivirus solutions, it specializes in cybersecurity as well. The company has an entire suite of products and utilities, some of which are free. Happily, the Norton Password Manager is one of those freebies available to anyone.
Norton Password Manager and the associated Password Generator are two utilities that work well together. The latter lets you automatically create complex passwords without the risk of you using personal information in the mix.
The password manager is available on multiple platforms, including Android, iOS, and various web browsers. It encrypts them and allows quick access using biometrics for even faster sign-ins.
Price: Completely free!
Keeper

Top Features
Import passwords from browsers
2FA security
Password sharing and inheritance
The core product of Keeper Security, their password manager, has gained global recognition. It offers a smooth, streamlined interface that makes password management a pleasant experience while taking away the dredge of mundane matters.
Keeper is one of the most secure options on the market and keeps credentials, so confidential even the platform doesn't know what your passwords are. The service can be as simple or complex as you want it to be, making it suitable for personal or business use.
The service also includes dark web monitoring and account takeover protection features so you can live your digital life stress-free. Keeper comes with an extensive knowledge library and comprehensive support.
Price: From $2.91 per month
1Password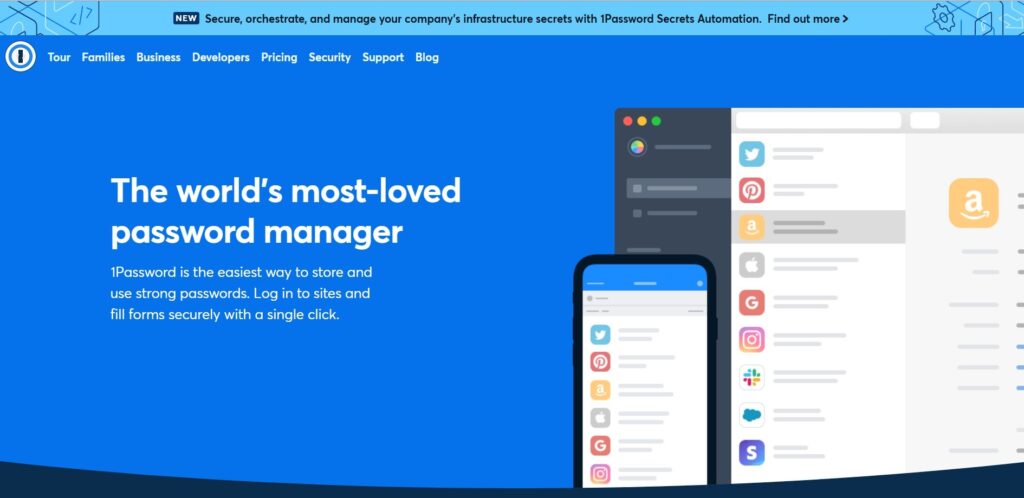 Top Features
Includes free secure document storage space
365 day deleted password history
Travel mode available
1Password's claim to fame is its popularity among many leading businesses, including IBM and Slack. It not only allows you to store your confidential information securely but helps protect family members as well.
Once credentials are stored, 1Password can automatically sign you in to various sites and services. You can use the service collectively within family units or businesses. All you need is a single subscription, which covers as many devices as necessary.
1Password is another service that includes data monitoring as part of the package. The moment this password management tool detects a breach – you will be prompted to take the necessary actions.
Price: From $2.99 per month
LastPass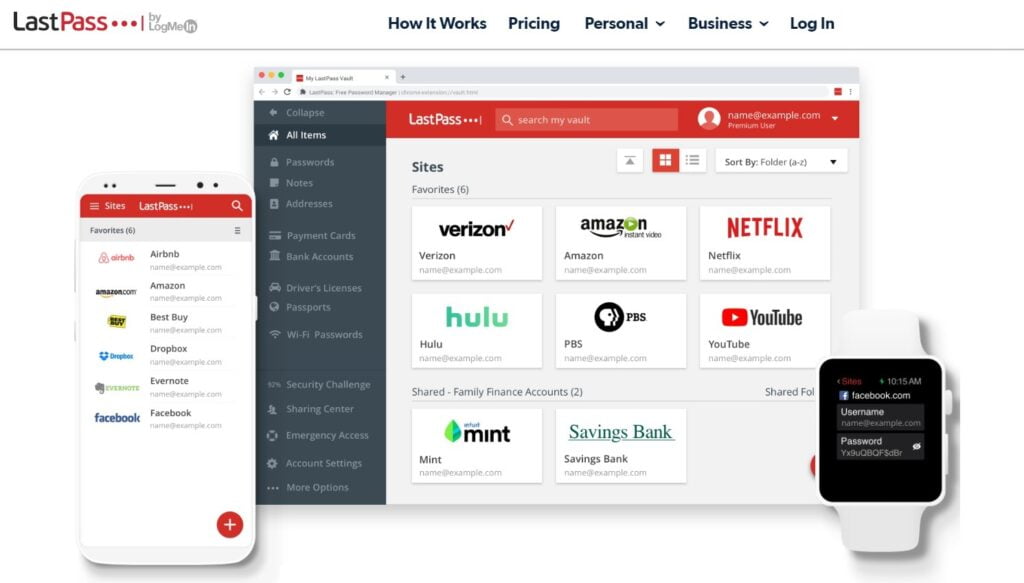 Top Features
Two-factor authentication
Import information from various browsers
Sync across multiple devices
LastPass doesn't have the most outstanding track record and has been compromised before. Still, the team has learned valuable lessons and has come back stronger than ever.
LastPass flaunts a limited free version. Using it, you can secure passwords – but not sync them extensively across all your devices. Still, we'd advise going for one of the paid plans if you choose this service.
Price: Free / From $3 per month
NordPass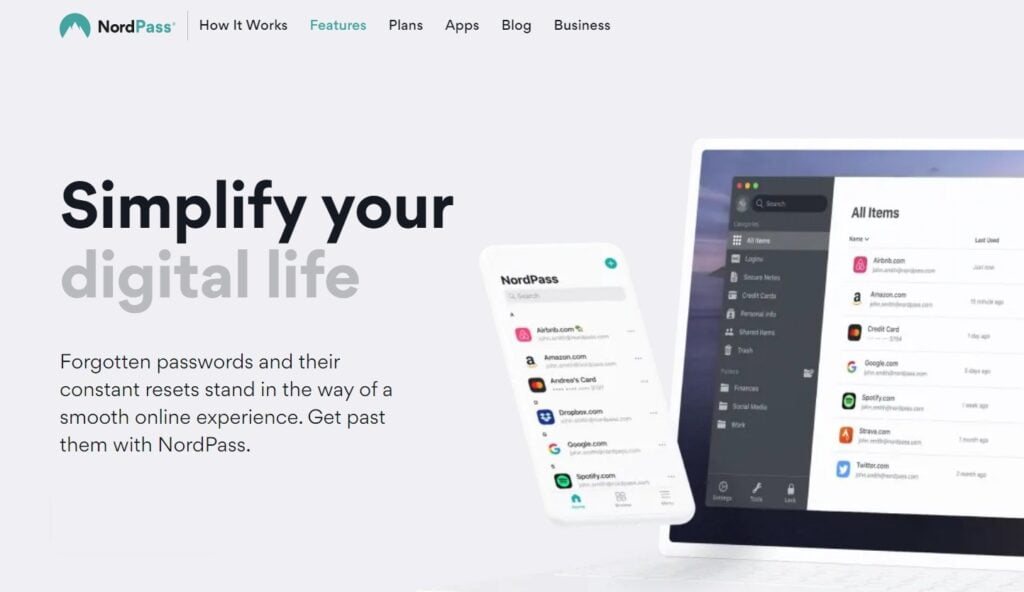 Top Features
Single-click password storage
Trusted contacts system
Data breach detection
NordPass comes from the same company that runs the NordVPN service. In the last few years, the company has been advancing at an astounding pace.
To be honest, NordPass is another relatively stripped-down service that doesn't do much beyond offer secure password storage and autofill features. It's a platform that remains strictly focused on keeping you safe instead.
There is a free tier available, but that's quite limited, especially if you intend to secure various accounts in an entire household. Besides, the premium plan includes data breach monitoring as well, just in case something pops up.
Price: Free / From $2.49 per month
How ScalaHosting Helps
Web hosting services aren't immune to cyber threats, and in fact, websites are a significant source of data breaches or compromise. Because of this, many web hosting service providers are doing their best to help users increase cybersecurity.
ScalaHosting does so as well, with the introduction of SShield. This self-developed real-time cybersecurity service comes free with ScalaHosting plans. To date, the solution has been highly effective, blocking over 99.998% of web attacks.
ScalaHosting also makes it easy for website owners to obtain Secure Sockets Layer (SSL) certification. Installation utilities allow for quick deployment of SSL certificates that will help you keep your website and customer data safe.
Conclusion
It's easy to point fingers when something goes wrong – and many things can go wrong when passwords get lost or stolen. However, remember that a portion of responsibility lies on each of us to ensure we're doing the best we can to keep ourselves safer.
Password managers offer many benefits, often for little more than the price of a cup of coffee each month. They're available for free in some cases, so there's no real excuse not to use one. The web is a dangerous place, and we all need to work together to keep things safe.
Frequently Asked Questions
What is a password management tool?
Password management tools are applications or services that help you store and fill in passwords automatically. They help increase security through encryption and allow you to use more complex and unique passwords.
Are password managers safe?
Yes, they are. Password managers often stay very focused on this specific task. Because of this, most services in the market are more secure than usual. In odd cases where data may be compromised, data kept in password managers remain safe due to high levels of encryption.
Where is the safest place to keep passwords?
Memorizing passwords is the safest option, but this isn't ideal as you may have to remember many complex ones for various websites and services. The next best alternative is a password manager, which can safely act on your behalf.
Was this article helpful?